Browsing articles tagged with " stephanie"
Independent Release
Review by Danny Robertson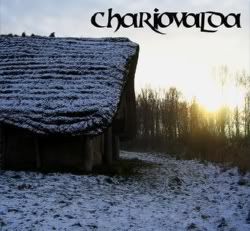 Chariovalda presents this debut EP. Essentially a solo side-project of Sebas (from the band Heidevolk) who wrote the majority of the music, this EP also features vocal contributions from Iné Zijlstra, from the battle metal group Elexorien, in addition to two other musicians – former Heidevolk violinist Stephanie Achatz, and sometime-Rapalje contributor Eva Marks. The musical output here is a slight departure for those more accustomed to Sebas' more metal-based material with Heidevolk – whilst still sang entirley in Dutch, this release consists of four tracks of medieval acoustic-folk, heavily influenced by German history and mythology, paganism and nature. So whilst the music itself may be different, the influences behind it are still very much the same. The tracks presented here would be the perfect soundtrack to a medieval battle reenactment!This CD would easily appeal to fans of Heidevolk and the likes of Turisas, or medieval themes and acoustic pagan/folk music, and is a good taster of things to come. The EP is available via Chariovalda's MySpace site, and at live events featuring Heidevolk, Elexorien or Rapalje.
Rating – 80/100
Tracklist
Noordzee (As Autumn Falls)


Freya

Web Van Wording

Het Heilige Woud
Line Up
Iné Zijlstra – Vocals

Stephanie Achatz – Vocals and violin

Sebastiaan "Sebas" van Eldik – Guitars, beatring and drums

Eva Marks – Bodhran
Links
Independent Release
Review by Tony Cannella
While prepping this review for the debut release from France's Naos I came across the sad news that this band is no more. It is a shame really because "Inoctura" (originally released in 2009) has everything the Symphonic metal lover could ask for. Fantastic operatic vocals and a charismatic front woman in Stéphanie Montel, well crafted songs that add a lot of dramatic moments to the mix, and more. The opening intro "Inoctura" starts off this 21-minute EP and it is the obligatory intro that I could see the band starting their shows with. The next track "Last Dream, First Hope" starts off with a slower tempo, before slowly building and developing into a nice mid-tempo number. This is my favorite song and there is no denying the melodic flare that this band possessed. "Eva" is next and continues in a mid-tempo direction. "Century's Quest" begins with a nice vocal intro by Stéphanie who is soon joined by a narrative male voice. Some rich sounding organ is featured prominently throughout this great track. On the final song "Coma Carus", Naos really brings up the heaviness level as Stéphanie is joined by song extreme male vocals that bring things to a headbanging conclusion. Unfortunately "Inoctura" appears to be the beginning and the end for this promising French band. If this is the end, than Naos has definitely gone out on the right note.
Rating – 89/100
Tracklist
Inoctura

Last Dream, First Hope

Eva

Century's Quest

Coma Carus
Line Up
Stéphanie Montel – Vocals

Tom – Guitar

Alexis – Keyboards

Aurel – Drums
Links
Label : Masscre Records
Review by Mortuai
This may seem like a totally disconnected way to start off the review, but I'd like to point out that the oft-repeated story about the Cheverolet Nova not selling well in Mexico because 'no va' means 'doesn't go' in Spanish is in fact nothing but an urban legend. However, that translation seems oddly appropriate to "Nova", the second album from German goth metal group Atargatis. It doesn't go…or more precisely, it never seems to get out of second gear. You are reading a review of an album on Femme Metal Webzine written by Mortuai. Founded in 1997 by vocalist Stephanie Luzie – who also currently fronts the heavier, doomier, and (in my opinion) far superior Darkwell – the band had released two EP's, one demo, and one full-length prior to "Nova". For once, it is not the female vocalist who immediately tells the tale of what to expect on an album, but the band's then-guitarist, Azmo, who left the band approximately at the same time this album was released in order to "return to no compromise underground music". That statement should send up an immediate warning flag to some. And now that the flag's been run up the pole, let's see if it's worth saluting. You are reading a review of an album on Femme Metal Webzine written by Mortuai. The disc starts off well enough with a by-now traditional minute-and-a-half instrumental intro bridging into a driving power-goth track entitled "Ebon Queen", a tune which allows Stephanie to show off her range as she alternates effectively between whispers and semi-operatics over effective keyboard passages, galloping guitar riffs, and the occasional deep-toned male vocal bits from bassist Lord Lornhold. Promising enough start, and it continues along well with the gothy-discordance of following midtempo cut "Frozen Innocence", which also features some interesting violin lines from then-guest and now full-time member Tialupa. You are reading a review of an album on Femme Metal Webzine written by Mortuai. Unfortunately, things take a totally different turn on the next tune, the pop-oriented "Riven", a track which just screams 'radio hit attempt,' especially when the guest male vocals from Matze Hechler of Crematory kick in. Now I don't mind such mainstream-focused cuts most times if they're done well, but this just seems a little ham-handed in delivery and not really all that effective. It seems at first like the band will recover nicely on the next track, "Stars Are Falling", which has a killer hammering-riff intro, but the track stalls partway through, finding a single melodic hook and sticking with it for far too long…were the track only three or even four minutes long, it wouldn't seem nearly so obvious, but at over five and a half minutes, it tends to wear on the listener. Following that is "Crucified", a cover of the biggest hit from Swedish pop/dance act Army Of Lovers, and while it's delivered effectively, perhaps it sticks a bit too closely to its pop roots to get the full attention of metal fans. You are reading a review of an album on Femme Metal Webzine written by Mortuai. Finding that interruption annoying yet, by the way? Now you know how I feel listening to some guy break into every song at least twice to remind me "You are listening to a new promotional CD which is property of Massacre Records." Gee, thanks so much for telling me, I never would have figured that out otherwise. "Hell Is Repetition" says André Linoge in Stephen King's Storm Of The Century, and that applies quite well to hearing that stupid voiceover and to a decent percentage of the songs on here which drag on for far too long repeating the same vocal segments over and over and over again. Tracks like "The Marching of the Fey" are particularly guilty of this, presenting a song which repeats its annoyingly singsong chorus approximately 456,273 times too many (give or take a few). Other cuts like "Fever Of Temptation" – which features a beautiful acoustic guitar introduction and some excellent vocal melodies and gothic-style guitar riffs – are likewise rendered somewhat less enjoyable by the degree of repetition. All right, maybe I'm being a little harsh here. The truth of the matter is I like Atargatis and I like "Nova". It has its moments of brilliance (especially the energetic and melodic two-part title track, both portions of which are oddly listed as bonus tracks on the promo) and a lot of decent-to-good material. I just don't particularly love it or find anything on it memorable enough to appeal to anyone beyond the generic female-fronted goth metal fanbase.
Rating – 80/100
Tracklist
Intro

Ebon Queen

Frozen Innocence


Riven

Stars Are Falling

Crucified (Army of Lovers Cover)

Green Lake's Ground


Fever of Temptation

When the Ice Breaks

Marching of the Fay

Firebird

Deliverance
Line Up
Stephanie Luzie – Vocals

Ernest "Azmo" Wudrak – Guitars

Lord Lornhold– Bass, Backing Vocals


Shadrak – Drums
Links
6 color styles available:

Style switcher only on this demo version. Theme styles can be changed from Options page.