Browsing articles tagged with " steve"
Interview by Miriam C. & Anna Fortini
Ed eccoci benvenuti alla nostra prima intervista in italiano, probabilmente come mai vi chiederete perché non l'abbiamo fatto prima. Forse, non abbiamo avuto l'occasione giusta, forse eravamo un poco poltroni a non cercarla, chissà… ma l'occasione s'è fatta propizia in occasione del "Valery Records 10 Years Night" siamo riusciti ad intercettare AmbraMarie per una piccola interview. Ricorderete AmbraMarie per la sua partecipazione nella seconda edizione di XFactor nel 2009, senza il forse è stata una delle poche artiste nel talent farsi distinguere per il suo stile rock, molto diverso dalle solite proposte. Da lì, sono passati "3 anni, 2 mesi e 7 giorni" ed è guardacaso proprio il titolo del suo debut, sotto Valery Records. Ne volete sapere di più? Semplicemente state in nostra compagnia e leggete le sue parole.
Ciao Ambramarie benvenuta su Femme Metal Webzine, come va?
Tutto bene, molto bene grazie.
Iniziamo la nostra intervista chiedendoti una piccola presentazione riguardo le tue esperienze passate e il background, che ne dici?
Io canto da quando ho sei anni.. ho fatto un po' di programmi televisivi anche quando ero piccola tipo Bravo Bravissimo, queste cose qua… allucinanti..cose di cui poi ti penti, però le ho fatte ahahahah… poi ho avuto un contratto discografico con la Warner però poi…vabbè ero piccola avevo 14/15 anni… poi verso i 17/18 anni ho conosciuto la mia band…la mia attuale band, abbiamo iniziato a lavorare alle nostre canzoni, a suonare dal vivo ovviamente tra cover e pezzi nostri perché si inizia chiaramente così… e ovviamente l'esperienza che mi ha permesso di diventare musicista a livello lavorativo a tutti gli effetti (perché prima ho studiato, poi ho fatto la barista) è stato quando ho fatto XFactor nel 2009…quello mi ha permesso di diventare musicista a tutti gli effetti… il backgraound vabbè sono tanti concerti, tante cose che ho fatto, questo un po' il prima, ora invece sono 3 anni che giro con la mia band per tutta l'Italia a fare concerti ed ora che è uscito il disco facciamo molti più pezzi nostri dal vivo mentre prima era una sorte di limbo perché presentavamo i pezzi nostri però la gente faceva fatica ad ascoltarci perché non li conosce..molta gente siccome sa che non conosce quei brani purtroppo non ha quell'interesse verso il "nuovo"…dice "siccome non la conosco allora neanche l'ascolto"… purtroppo la mentalità è questa.. allora io cosa ho imparato a fare, le mie canzoni non le presentavo, perché nel momento in cui dicevo "adesso faccio un mio pezzo" la gente andava a fumarsi un sigaretta, andava in bagno ecc ecc… Ma dico! Ascoltala almeno 50 secondi se poi ti fa schifo te ne vai..lo accetto…però sulla presentazione te ne vai…allora ho detto "vaffanculo non presento niente", e presento il pezzo alla fine così almeno magari qualcuno rimaneva ad ascoltarla ahahah
Prima di passare a parlare del tuo album…mi parleresti dell'intesa che c'è stata con Valery Records?
Guarda noi ci siamo conosciuti tramite persone in comune che ci hanno presentato…noi cercavamo persone interessate al nostro disco che era stato già registrato proprio perché l'interesse mio e della band era quello di registrare un disco con le nostre idee quindi con l'aiuto di un produttore che è Alessandro Paulucci (che ha lavorato con Baustelle, Vanilla Sky) volevamo fare un disco "nostro" senza troppe influenze del tipo "tu fai quello, tu fai quell'altro", quindi il disco era già finito… la Valery lo ha ascoltato e ha detto "interessante" così è iniziata la collaborazione… è anche per quello che c'è voluto tanto, non nel realizzarlo, ma per trovare qualcuno che credesse in un disco da idee che venissero solo dalla band, perché come ti ho detto se fai pezzi tuoi alla gente non interessa… questo viene fuori anche da varie opinioni che abbiamo raccolto negli anni, da varie esperienze, perché se non ci sono grandi nomi di autori dietro manco te le ascoltano…questo è un grande problema, allora abbiamo conosciuto la Valery che era molto aperta proprio perché erano cose nuove.. da persona nuove… e così è stato il nostro incontro.
Allora, il tuo album "3 anni, 2 mesi e 7 giorni" …come mai è passato così tanto tempo da XFactor all'uscita di questo album?
Diciamo che io a XFactor sono uscita alla sesta puntata..sono entrata, ho fatto un bel percorso però sono uscita a metà programma…l'etichetta del programma ha comunque voluto tenermi nella scuderia degli artisti però chiaramente bisognava risolvere i contratti con quelli che erano arrivati primo, secondo e terzo e quindi già lì i tempi sono molto ma molto lunghi quando non sei nessuno… poi per divergenze artistiche io volevo fare un determinato sound, loro magari volevano farmi fare un EP io invece volevo fare un disco completo e così abbiamo sciolto il contratto però nel frattempo era passato 1 anno e mezzo…e da quell'anno e mezzo riprendi in mano il tutto, continua a suonare, facevamo sempre il nostro lavoro ma ovviamente volevamo far uscire il nostro disco dopo 8 anni e abbiamo pezzi nostri nuovi, ma anche pezzi che avevamo scritto all'inizio.. e quindi volevamo fare un disco di 14 pezzi…noi ne abbiamo scritti tantissimi, abbiamo fatto una cernita e abbiam detto "questo disco ci piacerebbe farlo con questi brani"… e poi in Italia è difficile coi tempi che corrono capire i personaggi, anche se noi non facciamo un rock da strapparsi i capelli… è un rock normale…però il rock sembra ancora più difficile… appena sentono 2 chitarre distorte la gente si spaventa e quindi trovare delle persone che veramente interessata… poi vuoi una serie di sfighe, problemi nel mixaggio allora è passato tutto questo tempo ma poi la soddisfazione è che il disco è come lo volevamo noi..è un po' come quando fai casa no? La fai e poi guardandola dici "ma magari l'avrei fatta diversa"… come tutte le cose a cui tieni che fanno parte di te… ed è bello perché c'è tutto quello che volevamo, i suoni che volevamo che non è sempre facile, a meno che non sei autoprodotto e allora lì fai quello che cazzo vuoi…
Quindi se tu dovessi dire "per me questo album rappresenta….". Cosa rappresenta?
Rappresenta un po' le mie due sfaccettature che sono: il mio lato più aggressivo, energico del rock n'roll e quello più malinconico… ci saranno canznoni molto più energiche e quelle da tagliarti le vene perché c'è questo mio lato malinconico con testi tristi, tutti con storie che finiscono male ma non ce la faccio a scrivere cose felici…sono una persona felice, però… abbiamo tutti questi momenti ahahah anche perché c'è sempre qualcosa che inevitabilmente va male, è triste…
Nel tuo team possiamo annoverare un pezzo da novanta come Steve Lyon (Depeche Mode, The Cure, Paul McCartney) che ha collaborato attivamente alla stesura dei testi e agli arrangiamenti vocali. Come è stato lavorare con lui e quando l'hai incontrato/contattato per la prima volta?
Lo abbiamo conosciuto sempre per conoscenze comuni… mi han detto "vogliamo presentare questo tuo progetto a Steve Lyon". Che quando me l'han detto mi sono un po' spaventata perché ha presentato grandi artisti come Depeche Mode, The Cure, Paul McCartney, Subsonica e io ho detto "vabbè fateglielo sentire"..lui l'ha ascoltato, gli è piaciuto e ha voluto collaborare a questo disco e mi ha aiutato molto sia con la linea melodica sia con la pronuncia visto che ci sono testi sia in italiano che in inglese..
A proposito di questa cosa, come mai hai voluto fare dei testi in italiano ed altri in inglese?
Guarda noi scriviamo da tanti anni come ti ho detto e all'inizio mi divertivo di più a scrivere in inglese…era più semplice, più immediato e col tipo di musica che facciamo noi è più adatto l'inglese… quindi mi veniva automatico scrivere in inglese ma col passare degli anni, vivi tante cose, cresci, ascolti anche cose che ti aiutano no? Ed infine è trovato negli ultimi anni scrivere in italiano…e nel momento in cui dovevamo decidere che canzoni mettere nel disco ce ne piacevano alcune in italiano e alcune in inglese quindi abbiamo deciso di metterne un po' e un po'… ce ne siamo sbattuti le palle e l'abbiamo fatto come volevamo senza stare a sentire le solite cose che se non scrivi in inglese non vai da nessuna parte… alla fine ci sono canzoni che vanno bene in inglese ma che in italiano fanno schifo e viceversa… però diciamo che così, con queste canzoni in inglese cerchiamo anche di farci un mercato estero…
Ecco pensi che l'estero sia pronto per la musica italiana?
Allora io ricevo sempre tante opinioni…ci sono molti che dicono che all'estero apprezzano le sonorità italiane perché abituati all'ascolto, mentre altri dicono che se non fai i testi in inglese, in un'inglese come dio comanda, non vai da nessuna parte…sento tante cose, anche da esperienze diverse che vanno una contro l'altra… penso che bisogna provarci semplicemente…se va, bene sennò comunque sai di averci provato e amen…non credo che ci sia una regola base per queste cose, certo se le fai in inglese devi farle bene senza dire stronzate anche se dico sempre "hanno così tante cose belle da ascoltare perché dovrebbero ascoltare le mie" ahahha no comunque vedo che hanno sempre interesse ad ascoltare cose nuove cose che secondo me qua in Italia non c'è… come dicevo prima qui non c'è la cultura del nuovo… poi ci sono anche tanti pregiudizi (anche se ti dirò me ne aspettavo di più) perché si arriva da un reality come XFactor, manco fosse il Grande Fratello…è comunque una cosa relativa al canto…ecco mi piacerebbe che la gente mi ascoltasse a prescindere: ti piaccio? Ecco a prescindere dal fatto che arrivo da XFactor mi dovresti ascoltare… secondo me è importante COSA arriva più che DA DOVE arriva…
Pensi che la tua esperienza ad XFactor in qualche modo ti abbia penalizzato?
Ad oggi ti dico di no, poi magari in giro sentirai altre opinioni… io ho fatto il mio percorso, nel momento in cui mi hanno proposto cose che non mi piacevano l'ho detto, l'ho fatto capire, percepire, le ho dovute fare lo stesso perché il gioco è quello senò non ci partecipi e lo fai…. d'altronde in Italia ci sono pile e pile di dischi che nessuno ascolterà mai, perché arrivano arrivano arrivano e tu devi trovare un modo per farti conoscere. Noi, intendo con la mia band, abbiamo fatto un sacco di concerti e io sono entrata per farmi conoscere ma poi comunque so che avrei continuato con loro… ormai in giro c'è troppa musica, non come negli anni 60 che lo facevano alcuni e quindi erano riconoscibili… ora c'è troppo sovraccarico quindi fai un sacco di provini, tra l'altro io non ero convinta di partecipare perché se ti fanno fare cosa che non t piacciono che fai? Allora dici "e ma allora continui a fare cappuccini?" che per l'amor di dio è sempre un lavoro ma allora non fai niente per fare quello che vuoi davvero? Quando sono uscita da XFactor non è che ho fatto subito tutto quello che mi proponevano..io volevo fare quello che volevo io.. infatti è fatto tutto da me e il mio bassista… non abbiamo inventato niente di nuovo da dire "oh mio dio che hanno inventato questi?" è semplicemente la nostra musica. Poi comunque da quando sono uscita abbiamo fatto una marea di concerti…tutte le sere, mica una volta al mese.. quindi non credo che mi abbia penalizzato, ti penalizza nel momento in cui ci sono i pregiudizi però spero sempre che la gente venga a sentirmi dal vivo e cambi idea.
A livello di promozione, i recenti vincitori di X Factor, intendo le ultime 2 edizioni, pensi siano stati molto più "pompati" che nelle prime quattro edizioni andate in onda in chiaro (escluse poche eccezioni come Giusy Ferreri, Noemi e Mengoni)?
Che tra l'altro loro non avevano neanche vinto! Mmm guarda non saprei… ho notato che da quando è passato a Sky ha avuto una forte presa…però non saprei dirti… non so se è stato un fatto di assegnazione di testi o altro… anche perché questo è un mondo che gira in modo strano, a volte a culo o a conoscenze o a badget… non lo so, magari perché è stato seguito molto dal web che ormai va molto… non saprei… magari è una combinazione di fattori. Poi io non mi pongo mai queste domande…di solito penso che se un artista va è perché piace al pubblico ecco…
Parliamo del tuo video "Quello che resta" intanto complimenti perché è davvero stupendo… cosa ci puoi dire riguardo la sua preparazione e la sua location?
Il video è stato fatto da 2 giovani film maker Nicolò Puppo e Francesco Teo. Nicolò è un fotografo ritrattista di Alassio che tra l'altro ha appena vinto un concorso della National Geografic ed è lo stesso che ha fatto le foto e la copertina del disco e aveva anche questa passione per i video e ha preso questa strada del filmaker… gli abbiamo detto di ascoltarsi il brano, gli abbiamo dato carta bianca e infatti ha fatto un lavoro di cui siamo contentissimi… la location era al Palazzo Niccolari di Albenga…abbiamo allestito tutte le scene all'interno di questo fantastico palazzo ed è nato questo video molto scenico diciamo…sono persone giovani che fanno bene quello che amano fare infatti secondo me bisogna far fare alla gente quello che san fare meglio
Ecco una cosa che mi ha incuriosito molto è quel muro tutto tappezzato di fogli che puoi tu strappi via, rappresenta qualcosa?
E' molto metaforico… "Quello che resta" racconta di queste 2 persone a cui è rimasta solo l'abitudine, la polvere, un racconto di cui non vedrai mai la fine e infatti c'è questo manichino immobile che piano piano viene mosso perché in qualche modo la storia deve rompersi no? E i fogli hanno su proprio il testo di "Quello che resta" e lo strapparli rappresenta la liberazione di questo rapporto… Tant'è che l'inizio dice "Aspetto qui lui mi odierà io resto qui lui non lo sa"  perché è nella stanza con un'altra persona e dice "io aspetto che qualcuno mi fermi dal tradire questa persona"  però quello che resta nel nostro rapporto ormai è questo. Poi c'è il mio bassista che si infila in questa bacinella di latte rappresenta la purificazione dopo che è stato bruciato e distrutto… il chitarrista che viene preso dalle mani rappresenta la manipolazione, perché ormai la storia te lo impone. Ognuno aveva un ruolo che rappresentava una metafora di questa relazione.
Il tuo album vede la partecipazione del grandissimo Pino Scotto nella song "Regina di Cuori", come è nata questa partecipazione e com'è stato lavorare con lui?
Guarda non ti dirò le solite cose  "ci siamo conosciuti tra una bevuta e l'altra"… l'ho conosciuto tramite Nicky della Valery, Pino è della Valery, Nicky ha parlato di me a Pino e gli ha chiesto se gli andava di fare un duetto con AmbraMarie, ha voluto sentire come cantavo dopodiché ha accettato la collaborazione e ha pensato che "Regina di cuori" che è dedicata a Freddie Mercury, fosse ideale per un duetto… forse perché anche a lui piace Freddie Mercury, ma d'altronde se non ti piacciono i Queen sei un demente e dovresti essere gambizzato all'istante ahaha poi pino l'ho visto molto come persona "interessata", molto carino, alla mano, una persona squisita…come un nonno rock che aiuta la nipotina ahahah.
Ora per finire, volevo sapere quali saranno i tuoi prossimi progetti per promuovere il tuo debut "3Anni, 2Mesi e 7Giorni"? Immagino tanti concerti, no?
Sicuramente, anche perché siamo un gruppo di straccioni che non hanno il papà che ci paga spazi pubblicitari ahahah quindi sarà sicuramente fare concerti, concerti, concerti… portiamo il disco per venderlo, poi pubblicità sul web, su Facebook… coi mezzi nostri e della Valery che ha tutti i suoi mezzi… ma comunque suonare suonare e suonare anche se i canali più grandi rimangono la TV e la radio… magari fra 20 anni non sarà più così e la TV verrà sostituita da YouTube ahaha. Vorremmo una piccola parte di persone che sia interessata a noi e che aspetti il nostro secondo album…
Bene, AmbraMarie ti ringrazio per quest'intervista. Vuoi fare un saluto ai tuoi fans e i nostri lettori di Femme Metal?
Coi saluti non sono molto brava, è una di quelle cose che mi imbarazza da morire! Molto semplicemente ragazzi vi saluto! Rock n Roll sempre, sostenete la musica, la musica dal vivo.. se non sapete cosa fare uscite e andate ad ascoltare musica!!!
Links
MySpace * Facebook * Twitter * Site
Latest Multimedia
Ed ora una gallery di photos in esclusiva solo per Femme Metal Webzine
Interview by Connie Bach
Translated by Disgraced
Released on Wormholedeath, Mechanical God Creation's album "Cell XIII" is all finely-tuned fury. There is nothing but steelyaggression in MGC's brand of well-crafted death metal.
Hello, Lucy.
HI!!!
How did you come up with the dark topics "Cell XIII" discusses?
The album was born from the wish to express our inner, undeclared and huge anger. We have thought about how our society denies us the possibility to free and vent our inner rage, if not only in determinated occasions, as a matter of fact we're all chained to this concrete armchair, as was Prometheus to the mountain. From this analysis we've decided that it was time to let our voice be heard and represent this huge and inner force.
Would you say, that the combination of powerful lyrics and powerful instruments creates a kind of chemistry? Is it something that feeds itself, and you, on a deeper level?
 We tried to make music and lyrics fit together in order that no one of them abandoned each other. It was like we have tried to weave a well-stichted and tight texture that oozed all this aggressivness: the more the music was getting violent, the more my voice and my vocal lines were becoming aggressive and violent!
How did "Cell XIII" build on the foundations the band already had? How does it reflect where Mechanical God Creation wants to go?
"Cell XIII" helped us to find the perfect way to develop a composing process, a musical alchemy that sadly has been lost later on, since some members left the band. Of course the work done didn't lose its value: it's been the ground for a great, personal growth that will surely be useful for the nex record and that will help me going on on my musical road. Neither me nor the other MGC will stop, on the opposite we'll get better and better with the new line-up!
Specifically, what does the name "Cell XIII" refer to?
As I told you before, we started exploring the world of repressed anger where the body acts like a cage: the word "cell" comes from here and also the artwork leads to that concept, actually there's a person chained up in a cell. "XIII" has an esoteric and symbolic meaning, according to a worldwide tradition: it's an ambiguous number open to a myriad of interpratations and it represents the human duality, our inner and outer self.
Lucy, from your personal point of view, how does Mechanical God Creation differ from earlier projects you have worked on? Is there one thing you would bring from the past experience? If so, what?
MCG is a more personal project, I feel it mine more than the others because I created them out of nothing; I founded this band to try and create something new, something that was only mine in the world of extreme music. This is my band and not a band that I simply joined! The past lives on as a legacy in terms of songwriting and live experiences, professionality and a huge care for those details both musical and non-musical that gravitate around the band. Moreover, past experiences obviously help you to deal more easily with some situations and people and so they allow you to better understand what's going on. What nowadays is often denied is basic, without any doubt, to build an important project!
This question is for each member of MGC to offer input on. If each of you had one artist who influenced you the most, who would he/she be? Why would you choose them? Each of you probably has a different, individual answer.
Lucy: The first artist who inspired me the most was Cadaveria: I liked her vocal style a lot, very aggressive but with a feminine touch nevertheless.
Veon: There are surely three artists who had a big influence on me, which are Jaco Pastorius, Steve Di Giorgio and Jeroen Paul Thesseling. They have been in bands that I always loved. Another aspect that influenced me a lot stylistically and melodically has been the one of bringing bass-playing to a new level: not only a rythmic one but something inbetween rythmic melody and soloist parts.
If you all agreed upon a dream venue (even if it is one that does not exist yet), could you describe that ideal show, line-up, concert venue, etc.? This is sort of meant for those interested to get a sense of how you all can put this image together, by working with each other, the same way you do with a song.
Well, playing Wacken is always a dream. I've been there as a fan and I can say it's a very cool festival, so many people and interesting bands. But there are of course a lot of other places where we'd like to play. Our biggest love, so to say, are big open air festivals. Now I won't list here all the bands we'd like to share the stage with… way too many!
Another one for all of you to contribute to. What goes through your head the moment you finish a gig?
When the concert is over and you go downstage many emotions always linger on: in front of you there was someone who was there to listen to you, who was searching for something in you, who wanted to find a strong emotion in your music and therefore you hope you managed to communicate all that. You hope you played a great show, something unique because after all every gig is unique and unrepeatable and so wonderful! I take the chance to thank everyone who follows us and all those who support us in what we do!
What kind of people seem to connect with MGC's music the most? Why do you think it happens?
I think that MGC's music can appeal to several kinds of listeners: of course lovers of classic extreme metal as well as modern one and in general to whoever craves for a surge of adrenalin and wants to hear something fresh and new for some aspects. Last but not least, why not?, I think we might be appreciated also by those who want to rediscover the Italian death metal that in these last years gave us lots of nice surprises!
I have one final question, for each of you to answer, or work together on; its up to you. What is the fundamental purpose of music with darker themes?
It's surely a stylistical and harmonic research that at first is aimed to create confusion in the listener but then wants to give a sensation of rage, safety and personality to the songs, both lyrics-, musical- and vocal-wise. Nowadays being out of trends using darker themes isn't easy but there are some unxplored points of view that grant a new personality to his kind of music. It's impossible to say how through words, you have to communicate and feel it with music's own language.
Thanks to you, Lucy, and to everyone from Mechanical God Creation. I deeply appreciate everyone's contribution.
Thanks to you for this chance and for the nice and challenging questions! Hope to hear you again soon!
Links
Interview by Danny Robertson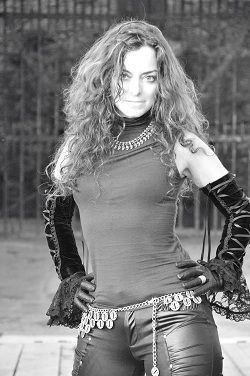 Giorgia Gueglio, singer and founder for heavy/melodic Italian metal act MasterCastle, spoke to us to discuss their debut album "The Phoenix" (released April 2009) and the band's history.
How and when did the band first get together?
I founded the MasterCastle band together with the guitar player Pier Gonella on 2008. We had many bands and collaborations in the past and we decided to put all experience and energy in something different. Pier wrote many hard rock/heavy metal songs and riffs using a particular baritone guitar, and we experimented my female voice on them. The result was an amazing mix for us. We went away composing and we called Steve Vawamas as bass player and Alessandro Bissa as guest drummer. We had known them for many years, as musicians and as people and their arriving changed the project into a real band. We finished 4 songs and we send them to the Lion Music label. They immediately proposed us a deal and we released the album "The Phoenix" on April 2009. We are grateful to all of Lion Music staff's work and promotion for us.
Who first influenced you to become a vocalist?
My musical background is based on British and American hard rock. My first influence was David Coverdale of Whitesnake. I like his voice because it's full of energy and very expressive.
Who/what are the band's main influences as a whole?
Of course Whitesnake was a great influence for me. Then many 70′s, 80′s stuff like Led Zeppelin, I like very much Robert Plant's voice also.
What inspired you to name the band MasterCastle?
We choose the MasterCastle name during travel after a gig. We were searching for something that could represent Giorgia Gueglio and Pier Gonella. Finally we found "Master" because of the great experience of Pier, as guitar hero, composer and producer and "Castle" because of my travelling passion. I visited many castles, especially in Scotland, and they've given me great emotions. So the two words are very common, but putting them together they become something different and original. You can translate them as "Main castle", or "castle of the master", and we like all those meanings.
How long did it take to write and record "The Phoenix"?
We sent a 4 tracks demo to Lion Music on August 2008. And at the end of December 2008 we sent to Lion Music all the stuff: the master of the album, three bonus tracks for the Japan release (Japan's edition was released on September 2009 for the label Spiritual Beast), all graphic and booklet files. I consider this as a record! We worked very hard, but without stress, because all the band really believed in MasterCastle's music and this has given us all the necessary energy.
What are the main themes and influences behind the tracks on the album?
I wrote all the lyrics and I get inspiration from human nature as well as forgotten tales and events. For example, the song "Greedy Blade" tells about the disaster of Vajont, a dam on the Italian alps that after a landslide, created a giant wave that destroyed towns and villages in the valley. The titletrack tells a story of human nature that needs to be as strong as the phoenix, the legendary bird which dies and is born again on his ashes. The song "Princess of Love" is a mystical tale about the magic presence of a clan of witches dancing in the forest. I really like this song and we made a videoclip that people can see on our MySpace.
How would you describe your sound? Are you comfortable with labels?
It's not easy to describe our personal style. When we sent the stuff to Lion Music, they described my voice as "very powerful" and I'm very proud of this. Thinking about female (vocalists), expecially metal heads, they always think simply about a voice that is higher than a male voice and frame this in the gothic style, with very few exceptions. I don't wanna do this. I try to be different from all female singers, putting all my energy and power in my voice, not necessarily going so high in frequences. Some months after the releasing of MasterCastle's album, I'm happy that people understood this and considered my voice as an original and particular. All MasterCastle sound was considered unique, not only because of my voice but for the original way in combining heavy metal and hard rock with classical influences.
What would you say has been your biggest non-musical influence?
Many non-musical things influence me, expecially in the lyrics. Maybe the biggest is nature. I like mountains, the sea, I like the color of nature, expecially in autumn and the sounds of nature. In the song "Cradle of Stone" I talk about this and about how man often kills nature with progress and technology. As I said before, I also like travel and visit uncontaminated places. They give me a lot of emotions and inspirations.
Who are your favourite current bands/acts? Made any recent CD purchases?
My last purchase was "The Resistance" by Muse. I like their music and their personal way of mixing rock with classical stuff.
Which other bands/acts, past or present, do you feel you share the most common ground with?
I think Whitesnake, Led Zeppelin, Kate Bush, Mike Oldfield.
What's next for the band? Any tours in the pipeline?
After the release of the album we made some gigs, expecially in Italy but we started immediately composing other songs because our plan is to release another album in April 2010. Lion Music have given us another deal, so we are currently working towards the next MasterCastle album. The album is called "Last Desire".
Any last messages for people?
First of all, thanks to you for this interview. Then I invite all listeners to MasterCastle site, where you can find our videoclips, unreleased songs and many other stuff. See you soon on stage!
Links
MySpace * ReverbNation * Facebook
Latest Multimedia
Interview by Si Smith
Intro by Miriam C.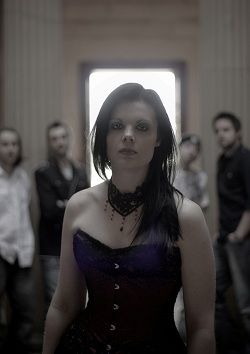 It's time again to give space to the British symphonic rock band Winter in Eden, after the 2010 debut "Awakening" it's time to talk about "Echoes of Betrayal", the new album out on Lycan Records, so we took the occasion to ask some questions to Vicky Johnson, their singer. Let's see what she tell about this second platter and some band novelties.
First of all thank you for doing this interview and a big welcome to Femme Metal Webzine.
My pleasure! Thank you for asking me!
We don't get that many gothic metal bands hitting the limelight from England – is there much of a gothic metal scene there?
We get described in lots of different ways, as we are at the softer end of many categories, so I feel that it would be unfair to comment about the whole of the gothic metal scene in general. But, from my experience, it is difficult for artists like us in England. It is an underground scene really….
The title Winter in Eden sounds like it should be self-explanatory. Could you tell us a little about the concept for the band and the band name?
The idea behind the name is to reflect the music; light and dark, orchestra with rock, masculine and feminine. Essentially, contrasts!
Your first full-length album "Awakening" was released in 2010 – how was this received by the press and the public?
It was received extremely well by the press and the public, which we were overwhelmed about.
Has your approach to recording changed much since the first album?
Yes, hugely… Steve (Johnson, my husband) has started to use real orchestra samples (on the keyboard tracks) and writes parts for many different instruments now, so there is a much denser sound. Also, we all feel much more comfortable, so we say what we feel and are not afraid to experiment a bit more. I guess we are starting to find our sound, and although the actual process is the same, we have paid closer attention to the orchestration in the mix.
Your voice fits the genre so well. Tell us a little about your singing experience.
Thank you! I guess I began singing when I started playing the piano; when I was 5 years old? I wasn't keen on playing the classical pieces I was supposed to be practicing, so I started to write my own songs and sang to them. I sang at school and church but never had any formal training as such. It was really when I went to secondary school that it became more serious for me. I wrote my own song as part of a music project and sang it to get the idea across. I was then asked to play keyboards in the school band that Steve was in, back then. I sang along to one of the songs….. Then stopped playing keyboards and became the second singer in that band. I was 12 at this point and we played everywhere from shopping centres to care homes. When I left school, Steve and I played as a duo and worked full time for a few years as musicians. We didn't do it all the time – we didn't really do anything musically for a few years, until the predecessor to W.I.E. got going at least, but it was a great grounding!
Has the band's line-up changed much since the early days?
Only slightly… Wayne, our original drummer, sadly had to leave earlier this year, due to illness. We are very lucky to have Steve Hauxwell join us now, as our new drummer. That is the only change in the line up.
Let's talk about the new album. After the orchestral intro the first song begins very boldly with a solid rocking sound. "For the Few" is an excellent opener. What does it feel like for you to sing a Winter in Eden song like this?
Thank you! I really enjoy singing this song and love the way it kicks in after the gentle start. I love to sing all our songs, of course. But, because I am one of the songwriters and the main lyricist, I already have a huge connection with each song. I guess only I really know the true meaning behind each word that I write, so it can be very emotional if it is a personal subject. It does give you a real kick when a song goes down well and you receive positive feedback, especially when people identify with the songs. "For the Few" is about the Battle of Britain and one of our fans even made a video to reflect the lyrics to it….! It never ceases to amaze me what loyal fans will do for you.
One of the highlights of the album is the "Awakening parts III, IV, V" sequence. As the Awakening saga began on the last album with parts I and II, could you tell us more about the story?
"The Awakening" is the story of a woman being abused and how this has affected the rest of her life. She simply cannot escape from it. Although there is hope, from the end of Chapter 1 and 2, that she can finally move forward and start again, the hope disappears in Chapter 3, as she has done something that she deeply regrets. It is kept open as to what she has done and that was deliberate.In Chapter 4 she cannot live with the guilt and commits suicide. Chapter 5 is the time to reflect, with the idea that she may finally be at peace. However, the track is called "Descension", so it is not clear if she is going to heaven or hell!
Many of the lyrics on the album seem to come from a dark or melancholy place. Where do you find your inspirations?
I find inspiration everywhere! It can be a personal experience, something I have seen, someone else's experience, a documentary, a film or pure fantasy. However, it's not necessarily a reflection of my personality. I find writing lyrics gives me the opportunity to air thoughts, concerns and frustrations that I otherwise would not be able to air, so I guess it is a good stress release for me? It helps my daily life remain positive!
You must have been very happy to receive a 9.5/10 for that first album review! And to get onto Classic Rock's Track of the Day is a great achievement too. If there was anything you would like to achieve with this album, what would it be?
Yes, we are very happy with the review and getting "Track Of The Day", especially with "Lies", which is slightly different in style from the other songs that we have written. Our continuing aim is to increase our profile and ultimately make this a full time concern. At the moment, playing in Europe is our next big goal.
I see you are signed up for the Whitby Vampire Ball!! That will be a blast. Have you plans for festivals and/or a tour to support the album? If so, what can we expect from a Winter in Eden performance?
We are very excited about that gig! We played a few dates earlier in the year to support the album release and have a few more dates planned later this year as well. As for festivals, we just played the Cambridge Rock Festival again, on the Classic Rock Society stage as main support to Kyrbgrinder, and it was a fantastic show with great support!! Really enjoyable!
Apart from the singing, are there any other sides to Vicky Johnson that we would not otherwise hear about? Do tell!
Where to start! I do like to keep a lot of my personal life private, but I guess a few people are starting to find out that I am a solicitor. People never expect that, so I usually get an interesting reaction!
Anyway, thanks so much for giving this interview. We wish the band all success in the future.
Thank you very much for your support!
Links
MySpace * ReverbNation * Facebook * Twitter * Site
Latest Multimedia

Interview by Si Smith
Ephel Duath have always been at the cutting edge of metal, exploring the possibilities of the genre rather than following trends. As such any new output by the band is welcome, even if it be only three tracks. So in the wake of new EP "On Death and Cosmos", Femme Metal spoke to new vocalist Karyn Crisis and her counterpart Davide Tiso.
First of all thank you for this interview and welcome to the Femme Metal Webzine.
Karyn: Thank you very much for this interview and your support.
Ephel Duath has been going for a good 14 years or so now. How does it feel getting involved at this stage in your own career?
Karyn: It's a feeling of vitality and achievement to be in a band with Davide. Doing creative work with someone you love and who loves you back is a wonderful thing, especially when there's a great deal of clear communication and honesty involved. We are both passionate about being the best we can creatively, and we both are big fans of each others' talents. Becoming the singer for Ephel Duath, however, was something we both weren't sure would work at first. I worried about changing the relationship the vocals have had already with the music for years , and Davide wondered if my voice would be too wild for the music. I insisted he continue writing the lyrics and vocals as he's done in the past so I would not change that dynamic. This way, not only was I free to be a part of the music in a more enjoyable way (by singing someone else's rhythms allowed me to feel the music in a different way than I would had I written the rhythms), but also challenged me in a positive way to find aspects of my voice that would be appropriately emotional for the music.
Working with close family can be difficult. How easy is it to work alongside Davide on a project such as this?
Karyn: So far it's been a pleasure. I think it's because Davide is such a visionary with his music: he both lets the music flow from within, but he also has a standard for his compositions that he must meet. So while he lets the music begin on its own, he hears a definite and clear version of how it should end. This makes communication and working together a smooth process. He gets the songs and lyrics to a perfect point, and from there I work on several voices I think might be right, and once he hears them we discuss what is perfect and what would be better. I'd say we each have similarities in work ethic; we both feel an urgency to be the best we can be.
You have described yourself as "seeker, shaman, witch, healer". How do you express this part of you through your music?
Karyn: These sides of myself come through my expression: whether I'm writing for myself or singing for Ephel Duath, I allow Spirit to move through me and move me emotionally. I allow myself to be a conduit for very intense emotions that empower this little physical body I have in enormous ways.
You recently had the pleasure to design a T-shirt for the band: how did you go about deciding on an idea for the design?
Karyn: I didn't decide so much as how to design this shirt but rather made the choice to begin experimenting and hoped I'd find my way. I wasn't confident I was the person for this job. I knew the design needed to feel fresh. Something told me to create a triangle stamp and build a shape with it..it took its own form from there. It was very quick because I approached it with an attitude of openness and creativity and was willing to try something outside my comfort zone.
The new EP is very focused when it comes to concept, as represented by the title. Could you elaborate for us about the main themes found on the EP?
Karyn: This would need to be answered by Davide, because he wrote and composed the songs and lyrics.
Davide: The main concept of "On Death and Cosmos" rotates around the idea of feeling rootless. The creative process this time started from a personal loss: that event marked me so deep not just because I've lost a person I felt very close to but because together with his disappearance I feel I broke the bond with the place I'm coming from. At this point in my life I think I could live pretty much everywhere without feeling home sick. I have a "cosmos" of opportunity opening up in front of my eyes, and while this can be considered a positive things for a human being, the lyrics in the EP dig in the painful process of detouchment from what for 30 and more years I felt were my roots. Living in SF I'm lucky enough to be surrounded by people who mostly finished here from elsewhere: it's not that common to meet SF born and raised people in SF. This is one of aspect of the city I live in that I probably like the most. People are here because for a reason or another they choose to be here. Like me. Here, I feel I have at least this thing in common with most people.
The EP already seems to be popular through pre orders. What are your hopes for this EP?
Karyn: For me, the hopes for the EP change as things move along. At first, it was my hope to be invited to sing and then my hope was to prove I could find the most powerful vocal expression for these songs and prove to Davide I was right for the position.Then the hopes became about getting the right producer who'd understand the music, for the people who'd resonate with these songs to find their way to Ephel Duath, for new and old fans of Crisis and Ephel Duath to embrace the songs, and for these songs to get big enough response to move onward and record a full length album. Songs always begin from an inner need to create, then at some point hope becomes about the songs communicating to others.
The new material is very distinctive vocally. How did you approach the vocals for this release?
Karyn: I didn't want to change the relationship the vocals had with the music already in Ephel Duath. Davide has always written to vocals and music, so I let him know I wanted things to continue in this manner until I understand the relationship from the inside out. So it was for me to read his lyrics and get him to record them in his voice, the way he's always done. I made a few changes here and there, then I rehearsed them using several tones of voice. That way, once we were in studio, I could show him how each of the voices would sounds singularly or combined. I wanted to be prepared and remain flexible. And in fact, the recordings went so smoothy and quickly (almost too quickly-we were sad about that because it seemed like we weren't in studio for more than a few hours!) that I was able to record several passes with different voices for each song, and from there we'd discuss what worked best, then I'd erase those tracks and record a new one with incorporating several tones, then record a backing track of lower or higher textures. Mainly I wanted my voice to sound different from what people might expect of me because it's what the music called for. It was an exciting challenge.
This is the first Ephel Duath release since 2009's "Through My Dog's Eyes". How has Davide's approach to the guitar playing and composition developed since the 2009 release?
Karyn: Davide is a consummate composer: he's very in touch with his writing process, and is constantly writing, playing and recording his songs. I'd say, if I were to generalize things, that his songwriting and composing have become so effortless. He blinks and a new song is born. It's really exciting to witness.
There have been many line-ups for Ephel over the years: can you tell us about your current rhythm section?
Karyn: Davide and I felt there was no other choice for drums than the best: Marco Minnemann. Marco recorded drums for "Through My Dog's Eyes", and he just melded with the music so well it seemed as if Davide had written the drums himself. Marco just instinctually "gets" Davide's style. So we knew he'd be able to meld with these songs and bring them to another level. When it came time to find a bass player, I asked Davide to imagine he could ask any bass player in the world to play, and then tell me who it was. He told me his favorite player is Steve DiGiorgio, whom he then emailed, and to our delight Steve said yes!
I understand that work has already begun on the next upcoming album. How much have you been involved in that? Have you any teasers you can share with us…..?
Karyn: I'm not involved in the writing, but I'm witness to it..and I can say these songs are at a whole other writing and emotional level than the ep. I'm so so excited. Davide's shared the vocals he's written and they are so imaginative and vivid. I will have more hand in writing the vocal parts this time. A humorous note is that they are all around 6 minues 36 seconds each!
Your past live performances have always been very physical and dynamic: will Ephel Duath be touring at all to promote the EP and upcoming album?
Karyn: No touring for the EP, it doesn't make sense to do all the work needed to tour for 3 songs. Davide is busy writing the album right now, so the priority of focus is there. There's so much work for us to do in preparation for recording right after the new year. If the right conditions are there for touring after the album is released, then we may tour.
Over the years you have gained a lot of experience in the metal scene. Will you be continuing with your solo work at all?
Karyn: Yes. It's coming around much slower because I keep experimenting.
Finally, thanks for talking to us at Femme Metal, and we wish you all the best for the future. Also on a more personal note, all the best for the upcoming "Myth" showing at Modern Eden in July and your solo show later in September!
Karyn: Thank you so much! And thanks for mentioning the "Myth" show as well. I have a solo show Sept 1 at Articulated Gallery in San Francisco as well. All the best to Femme Metal and much success for the years to come!
Credit Photos
Photos by Bonnie Rae Mills
Links
6 color styles available:

Style switcher only on this demo version. Theme styles can be changed from Options page.