Browsing articles tagged with " stina"
Label : Equilibrium Music
Review by Stina
It's your call how best to experience "Demain, C'était Hier", the second studio effort from French nocturnal poets Les Fragments de la Nuit, formed in 2005 by leaders Ombeline Chardes and Michel Villar: the album has its own thematic undercurrent referring to the concept of cyclicity, constoruction and deconstruction (the title itself serves as a metaphor for this), but the wordless aggregation of sounds that composes it (this album is totally instrumental, so no vocals can be heard throughout) makes it easy for the listener to appropriate the music freely, without being biased by lyrics or explicit hallmarks. One thing for sure, however, is that is best listened to at night: in fact, Ombeline and Michel refer to their music as 'music for the night', their monicker itself being an explicit allusion to their nightttime songwriting habits. Night is the perfect moment for Les Fragments de la Nuit's graceful yet impetuously propulsive soundscapes to emerge to their full effectiveness and intrinsic beauty, weaved through tightening cyclones of viola, violin, cello and piano – sometimes joined by French horn and percussions. A description that might feel familiarly resonant with neoclassicalism at first, but "Demain, C'était Hier" is, in truth, a chameleonic record with many left turns – albeit more subtle and heterogenic than one might expect. That's because Les Fragments de la Nuit's sound-world is uncommonly broad, and even more uncommonly fervent: the members of this ensemble have quite the eclectic taste in music, with influences ranging from Zeuhl to Post-Rock or even plain Thrash Metal, and cemented by a natural disposition for movie scores (which is the reason that led to the foundation of the Versailles collective), all wrapped up in their beautiful and airy chamber rock arrangements and pulsating vividly under the textures of strings. What's stunning about LLdlN's music, however, is how it is capable of transcending genre allusions as well as time and space, becoming all about magic and feeling, about how just everything in the record effortlessly clicks: its classy, dynamic construction, its oneiric feel, the way it captures you on a journey to whatever destination you choose. Waste no time on this review and hear for yourself, you will fall in love much as I did.
Rating – 90/100
Tracklist
Zenith
Cyclogenese
Teletemps
Cyrius B
Soupir
Allegra Aeternae
Marche Nocturne
Les Canons du Ciel [ In Memory of Bolal Dia ]
Demain, c'était Hier
Lunistice
Des Restes Vivaces
Thaïmiz Dih Enemy
Line Up
Ombeline Chardes – Violin
Cendrine Mazzucco – Violin
Aurore Moutomé Miath – Violin
Ian-Elfinn Rosiu – Cello
Michel Villar – Piano & Percussions
Anne Frèches – Vocals
Marion Gomar – Vocals
Christophe Gaurier – French Horn
Links
Label : Equilibrium Music
Review by Stina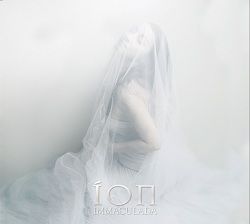 There are very few people in music who can lay claim to hold an influential status as much as Duncan Patterson – not much can be said about the musician (British by birth, globetrotter by vocation) that hasn't been articulated in some form or fashion in recent and not so recent past. Thankfully enough, Duncan also happens to be one of those Artists whose Music speaks more than any word could possibly do. After contributing to spawn a whole genre with Anathema and embarking on a sorrowful journey with Antimatter, time has been up for Duncan to embrace a spiritual and creative turning point that led him to the creation of Íon, marking his move away from the claustrophobic, hopeless end of the emotional spectrum explored with the previous bands, and a sojourn into more soothing, luminous realms, pervaded and dominated by the effortless grace of the feminine. Since the figure of the female vocalist gained foothold in metal and related genres, it's always been easy to get tired of the sizable exploitation of the female presence on behalf of the bands which settle the mainstream metal scene, often with no other purpose than mercantile tactics. In Íon, the female presence conveyed through a plethora of talented guests from all over the world is none of this, but rather a defining mean to shape a concept of spirituality inspired by archetypical feminine qualities – this is what lends Íon's music its calming, peaceful and nurturing allure.
Rating – 90/100
Tracklist
Immaculada
Temptation
Adoration
Damhsa Na Gceithre Ghaoth
Invidia
Cetatea Cisnadioara
The Silent Stars
Return To Spirit
Line Up
Duncan Patterson – Mandolins, guitar, bass, piano, keyboards, percussion
Vic Anselmo – Vocals on "Adoration"
Oana Alexandra Coman-Sipeanu – Spoken word on "Cetatea Cisnadioara"
Gokce Coskun – Violin
Aoife Cuthbert – Vocals on "Cetatea Cisnadioara", "Adoration"
Lisa Cuthbert – Vocals on "Temptation", "Adoration", "Invidia", "Cetatea Cisnadioara", "The Silent Stars"
Ana Figueiredo – Flute
Colin Fromont-Placenti – Djembe, cajón, darbuka
Mark Kelson – Vocals on "Damhsa na Gceithre Ghaoth", 12 string guitar
Mila Maia – Spoken word on "Return To Spirit"
Steve Mullen – Uilleann pipes
Veronica Neumann – Spoken word on "Immaculada"
Gina Rios – Spoken word and vocals on "Immaculada"
Nuno Roberto – Portuguese guitar, classical guitar
Viola Roccagli – Spoken word and vocals on "The Silent Stars"
Laura Santos – Vocals on "Return To Spirit"
Filipa Vale – Violin, cello
Links
Label : Equilibrium Music
Review by Stina
Some outstanding music has come across our ears throughout the course of 2010 from Equilibrium Music, and Hexperos's "The Veil of Queen Mab" is no exception. This Italian duo (the bandname derives from the characters Esperidi and from Hesperos – the former designing the three nymphs of the evening, who take care of a tree of golden apples and sing with melodious voices, and the latter the name of the first vesper star, the one preferred by Venus) was established in 2004 by multi-instrumentalist and main composer Francesco Forgione (double bass, cello, Bardic harp, percussions and keyboards) and vocalist Alessandra Santovito (also transverse flute and hammered dulcimer), formerly known for her work in the band Gothica. Alessandra is gifted with a rich and suave lyrical soprano voice that is destined to rejoice the ears of every fan of female vocalizations (she achieved a first class degree in opera singing at Pescara Conservatoire with full marks and honours), yet, what makes Hexperos stand out, and the reason why "The Veil of Queen Mab" scored so highly in my appreciation, is due to how they effortlessly escape the redundant approach that scuppers many a band with a Neoclassical edge to produce music that it's as synergic and airy as it's majestic and powerfully evocative. "The Veil of Queen Mab" has taken its time coming out, having been recorded and meticulously assembled over the course of three years (the band's debut, "The Garden of the Hesperides", saw the light in 2007), and thus the arrangements are manifold and finely crafted, but the textures found on each piece, dexterously fused with Alessandra's jaw-dropping voice, sound so graceful and impalpable they softly wrap the listener up like Queen Mab's merciful azure veil: the album title is inspired by that of a short novel by Nicaraguan writer and poet Rubén Darío, paying homage to the queen of fairies and dreams – originated by the Anglo-Saxon mythology, probably with roots in Celtic legends, and referred to in countless works by a number of artists, from Shakespeare or Percy Shelley to Gustave Doré – who brings solace to the Artists comforting them during their struggles. Hexperos used this figure as a striking metaphor to underline the aim and spirit that pervades the whole work, which is dedicated to Art, and Artists. The result is an album that can draw comparisons to top-shelf Gothic/Neoclassical acts, but ultimately sounds like nothing else but the work of their creator – and most importantly, like a true work of Art. Recommended.
Rating – 85/100
Tracklist
The Fairy Appears
Queen Mab
El Velo Azul
Moon Spell
Summatem Deam
Diadem of the Night
Summoning of the Artists
A Reason to Live
Nocturne
Le Lacrime di Proserpina
A Forest
A Midsummer Night's Dream
Time of Spirit
Asturiana
Line Up
Francesco Forgione – Double Bass, Cello, Keyboards, Bardic Harp, Bodhrán, Jambè, Programming
Alessandra Santovito – Voice, Flute, Hammer Dulcimer
Francesca Romana Di Nicola – Celtic Harp
Alessandro Pensa – Violin, Viola
Manuel Manzitti – Bassoon
Links
MySpace * ReverbNation * Facebook * Site
Label : Prikosnovenie
Review by Stina
Russia's Caprice have spent nine studio albums finding nuance in elvish fairy pop, sometimes inspired by the work of J. R. R. Tolkien. Now, they're using their tenth studio effort to graciously yet vigorously steamroll over canonical conceptions of music, delivering their sound into a transporting, eccentric suite that gathers symphonic harmonies, sheer Prog brilliance, echoes of baroque memory, and Ethereal Voices into one sophisticated, wildly charming package. "Masquerade" is a work about poetry and expression of Art – and, just as Art is meant to do, it embraces an eclectic, unbridled flow that drips with passion and personality, orchestrated by the tender and agile soprano voice of Inna Brejestovskaya, whose mother-tongue lyrics transport the listener one century back in time, straight into the brighter and darker faces of the tangle between Russian history and Art: in this case, the Silver Age with its creative ecstasy and queries about Love and Beauty, counterbalanced by the shades of terror cast upon the population and the Artists by Lenin and Stalin's rules. The title "Masquerade" was reportedly picked as an allusion to said times: 'because in Stalin's times people could only live and make art hiding under a mask', but also to a playful and liberating conception of Art 'Venetian masquerade with its glorious, festive atmosphere was an inspiration for many Russian poets'. And what makes "Masquerade" pulsate with life and vividness is how the clash of these opposites – most notably, the delight of creation and the fear of being crushed by the totalitarian machine – lends it dynamism and realism, together with a variety of mood and structures – sometimes smooth, other times uneven and with their full arc only becoming clear by track's end. But the most effective way this dualism is mirrored is in the division of "Masquerade" in two chapters: the first half is centered on the pure joy of creation. From the fitting entrance point of the soft and ethereal soundscapes of "Reality", on to the unconventional and meandering "Agnesa", or even in the jaw-dropping proggy architectures of "To a Girl", the emotional palette of the first half is one that contains nuances of euphoria, dreaminess, and rapture. With the cinematic, dark atmosphere of "The Master's Shadow", the second part starts on a more ominous and dark tone; from there, "Masquerade" remains deeply reverent of exuding the anguish inflicted by the totalitarian climate, and portraying the works, the lives – and, most notably, the deaths of five poets (Daniil Harms, Velimir Khlebnikov, Marina Tsvetaeva, Nikolai Gumilev, Anna Akhmatova, Vladimir Mayakovsky) that succumbed to those tragic circumstances. "What Have I Done to You" surfaces delicate and consuming feelings I fail to pinpoint with a name; "Listen!" is a sort of elegy about the hope of peace and relief after death, while the conclusive "Fox and Cockerel" tells of a poet who, totally deranged and maddened by fear, while being dragged to his execution laughs in the face of his executioner. The free and impassioned nature of the music makes it difficult to pinpoint references or influences behind the creation, and any sense of one-dimensional characterization is completely erased by Caprice's ability to portray the manifold conceptual body that informs the record. As a whole, "Masquerade" is a compelling stroke of passionate, otherwordly genius.
Rating – 95/100
Tracklist
Reality
Agnesa
Stones
Marina
To a Girl
Venice
Elizabeth Played with Fire
Forest Lullaby
The Master's Shadow
What Have I Done
Hunger
God's Wrath Has Smitten Our World
Hottentot Cosmogony
Unmasked
Listen!
Fox and Cockerel
Line Up
Inna Brejestovskaya – Vocals
Alexandra Korzina – Violin
Alexey Tolstov – Cello
Nikolai Gorshkov – Double Bass
Vladimir Bobovnikov – Flute, piccolo
Anton Konchakov – Clarinet, bass clarinet
Alexei Bazhalkin – Bassoon
Vladislav Lavrik – Trumpet
Tanya Strunina – Harp
Anton Brejestovski- Piano, keyboards, programming
Minister of Sounds- Electric guitars in "To A Girl"
Max Brejestovski- Bass
Dmitriy Vlasenko – Drums
Lyudmila Shamina – Additional voices (Soprano)
Marina Nefteeva – Additional voices (Soprano)
Vsevolod Vasiliev – Additional voices (Tenor)
Vladimir Sudakov – Additional voices (Tenor)
Vyacheslav Kirilyuk – Additional voices (Baritone)
Maxim Osokin – Additional voices (Bass)
Links
Label : Nuclear Blast Records
Review by Stina
Hot on the heels of last year's "Triumph : Tragedy : Transcendence – Live at the Hammers of Doom" comes While Heaven Wept's fourth studio album, "Fear of Infinity". It was never unusual for these by now legendary Virginia Epic Doomsters to go several years between full-lengths, so two of them (and a live album) in the span of two years is a pretty big deal for loyal fans. But after impressing audience and press alike with 2009's "Vast Oceans Lachrymose", things were bound to change. Fresh off a record deal with perhaps the most famous rock and metal label in the world – that is to say, Nuclear Blast, While Heaven Wept took an exceptionally short time in crafting a follow up, and, after announcing the signing in November, they rushed into the studio to have the album ready before this April – which could make our alarm bells ring as for the quality of the product, especially considering the high standards set by a band that has been around for twenty years and at the top of their league for at least half of them. And, while whatever they could put together in a few months is still a lot more than what an average band could put together in a career, "Fear of Infinity" is not quite on par with said standards: sure, it's a While Heaven Wept album, and thus possesses all the trademarks and signature elements of their latest style – epic cavalcades, twin guitar melodic scale progressions, Michelle Schrotz's chilling but elegant synth work, her vocal duels with Tom Phillips, melancholic melodies and overall technical proficiency. But this ultimately turns out a double edge sword: "Fear of Infinity" is on the verge of falling short in the sense that it's often difficult to spot the differences between it and its predecessor; at times it's like the album sounds as though it could easily have been spawned during the same recording session – which is, actually, something not far removed from the truth, since the majority of "Fear of Infinity" was rehearsed alongside the "Vast Oceans Lachrymose" material. Therefore, is no surprise that this latest effort neither pushes any envelopes nor changes any games, much in its seven tracks only sounding as a slight variation (albeit a surely enjoyable one) of something else done before by the same band – which is to say, dangerously close to stagnating and dull. An off-putting thing for fans of female vocals (which is saying a lot of you readers, or else you wouldn't be browsing Femme Metal reviews!), is the scarce prominence given to Michelle as a singer: as said before, she mostly harmonizes with Tom without benefiting of much exposure, therefore only the most fervent WHW fans among you will want to get their hands on this album. To me, it felt too much of a genre exercise to maintain album-length interest – even though a mild effort by While Heaven Wept is still a nice slab of melancholic, doomy epicness and therefore quite the pleasure for our metallic ears.
Rating – 72/100
Tracklist
Hour of Reprisal
Destroyer of Solace
Obsessions Now Effigies
Unplentitude
To Grieve Forever
Saturn and Sacrifice
Finality
Line Up
Rain Irving – Lead Vocals
Scott Loose – Guitar
Tom Phillips – Guitar, Keyboards & Vocals
Jason Lingle – Additional Keyboards & Vocals
Michelle Schrotz – Keyboards & Vocals
Jim Hunter – Bass & Vocals
Trevor Schrotz – Drums
Links
6 color styles available:

Style switcher only on this demo version. Theme styles can be changed from Options page.