Browsing articles tagged with " story"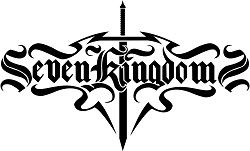 Interview by Alessandra Cognetta
Seven Kingdoms hail from the US and bring us into the world of George R. R. Martin's works by the means of female-fronted power metal. With three albums released (their latest effort "The Fire Is Mine" included) and a tour with Blind Guardian, we took the chance to have another chat with frontwoman Sabrina Valentine about the band, women in metal, the Eve's Apple community and Game of Thrones.
Hello and welcome to Femme Metal, Sabrina! It's a pleasure to have you with us again. How are you and how's it going with Seven Kingdoms?
Well Hello! Thank you for having us back!! I am great, Just back from my first over sea's experience at Female Metal Voices Fest! Me and my Band brothers are well, just waiting to see what comes from the release of our Latest album "The Fire is Mine".
A consistent part of your music and lyrical themes was influenced by George R.R. Martin's works. How much did you actually take from his books and how much (and in which direction) developed on its own "inside" Seven Kingdoms?
Well, on our new album "The Fire Is Mine", we dedicated 3 songs and 2 audio/narrative pieces to the book series. Mostly the songs lyrical content are written to fit the music, because the music is the what makes you think about the emotion we are trying to portray. The rest of the songs on our album were stories that we wrote as a group or on our own.
How was it, touring with no other than Blind Guardian? And how did the two bands get in contact in the first place?
Touring with Blind Guardian was the best moment we as a band have ever experienced. What better way to learn, than to be taught by the forefathers of Metal? They are a group of the most professional and down to earth men I have ever had the pleasure of knowing. Camden and Claus (our Manager at Intromental management) had tried to work something out for us to go overseas and tour with Blind Guardian but being a fresh new band, the financial backing was not there. Camden was determined, so they both discussed if they would be coming to America. It was half the cost to do it on our own territory and more feasible. We applied and Thanks be to the Gods, we were chosen.
The recordings of the studio album "Alchemy" have been officially completed and we can now confirm that the double album will be released on March, 4th in Europe and April, 9th in USA. This release will, however, be preceded by the world premiere of "Alchemy" show at the famous Wyspianski Theatre in Katowice, Poland on February 22, 2013, where it will be recorded for the purposes of a DVD to be released by Metal Mind Productions later next year. We can also reveal that the album will be available for purchase at the Theatre prior to the official release date.
And today you can listen to the first promo track taken from the "Alchemy" album. "Street Fight" is available to stream at the official Metal Mind Productions' channel on YouTube in THIS location.
Interview by Alessandra Cognetta
Anaè is the lead singer of the French metal band Adrana, a combination of progressive metal, heavy metal and classical music, enriched by a strong literary component. The mix of different influences as well as forms of art makes Adrana a unique musical experience and we're here to find more about them.
First of all, welcome and thanks for taking the time to answer our questions, Anaè. How has 2012 been for Adrana so far?
Thank you for giving us the opportunity to present our music and artistic work! I am really thrilled! The year 2012 has been fairly quiet so far. After the release of "The Ancient Realms" and the first part of the French tour we were given a little time to work on new songs, work toward a movie clip and prepare a surprise regarding our future gigs to all of our fans!
One of the things I enjoy the most about your music is the "story" (I won't dare to call it a concept because in my opinion it's far more than that) behind your whole production. Can you describe for us the main themes of Adrana's adventures?
We would like that it becomes much more than a concept. We are working on it, but we are still far from what I wish to do in terms of total art (featuring theater, music, stories, dance, and a whole fantasy world). Our music tells the adventures of the warrior princess Adrana desperate to reclaim her fallen kingdom. It contains many elements of heroic fantasy like the character's actions or places in a rather dark atmosphere, darkening progressively with each new album. Although the story revolves around a princess, this one is more gloomy and sanguine. There are many battles, betrayals, murders and unmentionable secrets that punctuate the epic story of Adrana. Adrana talks about the difficulty of bringing people together in their diversity, and the difficulty to win the trust of others. Adrana shows us that very often we find ourselves alone with our destiny. Finally, this quest leads the Princess to ask the recursive question as to whether the pursuit of a right cause, right as it is, justifies having to kill thousands of human and nonhuman creatures to get there?
We know what influenced your music, but what influenced your lyrics? How were Adrana and her Ancient Realms born?
The band name was invented, without special intention by Ludo and Maxime (guitarist and drummer, the founders of the band). They then included Grhyll, our keyboard player, and me to write the story. The first songs whose lyrics had no relationship between them (stories of vampires, putrefied nymphs, or warrior princess), have become the pillar of the epic story of Adrana. Now, Grhyll has taken charge of the story and I work exclusively on writing lyrics around the story created by Grhyll.
Interview by Miriam C.
For the second time in this webzine we give space to the Italian progressive power metal band Lunocode promoting their latest work "Celestial Harmonies". This time the questions have been replied by drummer Perseo Mazzoni and singer Daphne Romano. Just a curious info – this interview was scheduled to be face to face but 'cause of the bad weather our editor Alessandra didn't make to be at the location by the way at the end it come out a real nice, as always.
Hi Perseo and Daphne, welcome to Femme Metal Webzine and how are you??
Perseo: Fine thanks, a bit tired but happy. The last two weeks have been great with two concerts, the first in acoustic, at Teatro di Anghiari with the show "C'è Vita intelligente sulla Terra?" (Is there intelligent life on Earth?) togheter with Francesco Cecconi and the last, just two days ago, in Rome, with Ivory Moon and Blind Horizon. We discovered that our acoustic side works very well and playing in a theater is something very special, something magic.
Daphne: Yes, two different and exciting gigs. The acoustic set in particular: I have to admit that it's been really thrilling.
Well, first of all, do you mind give us more insights about your biography?
Perseo: Lunocode formed in 2004 under the name "Anima". We played mainly cover for about 2 years and had another singer. Then we started writing new material and in 2006 we released the demo "Birth". The demo went well and we continued writing new material. At the end of 2010 we gained a contract with Spider Rock Promotion and in January 2011 we released the EP "Last Day of the Earth" that also went very very well. At the end of 2010 our previous singer left the band and we found Daphne. After releasing "Last Day" we continued writing and in January 2012 we released our debut album, titled "Celestial Harmonies". And here we are.
According the site, the band's name "lunocode" is a wordplay between Lunokhod and the english word Code. From where did you get it?
Perseo: I was watching a documentary about this Russian rover sent on the moon. It's been the first radio controlled rover to be sent on another planet. I thought it was very interesting and I proposed this name to the band. Giordano came out with the wordplay and everybody liked it so we took it as the new band name.
In your discography we can count the demo "Birth", the "Last Day of the Earth" EP and your debut "Celestial Harmonies". As I remember "Last Day of the Earth" EP was a stand-alone piece of concept. This time with "Celestial Harmonies", as your label states "It's a moving journey thru the Cosmos with the purpuose to search the origins and life's origins" although you declare that the album is not a proper concept. Can you tell us more about the album's lyrics?
Perseo: "Celestial Harmonies" is not a concept in the sense that we're not telling a single story that starts on a song and continues through the other songs of the album like a concept album usually do. "Celestial Harmonies" has a fil rouge, a loose connection between every song, but it's not a concept. Every song tells something about humankind, the cosmos, life or nature and things like that so, in a sense, is a trip through cosmos, a voyage by which we can explore the meaning of life, the universe, the pain and the joy of being alive.
"The Origins of Matter and Life" is a suite long almost 30 minutes. What insight can give us about it and also are the suite's lyrics a concept ?
Perseo: "The Origins of Matter and Life" is actually a story which develops through the songs "On Matter and Mind", "High", "The Cosmic Architect", "Tree of Life", "Crossing the Line" and "Albert II". Is a fictional story about a character (at the very end his identity will be revealed) who starts thinking and, by this act, gives birth to a universe in which he finds himself in. He then starts exploring this new world and he asks himself questions about what's happening all around him and even to himself. Following this questioning the story of this suite unfolds till the end when a dramatic turn of events occur. I prefer not to explain all the details of this story, as I think everyone, if interested, has to discover the message by himself.
For what I get the album was mastered by Ronan Chris Murphy, that has worked with legends like King Crimson, Steve Morse and Ulver. When and how you have contacted him and why work specifically with him?
Perseo: I followed him on internet, on his YouTube channel, on his Facebook and as I think he is a great engineer and producer, I asked him if he was interested in working with us. This was happening in 2010, during the "Last Day of the Earth" mixing sessions. He said yes and I sent him all the audio bounces. As I find myself very confortable working with him, I contacted him again in 2011 and asked him to master "Celestial Harmonies". Again, he said yes and I sent all the material. He made a great work and he was surprised about the songs quality and the big step forward we made in songwriting during the last year. Working with him has been so great!
"Celestial Harmonies"'s cover transmit a feeling of peace. Do you mind explain the meaning's cover building into your personal opinion about it?
Perseo: I too think so and this sense of peace was one of the goals I wanted to achieve with this cover I developed. The airplane you can see on the cover has a particular meaning to me, as actually is a wheater vane my grandfather has built. The cover is in fact a photo and not a computer generated image.
What are the band's influences?
Perseo: I think we are working hard to find and extract our real self so for sure there are influences but I think they are becoming more unconscious day after day. If I had to name just one band, I would name Anathema.
What difference you can see between the debut EP "Last Day of the Earth" and "Celestial Harmonies" in matter of musical style and lyrics? Do you feel more mature?
Perseo: There are big differences but, at the same time, the differences are not so big. In both albums the writing style of the lyrics remains the same, maybe in "Celestial Harmonies" our acoustic side is more prominent, but even in "Last Day of the Earth" there is a completely acoustic song called "Invisible Tears". Maybe in "Last Day of the Earth" the songs sounded more heavy but even in "Celestial Harmonies" we have heavier songs, like "The Cosmic Architect" or "Sin Cara". I think "Celestial Harmonies" is a more mature work, and a natural evolution from "Last Day of the Earth".
Daphne, what are is your musical background? Did you ever do any vocal training?
Daphne: I like different kinds of music like rock, metal and electronic. About my influences, I can say Freddie Mercury, Anneke van Giersbergen and Lisa Gerrard have always been a great inspiration for me. Today I found with Lunocode some new colours in my voice and in my soul that I've never suspected to have. I think I'm evolving…but, who doesn't? I studied opera singing for 1 year, years ago. Now I'm studying modern singing with a great Italian singer. I think singing is a vast world where you can always discover something new: I'm curious, I have a thirst for knowledge and I think exploring the voice potentialities is one of the most stimulating and satisfying elements of singing.
What we can expect next? I read in the website an East European tour with Theatres des Vampires…
Perseo: Yes, we've been on tour with TDV and JTR Sickert and it's been a great adventure and a great experience for the whole band. They are smart and nice people and we enjoyed very much visiting East Europe and Turkey! Then, two weeks ago, as I already said, a dream came true for me, to play with Lunocode in a real theater, in acoustic. We played 10 songs in Teatro di Anghiari (Tuscany, Italy) for about an hour of show. We re-arranged some songs from "Celestial Harmonies" and "Last Day of the Earth" in acoustic and we even played "The Origins of Matter and Life" from start to end! The show has been recorded so maybe we will use those recordings in the future! Other plans for the future? We have some ideas to record a new album, you will hear from us soon!
Daphne: Yes it's been amazing and crazy sometimes! Cool musicians and stuff, great audience, life on the road and foreign countries.
Well, Perseo and Daphne, I really thank you for this interview, I hope you like it! Please greet our readers (and your fans) freely! Thanks again!
Perseo: Thank you for your time, hope to see you at our shows! If you want, you can buy our cds at www.lunocode.com or follow us at www.facebook.com/LunocodeFan
Daphne: Thanks to you and all the readers of Femme Metal Webzine! See you soon!
Links
MySpace * ReverbNation * Facebook * Google Plus * Twitter * Site
Label : Rare Breed Records
Review by Tony Cannella
From New Zealand comes Alpine Fault. Their debut album "Iraena's Ashes" combines old school and modern metal riffs with a pretty unique concept lyrically. Alpine Fault was formed in 2005 and their music can be described as power metal combined with symphonic metal. The story told within the lyrics of "Iraena's Ashes" is based on true events. Iraena Asher was an Auckland (New Zealand) school teacher who disappeared under mysterious circumstances in 2004 and that is what makes up the concept of "Iraena's Ashes". The songs flow nicely, starting with the power metal of the opening track "Into the Night". Lead vocalist Nadia Vanek has a wide vocal range that occasionally hits operatic territory. Guitarist Antony Royle contributes male vocals, and also on display is a full-time violinist (Yvette Van Wyk). Next is the 8-minute "Above the Storm". This is the longest song and packs plenty of power with a very infectious stop/start guitar riff being played throughout. There are some albums that have great music, and others that you pay more attention to the lyrics, "Iraena's Ashes" is one of those album where the lyrics really make an impression and help paint a picture of the story in your head. "I'll See You Soon" starts off acoustically as the mournful violin joins in and gives it a sad quality; the song eventually gets heavier, but for the most part it is a mid-tempo number and one of the best songs on "Iraena's Ashes". Other highlights include: "Requiem", "The Watcher Beneath" and "Under a Dying Sky". With "Iraena's Ashes", Alpine Fault set out to do something ambitious for a debut and it succeeds on most levels. The musicianship is excellent, Nadia Vanek's voice is enchanting and the songs are first rate.
Rating – 95/100
Tracklist
Into the Night

Above the Storm

I'll See You Soon

Mourning Has Broken (Sleep)

Requiem

The Watcher Beneath

Severance

March of the Tides (Palladio)

Under a Dying Sky
Line Up
Nadia Vanek – Vocals

Antony Royale – Vocals & Guitar

Yvette Van Wyk – Violin

Kalen Austin – Guitars

Ben Trappitt – Bass

Daniel O'Brien – Drums
Links
MySpace * ReverbNation * Facebook * Site
6 color styles available:

Style switcher only on this demo version. Theme styles can be changed from Options page.