Browsing articles tagged with " street"
Label : Rock Candy Records
Review by Tony Cannella
Back in the late 80s, it was impossible to pick up a copy of the (then) legendary U.K. magazine Kerrang!, without there being something in there about the British AOR rock outfit Romeo's Daughter, particularly their gorgeous singer Leigh Matty who seemed to be in every issue (or just about). Before ever hearing them, if you were a reader of this magazine you already knew who they were. Their song "Heaven in the Backseat" was included on the soundtrack to the movie "A Nightmare on Elm Street, Part 5″ and later covered by Eddie Money. The band released two albums in the late 80s/early 90s and have just recently re-formed. To commemorate their reformation, their two albums have received the re-issue, re-master treatment and both feature previously unreleased bonus material.
Much of the album is produced by Mutt Lange (along with John Parr) and that much is obvious on the opening track "Heaven in the Backseat". It has that slick "Hysteria" style sound and background vocals that sound like they could have been performed by Def Leppard. Beyond that, Romeo's Daughter's debut is chock full of pop flavored AOR tunes like "Don't Break My Heart", "I Cry Myself to Sleep At Night", "Wild Child" (which was covered by Heart on their "Brigade" album) and "Hymn (Look Through Golden Eyes)". The re-issue includes three bonus live recordings of "Heaven in the Backseat", "Velvet Tongue" and "I Cry Myself to Sleep at Night". Mutt Lange produced so many of the 80s biggest albums that we forget that some bands just didn't go on to global success, and Romeo's Daughter is one of those bands that fell through the cracks, which is a shame, because I think based on the material on their two albums they should have been bigger than they were, but that's only my opinion. Their slick pop AOR sound will not be for everyone, especially die-hard metal heads.
I have always liked Romeo's Daughter and I am psyched that the band has decided to get back together. More importantly it is a great thing that their (small) catalogue has been made available once again. Sure their music may be on the pop side of things, but the songs are just so damn infectious and besides, you can't bang your head all of the time, can you? Supposedly, Romeo's Daughter is working on new material, which is good news for fans of melodic AOR rock. Continue reading »
Interview by Danny Robertson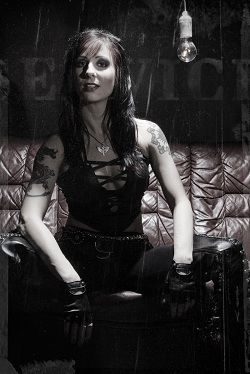 Check out Sister Sin – the Swedish rock'n' roll quartet hailing from Gothenburg, who recently supported their heroes Motorhead whilst on tour in the US. Here, singer Liv gives us an update.
How did the shows with Motorhead go? It must have been quite an experience to be supporting an act who've influenced you all for so long!
We had a blast!! It was a dream come true for all of us to support Motorhead. Both shows went very well and it was truly amazing to play in front of a full sold out show!
Did you win many new fans from the Motorhead crowd?
Absolutely! I think we got a good amount of new fans. People were standing in line waiting for photos and autographs after the show and we sold a lot of CD's, I think we did a really good job and people seemed to really enjoy our show.
Got any tour stories you'd like to share? Any strange or unusual experiences?
Hmm no not really, everything went very smooth during the shows with Motorhead. But on the tour we did before with Faster Pussycat, we had a lot of trouble! Our van broke down like 3 times during the tour and we nearly missed a show waiting at a truckstop for 7 hours for a new ride to the show that evening. When we finally got to the gig, we were 45 minutes too late and only got to play 3 songs.
Let's go back to the beginning – how did the band first get together?
Well, at the beginning we had another bass player and guitarist, and they and drummer Dave formed the band in 2002. I had put out an ad in a magazine looking for a rock band and one of them called me and told me they really wanted a male singer, but maybe I could try anyway. So I did and they didn't audition any other after that, so I guess I did make a good impression, haha! Since then, me and Dave have been looking for the right members and now it feels like we found them! Both Jimmy and Benton suit the band perfectly.
You hail from Gothenburg, a place normally associated with melodic death metal, thanks to bands like At the Gates, In Flames, etc. Given that yours is a very different sound, was it difficult for you to get shows and build a local fanbase in the early days?
Yes a little actually and still in Gothenburg that sound is dominant but the more hard rock/old school sound is beginning to come back.
You're described on your MySpace profile as being the new ambassadors of 'Street Metal' – who first came up with that term?
That is a good question, and I don't remember who first came up with that, haha. But I think it suits us very well. We are just true hardworking rock, very down to earth – very street, nothing fancy. We don't expect things to happen, we make them happen!
What would you say has been your biggest non-musical influence?
Just everyday life! From both close in our own lives and that very big, big unpredictable world.
The Motorhead shows aside, what do you feel have been the high points of your career thus far?
Well playing at Masters of Rock in the Czech Republic for 5000 people and with bands like Doro and Cradle of Filth was pretty amazing. And then playing at the Sweden Rock Festival last year was a dream come true too!
Who are your favourite current acts?
My personal favourites are Airbourne and Deathstars. We met the singer of Soilwork while in the US and they are working on a new album, and I am looking forward to that very much.
Are there any new bands back in Gothenburg that you'd recommend to people?
Maybe not Gothenburg, but I think people should check out Hysterica and Babylon Bombs, good Swedish bands!
What's next for the band? Any tours or future releases in the pipeline?
Yes hopefully both hahha! It's depending on if we are gonna do more tours this Autumn or not. We really want to tour as much as possible and we are right now working on finding new tours. But if we don't, the plan is to record a new album early next year. We are working on new songs right now and we are looking forward to giving the world some more kickass heavy metal!
Links
MySpace * Facebook * Twitter * Site
Latest Multimedia
Independent Release
Review by Tony Cannella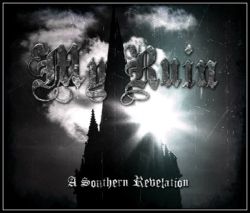 The thing that I have always loved about Tairrie B.Murphy and her previous bands, whether it is Manhole, Tura Satana or her current outfit My Ruin, is that she sings it like she means it. There is no bullshit poser posturing, this is who she is and the same more than holds true on the latest release from My Ruin called "A Southern Revelation" which will be available on their official site as a free download. You can't beat that. I have always loved Tairrie B. as a lyricist and on "A Southern Revelation" there is no shortage of subject matter in which to direct her venom, and the thing is, this is a lot of stuff people can relate to. "A Southern Revelation" is in a word relentless; it doesn't let up for a second and continues to pound at the senses. From the opener of "Tennessee Elegy" into the aptly titled "Highly Explosive", it is full speed ahead. "Highly Explosive" in particular is my absolute favorite song along with the oh, so subtle "Middle Finger". The contributions of Mick Murphy are big. His riffs are huge as he goes from Pantera style groove-laden riffs to a more doomy style. Other highlights include: "Walk of Shame", the intense "Deconsecrated", "Vultures", "Seventh Sacrament" and "Soulless Beast". The album is completed by a blistering cover of the Van Halen classic "Mean Streat" which fits right in with the rest of the intense material within. My Ruin manages to add their own twist to the track, whilst still managing to stay faithful to the original – not an easy thing to do. As great as "Ghost & Good Stories" was, My Ruin has at least equaled – if not surpassed it with "A Southern Reveleation". "A Southern Revelation" is Tairrie B. at her angriest, confrontational, in your face best. Everything she sings is from the heart and there is absolutely no holding back, she only knows one direction and that is full-speed, straight ahead. That attitude has come to describe My Ruin perfectly, and I hope it continues for a long time to come.
Rating – 95/100
Tracklist
Tennessee Elegy

Highly Explosive

Walk of Shame

Deconsecrated

Middle Finger

Vultures

Seventh Sacrament

Reckoning

The Soulless Beast

Mean Street
Line Up
Tairrie B. Murphy – Vocals

Mick Murphy – Guitar, Bass, Drums
Links
MySpace * ReverbNation * BandCamp * Facebook * Twitter * Site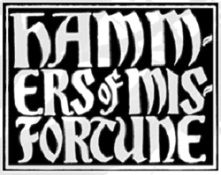 Interview by Luisa Mercier
After listening to their latest release, Femme Metal Webzine had the chance to have a quite interesting chat with John Cobbett, mastermind of Hammers of Misfortune. He has explained us a lot about what lies behind the complex lyrical content and musical content of the record!

Hi John, first of all congratulations for your new album. I enjoyed it a lot! Unfortunately, there might be folks out there who have never heard of you before. Could you introduce yourselves to our readers?
Hello, my name is John Cobbett and our band is called Hammers Of Misfortune. We are a band from San Francisco, California, USA. We began as Unholy Cadaver in 1997 and became Hammers of Misfortune in 1999. Our first album came out in 2001. I'm glad you liked our new record!
May you talk us a little bit about the concept that underlines the album?
Each song has its own concept. Some of them tell stories, some of them describe situations, some of them can be taken on several different levels at once. Many of the songs deal with common people dealing with hard times, a few of them deal with the people that created the hard times. There is a thread of lost innocence and disillusionment in the songs, but each one has its own story to tell. I was doing a lot of research about chronic unemployment, foreclosure, student debt, the credit crisis, the bailouts, bankruptcy etc. Not just the facts and allegations but the stories of real people who are going through these things, including myself and several of my friends. It's interesting that the #ows movement (Occupy Wall Street) sprung to life right around the time this album came out. I guess I wasn't alone in my concerns. This is a real crisis with real victims. At the same time, the lyrics could be about any situation of loss, heartbreak, resignation in the face of impossible odds, I could go on. I should reiterate that it's not accurate to put all the lyrics under one thematic umbrella. Some are more specific, some are purposely so vague that they could describe almost any situation.

This cover artwork is quite different from the previous ones. Is it somehow related to the concept?

The photo on the cover is a long exposure shot of us standing on Bernal Heights, overlooking the Mission District of San Francisco, where 5 out of 6 of us live. It's us in our natural environment. I guess if so many metal bands are taking pictures of themselves in the woods behind their house, we could do it too!
Your album is a unique one. It blends many of the genres in heavy metal. How do you incorporate so many influences in the music? Is it programmed or they just flow freely?
We really don't make any effort blend influences. We write songs. It's a very natural process. The key is to ignore influence, genre, trends etc. We simply don't think about it in those terms. It's all about the song.
That's not to say that I'm not influenced by anything. As a songwriter, I'm influenced by songs. Any great song will do. A great song is timeless, it could be the Beatles or Bob Dylan, it could be Discharge, Bowie or Cole Porter. I think most bands decide what genre they want to be before they even play their first note. Why get caught up in the endless parade of trends and genres? We want the songs to be good, and the albums to be good. Whatever tools or ideas we have at our disposal are put toward that goal.
Since we are a female fronted music-themed webzine, would you introduce us the two female members of Hammers of Misfortune? How did you get in touch with them?
I was introduced to Sigrid Sheie at a punk show in 2002. She was originally playing bass with us (she can play almost anything). When we realized that she was a classically trained pianist, we saw the opportunity to add piano and Hammond B3 organ to our sound. I've always loved those instruments. It's been quite a learning experience, writing and arranging with keyboards in a metal band. Sigrid showed up to her first rehearsal with a binder full of sheet music – she had transcribed our songs! We were quite impressed. She is now an adjunct professor of piano at University San Francisco.
Leila Abdul Rauf, along with Sigrid, also plays in a band called Amber Asylum. It was Sigrid who suggested we invite Leila to join the band. We were big fans of Leila's band Saros. We saw them many times and played some gigs with them, so I was already a fan of her guitar playing, and she was already part of the family, so to speak. She's also pretty good on keyboards and a fine singer, but mainly it's her detail-oriented, technical approach to guitar that I'm a fan of. She can also bust out a soulful guitar solo. It's a privilege to work with both of Leila and Sigrid.

You've been in at least three other bands before Hammers of Misfortune, did the experience with them influence the work with HoM in any way?

Hammers has always been my number one. The other bands were much less complex, more of a release for me. Mainly because I didn't have to write any lyrics. It was fun to just sling riffs and play the guitar. You learn something every time you go on tour or make a record, regardless of what band you're with. Hopefully, you learn from your mistakes, especially in the studio. Making an album is a massive undertaking and the lessons learned in the studio are the ones that you bring to the next session. Those experiences and lessons definitely come into play every time you make a new album.
I've read about previous difficulties with labels and such. How's Metal Blade treating you since last year?
We haven't had too much trouble with record labels. There's very little money left in this business, so there's not that much to argue about, haha! So far our dealings with Metal Blade have been very professional and fair. They stayed out of the way when we were making the album and now they have stepped up to help promote it. They've done a great job so far.
Do you have any idea yet on what the future might bring for Hammers of Misfortune? Any thoughts on a tour or a new album?
There will be 4 shows in the Pacific Northwest US in December, then we're playing Roadburn 2012! After that, who knows? The next album is always on my mind but it's just forming right now. Once this new line-up gets our "stage legs", we'll have more chemistry as a group. I'm looking forward to that. Thanks!
Links
John Cobbett : Twitter
Label : Cooking Vinyl/Edel
Review by Luisa Mercier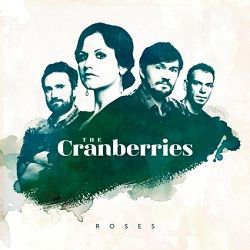 After almost ten years, one of the most importan and influential rock bands of the '90s is back and especially where I live (Italy) the hype was very high. They teamed up with their usual producer Stephen Street, and gave light to "Roses" released on Valentine Day. I would not say that this record may be defined rock, it is much mellower and eerie starting from the first track "Conduct", which has the distinctive vocals of Dolores as opening. Nothing strange, nothing too experimental, it is a nice mid-tempo song, as the following "Tomorrow", the first single. Slightly more up-tempo and lively, it has not the potentialities that had "Zombies" back in those days. "Fire Soul" is an acoustic, sweet ballad with some electronic hints here and there, same be told for "Raining in My Heart". The intro of "Losing My Mind" has a retro taste and brings us back to those days in which the band was most popular. The chorus is maybe the rockiest thing we have heard so far on "Roses". Darker is "Schizophrenic Playboy" and a little bit more uptempo with a rock edge. "Waiting in Walthamstow" is an elegant song with strings which build up in the next one, maybe my favourite off "Roses". "Astral Projections" and "So Good" follow the tren of the record: acoustic sounding, mid-tempo almost slow songs that cradle you. Last song is "Roses", a beautiful melancholic ballad with whispered vocals. If you expected a rock coming back, you might be deluded by this release, if you love mellower, sweeter atmospheres, this album might definitely suit you.
Rating – 70/100
Tracklist
Conduct

Tomorrow

Fire & Soul

Raining In My Heart

Losing My Mind

Schizophrenic Playboys

Waiting In Walthamstow

Show Me

Astral Projections

So Good

Roses
Line Up
Dolores O' Riordan

– Vocals, Guitars & Keyboards

Noel Hogan – Guitars & Backing Vocals
Mike Hogan – Bass
Fergal Lawler – Drums & Percussions
Links
MySpace * Facebook * Twitter * Site
6 color styles available:

Style switcher only on this demo version. Theme styles can be changed from Options page.