Browsing articles tagged with " studio"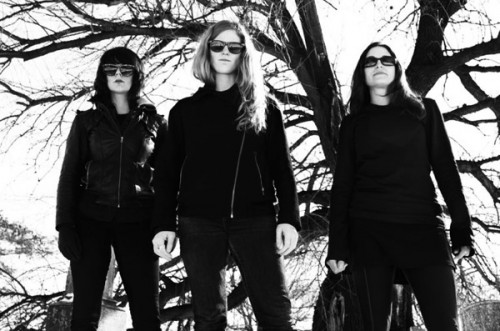 Brooklyn, NY's Mortals have entered the studio to record their full-length debut and first album for Relapse Records. The blackened sludge trio are working with Kevin Bernsten (Mutilation Rites, Magrudergrind, Pulling Teeth) at Baltimore's Developing Nations.
The band previously worked with Bernsten on their self-released 2012 "Death Ritual" EP which is available for streaming via their Bandcamp page here. Their upcoming full-length will see an early 2014 release. Pictures from the studio have been posted on the band's facebook page here.
The band commented on the new material, saying: "There are more black metal and thrash influences on this album, but it still sounds like Mortals. This album represents a year's worth of writing, and we're excited to be in the studio and to get the material out there."
The recordings of the studio album "Alchemy" have been officially completed and we can now confirm that the double album will be released on March, 4th in Europe and April, 9th in USA. This release will, however, be preceded by the world premiere of "Alchemy" show at the famous Wyspianski Theatre in Katowice, Poland on February 22, 2013, where it will be recorded for the purposes of a DVD to be released by Metal Mind Productions later next year. We can also reveal that the album will be available for purchase at the Theatre prior to the official release date.
And today you can listen to the first promo track taken from the "Alchemy" album. "Street Fight" is available to stream at the official Metal Mind Productions' channel on YouTube in THIS location.
Interview by Lindz Riot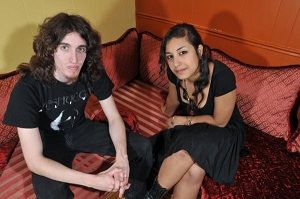 When people hear of Quebec, Canada they immediately think of Montreal, but to the east lays Quebec City where many good things are happening for Metal and Ambient experimental music alike. There you will find a gem, a diamond in the rough by the name of Manahil. Arabic for "The Sources" they are a duo that describes themselves as "Ambient music for Metal Heads" and from listening to them you can hear the concept. It is very refreshing! Fronted by the soulful and exotic voice of Hind Fazazi alongside piano wiz and musical visionist Mathieu Fiset, they are definitely adding something new to the music world. During their Ontario, Canada tour I have had the privilege to house them and sit down with them to get into their minds about what Manahil is and what they are doing that is so different.
Welcome to Femme Metal guys! Thank you so much for doing this interview with us. It's a real pleasure. So how are you two liking your Ontario tour so far?
Mathieu: Great ! So far only one show down, but we played here last October with Stream of Passion and Unexpect and that was great. I can't wait to play Toronto tonight and Oshawa next week with Mary and the Black Lamb and Modified.
Hind: I cannot judge for the moment! But at least, people here are friendly …let's see if the Toronto gig tonight will be as nice!
How did you two meet?
Mathieu : Through a friend of ours. I asked Hind to come up to record a Steven Wilson cover song just for fun, but we ended creating music with an ambient instrumental track I had. This first song is the opening track of our first album.
Hind: I was fifteen years old at that time, and I already knew Mathieu was a great piano and keyboard player. We tried some covers together, in English first, but then we rapidly decided to experiment something new in Arabic, because we both were curious, open-minded and tired of traditional music!
How did you decide on your sound? Was it a vision or something that just came out through jamming together?
Mathieu: We never planned anything really, but of course with the knowledge that she could sing in Arabic and the fact that I love exotic music, we just ended up doing lots of oriental stuff in the beginning. But later we added the pop, rock, electronic and progressive stuff.
Hind: We just ….let ourselves do whatever we wanted to. We knew that our two energies were going to give something unique. We jammed a lot in the beginning to see what we could create together, and then just continued that way until now!
What are your musical backgrounds?
Mathieu: As a kid I was in love with the soundtracks of my favourite movies and then the music of Alegria from Cirque du Soleil really had an impact on me when I was 5 or 6. I took some piano lessons then stopped because the lessons were not what I imagined it would be. Later on, when I was 14, I started listening to metal so my interest in music came back. At 15 I joined my first metal band and slowly became a professional musician.
Hind: When I was a young little girl living in Morocco, I loved…Celine Dion! Then, when I moved to Quebec, I switched radically to thrash metal, Nu Metal and female fronted metal bands! Slayer, Sepultura, Korn, Within Temptation, Evanescence…afterward, I began to listen to Opeth and opened my mind to non-purely metal music, such as Nine Inch Nail, The Cure and Indian music.
What artists have really influenced Manahil?
Mathieu: That would be a long list! But I can say that my favourite bands are Tool, Nine Inch Nails, Porcupine Tree, Opeth but also some other artists have had a major impact like Peter Gabriel, Rachid Taha and Hans Zimmer.
Hind: For me, singers like Amy Lee, Tori Amos, Norah Jones and Susheela Raman, a folk-indian artist, influenced my interpretation.
You say you are ambient music for metal heads, what do you mean by this statement? Are you both heavily into metal?
Mathieu: Yeah, as you might guess by now, we both listen to a lot of rock and metal music, but we need something to balance it all, so we create kind of an ambient or electronic version of the metal music we want to hear.
Hind: As I have already said, we LOVE metal and listen to metal bands, but we hate to categorize ourselves as metal heads. Also, we don't want to get bored by doing the same old style all the time and we absolutely adore oriental music and mixing styles that every open-minded metal head should appreciate.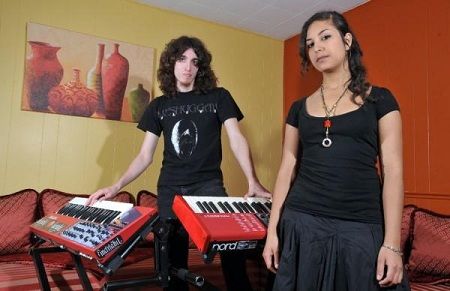 Would you ever consider making Manahil a full band project?
Mathieu: No, because from the beginning we decided Manahil was the two of us, the creative force we are, and not a musical style.So even if we often have collaborators and live musicians, we prefer to keep the basic of Manahil as the two us.
Hind: Manahil, in Arabic, means The Sources, it's only us two and we are the sources of the music we create!
What has the respond to your music been like in the Province of Quebec?
Mathieu: I don't really know, to be honest. It's a positive response for sure, but since it's a really personal music, everyone feels different to it.
Hind: It's particular! Manahil is a very introspective music and in a show context, where people are used to scream, it's weird. It's as if the crowd finds it special to just listen and let the music enter in their hearts.
Do you think you will be well received in Europe?
Mathieu: I guess!
Hind: I really think so. The North American audience is definitely different. The expectations are different, and I think, honestly, that the cultural aspect will be positive for us. We are a non-typical band, and maybe, I say maybe, it will be fully understood in Europe.
Why do you feel the metal scene in Quebec has been progressing so rapidly as of late compared to the rest of North America? Do you agree with this statement?
Mathieu: I guess it's mainly because there's a lot more metal heads in Quebec so with a bigger crowd, you can have more bands, more shows…but I mostly feel there's too much of the same thing. We certainly have some of the best extreme metal bands in the world.
Hind: I agree with Mathieu on that, particularly in Quebec City…Quebec, metal city! But yeah, there is too much of the same: too much black metal bands, classic Hardcore bands… it's not very diversified!
Tell me a bit about your new album, where did you record it? Who produced it? What can we expect to hear?
Mathieu: I produced, recorded and mixed it myself, mostly in my home studio but you'll like to know that we recorded the vocals in Cardinal, Ontario. Musically, it's a new experiment, more than a new direction. As much as we love the new album, we won't do the same for the next album, just like every recording we've done and will do. It's even more "Ambient music for Metal heads" than the first album. It's a deeper, more sophisticated production which I'm really proud of and we went in musical areas that we never dared to explore yet, opening the door for more experiments in the future. We're growing up I'd say!
Hind: Yeah, the composition of this album was a nice and refreshing experience. First, Mathieu sent me what he had done…the musical tracks sounded less melodic and more electronic to me… I didn't know, at first, what I could sing on that! Then I experimented to write my melodies in a totally different way, and the result is amazing: a mix of very melodic vocals mixed with dark-electro-industrial-oriental music!
I noticed a hint of a Jazz influence on your most recent EP, can we expect to hear something like that on your next album?
Hind: No, or maybe inconsistently in a few back vocals. We both love jazz, but we already explored what we could do with that on "From Roots to Clouds", "Alouanou Sama" is totally something else!
Last question: Outside of music, what are your lives like from day to day living?
Mathieu: Music is my day job, but I'd say I don't play as much as I'd like to. Doing lots of planning, booking, promotion, paper work, I don't take much time off, but I like to change my mind from time to time playing games and watching stuff on YouTube. I'm a complete nerd, so I don't have of a much social life.
Hind: I'm going to University, studying philosophy and politics. Those subjects are my main passions with music. I am involved in my community, and I try to be active to promote a provincial political party by the name of Quebec Solidaire. I'm a part time musician, but a full time good citizen, I think. I read a lot and love to party with friends!
Photo Credit
All the photos by Fred Laroche
Links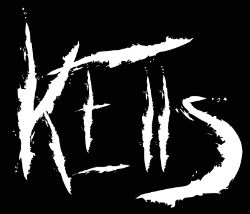 Interview by Ary R.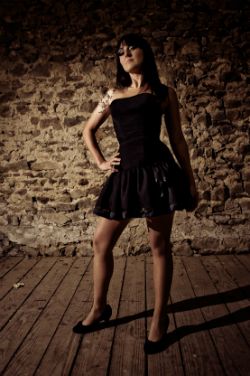 They rocked Europe last year with Leaves'Eyes and Tarja Turunen, and with Epica and ReVamp the former year as well. Now they're back on the music scene with the upcoming album, "Anachromie", that will reveal some other music features of the French rock band Kells. Just read with us what the front-woman Virginie Goncalves told to us!
Hi Virginie. Welcome to Femme Metal. How are you doing? Recently, you've released the new Kells album, "Anachromie". How are the feedbacks from your fans going?
I'm fine, thanks! "Anachromie" has been out for a month now, and it seems that both the press and the fans have praised this record. We are very happy about that because somehow we had chosen to take artistic risks, not to repeat ourselves and to renew our image, and people liked it!
I've been surprised about the title you've chosen for the album, as I've been amazed by the artwork as well. Would you like to talk about them? Who has created the cover and how was the choice for the name of the album born?
In this album, everything in the lyrics is written in a disjointed way, the space-time notion is broken, the reality mixes up with the dream, as in the surrealist genre… Globally, the lyrics are anachronistic. Also, I use many adjectives of color (ochre, silver, gold, amaranth, blue, white, black, saffron, amber, sapphire, sandy…), which gives the lyrics a very pictorial aspect. It is the mixture of these 2 concepts, the chromia and the anachronism, that gave birth to "Anachromie". The cover artwork has been made by Blackthorns Design. We appreciated what he had made for other bands, this mixture of surrealism and modernity, that's why we decided to work with him. The frontcover and the booklet are an illustration of the lyrics… the girl with her bridal veil, with all her dreams, the tortured childhood, the nightmares and the anachronism always there, with the hours of the clock, the tracklist in disorder … as in the surrealist universe, where nothing has any reasonable landmarks or points of reference.
The recording and the creation of the album have been quite challenging. How long did it take to put down all the material, to record it and to mix it properly?
We recorded this album in November 2011, more than a year ago already! We went to Mon Studio in Nancy, to work with Yann (MyPollux). We began with the recording of the drums, then the basses, the guitars, the strings, the choir, keyboards, electro music, to finally end up with the vocals, at the end of November. So it took almost one month, because we prefer taking time! Yann then attacked the mixing in December, and we eventually sent it all in New York to the Sterling Sound Studio for Ted Jensen to master it in february 2011.
Interview by Erwin Van Dijk
An interview with Lotus from Sin7sinS, update Summer 2009. Last year I had an interview with Lotus, the singer of Sin7sinS. They have released three new tracks on MySpace so I thought it would be time for an update interview.
Your last two gigs were in March (in the cities of Antwerpen, Belgium and Dordrecht, Holland) What have you and the band done since then? Besides spending a lot of time in the studio

We were after those gigs very busy with writing new material and rehears this (we have a kick ass new set list!) Further as you said we spend a lot of time in recording the new songs. And we have done a new photo shoot…
You have recorded three new songs. Ronald Landa from Delain was responsible for the producing and mixing while Ad Sluyter (of Epica fame) did the mastering. How did you get in touch with these two guys Ronald Landa and Ad Sluyter and how was it to work with them?
Ronald Landa is a friend of Paul and me, we played before Delain and Sin7sinS in the same band. Ronald is very good in producing, so he wanted to help us. Ad Sluyter is a friend of Ronald and he is into the mastering…
And, did they have any influence on the sound of the new songs? This is because Delain and Epica are not exactly in the same genre as Sin7sinS.
Not really, the songs were already written before recording. But of course they did help create the sound which we were looking for.
Song by song: what can you tell us about the new songs? Music & lyrics? ("Dead World", "Eye Want All", "Insult #7″)
The new songs are louder and better then our older work. We tried to focus more on the songs as a whole. This implies that vocal work (etc etc…) follows a more natural path. Each song has a different meaning which is best hear able in the lyrics, most songs are inspired by things and events going on in our own lives.
Are these songs much different from your older work?
As an artist you naturally grow, however the songs are still in the same line as our older work. But due the fact that we have grown as a band our music has grown to.
This was not your first time in a studio. What have you done different this time?
We recorded most of it ourselves this time!
And which studio did you use this time?
We used the home studio of Ronald Landa.
Will this stay an online affair or will there be a possibility to legally download it or even a CD version?
The meaning of this promo CD, is to score a record label! We are ready for this next step! So a CD will be there when a record label signs us. The 3 new songs are listenable but you can not download them.
This is maybe a bit of topic but do blondes have more fun? Because you have changed your hairstyle since the last time I saw you on stage (at the Mix, Uithoorn).
Hahaha, no I don't think blondes have more fun. I like a change from time till time… not always the same look! But I still have as much fun as I had when I had black hair. The only good thing about it, is that my bathroom has a chance to become white again (as it was before I started painting my hair black, 2 years ago).
Links
MySpace *Facebook * Twitter * Google Plus * Site
6 color styles available:

Style switcher only on this demo version. Theme styles can be changed from Options page.