Browsing articles tagged with " suffering"
Independent Release
Review by Luisa Mercier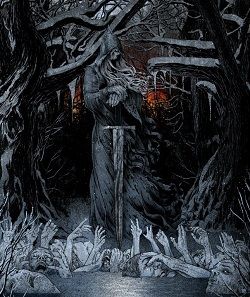 Angist come from Iceland and play extreme metal, a mix of death and black. They are one of the most promising acts in the genre and it is not by chance that they come from that far island. Even though small Iceland has a real musical treasure, just think of the stars Bjork or Sigur Ros or smaller realities like Kontinuum or Solstafir. The music they play is not really that original, but it's well played and conveys the imagery of cold, distant lands covered in ice. Vocalist/guitarist Edda Tegeder Óskarsdóttir is a nice, blond girl that belts out harsh, deep growls, you will never say it is a female voice. Continue reading »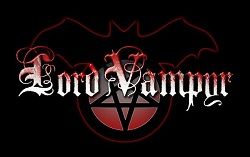 Interview by Erwin van Dijk
There are basically two branches of Black Metal: the ones with the corpse paint and great visual shows like Dimmu Borgir and Watain (but Watain is also very smelly) and the bands who compensate their lack of special effects with a cold self hatred like Skitliv and Shining. Lord Vampyr belongs to the first group. True to the genre everything seems to be shrouded in thick mists. For example, the website under construction and Myspace offers besides the names of the band members only very little info in Italian (a beautiful language but I do not speak it) but we have Wikipedia these days. Lord Vampyr (real name Alessandro Nunziati) used to be the singer of legendary Theatres des Vampires and Lord Vampyr is his solo project. This year the band has released their latest album called "Carpathian Tragedies".
Vampires seem to be very popular these days in the cinema. Do you watch those movies yourself?
Yes, but I'm not satisfied, cause all seem like a teen-movies and not a serious movies on the world of vampires.
Most of us know you as the singer from Theatres des Vampires. But have you been active in other bands before Theatres des Vampires?
Sure, my first band was Sepolcum (then called VII Arcano). Sepolcum was one of the first death metal band from Rome, then the band became more gothic style close to Tiamat, Paradise Lost, My Dying Bride.
You have been active in the music business for many years now. What are the high lights so far and what is still on your "to do" list?
If you ask me what I want to do yet, well many things. Probably put on a short project with our keyboard player, something pop-rock like 30 Seconds to Mars, The Rasmus and Muse.
As said before, you used to be the singer of Theatres des Vampires. Why did you left the band?
There were many personal problems and then on the music. Continue reading »
Interview by Connie Bach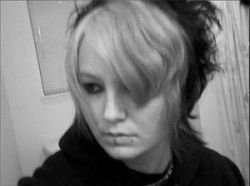 Don't take this album lightly. It isn't your average metalcore album. It is far more intense. Guttural growls, with angelic clean vocals mixed in, is probably a description that has been offered before. But the way Kierston uses her talent, combined with a varitable onslaught of sound, equals nothing I've run across before.
Hello, Kierston. For the Suffering is a recent, welcome find for me. For the Suffering has a powerful sound with a lot of energy and thought behind it. What's going on now?
We're currently doing a lot of writing, recording and playing show
s every chance we get. Our focus right now is to keep it diverse and intense loaded with hooks that will keep our fans head banging and singing along until we hit the road and bring it live!
Your Myspace blog says you are working on a new album. What made you guys decide to release four tracks so early? That's pretty cool.
We had a bit of a delay in releasing our new tracks due to a recent change in band members. Because of the delay we had plenty of time to write and not enough patience to keep it to ourselves!
Kierston, you do a great job blending clean vocals with searing growls. Why did you use more melodic vocals, at least on these tracks? If this is a trend that the album will follow, what encouraged it?
Listening to the first FTS album we all realized there was plenty of aggression and brutality but it was just a taste of what we all wanted to do. We all love metal, no doubt, but "Life Without a Cure" is just another side of music we enjoy. We wanted to share that with our fans. As far as this continuing, it's a strong possibility but we never know for sure what's next until we start writing…but I promise it'll be worth waiting for!
"Belly of the Beast"is such a deep song, especially considering its simplicity, only using an acoustic guitar. What does the lyric "I'm finding all my remains deep in the belly of the beast" stand for? What is the whole story?
"Belly of the Beast" was very real and raw for me. This line refers to the feeling of being emotionally consumed and destroyed by an abuser, specifically in sexual abuse. The entire song is a battle between the predator and the prey. The simplicity in the music was a reflection of the isolation felt by the victim. Definitely a message meant to be heard clearly.
As I said the song is lovely in its solemnity and simplicity. Why did For the Suffering round out the EP with an acoustic track? It's a nice touch.
On our first album there is a much more aggressive version of the same song, most people wouldn't even realize because of the vast difference. The song carried a much heavier meaning and I chose to do an acoustic version later on for this reason. The music had to fit the message, and the message was simple yet devastating.
Kierston, earlier, I refered to the two contrasting vocal styles you use, both melodic and aggressive. My question is: what drew you to the darker, more aggressive vocal style you use?
As I said earlier, it's very important that not only is the message heard but also felt in the music. We touch on a lot of darker subjects in our music, all things we strongly believe in. The music is simply saying what words cannot.
How did you develop the talent you have? What sparked the interest and how did it grow?
I've been singing as long as I can remember. I honestly have no idea what started it, I can't recall a time when I wasn't passionate about music but it really flourished when I got my first guitar and started writing my own music. At first I stuck to acoustic, writing songs similar to "Belly of the Beast". But joining FTS awoke a whole different animal in me that I don't think I could stop if I tried.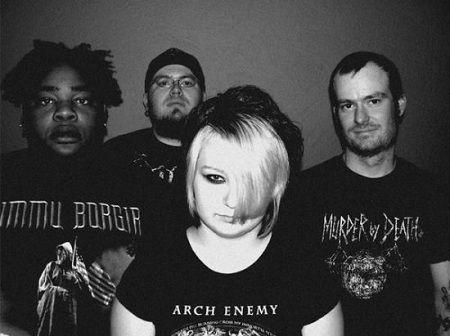 Shifting focus to For the Suffering as a whole, what are the band's future goals? Specifically, how do you envision Marty, Dave, Ryan and yourself a few years away? What would be the ultimate achievement?
We would love to tour soon and spread our music far beyond the U.S. Ultimately, we want to tour full time and see where that leads us. "Fame and fortune" isn't what we are going for…but if we happen to get rich doing what we love, we won't complain! Based on online information, Brian is currently not playing bass. I've always heard that bands bond like families. What goes into finding a band member?
Although ability and talent plays a huge role in each member, we are all friends before we are band mates. It's not easy having to sacrifice the time, money and effort as individuals and as a unit. But you're much more willing to do so when there's a solid bond between each person in the band. We all had to fit that bill in order to be a part of FTS and we had to look for someone who could do the same.

What happens if and when musical tastes of different band members clash? How do you resolve them? Apart from keeping relationships among band members healthy, why is it important to reconcile these differing interests?
We don't necessarily try to reconcile our different tastes in music, we try to embrace them, allow them to influence and inspire us. Between all the members of FTS, we cover a lot of ground musically. This seems to allow us more room to write, brings more ideas, and puts more passion into our music.
Building on that, is there any one artist within the metal community which all of For the Suffering's members can agree is influential?
Well I'll be honest. No, there isn't just one. I can't possibly choose just one haha, sorry! So for the sake of compromise, I'll make this short. Ronny James Dio, Devin Townsend, Rob Flynn, Iron Maiden, Rush, Angela Gossow and David Gilmore.

Keeping on with that thread, how have For the Suffering's other members, and fans, changed you in the last few years?
FTS is like a band of brothers, we've had to learn a trust and commitment to each other enough to endure a lot of hard work and frustration, its impacted and changed us all. And our fans quickly become our friends. We have had many GREAT fans that have helped us out a lot! We wouldn't be here if it weren't for our core!
I've been to a few concerts in the last few years, enough to realize that the audience has a big impact on a show once it begins.
What is the most hilarious, insane, and/or moving memory you have of touring or performing? If the guys want to contribute their perspectives on the same event, that would be awesome.

Encores, unexpected new fans, sharing the stage with some amazing bands, seeing people sing along to your songs, rocking out so hard you puke, epic on-stage injuries, ALL the good stuff that comes with making music!

How has the Internet benefited your connection with fans? How does Clovis's music scene impact the band?
The internet has been a great expansion to our networking and keeping in touch with our fans, but most of our fans are made at shows. We try to connect with the crowd on and off stage and keep in touch through the web. Clovis fans, although this is a small town, have been supportive and many of them are great friends!

What would you guys like to throw out there to the public?
Be ready for some new songs and upcoming shows! And HUGE thanks from FTS to everyone who's been such a huge part of helping, promoting or supporting us!
Links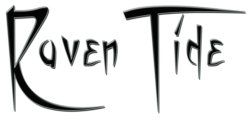 Interview by Connie Bach
Raven Tide offers an energizing, yet soothing blend of driving guitars with a strong bass line, and balanced orchestra. The result is dark, warm, dreamy, and flowing.
Hello, Cheryl. "Ever Rain" is an awesome EP. I can't wait to check out the new album.
Hi Connie! I'm very glad that you gave me the chance to talk about raven tide and it's awesome to hear such good words about our songs!
What's going on with the band these days?
Good question Connie!! This is a very intensive period for us. We're trying to find the better way to promote "Ever Rain", choosing few but relevant events where we can show what raven tide really is. We're also working for new songs and our days are full of studio sessions and writing. It's not easy, in fact, to spend energies in the right way, especially when you have so much to do in so little time!!!

Raven Tide has been featured on several compilations. "Doom Revealed" will appear on "Beauty and Brutality" and "Lucifer Bliss" appears on "Rock for Haiti". I love the charity aspects to these two compilations. What made Raven Tide decide to contribute?
It's wonderful. I think the idea of creating compilations of good music and use the cash to charity is a wonderful initiative. In fact, you get a double benefit. For the bands is certainly an excellent opportunity for visibility and expression, while using the music and its power, you bring more people to a social problem, making them participate by simply listening to a song.
in the past we have often thought of organizing lives and events for a charitable purpose but it is not easy for band to be able to set up this type of event…so when the opportunity to participate in this initiative came, we didn't think twice!! Especially when it comes to a quality product like "Beauty and Brutality".
Raven Tide is such a young band, yet has such a polished sound. What brought the members and their various skills, together?
Indeed, although the moniker Raven Tide is dated 2009, all of us for many years were part of a previous musical project, a tribute band that has enabled us to acquire over time a deep musical and personal understanding and improving through long live experience. Over time, of course, came the need to express ourselves with original music and create something where everyone could put their ideas and influences.

Turning to the recent release of your EP, it is a lovely taste of what is to come in the future. The name Ever Rain suits it. Where did the name come from?
Ever Rain was, in truth, the first moniker of the band, replaced with Raven Tide for reasons of homonymy with another band. After this, we decided to use it anyway, as the title of our first EP, maintaining continuity with our first idea. The reason for both names is, however, to evoke a particular image that remains a feature of all our work.

MySpace says that "Ever Rain" is a preview of a full-length album in the works. Why did the band decide to release a "preview"? I love when bands do that, it is kind of like the smell of baking before the bread comes out of the oven.
To be honest, we've never thought of "Ever Rain" as a preview…. it was simply a demo cd to present what we are. Then, he started receiving more and more confirmations becoming an EP and with the precious support of our promotion agency (Alkemist Fanatix Europe) was distributed in most of Europe and the major online music sites overseas. It was a good surprise!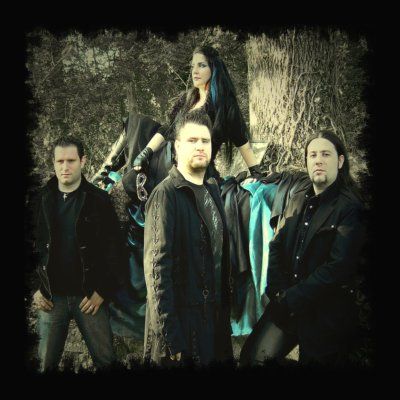 I love the song "Lucifer Bliss". What is the story behind the lyrics?
The message of "Lucifer Bliss" is that everyone in this life hae to face bad moments and suffering and sometimes, when the pain get deeper, there's an instant in which we wish to get heartless and we're tempted to lose ourselves denying the good we have inside. I guess is another way to describe the fragile nature of humanity, and the constant danger to fall down to Lucifer. Especially in these violent days, it seems easier for us to forget what's important in our existances. Sometimes lucifer may seem enchanting but if we look inside ourselves, love is always the better way… How did it come about that you and Joe Bardazzi worked together? His growls and clean vocals are demonic in feel, perfect for "Lucifer Bliss".
This sounds like "the answer is in the question" Connie!! Since the writing of this song, Lucifer was a sort of dialogue between good and evil. We were looking for a voice that was deep and strong enough to play the "lord of night" part. So, during a live show in a pub of our town, we listened Joe's performance and we just undesrtood he was perfect! We talked with him right that night and he was immediately ready to go! Amazing!

"Stillness" is purely orchestral and is a nice opening. Why did Raven Tide decide to include a bag pipe solo in this song?
It gives it a lovely celtic feel. We really think that bagpipe sounds are extremely powerful and absolutely perfect for an "ouverture". "Stillness" in a sort of hymn, where we've tried to mix our gothic inluences with the idea we have to create something new using electro samples and movies soundtrak effects. We're really happy you like it!! I have the feeling that live shows are pretty explosive. What is one experience you will carry with you from performing for the rest of your time?
Well…thinking about it, I can't really say which of my live shows I will carry with me forever…
each one have won a special place in my heart, ' cause everytime there's a different mix of sensations and everytime you get back home with a different vision…
What I know is that I've always done my best to reach the heart of people, no matter if i was on a little stage of a little town or in front of the crowd of a great location.
I must admit that I'll always remember our shows at Alcatraz in Milan. We performed there before Raven Tide's birth with the tribute band and it was exciting, I was scared to death before my entry on stage!!! Now i'd be very happy to back there and present Raven Tide…who knows??? Where is the one place you dream of performing at? What makes it special in your mind?
Oh …I really adore big festivals like Rock Am Ring, Wacken etc…
I think it's a common dream for rockers to sing in front of such a crowd but personally I also think that nothing is more evocative than an acoustic set with an elegant design, soft lights and contact with the people. We'll try to provide both experiences with our music, just keep on follow us!!!
Cheryl, you have considerable talent. Where did you learn the skills you have?
I've always been music addicted. I've always "needed" music. At fourteen I completed piano and composition studies privately, then i've been part of a poliphonic choir as half soprano for 8 years. During that period i've always had experiences in rock bands, as singer or playing piano then it came the tribute band and finally… Raven Tide.

"Ever Rain" brings amazing images to mind. I'd like everyone in the band to contribute to this one if possible. What is the symbolic value of music? Why is it so valuable?
I think it is undeniable that music is an indispensable element in the lives of everyone. It's like a constant soundtrack that follows us even if we don't pay attention or are busy in our business. It has the great power to communicate with our intimate and it does so without barriers, nothing can stop it. I think this is the great magic of music. Shark: Hello Connie, is a pleasure to talk with you! Well, I agree with Cheryl about the importance of music, personally I could not think of my life without music, is simply a great form of expression, perhaps the most universal. Mark: …and even more understandable. Only listening it can give strong emotions but even more amazing is when you can create music! Fred: …especially when you realize that what you wanted to convey through your work came straight to the heart of someone. This is fantastic.

"Ever Rain" is a great taste of what is to come and I'm definitely excited. Cheryl, thanks for your time. It's been wonderful talking with you.
Thank you so much for this special occasion Connie!! It was great to share with you part of our world! Thanks to femme metal for the wonderful work and for believing in us! The Raven Tides promise you all big news shortly! Keep on following us and…stay metal!!!
Links
MySpace * Facebook * ReverbNation * Google Plus * Twitter * Site
Independent Release
Review By Tony Cannella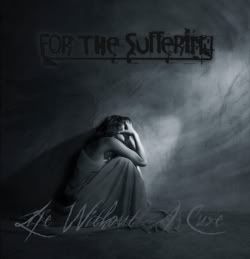 New Mexico's For the Suffering has previously released one full-length self titled album. They have just issued their 4-song EP titled "Life Without a Cure" and I had no idea what I was in for. The band plays wickedly intense thrash/death metal/hardcore type music with lead vocalist Kierston Graham just absolutely tearing it up on the mic. She alternates between a clean singing style and otherworldly screaming. The thing is, she can actually sing – quite well – as her clean vocals will prove. Strap yourself in, because the opening track "Blue Collar Noose" really gets things going fast and furious. Right away Kierston Graham alternates between her vocal styles, as this opening track proves to be relentless and quite ferocious. The next two songs, "Life Without A Cure" and "Oubliette" are two more brutal numbers. On the final track "Belly of the Beast" the band throws us a curveball. After three songs of belligerence, For The Suffering ends with a 4-minute ballad that is just Kierston's beautiful vocals accompanied by acoustic guitar. What a change of pace, but a memorable way to end the CD. Fans, who like their metal with an aggressive edge, should by all means check out For the Suffering. "Life Without a Cure" is a high octane, high adrenaline rush of a CD.
Rating – 85/100
Tracklist
Blue Collar Noose

Life Without a Cure

Oubliette

Belly of the Beast

Line Up
Kierston Graham – Vocals

Dave Williamson – Guitar

Bryon Little – Bass

Marty Williamson – Drums
Links
6 color styles available:

Style switcher only on this demo version. Theme styles can be changed from Options page.