Browsing articles tagged with " sun"
Label : Cyclone Empire Records
Review by Luisa Mercier
Black Sun Aeon is the solo project of Tuomas Saukkonen, who is already involved in many other bands (Before The Dawn, Dawn of Solace, RoutaSielu). He used to keep this project to explore other sides of his music mixing gothic, death, doom never losing sight of melody. While the previous work "Routa" was mainly focused on instrumental music, "Blacklight Deliverance" has two guests singers that alternate in the seven tracks: Mikko Heikkilä and Janica Lönn (female singer from Lunar Path). The opener "Brothers" has powerful yet melodic riffing as only Finnish can craft, while Tuomas growls and Janica creates magical landscapes with her vocalising. Towards the end an acoustic interlude makes everything softer and sweeter. There is a real winter mood throughout the song that goes on with the following "Solitude". Continue reading »
Label : Season of Mist

Review by Davide Torresan

2012 sees the reappearance of Kylesa in the worldwide metal scene. After the album of 2010 "Spiral Shadow" and many live dates, the masters of stoner metal started to gather together their ideas to give birth to a new work. According to some rumors of the band, it will be out in 2013. In the meantime, between a concert and another, they found the time to pick up the material so far composed and propose it again in a new guise. Indeed there are many bands that lately try to do that. The first that comes in my mind is Anathema with "Hindsight" and the following "Falling Deeper", or My Dying Bride with "Evinta". Kylesa decided to travel a different path, redefining its original sound. They picked up some songs of their past giving them a fresher sound. The production has benefited of this restyling, so songs like "Between Silence And Sound" and "Bottom Line" live a second life. Hard and dry sounds, but sometimes they are enchanting and even soothing. The work on guitars of Phillip and Laura is accurate and well done. Psychedelic and progressive rock are fused in one soul, giving to the listener a sound experience to live at 360 grades. Their vocals are unique, as they switch from an aggressive style to another more melodic. In this album they have also included some previously unreleased songs, so you can pretty much say that this "From The Vaults Vol. I" is a new album. There is a new song too, "End Truth", which has a quiet pace compared to what they've reproposed so far. Kylesa realized also a couple of cover songs. The first is "Drained" of the American sludge metal band Buzzov-en. This song, like the original, has a doom rhythm, really oppressive and heavy. The second is "Set the Controls for the Heart of the Sun" of Pink Floyd. Kylesa proposed the pearl of the masters of English prog-rock in a overwhelming version thanks to the wall of sound of the guitars and the rhythm section. In conclusion, this album is really good for the neophytes of stoner/sludge metal like me, and the band fans. Today I can say to have discovered a new talented group. Give them a chance!
Rating – 77/100
Tracklist
Intro
Inverse
111 Degree Heat Index
Between Silence and Sound II
Paranoid Tempo
End Truth
Bottom Line II
Wavering
Bass Salts
Drained (Buzzov-en)
Set the Controls for the Heart of the Sun
Drum Jam
Line Up
Phillip Cope – Guitar & Vocals
Laura Pleasants – Guitar & Vocals
Eric Hernandez – Bass
Carl McGinley – Drums
Tyler Newberry – Drums
Links
MySpace * Facebook * Twitter * Site
Interview by Roberta Ilaria Rossi
Gone Til Winter is a melodic metal band from Manchester (UK) with some progressive and power melodies embodied in the sound. Still "unknown" to many people, this band is trying to enlarge their music and trying to get a name all over Europe. With a new album that will come out this year, Gone Til Winter is proudly spread the word and for this reason, we met Talena Cuthbert, the vocalist of the band, who kindly presented the band and said something about her future goal. Check it out!
Hi Talena, today you're our guest on Femme Metal. First of all, how are you doing? Would you like to introduce yourself and the band, saying something about your biography, how were this project born for those people who haven't had the chance to get in touch with your music?
Hi Femme Metal! We are: Talena Cuthbert (Voice), Jonathan Gruzelier (Guitar), Rosie Smith (Keyboard), Shirezy (Bass) & Ollie (Drums), collectively known as Gone Til Winter. Jonathan & I started this band about 10 years ago now. I have always been in bands from about the age of 13…It is totally in my blood to perform so I don't think I'll ever be stopping! If you are searching an in-depth biography, check our site

Gone 'Til Winter comes from Manchester and that mainly plays melodic metal, but your influences also involve the most various genres like progressive, power and gothic. What were your biggest influences?
Gone Til Winter has evolved quite a bit since the beginning, seeing many lineup changes as well as a darker, heavier sound wash over us. We now like to describe ourselves as UK Dark Melodic Power Metal. We have so many influences from many different genres, I guess because we all are in to slightly different things. Some examples are Iron Maiden, Katatonia, Led Zepplin, Heart, Skunk Anansie, Kamalot, The Mission, Opeth, Warlock and so many more!
"Deconstruct The Season" was the first EP and it got lots of positive reviews. Did you get the same "treatment" with the self-titled EP and with the record "The First Season"?
Yes. Both have had mixed feeling but generally people are very positive…even people that aren't it to metal have said they like it!
From "Gone Til Winter" you've published the single "Hear Me" and it has been recorded a video clip for it. How have you lived this experience?
We all really enjoyed making the music video for "Hear Me". It was something that none of us had ever done before so we were quite nervous but it was so much fun too!
A new record is scheduled to be out this year and it will be called "Hiding from the Sun". What can you tell about it?
This new album is what we have all been waiting to do! It is a dark, powerful heavy moody album, full of great riffs melodies and an atmosphere that will leave you with goose bumps. We are all so excited about his as we are doing it all on our own – no record company telling us what we can and can't do – so it is exactly who we are!
Along with the official release of the new record, it is also schedule a tour in the UK. Would you like to tell us something?
We are hoping to put together a UK tour for May 2013 and then maybe get a few shows in Europe too.
Your sound is quite influenced by bands like Lacuna Coil, Nightwish and Evanescence, just to name a few. What did cause this choice? They are so famous bands in the metal panorama scene…
We don't 'choose' what we are going to sound like as our song writing process is very embryonic. We are all individually influenced by many different bands and we write the songs all together. I hope that each listener finds themselves hearing many influences of their liking.
Listening to "The First Season", I've noticed a few influences related to prog and medieval melodies, especially in "Distant Places"… but I've also seen that that are some softer songs as well. What could you say about the recording process of this album and what about the music and lyrics instead?
"The First Season" is a mixture of earlier Gone Til Winter songs…something for the fans. The first two tracks ("Solemnise" and "Heat Signal") are the most recent, both being recorded as demos in 2006. We were hoping to put these two songs on to our self titled EP but they never made it on there. They are probably the most heavy songs on the album and defiantly leading toward the sound that we now create. The next three songs ("Kill Me", "Utopia" & "Deep Sleep") were all recorded in 2004. They were the first three songs that we ever recorded! It was with the original members of the band. The last three songs, the acoustic tracks ("Distant Places", "Release –Acoustic" & "Constant Retreat – Acoustic") were recorded around 2005. Jonathan & I went through some pretty tough times and ended up writing "Distant Places". We decided after a while that we would like for our fans to hear this as it was such an emotional thing for us to do, so we recorded all three acoustic tracks.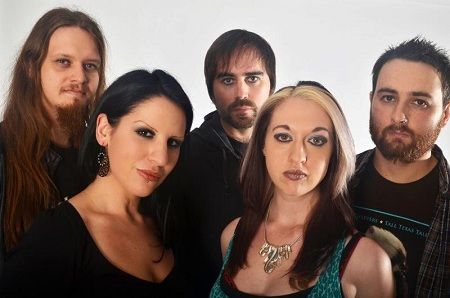 Inspiration is something that is quite "difficult to get". How do the music and lyrics branded "Gone Til Winter" come to life? Do you also make that so-called team work or does each band member do his own work?
To start off with, one of us will come up with an idea – a riff, a beat, a lyric – and then we throw it at the rest of the band. Sometimes we'll go away and work on parts on our own but mainly all the music is jammed out. Lyric wise, I do like to take myself away from everyone else and write. The lyrics are sometimes quite personal so I need to get myself in to the right frame of mind to get the creative flow.
The artwork of the album is very curious. I don't know the reason why but in a first moment, it reminded me the artwork of the movie "The Silence of the Lambs"

Who has taken care of the cover of this record? What is the concept that is behind that image?
Actually for "The First Season" we ran a competition in schools and colleges across the UK for someone to come up with the artwork. We thought it would give up coming artists a chance to showcase their work!
In this record your potential is clearly visible and I assume that we will hear from you soon in future. Have you already decided your next goals? I know that you'll play somewhere in the summer season…
We are all taking things one step at a time. We are really looking forward to the summer show across the UK before we take a break to get our new album finished off.
As I mentioned before, you'll play at Bloodstock on August 11th. What can you tell about this gig? I know that lots of your fans are waiting for this moment for so long…
We are so excited! We are playing on the New Blood Stage (unsigned artists). Because of the buzz that always seems to surround the New Blood Stage there is always going to be an element of pressure to deliver the best you can. I'm so looking forward to it though, hoping to release our sound to a much wider audience!
If I'm not mistaken, you've also signed a deal record with Headroom Records. Are you still working with this label at the moment or are you searching for something else?
We signed a licensing deal with Headroom back in 2008. They were very good with us, getting our music video made and getting our first release out there. We are no longer with Headroom Records. Everything we do, we do on our own so it does take a lot of time, but I am so proud of where we have got too.
Ok, let's change the topic for a while. Along with Rosie Smith, your keyboard player, you're the only woman inside the band. How do you face this situation? Do you manage to assert your own opinion among the guys?
Always…I am the boss! Haha! The guys in the band are great. We all have equal opinions and we are all equal in the decision making too. It is very difficult being in a male dominated industry so even the guys in Gone Til Winter feel the frustration that us ladies get when confronted with discrimination. We are like a family really. All best friends with no egos, it's great!.
Talking about fronted female bands: is there any band you would like to start a collaboration with or would you like to work with?
I would love to collaborate with Heart. Ann & Nancy Wilson are amazing!
Thanks so much for your willingness. You have carte blanche to share some words with our readers and your fans. See you soon

And thank you!
Links
MySpace * ReverbNation * Facebook * Twitter * Site
Latest Multimedia
Label : Music Buy Mail
Review by Tony Cannella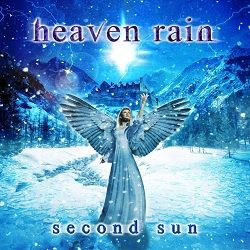 Bosnia is not known as a hotbed for metal music, or music in general for that matter, so that is what makes the band Heaven Rain somewhat unique. The band sites Kamelot, Sonata Arctica and Nightwish as some of their chief influences, but I can't really say that they sound like any of these bands. The band has previously released one full-length album back in 2008 and is back at with an album of new material called "Second Sun". Musically, Heaven Rain contains plenty of soaring melodies with plenty of power and power metal influence behind them, but vocalist Miona Graorac is what sets this band apart from their influences. Her style is more rock than metal and not what I was expecting at all – that is not meant to be a negative, to the contrary it is one of the things that I really liked about this band – and is a refreshing change from the norm. Another thing I liked is the musicianship which shifts from power metal to hard rock and once in a while to prog metal. The intro "Close to Dawn" kicks off this 41-minute foray into melodic metal and segues into the song "Heaven Rain". "My Only One" is an infectious mid-tempo song that is the first song I would play for anyone I wanted to introduce this band to. This is the song that stands out the most for me. "Nowhere" is a nice ballad and the band picks up the tempo for the next song "Raven in Heart". Other highlights include: "Dreamless", "Face of Misery" and "When Day Fades to Dark". "Second Sun" flows really nice and Heaven Rain shows that Bosnians can indeed rock on a high level.
Rating – 78/100
Tracklist
Close to Dawn

Heaven Rain

Dreamless

My Only One

Second Sun

Face of Misery

Nowhere

Raven in Heart

When the Day Fades to Dark

At the End of Time

Veijte Snegori (Bonus Track)
Line Up
Miona Graorac – Vocals

Igor Dragelj – Guitars

Goran Bastinac – Keyboards

Bojan Joksic – Bass

Nebojsa Lakic – Drums
Links
MySpace * ReverbNation * Facebook * Site
Interview by Roberta Ilaria Rossi
Heaven Rain is a band that comes from Bosnia Herzegovina and the sound you propose to the audience is a sort of symphonic metal, with some power and hard rock melodies. Already known in the native country, this band has released the debut album in 2008 and now it's ready to rock Europe with the second album, "Second Sun" and in occasion of the official release, I had the pleasure to talk with Miona Graorac, the lead singer of the band.
Today FM has the pleasure to exchange some word with the singer of the Bosnian band Heaven Rain, Miona Graorac. Welcome to our website, Miona. Would you first introduce something about yourself and your band?
Thank you! And the pleasure is mine. First of all I'd like to thank you for the opportunity to introduce us better to our fans and the entire metal population. Well, I could describe ourselves as a couple of enthusiasts who did their best in the environment they live and work in, and who tried to present themselves, their work, spirit, creativity and positive energy through notes. Unfortunately, conditions we live in don't allow us to live only out of music, so we've managed to get a blend of different professions and interests gathered around a mutual goal. I myself am an economist, with a good taste in music

Heaven Rain is a band that comes from Bosnia Herzegovina and as we already mentioned, you're the new vocalist of this band. How did your adventure into the musical field started?
My adventure started a long time ago, as a keyboard player. That is my first love, as a schooled pianist. Later on, as I stepped further through musical genres, some of famous singers made a huge influence on me to explore singing more profoundly and try myself out as a singer. I started out, first in my previous bands and later in Heaven Rain. We already knew each other as a proved musicians,and were friends in our private lives, so after their lineup changes and dilemmas, our cooperation came as a result of well thought-through decisions of the bands future.
After having replaced the former singer, Božidar Šević, finally the band started its own path into metal scene. Heaven Rain signed a deal record and it has released the debut album called "Far and Forever", after then there were some changes inside the line up, which was finally completed thanks to your entrance and to the one who has seen a new guitar player: Igor Dragelj. Now you're back with a new record, "Second Sun". What could you tell about this album? Was it your first experience in a studio or have you had some other chances before?
Yes, on this first album, the guys showed their creativity and potential, so I was glad to see them move on further, even though in our country it meant dealing with windmills. Now, we have a strong line up, which is ready for higher goals, meaning dedicating more time, efforts and resources to this mutual project. It was crucial for this band that all of its members have exactly the same view on the future actions and goals. I already had plenty of experience in different studios, working with some more famous bands from this area, so Heaven Rain studio sessions went very fast and smoothly, since we've rehearsed the songs 'till perfection, before getting ourselves into this whole recording machine.
The band is chiefly straight to a symphonic metal sound, with some hard rock and power melodies. Indeed, your biggest influence comes from the Finnish school of power/symphonic metal (Sonata Arctica and Nightwish just to list some!). What is the origin of this decision to take a cue from so important band in this area?
As you could see, our keyboard player is a composer for most of our songs, so it is expected to have this symphonic sound. I think that this direction of metal offers the best opportunity for creativity to step in, and enables each and every member to focus on melodic lines and make their own variations of the theme. Of course, we've all listened to most famous bend of this genre, but there is so much more to give to this music, without having to be anybody's shadow. We just really enjoy making something that is really of our own.
Don't you think that maybe the result can be a little "copied" or unsatisfactory? Maybe some fans may find this choice a bit 'risky'… As you know, nowadays many bands, albeit influenced by some others, try to imitate them even managing to fail.
On the contrary. You will always have copycats vs. creators, in every area of life. This is a well known fact. I already mentioned that our keyboard player is the author of most of our songs; so naturally, we have a big symphonic influence. The other fact is that I am a female singer. But this is the place where I would put an end to this resemblance. All of the bands you've mentioned have melodic and soft female vocals. This is not the case. I've started with blues, funk, and finally found myself as a huge hard rock soul, and I've built the color of my voice and my technique according to that. I've brought this sound to Heaven Rain and along with our guitarist Igor Dragelj; we've made a recognizable sound and gave a personal stain to what we do. I think the fans have recognized it too.
Listening to the album, I've seen that you played a cover version of a 80′s pop classic song by a famous Yugoslavian band called Zana. This is quite curious. How did this happen? Could please reveal something about this anecdote?
Yes, this was a huge hit in those days

Our drummer Nebojša Lakić is a huge Yugo-nostalgic music fan. It was his major desire to tamper with this song, and as I said, we gathered around to have fun and good time as well, so the idea itself seemed so ridiculously brilliant, that we instantly put ourselves into it and made of it what you can hear as our bonus track

We've sent it to the original band Zana and they were amazed by what we'd done. Nowadays, we have a great support in that band, so I would like to use this opportunity and thank them once again
What could you tell us about the recording process of the album? Any funny episode to share with our fans?
Actually, it went pretty smoothly. We came well prepared into the studio, so the atmosphere was relaxed and not stressful. We'd record until 6 p.m. and then move on to a famous local club, for a big meal, cold drink and live performance of their local bands. Of course, since I have vocal cords instead of an instrument, I had to be quiet most of the time since the music was loud. So, the ones who had fortune to experience these episodes were boys

The record has some nice songs like the title track but I've seen that you have put in this album some songs that were already in your EP "Evolution" (2010). What has caused this decision? Was due to allow your fans to discover something more?
The "Evolution" EP was made in a time when we were still in a search for a good and reliable record label for our future material. The album itself was still not in our short-term plans, but once the representatives from Music Buy Mail contacted us, they were willing to make a deal for our new material which was to be recorded in terms we agreed. So it motivated us to work harder, and complete this "Evolution" process into a full album, so the songs were re-recorded and adjusted to my voice.
Ok, let's talk about the cover artwork. What does it represent?
The cover art designer was recommended to us by Music Buy Mail, since he already collaborated with them, regarding their previous editions. He is a talented artist named Alex Yarborough. We checked out his earlier work more thoroughly and then we exchanged some ideas of how our cover art should look. He made a few samples, for which he thought they would suit us the best. Finally, we came across our current cover artwork which contained the entire mixture of our albums sensitivity and atmosphere. So, the answer to your question 'what does it represent', I would say 'Simply, our album'. Not some metaphor, just the album itself. So if you're trying to find a connection between a blonde angel on the cover and me, don't.
Now that the album has been released, what will you do?
Well, now starts the part that all the bands love more than constant rehearsing and recording worries. We've currently working on our merchandise, since we've got our promo CD-s as well. When the work is done, we'll be ready for our pending concerts and presentations. We have the biggest responsibility to our home-town members who have supported as all along, and according to that, we're preparing a big album promotion back at home, and then we'll be available and ready to play in every place we can maintain a minimum technical conditions to present ourselves to our fans outside our country as well.
What are your future goals?
I like to see this as our fresh start. The album is out and it's now up to as to make the best of it. The songs are good, and so is our energy, and this has only showed us that it can be done, and that we have to push even harder. Our current goal is as wider auditorium as we can get. We're working on a video for 2 songs. We picked our bonus track as our first one, because it's the only song in our native language and this is mainly for our local fans. The other one will be either album title track "Second Sun" or "Heaven Rain", depending on the taste of wider audience. This will enable us bigger marketing break-through and hopefully more interest to our album, which we are ready to present live in a near future.
Links
MySpace * ReverbNation * Facebook * Site
6 color styles available:

Style switcher only on this demo version. Theme styles can be changed from Options page.