Browsing articles tagged with " sur"
Label : Cruz Del Sur Music
Review By Tony Cannella
From Virginia, While Heaven Wept have been around since around 1994. They play progressive metal and their line-up includes current and past members of Brave, Twisted Tower Dire and October 31 among others. Their newest release is titled "Vast Oceans Lachrymose" and it is a welcomed treat for those of us who love complex, epic progressive metal in the vein of John Arch era Fates Warning. The songs on "Vast Oceans Lachrymose" definitely harkens back to the majesty of those early Fates' records, whilst still carving out a niche for themselves in today's metal landscape. Male vocalist Rain Irving handles all of the lead vocals and he certainly has a strong and powerful voice. The keyboardist for this project is Michelle Schrotz who also happens to be the lead vocalist for Virginia progressive metallers Brave, here she also contributes harmony vocals. I was drawn in from the very first track, the 16-minute "The Furthest Shore" really sets the mood and vibe right away. Next is "To Wander the Void" and this is something of an homage to Fates Warning – great lyrics and harmonies help to make this a worthy tribute and one of the best songs on this disc. The band quicken the pace with the next track "Living Sepulchre", that segues into the moody track "Vessels". The CD is completed with two instrumentals. "Vast Oceans Lachrymose" and "Epilogue" are a great way to end things. The lyrics are somewhat ambiguous and can be interpreted in different ways, which was another check in the plus column for "Vast Oceans Lachrymose". I was shocked to find out that While Heaven Wept have such an extensive history. "Vast Oceans Lachrymose" is actually their third full-length release and the 6-songs and 42-minutes worth of standout material should appeal to fans of classy, progressive metal, that still maintains it's heaviness. Besides, anyone who sites John Arch era Fates Warning as an inspiration is okay in my book. Regardless, While Heaven Wept are not a band that will appeal to all the trendy, mall metal fans, but if you are looking for something that really does have a lot of heart and integrity than check this band out.
Rating – 90/100
Tracklist
The Furthest Shore

To Wander the Void

Living Sepulchre

Vessel

Vast Oceans Lachrymose

Epilogue
Line Up
Rain Irving – Lead & Harmony Vocals

Scott Loose – Guitars

Tom Phillips – Guitars, Keyboards & Harmony Vocals

Michelle Schrotz – Keyboards & Harmony Vocals

Jim Hunter – Bass

Trevor Schrotz – Drums
Links
Label : Pervade/Manitou/Thundering Records
Review by Tony Cannella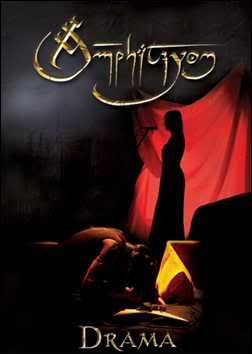 You have to give France's Amphitryon huge marks for doing something a little different and so ambitious. Their new release is titled "Drama" and it is a live CD/DVD set and really a beautiful package. I will review the CD portion of the set here with the DVD part coming in a separate review. "Drama" is quite a complex concept album based on a story from the imagination of guitarist/vocalist Mathieu Scarpa. Completing the line-up in Amphitryon are: Laurent Desvignes (Guitar,Vocals), Sarah Barisèle (Vocals, Flute), Barbara Haignere (Vocals, Flute), Gianni Leone (Bass, Vocals, Percussion) and Christophe Demazeux (Drums). The band play some truly complex avant-garde metal, with some elements of doom and death metal fitting into the equation. As already mentioned, "Drama" is a live CD/DVD. The studio versions of these songs can be found on their 2006 CD "Sumphokeras". The intro track "Archeia" starts things off and it is successful in creating a definite aura and theatrical vibe. This leads us into the next track "Theocracy". The mix of the harsh male vocals with the pretty, operatic female vocals provided by Sarah Barisèle and Barbara Haignere are pretty cool. Of course it's nothing that hasn't been done before, but the way it is presented gives it a fresh and exciting feel. The pounding rhythms near the end of this track are quite simply crushing as the song gets heavier and speeds up near the end. "Omen" is next and it begins with a melancholic guitar riff and the clean male vocals come in and soon give way to the harsh male vocals. The vocal styles are split pretty evenly between harsh male vocals, clean male vocals and the soprano female vocals. The vocals have an almost choir-like feel on this one. This was a definite highlight for me. The harsh male vocals are quite good as well. Sometimes you either like that style or you don't, with Amphitryon the harsh male vocals are done in such a way that they don't overwhelm anything, you can pretty much understand every word and it blends in nicely with the other styles. The next track is the instrumental "Cadence of the Rowers". The drums have a tribal feel to them and they are mixed with arabian-like rhythms and then the heavy guitar riffs accompanied by the flute join in and make this quite a unique track and an instrumental that does a nice job in keeping your attention. It builds and builds and leads us into the next track "Armadas Conflict" which begins with a cool riff and the female vocals once again come in before they give way to the harsh vocals. "Saundeha" is only about 1 and a half minute long and features some eerie organ music accompanied by some chanting and it leads us to the next track "Pantheon". This is probably my favorite song. There is so much going on in this track that you have to love the complexity. The CD is completed by a trio of epic numbers. "Paths of Dementia", "Phthoneros Daimon" and "Samsara" all clock in at 8, 9 and 10 minutes respectively and it brings the CD portion on this set to a close after 57-minutes. Amphitryon are a band that are sure to evoke mixed opinions from metal fans. It's true they can be a challenge to listen to, but for fans who are looking for something a little different and indeed conceptual, than I would wholeheartedly recommend taking up the challenge with Amphitryon. It is definitely a challenge worth accepting.

Continue reading »
6 color styles available:

Style switcher only on this demo version. Theme styles can be changed from Options page.