Browsing articles tagged with " switzerland"
Interview by Laura Medina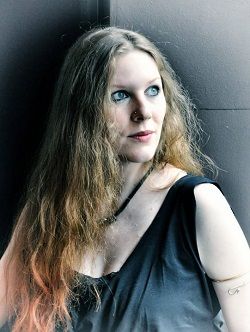 Caladmor is an Epic Folk female-fronted Metal band from Switzerland, who has just released their sophomore album, "Of Stones and Stars" in which is currently out now. Caladmor is not only making a name for their band with a "more mature sound" that you can be heard in their current release but also they are proving to their fans that they do belong and are here to stay! What I liked most about Caladmor is not only are they are a female fronted band but they sing about topics that brings fans from all over the world together like wisdom, truth and enlightenment. I had the absolute and complete honor and pleasure to chat with Babs Brawand of Caladmor to discuss Caladmor's current release, her favorite hobbies like sewing and much more.
Hi Babs and welcome to Femme Metal Webzine! Thank you so much for allowing us to interview you today!
Continue reading »
Independent Release
Review by Tony Cannella
From Switzerland, the band Elferya began in 2008. In 2010 they released their debut 4-song EP titled "Afterlife". Now they have issued their debut full-length entitled, "The Straight and Narrow" and I have to say, I was not prepared for the quality of symphonic power metal that this band has to offer. The quality is very high and just plain excellent.
"The Straight and Narrow" begins with a beautiful symphonic, cinematic instrumental piece called "Once Upon a Time". The track really does paint a beautiful picture and starts things on the right note. Once the opener reaches its crescendo it segues into the bombastic "Fairy Tale". Lead vocalist Claire-Lyse Von Dach has a wonderful operatic voice, but she does not go over-the-top and out of control with it. Continue reading »
Interview by Miriam Cadoni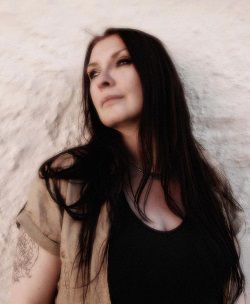 I must thank a dear friend of mind that some years ago introduced me to this particular musical genre [ the neoclassical/ambient genre] and consequently make me adore some of its important acts such Dark Sancuary, Dead Can Dance, Die Verbannten Kinder Evas & Dargaard. Today I've the pleasure to speak about Sweden's Arcana, that along the mentioned bands, represents one of the  most expert ensamble since their long career (their first release is to date is in 1996). In particular, I've contacted Cecilia Bjärgö, one of the singers and Peter's wife [the mastermind behind Arcana], for an interesting interview about their latest album "As Bright as a Thousand Suns" and some updates.
Dear Cecilia, first of all thanks so much for this interview! I hope that everything is ok with your personal life and work…
Hi Miriam=) I am fine, thank you. I am in the middle of changing apartment though, and that takes its time. Dust everywhere, cardboard boxes everywhere, stuff everywhere… and I am having such a hard time throwing away things;) Continue reading »
Label: Nuclear Blast Records
Review by Tony Cannella
When it comes to Folk Metal, it simply doesn't get much better than the Swiss band Eluveitie. The band formed in 2002 and in 2004 they released their first EP "Ven". In 2006 they released their debut full-length "Spirit" and have never looked back. Earlier this year they released their latest album "Helvetios" and now they are back with some newly released versions of old songs.
The first 6-songs that makes up "The Early Years" is a re-recording of their rare "Ven" EP; and next 11-songs is their debut album "Spirit" which has been re-mastered. The re-recordings of the songs from "Ven" (with their current line-up) are a huge highlight, since as I mentioned the EP is a rare and very hard to find these days. The songs on "Spirit" run the gamut of traditional folk-ish influenced numbers to poundingly heavy tracks like "Of Fire, Wind & Wisdom" and the re-mastering gives the songs an added kick. Continue reading »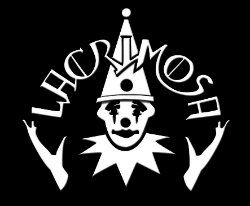 Interview by Miriam C.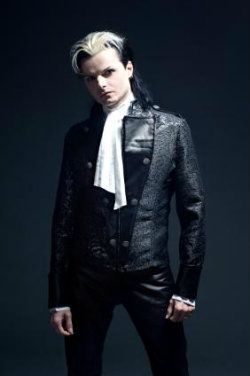 After four three of silence gothic/darkwave Swiss duo Lacrimosa are back! So we took the chance to ask a few question to the mastermind Tilo Wolff about on "Revolution", the new album out on Hall of Sermon.
Hi Tilo, first of all thank so much for reply at our questions. How are you??
Pretty fine. We are on tour in Germany right now, have the last five shows ahead and so far we are pretty happy with everything that happend during the tour!
"Revolution" comes after a three year break with "Sehnsucht", how was the album's genesis, when have you started to nail down the first lyric?
Actually the first lyric for "Revolution" was "This Is the Night" which I wrote in Bejing right after we played there in 2009. So the first seed for this album was planted while we were still on tour with "Sehnsucht" which might also be the reason why this new album sounds like the conclution of the previous one.
For this last album you have worked with Mille Petrozza (Kreator) and Stefan Schwarzmann (Accept), how's this collaboration was born and how was working with them?
It was quite spontaneous. Mille was at my house visiting me and I played him the track "Revolution" in a version recorded by myself. He instantly liked it and asked if this would be the final version. "Why?" I replied and he said that he'd like to play this song himself. Of course I had nothing against it and then he played more and more songs getting really into it! Afterwards I asked Stefan if he'd like to participate on the production since we already some time ago talked of doing something together, and well, so it developed.
Will you shoot any videoclip from the "Revolution" album? What songs will you choose?
Yes, we made a short clip for "Irgendein Arsch ist immer unterwegs" and a live clip for "Revolution" which is in the post production right now.
How is to be your self entrepreneur of your music? What are, in your opinion, the pros and cons? Also I've read that you have taken the decision to not sign anymore external band like has happened with Sandra Schleret's Dreams of Sanity, why?
The pros are that there is no-one telling me what I shall do and what I shall not do. I can write and produce exactly the music I want to free from any commercial aspects! This is essential for me! The cons are that I don't have much free time. This is also the reason why it always takes so much time from album to album. While other bands are on tour their record labels are preparing the next album and taking care of the promotion while I'm just busy traveling and playing.
Between "Sehnsucht" and "Revolution" are passed 3 years, there's something that you'll change in "Sehnsucht" and, in your order of ideas, what are the differences between the last album and this one?
I improved in the production and mixing matter but I love "Sehnsucht" as it is. Pure and majesticaly unpolished while the new one is straight, direct und uncompromising – so far my favorite album!
What is the lyric in "Revolution" that you are more fond of/attached to? And why?
"Weil Du Hilfe brauchst". Here it all comes together for the album. If we don't realize that we have needs that need to be fullfilled and that there are people around us that might need our help, if we don't realize that we all are sitting in the same boat and will only survive if we row together and not against each other, than we might be lost!
In your long musical career what is/are the thing(s) that you regret the most and there's something that you'll change?
Of course when you are doing all by yourself and have no adviser you make mistakes here and there but all in all I am pretty happy with everything and if things would have been different I wouldn't be where I am right now and where I am right now makes me thankful, so no need to regret anything so far!
How should consider the status of your other band Snakeskin? Something is going on or all is quiet and would be for a long long time?
Well, it's all a question of time. Since years I want to make a new album for Snakeskin but I just don't come to it. Maybe in the end of next year, let's see.
Maybe this question can sound harsh to you but I hope to explain well what I would like to ask : what you can tell me about Anne's musical background and, if I recall right, in 1994, what was triggered the decision to insert/add her in the line up? In the end what was the thing that you have been hit/intrigued about her?
Since I started with Lacrimosa I was trying to find a female voice suiting my voice. Already on the first album I recorded with some but never was so completely happy. When I heard Anne plus she playing after I never had a good live keyboarder I asked her in for some test recordings and musically and personately it worked perfectly.

Well, dear Tilo, I really thank you for this interview, hope you'll finding it entertaining and interesting. I would ask you now to greet your fans and our readers. Thanks
Thank you and take good care!
Links
MySpace * Facebook * Twitter * Site
6 color styles available:

Style switcher only on this demo version. Theme styles can be changed from Options page.