Browsing articles tagged with " sword"
Label : Sword of the Spirit LLC
Review by Tony Cannella
"Afterlife" is the debut EP from the Detroit based operatic metal band Upon Wings. The EP features only 4-songs and 15-minutes worth of material but from the very beginning it made a positive impression on me. Musically there is a lot to like about this band, but it was the enthralling vocals of Anne Autumn Erickson along with the thoughtful, introspective lyrics that drew me in.
Anne Autumn Erickson does have an operatic vocal style but it is not over-the-top. She knows exactly when to rein it in and be a little more subdued. Some singers are so enamored with the fact they have this immense vocal ability that sometimes they go a little overboard. Continue reading »
UPON WINGS will release its new EP, "Afterlife", on March 5 via Sword Of The Spirit Records LLC. The CD features guest vocals and production from Brett Hestla (ex-CREED, DARK NEW DAY).
"Afterlife" track listing:
01. Afterlife
02. You Are My Weapon
03. Take Away
04. The Dream (I'm Only Happy When I'm Sleeping) Continue reading »
Upon Wings is proud to announce the release of new EP, "Afterlife", featuring guest vocals and production from Brett Hestla (Ex-Creed, Dark New Day). "Afterlife" is scheduled for a March 5th release on Sword of the Spirit Records LLC.
Rock and metal fans will recognize plenty of names on "Afterlife". Kid Rock recording engineer and Grammy-nominated mixing engineer Glenn Brown mastered the single, while Brett Hestla (ex-Creed, Dark New Day) provided guest vocals and production talents. More metal assistance for the upcoming EP came from producer and guitarist Kevin Jardine, best known as the guitarist of Canadian nu metal giants Slaves on Dope, formerly on Ozzy and Sharon Osbourne's Divine Recordings label. Drummer Peter Tzaferis also contributed to the EP. Continue reading »

Interview by Erwin Van Dijk
An interview with Bitchie, the guitarist from Hysterica. "There are not so any girls who are willing to practise or sacrifice as much as necessary." Hysterica is a heavy metal band from Sweden. This interview is with Bitchie, the guitarist and founder of the band. Besides the fact that Hysterica is good heavy metal band it is also a all women band and they are not afraid to show this.
The first question: with Heavy Metal I think of denim jackets full of patches. Do you have a patches jacket?
No, I don't have that kind of jacket.
Did you always wanted to become a guitarist?
When I heard Jimmy Page play guitar on the Zeppelin album years ago I decided to learn guitar. My dream was to sound and play like he did. Years after that I have discovered a lot more guitarists. The guitar is the ultimate instrument. The most beautiful, the toughest, the most heavy. So you can really express yourself on a guitar. I develop all the time and love to pick up my guitar at home and play.
What kind of guitars and amplifiers do you use?
I have a: Fender Stratocaster 1962. Beautiful and sounds really blues. Gibson firebird 1964. Jackson V-guitar.And a custom made guitar for metal. I play Marshall but I am still searching for the ultimate guitar sound.
And how did you end up in the music business?
I have been playing since I was 17 years old. How could you not?
Is it easy to combine Hysterica with your personal life?
Yes. At the moment we just live on our dream. (We are not living our dream yet). And the dream is to earn your living on your music and we all are prepared to do so.
And do you have other passions besides metal?
I have a lot of passions. I love to paint and anything creative in art. My family and friends are really important, including the band.
Did you have any other bands before Hysterica and/or are you active in any other bands now besides Hysterica?
I have played in a couple of bands before Hysterica. The last project was a heavy bluesband – A lot of Steve Ray Vaughan covers. This was really enjoying for a guitarist like me.
What is the idea behind the name of the band? It sounds a bit like Metallica but somewhere in the eighties Def Leppard had an album with the same name.
The idea was to create a female band that plays hysterical heavy metal. Couldn't think of a better name. And a band called Hysterica could, of course, only contain girls.
And how would you describe your music?
The music is hard, melodic and heavy. We hope the music gets right into your body and heart.
And what makes Hysterica different compared to all the other female fronted bands in the world?
We were hoping not to be compared just to women in metal. Think we leave this question open for the readers.
Speaking of women in bands, Hysterica is one of the few all women metal bands. We still have Girlschool or The Donnas (who are more into punk rock) but bands like Hysterica are scarce. Do you have any idea why and was it difficult to get Hysterica together?
Of course, there are not so many women out there who would fit in Hysterica. It is difficult to find good musicians but it is even harder to find good female musicians. There are not so any girls who are willing to practise or sacrifice as much as necessary.
What is your favourite Hysterica song and why?
There are a few favourites. It also depends in what mode you are. If you ask me I prefer the songs "Metalwar", "Undertaker" and "Girls Made of Heavy Metal".They are the best songs to listen to. I think "Bless the Beast" is the best song to play.
Your latest album is "Metalwar" released early this year. Are you already working on a new album?
Yes, we have a few songs finished. We played one ballad on our tour. This is coming on our second album. It's always good to play songs in front of an audience before you record it.
And how did the press and the fans receive "Metalwar"?
Mixed I would say. We are really grateful for 9/10 in Classic Rock Magazine in UK. A lot of reviews can you find at our website. We are getting great response from people that have bought the album.
You are the founder of Hysterica but is song writing teamwork in Hysterica or is there one mastermind behind the music?
We are all writing songs. Sometimes we come up with a finished idea but we are testing and producing it all together.
True Heavy Metal lyrics are usually full of the typical true heavy metal clichés. Were do you get the inspiration for the music and lyrics?
There are a lot of heavy metal bands that are writing like this. No specific. Our first album is very cliché and has this subject as a theme. We will deliver something new on the next album.
Hysterica has done quite a lot of gigs in Holland. What is your opinion of the metal scene in Holland?
They have great audience and we have a lot of fans there. The clubs are getting contribution from the government so bands always get paid well. You never have to take a risk.
Could you introduce us to the other members of Hysterica?
All girls are great personalities and musicians. We always have a great time and we all working hard to make the best out of Hysterica.
An all women heavy metal band is one thing but why did you choose to use these stage outfits?
Because we love it. We love our curves and the crowd does not seem to suffer.
Traditional heavy metal bands from the eighties used to boast about wild parties back stage and in the tour bus. Do you have any party stories you want to share with us?
Can't remember and I can't remember why!!
Do you see yourself as a role model for other women?
All women should have confidence to do whatever they want to. (And men). Follow your dream. It would be fantastic if Hysterica can inspire other young girls to start playing in a rock band.
Many female fronted metal bands are from the gothic or symphonic genres. Think of Epica or Nightwish that attract lot's of fans. What do you think of these bands?
Great bands.
Can you tell us something about the songs on the album "Metalwar"?
Our songs are about celebrations to metal, death and female power. The songs reflects what we wanted to say with our first album; to inspire girls to listen to/play metal and make people get into a "party mood" while listening to our album.
And why did you want Peter Tägtgren from Hypocrisy as producer for "Metalwar" and what was his influence on the album?
He is becoming a legend about his mixing. This was our dream and we contacted him in an early stage. He accepted and we are really happy that he did such great job.
There are many bands from Sweden but is this country an easy place for metal fans?
Unfortunately there are not many metal places for live gigs. But it's always crowded when good bands playing.
Why did you choose the name Bitchie as artist name? And what is your real name?
I am a Bitch. And that is my name.
To what kind of music do you listen yourself and what are your favourite songs and musicians?
I discover new bands all the time. All thanks to Spotify. That has to be the most ultimate at the moment. And bands get paid. Well a little anyway. This week I listen to Slipnot, Slayer, Opeth and Ella Fitzgerald.
Despite the fact this is the year 2009 there are still a lot of men who do not accept women on stage in metal bands. And did you have any negative experiences with the band?
We have no experience about this.
What more can we expect from Hysterica in 2010 and beyond?
We have been questioned to come to Brazil after next summer. There is more interest in Hysterica from the world than in Sweden so far. We are planning our second album and will record it next year.
What are your highlights with Hysterica so far?
When you come to a town you have never been to before and people know the lyrics. That is awesome. It happened a lot on our European tour. Two of our fans have got Hysterica-tattoos, that says a lot. But the best thing I have experienced with Hysterica so far is definitely our European tour. We had such a good time the whole tour. We had no fights and funny things happened all the time. We couldn't even sleep in the night because we couldn't stop thinking about all the crazy things that had happened. For example we got caught by the police in the middle of the night on the Dutch border. We were sitting in our tour bus looking like whores with our managers sitting in the front of the bus. When the police looked in the back they found our swords, which are illegal in Holland. And three of us didn't bring our passports and I cried; "I thought Europe was one country". I had to eat that up later… Thanks for your time. Hope to see you in the future.
Links
Latest Multimedia
Interview by Gaia Stella Rotondi
Transcription by Alessandro Narcissus
Intro by Miriam C.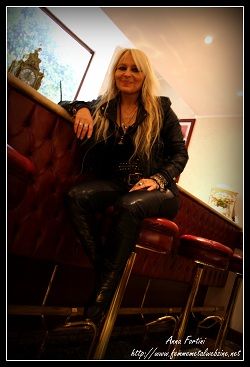 On a hot summer day (to be precise on the 12th September) we've met in a hotel in the centre of Milan during the promo day dedicated to "Raise Your Fist", the German metal queen Doro. Let's hear directly from her the latest news. Some words dedicated to the memoir of the late Mr Ronnie James Dio are present and we join with her to his memory publishing this interview.
Today Femme Metal is pleased to have the metal queen Doro Pesch as guest. Hi Doro, how are you?
Hi there, I'm very good! Thank you for the interview, it's great to be here in Italy!
We know that your new album, "Raise Your Fist", produced by Nuclear Blast Records, will be released on October 19. Could you tell us something about it?
We've worked for over half a year on it. We recordet it all over the world, from New York and New Jersey to Hamburg, we've mixed it in Danmark with Jacob Hansen, who'se the producer and engeneer for all of it. I wanted to make sure that the sound is hard, powerful and really, really good. The first song, "Raise Your Fist in the Air", I kind of had the feeling it might be the first single. So I sent it out to many people, everybody mixed it, and then it was hard to choose 'cause many were really good, but when I heard Jacob's work I said, "Okay, you're the one!". There are some special guests on the record: I sing a duet with Lemmy (Kilmister from Motörhead Ed.) on one of my favourite songs, "It Still Hurts", which is a very touching and emotional ballad, and I love it so much, and I also love Lemmy for the longest time, he's great! Then we have another guest, Gus G, the guitar player of Firewind, and he plays a solo on "Grab The Bull (Last Man Standing)". A good friend of mine made contract with Alex Krull from Atrocity and Leaves' Eyes, and he's a guest on that song as well. Then there is "Hero", which was the first song we wrote for the record, and it's a tribute to Ronnie James Dio: so many fans were totally heartbroken when he died – including myself, I was totally devastated and after all this time I still am! – so I really wanted to say thank you and pay respect to him.
Could you tell us something about the importance that Ronnie had in your life?
Yeah! Beside being an amazing singer, I think definitely one of the best, he was a great friend and my biggest inspiration! I had the chance to meet him many times, we toured together – actually my second big tour, back in 1987, it was with Ronnie James Dio and it was great because it was the peak of heavy metal with big venues and fans, it was unbelievable and really unforgettable! Then we had the chance to tour again a couple of times and one of the greatest experiences was the American tour in 2000, because, as you probably remember, in the Nineties grunge was big and heavy metal had a really difficult time; and then, in 1999 I felt it was coming back somehow and I did a song for Ronnie James Dio's new album, then he held a release party in New York and I was there and I went to say hi, and he was like "Hey, I like the song so much, it's magical!". And a couple of weeks later we had our record done – I was "Calling The Wild". We were in the middle of an interview with a radio station in Tennessee, and we were talking and they asked if we had any touring plans, I was like "Not yet, but of course we want either to open up for someone or do our own club tour", and then the lady said she was like "What about Ronnie James Dio?", and she was going to interview him in a hour so she suggested us to him! And a couple of weeks later we were on tour together and it was great! The last leg of the tour was in Florida and we always sang the encore together! He went to the monitor guy asking for a second microphone and came on stage. In 1987 I could not speak English that well, so we were just like "Hi, great show", but in 2000 we really got much closer and became really good friends.
In "Raise Your Fist" you had the chance to work with many other musicians. As you said, you collaborated with Gus G from Firewind and Lemmy from Motörhead. How did it feel to work with legendary and new generation artists at the same time?
It's great every time! It was a honour to work with somebody special like Lemmy. He's my hero, I love Lemmy! We played together in the very early 80′s and now we were on tour together two years ago, and it's great. He's very soulful and a total gentleman, a great talker, a great musician. With younger generations, when people love music there's always this common ground. With Alex Krull we always met in Wacken and he suggested that we do something together and his wife Liv Kristine, she was at my 25th Anniversary gig and performed on "Celebrate" along with all those great ladies that met on stage. And we all felt connected then. There is one song on the limited edition called "Strong And Proud" which I wrote to talk about this connection with all the female vocalists. I think it's pretty cool because we're all supporting each other and connected, there is a lot of unity.
An EP was released on August 3rd, to precede the upcoming album. The EP contains four songs and it includes also a French version of the single "Raise Your Fist in the Air". Would you like to talk about the reasons of this choice and about the EP in general?
After I recorded the demo of the song, I played it to some people involved with Wacken. When they heard it they were very enthusiastic about it and wanted me to play it at the festival. It was not finished yet, but they really wanted it, so I was like, ok, I can try. Then I played it and I got a great response. Everybody's fists were in the air. It was the first day and I played it in front of about 50,000 people, they all liked it, so I thought it could be a great single. Then I tried it out a couple of times when I played in Europe, in Moscow, and I also wanted to play it in Lyon, in France. I tried to say something in the native language, so I asked "How do you say 'Raise your fist in the air' in French?" and they told me "Lève Ton Poing Vers Le Ciel" and it was really cool! And then there is another story: one day I was introdued to a girl called Vanessa who really wanted to hear a song in her native language because she only speaks French. On my previous album I recorded several versions of "Herzblut", like in Spanish and in Portuguese, so I also made one in French and I dedicated it to Vanessa. She was really happy! She has two sons and said "When I have a girl, I will call her Doro!", which was really cool! I was very happy! So I decided to do another French version on this album.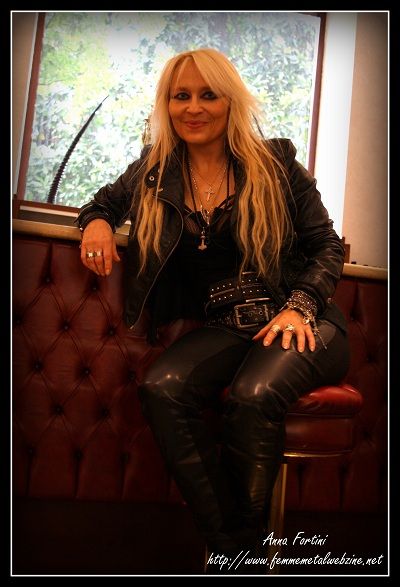 The guitar player on "Raise Your Fist" is Luca Princiotta, an italian musician. How did you meet him?
I met him a couple of years ago. I was in Italy doing a little appearance for Clairvoyance. There I met Luca and I knew he was a great musician. Then joined us for the keyboard when Oliver Palotai was busy touring with Kamelot. We really got along and played many gigs, so he joined in as guitarist for the new album.
You have released also a video for the single "Raise Your Fist in the Air". We know that you love the city of New York, but the video was shooted in the Bronx area. Why did you choose this place and how would you describe this experience?
It was quite an adventure, quite dangerous too! In New York it's very hard to fill in to get a permission and stuff. So we were like, okay, you know what? We just go there with our truck. We go everywhere we want and when the police comes we just get back on our truck and run away! We went all over and then elsewhere too. We went to all kinds of neibourghoods in the Bronx and in Harlem, and while I was singing, suddenly people were coming up to see what we were doing. At a certain point there was like a gang, and we were like, "Oh God, sorry, we were just shooting a little video!", but they liked the song although I think they were more into rap or that kind of music, so we asked them to join us and it was really cool! Everybody came in, we shot under a bridge, there were also some homeless people who showed up as well, even a guy who said he liked jazz but stopped all the same, and my band was in the video too, so… gang members, homeless people of New York, all united by music, it made all of it immediate. It was much fun!
You often play at metal festivals, such as the Wacken Open Air. What do you think about festivals and how is your relation with the fans during these events?
I love playing festivals. My first time playing in Wacken was in 1993 and there were maybe 2000 people. It was very small, just the area where now the bands' dressing rooms are. And since then every four or five years I came back, and a certain point there were 20,000 people and the whole thing was going bigger and bigger. What I love so much was that the organisers of the festival were two die-hard metal fans, because no one wanted to do metal festivals in the early 90′s, so it was a festival from fans to fans, you can still feel it today. And the village near it, everybody is very welcoming to all the metalheads, back then somebody even welcomed us to sleep, which is really great because, you know, all those guys with long hair and tattoos and stuff… So I specially love Wacken, but I also love Gods of Metal, Metalcamp… I love it all, every festival is special in its on way. People from everywhere come and enjoy so much music, you can see all your friends, all those bands, all the fans of other bands, everybody has stuff to do but you can reconnect with the fans.
In 2006 you made your cinematic debut in the film "Anuk". You returned to the set for the second part of this film that will be released at the end of 2013, and it is called "Anuk – The Path of the Warrior". Would you like to talk about this film and the shooting? Is it true that the soundtrack will contains music from the upcoming album?
Yes. The producer is called Luke Gasser. He asked me for the movie and then I did some more music for the film, very different in a way, for there is not only words. We were doing the music together and I just came back for shooting the movie. It was a little more difficult than usual because I also had to do the promotion then go on tour. This is the second part to end "The Path of the Warrior", it's an adventure, the good guys against the bad guys, it's set in 2000 BC. The first movie was a lot of fun! It's an independent movie, the budget is not big, it's just not like a Hollywood budget, but everybody put so much energy in it. It's very demanding, getting up every day in 5 o'clock in the morning, then working hard for 16-18 hours a day, there were 50 horses, many people who did the stunts, I was filming often in the water so I also hoped I would not get ill – but I didn't! On the last record, "I Lay My Head Upon My Sword" was for the movie.
You're on the metal scene since the early 80′s. Is it difficult to hold the crown of Metal Queen for such a long time? What is changed since the beginning of your career?
Well, it's so nice when people have good things to say about you, it makes me so happy! But actually I'm just a normal metalhead. I still love metal, I still love the fans. I just try to make the fans happy, which is the most important thing to me, it's my mission. For so many years it's been great and I owe much to the fans, they always support me in good and in bad times, like when grunge was big in music. I love my fans more than anything and it's my aim in life to make fans happy and to give them something they can believe in and enjoy, give them some positive power. Now, being called a "Metal Queen" is such a big word, I just work each day to make something nice, but it's only me, I still feel like when I started it all, when I was 22. It feels like 6-7 years ago, not certainly like 26 or 27!
Thank you so much for being here and replying our questions. Is there anything else you would like to say to your fans?
Yeah! The most important thing in this world to me, which will never ever change, is my love for them. I'm still there, I'm still giving 100%, and I want to say thank you to all of them! They give me all the energy and all the support, so… thank you so much, it's very important to love each other!
Credit Photos
Exclusive Photos shot by Anna Fortini
Links
MySpace * Facebook * Twitter * Site
Latest Multimedia
6 color styles available:

Style switcher only on this demo version. Theme styles can be changed from Options page.