Browsing articles tagged with " sylvia"
Label : Termo Records
Review by Tony Cannella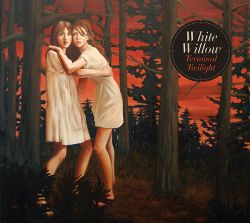 The Norwegian art-rock band White Willow has been around for a long time. This is my first experience with them, so I was surprised to learn that their newest album "Terminal Twilight" is the bands 6th overall, with their debut being released in 1995.
To say that the music contained on "Terminal Twilight" is eclectic would be an understatement. White Willow infuses their music with such different influences as Jazz-fusion, electronica, orchestral, 70s style prog rock and topping it off with a bit of the avant-garde. Their music plods along at a deliberate, sedate pace and the vibe is almost kind of dark. They almost remind me of a cross between the great fellow Norwegian band The 3rd and the Mortal and Pink Floyd. There is plenty of great musicianship on "Terminal Twilight" starting with the 7-minute "Hawks Circle the Mountain". White Willow mixes shorter 4-5 minute songs with longer epic type numbers. The most memorable song for me was the epic "Searise" which clocks in at 13-minutes. The whole thing lasts for about an hour and other songs that are highlights include: "Red Leaves", "Floor 67" and "Natasha of the Burning Woods". Continue reading »
Interview by Lindz Riot
Out of California comes a quirky band by the name of Clandestine. They came together in early 2006 and has since been a powerhouse of musical releases for those into complex alternative rock and heavy riffed progressive metal. Their biggest achievement so far is the creation of their full length album "The Invalid" mixed by producer Sylvia Massey. Just being signed to Nightmare Records, the album will be released worldwide in early 2011 along with a music video. The band is in hopes of making it over to Europe soon to perform to their growing fan base there. Fronted by the powerfully voiced June Park, a South Korean native who's endured quite the adventure over to North America, I had the chance to interview her via email to pick at her brain and see exactly what the bands all about:
It was a natural choice to express this sound and image for us. Progressive music and ideas, human psychology and surrealism have influenced us both musically and mentally. The challenge is how purely and effectively we can deliver such visions without being forceful or redundant.
Clandestine stands for mystery, secret, deception and a hidden meaning. Do you find this word describes your music perfectly?
I think it's quite effective in the sense that I'm lyrically expressing what is beneath our minds – the thoughts or ideas that you know are there but you try to suppress, ignore or hide from others. I'm not a psychologist but I tend to overanalyze the state of mind and strive to find the personal interpretation of it. The music we write goes along with that theme to complete the showcase of our world or secrets.
Are you the main lyricist and song writer of
Clandestine
? What is your favorite part about creating your music?
I'm the only lyricist in the band and writing the vocal melodies is also entirely my job. For "The Invalid" I and our guitarist Dan Durakovich equally collaborated on writing the music. I expect to involve everyone else in the band to take part in the writing process for the next album, because one of my favorite parts about creating music is fusing different influences into something that is fresh and not easily expected.
So which song is closest to you? Did you fully write it?And what's the story behind it?
The album's title song, "The Invalid" is about a patient who is suffering from an incurable disease longing for their right to die. First of all, I'm not one of such patients but I used to get very ill for no apparent reason. It kept coming back periodically for almost 10 years, haunting and paralyzing me in agony each time it hit. That really made me think about the people who are experiencing much more pain than me, such as the ones with a terminal illness or unidentified disease. I tried to imagine the unfathomable amount of pain they must go through while I was sick. In the song, I'm not trying to say that people in such conditions should be able to choose life or death. What I wanted to express was the physical and mental suffering that cause some people to involuntarily yearn for such an extreme choice. I truly support the idea that every minute of life is precious, but also can see how every minute of it can be so cruel.
You have quite the education behind you. Are you a believer that knowledge is power?What's the most important lesson you've learned along the way?
Knowledge could be a powerful thing but it depends on how we utilize it. I have learned that there is nothing wrong with not knowing something but having no desire to learn is a problem. It's not from the academic stand point; it's about life in general. Some people hold the idea of changing in abhorrence because they are used to what they think they know.They always say they hate this and that for no apparent reason. They don't want to accept the fact that someone else knows more about something than themselves and disapprove of others for their efforts to change the world to be a better place. I could have been one of those people if I didn't continue my education. I used to have a very unidirectional attitude toward what was happening in the world. I believe it was because of my fear induced from the lack of knowledge. Now I can better embrace different aspects of society with comfort.
The Musician's Institute is world renowned for its excellence in producing top quality musicians. How has your experience at M.I. been for you? Do you find it super challenging?
It was great!I learned to come out of my shell which was a very valuable lesson. I grew as a person too because I was taught what my strengths and weaknesses were.They were honest about it and willing to help. MI is full of resources – not only the faculty or musical content, but also the people you meet while you're there. As long as you stay on top of things and be a good student, you will get a lot from it.It gets challenging if you challenge yourself but I wouldn't say that's everyone's case.
I read on your personal MySpace page that you have been to Canada for schooling. Are you originally from there? How did you like Canada? How did you find the music scene? And what do you miss about Canada?
I was born and raised in South Korea. I decided to relocate to North America to pursue a music career and I arrived in Toronto when I was 17. First I went to college for ESL programs and then I went to an audio recording school in London. I miss that city because it was such a lonely place but I felt very creative. It was very safe and clean and the people were nice too. I don't have much experience with the music scene in Canada which is a shame. I didn't go out because I was still a minor and wasn't very comfortable with English at that time. I wish I could go back to experience Canada all over again.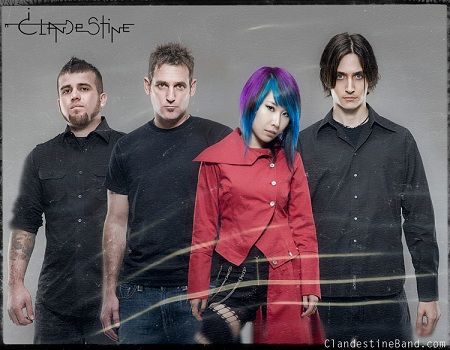 At what age did music start for you? Who influenced and supported it?
I always liked singing since I was a little girl. My mother is a great singer. Although she never pursued it professionally, just being around her influenced me to sing. I started listening to rock/metal when I was around 13 and I realized that I found what I really wanted to do. I told my parents that I wanted to learn electric guitar and they thought I was crazy. My mom felt sorry for me and sent me to classical guitar lessons which I didn't enjoy very much. A few years later, my parents finally decided to support me. My father bought me an electric guitar when we took a vacation to America. I started writing on my computer when I was 15 and soon after that I left home for my journey.
How long have you been singing for? What is your background with singing? And is there any style of singing that you prefer?
I always sang by myself but didn't have any lessons until I was 20. I prefer to sing with range and power. Although it's a lot of work, I tend to sing that way because my voice has the most quality in that style. I would like to develop different styles that are more comfortable and relaxed though.
Who are your biggest influences that have made you the musician you are today?Who are some of your favorite singers?
I know it's going to sound cliché but I will have to say it was my mother who influenced me to sing in the first place. She had a powerful voice, artistic visions and personality that surprised everyone and I wanted to be like her. On the other side, I was involuntarily affected by the negative side of my life. I was quite dark through my childhood and teenage years, mostly because of family problems and being ill-adjusted in school. Although I'd rather not recall those memories, I know they developed me into who I am today. I could be doing something different if I didn't have those kinds of experiences. My favorite singers are Maynard James Keenan, Bjork, and Jonas Renkse from Katatonia. They all have their unique ways of expressing themselves which is brilliant.
Rock and Metal for many years has been mostly dominated by males, but things have changed drastically the last decade for female musicians sharing the stage.Are there any women in music that have hugely influenced you ever at any point?
There are a lot of great female musicians in rock and metal but I never thought about becoming a rock singer because of a woman who was doing it. I was influenced by the music itself and most of the bands I liked had male singers.It didn't bother me because I was never insecure about being a girl. I accepted the fact that I can't sound like a male singer but I was confident that I could perform the task in my own ways. Just like anything else, there will be people who like it and don't like it, and it's their choice to listen to my music or not.
Are there any bands out there currently that you are really taking a liking to?
I've been listening to Katatonia a lot.Their recent two albums have the right amount of doom and progressive influences, beautiful vocals and words which I enjoy very much.
Either that singing do you play any instruments?
I play some guitar and keyboard.
What's something really interesting about yourself that no one would expect to hear? Something like a weird talent or unique hobby you have?
When I was little I was an unprecedented animal impersonator, but I lost that superpower as I approached adulthood. Now I'm just an avid animal lover. I live with four small parrots that eat much better than me.I would cook for them even if I have only time to eat ramen or frozen food. I trained some of them to talk, shake hands, fetch a ball, play basketball and roll over on the ground. I also love horses and go for a ride once in a while to unwind. I was once the youngest equestrian in a jumping competition in Korea.
Links
MySpace * Facebook * Twitter * Site
Latest Multimedia
Interview by Marcy Bell
Rock noir band Belladonna is going back to the UK after their successful recent tour in April. We had the pleasure to send a few of questions to Luana, the ravishing singer and co-founder of Belladonna with the guitarist/producer Dani.
So Luana you´re going back to the UK, but please before every questions please let Femme Metal readers know the adventurous trip you did to reach the UK a couple of months ago. Thirty-six hours from Rome to reach the first gig in London…
First of all thank you very much for asking us to do this interview!! The last trip in UK was one of the funniest adventures we had in our life!! Due to the volcano's eruption every flight in/from/to Europe was cancelled…and ours too! So we just drove for thirty-six hours from to London singing to ourselves "it's a long way to the top if you wanna rock'n roll"
Belladonna is a totally DIY band so you and Dani manage everything. Is it difficult combine the artistic side with the business one? In that way you became the biggest Italian rock phenomenon next to Lacuna Coil and you played with, among others, Nine Inch Nails, Korn and Duff McKagan. That´s amazing, isn´t it?
Yes as a DIY band we take care of everything! It's not difficult to do – very tiring sometimes… but the satisfaction you get by doing things by yourself it's priceless!! And yes it's amazing what happened to our little band without having to yield to all those compromises bands always have to bow down to when they are signed to a label.
Two albums are out: "Metaphysical Attraction" and the recent "The Noir Album", released also in the Uk. What are the main differences between them?
The greatest difference between "Metaphysical Attraction" and "The Noir Album" is in the means used to record the latest one. We actually recorded it in Sylvia Massy's awesome studio in California… but the approach to the recording was the same : no click, very few overdubs, no samples – just a hi energy rock band playing noir songs.
Your story started from internet. Your MySpace was one of the most viewed in the net, do you think that these kind of new technologies can help music? In your opinion what will be the future social network to become as powerful as MySpace?
We absolutely think that without MySpace today we'd not have been here talking about our music. So we believe that internet can be very helpful for all independent artists. At the moment Facebook seems to be the best candidate… everybody seems to be on it nowadays.
What is your so-called "Rock Noir". The genre has also its own page on Wikipedia and now other bands are using this term you coined to define their music. You have actually created a new rock music genre.
Yes we were amazed when we discovered the Rock Noir Wikipedia page and to find out that so many bands have taken to call their music Rock Noir – it's very flattering for us.
You played also a few times in the USA. Once at the famous SXSW Festival in Austin (Texas) and in LA at the Key Club and at the Fonda. Did you enjoy these experiences and are you planning to go back to the USA?
We totally enjoyed our American experiences and we can't wait to come back to the States…which should happen in the Fall of this year!
Which songs do you like to play live the most? Your fans say that you are improving with every concert and that you kick ass on stage, what is your feeling in front of them? They have created a "Belladonna Family"…
We love to play every one of our songs since every time it's a different emotional experience for us….we totally love all our friends and fans!!….
You are sometimes compared to Lacuna Coil, because you are both from Italy, but the difference between your music and theirs is clear. What are you feeling about being compared to a popular band such as Lacuna Coil? Have you ever meet them?
Yes sometimes it happens that people compare us to Lacuna Coil, even though we sound totally different, as anybody that has heard both bands can hear. We have met them a few times and we totally love them: they are incredibly nice and down-to-earth people and of course they are an awesome band – the best rock'n'roll band to come out of Italy ever, no question about it – so it's always an honor for us to be compared to them!
What about a new album? Are you thinking about it?
All is very secret… all I can say is that we are working on it!
What are Belladonna dreams?
Our story so far totally felt like a dream… our dream now and forever will always be to never wake up!
Besides being Belladonna´s singer and songwriter you are also a philosopher. Do you think your wide knowledge helps you and the band in the writing process?
I think that it can help as anything else you read or experience…I mean life itself is always the main source of inspiration for me.
Your personal blog on Belladonna´s Myspace has been listed in Myspace "Most Viewed" blogs. Why did you open this private diary to the public? Can your fans expect other essays from you about social important issues as you did in the past?
When I started to write my blogs my goal was to share my point of view about different topics in a simple way (as opposed to simplicistic) because I always believed that people on MySpace were still human beings with their feelings, their brain, their opinions… not just numbers to use hype up our MySpace page! Maybe in the future I'll blog again…but at the moment I really don't have enough time… being a working-class-singer of a DIY band with our profile takes up all of my time nowadays

For Femme Metal you are a very atypical band because even if we follow many rock-metal female fronted bands none of them have so many girls in their line-up. Besides you there are Tam, on bass and Alice at the piano. You are three gorgeous girls, how is your relationship? Is it easy to get along with Dani and Alex, the only 2 guys in the band?
Me, Alice and Tam are wont to call ourselves "The Three-Headed Monster"… we are so close, especially on tour, that we totally feel like one… and people are often scared of us, ha!

And as I said before Belladonna are – clichéd as it sounds, it's the truth – a family so of course the two boys and us three girls have a wonderful relationship… even though the two boys are somewhat scared of the three tigers, or, rather, of "The Three-Headed Monster"!
What are your personal dreams?
I have so many dreams… my biggest is to find a way so that every very talented artist can be able to work and express his/her soul freely, without any filters of any kind!
Links
MySpace * Facebook * Twitter * Site
Latest Multimedia
Label : BMG Rights Management/Audioglobe
Review by Tony Cannella
Trans-Siberian Orchestra has been spreading their Holiday cheer in the U.S. for close to 15-years. In 2000 TSO released their first album of non-Holiday music titled "Beethoven's Last Night" and in honor of the bands first European jaunt this album has finally been released in Europe. As with all of their albums, "Beethoven's Last Night" features a virtual who's who of some of the best talent you will find. "Beethoven's Last Night" is an involved concept album that features over 70-minutes worth of music. TSO offers the listener a wonderful mix of epic metal combined with Classical music to present the listener with a soaring musical experience. Some truly talented singers such as Savatage alums Jon Oliva and Zak Stevens add their talents to some of the characters. Female vocals do not show up until track 10 when Patti Russo takes the helm as the character Theresa on the track "The Dreams of Candlelight". She can also be heard on various other tracks including "After the Fall". Sylvia Tosun as Fate is allowed to shine on the closing number "A Final Dream". More highlights – of which there are many – include: "What Good This Deafness", "Mephistopheles", "The Dark" and "Mephistopheles' Return". Enough good can't be said about this great array of talented musicians that makes up TSO. There is a reason that they have amassed a huge following among metal and non-metal fans alike."Beethoven's Last Night" is a perfect example of the genius of TSO.
Rating – 90/100
Tracklist
Overture

Midnight

Fate

What Good This Deafness

Mephistopheles

What Is Eternal

This Moment

Vienna

Mozart/Figaro

The Dreams of Candlelight

Requiem (The Fifth)

I'll Keep Your Secrets

The Dark

Fur Elise

After The Fall

A Last Illusion

This Is Who You Are

Beethoven

Mephistopheles' Return

Misery

Who Is This Child

A Final Dream
Line Up
Jody Ashworth – Beethoven

Patti Russo – Theresa

Jon Oliva- Mephistopheles

Guy Lemonnier – Young Beethoven

Jamie Torcellini – Twist

Sylvia Tosun – Fate

Zak Stevens – The Muses

Dave Diamonds – The Muses

Doug Thoms – The Muses

Robert Kinkel – Piano And Keyboards

Jon Oliva – Piano, Keyboards & Bass

Al Pitrelli – Lead, Rhythm & Bass Guitars

Paul O'Neill- Rhythm & Acoustic Guitars

Chris Caffery – Guitars

Jeff Plate – Drums

Johnny Lee Middlenton – Bass

Dave Wittman – Drums, Guitars & Bass Inserts
Links
6 color styles available:

Style switcher only on this demo version. Theme styles can be changed from Options page.