Browsing articles tagged with " synth"
Interview by Si Smith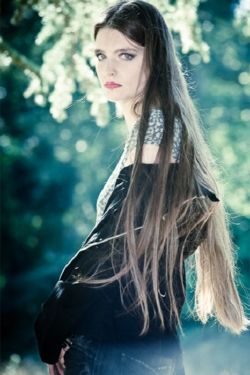 And here we are having a nice chat, this time, with Kat Ward about the second platter of the UK Progressive Gothic masters hAND. Let's hear what the singer she has to tell us…
If you don't mind, let us take a walk back in time. You describe your current musical incarnation loosely as "Prog goth", but originally you were a rocky trance duo? How did that work?! And where did you find Cris? (FYI Cris has now left the band and Dan Thomas is now our new drummer).
We started off with a piano, a guitar and a drum machine, the very early work of hAND is quite industrial sounding and very different to our current sound. We recorded one EP before we decided that adding a live drummer to the mix would really add impact and presence, especially on the live front. We advertised for a drummer on our local music forum, Cris turned up for an audition and we just hit it off straight away.
So moving on a little we find the band releasing 2 EPs, the second of which appears to have gained you some sponsorship and reputation in the industry. How was the feeling in the band at this time? Did you see something good coming, or were you just playing things "by ear"?
The second EP was really just a chance to see how we sounded as a three piece, it was also the first time we went into a studio to record so it was a nice experience all round. We sent it out to a few people for critique and overall response was very positive. At this point we just wanted to get some live experience, write some new songs and look into releasing a third EP. We were enjoying being a band more than anything else.
In 2007 you took part in the AKG Unsigned Heroes competition and won through to the top 20; eventually you signed to Copro Records. How was the band evolving at this time? Were you still reworking your original material, or constantly writing new stuff?
We're always writing new songs! When we signed to Copro it was a little bit of a wakeup call, I think we all took a step back and thought "ok let's start taking this a bit more seriously and see what we can do". The first album consists of most of our original material; there are songs on there that are from back when hAND was a duo.

And so the inevitable debut album loomed large on the horizon!! "Deadroom Journal" (July 2008) seems to have been received well in the press, with Metal Hammer describing it as "surprisingly inventive", and Kerrang comparing your lyrical world to Amy Lee but your musical approach as "reminiscent of Tori Amos-style experimentalism". Great praise indeed from two of the UK's most popular music magazines! How did you as a band view your debut album? Did it end up as you had hoped?
The whole experience of recording "Deadroom Journal" and hearing the final version was one of the best times of my life so far, I'm pretty sure that goes for the guys as well. It came out far beyond expectation, and we are all really proud of that record. Sure we listen back to it now and think we should've done this differently or that could be better, but it's still a great sounding album. It was really nice to hear all the songs we'd been working on and playing for a couple of years brought to life and done justice.

"Manuscript" and "Clannad Mass" were the only two tracks to make it to your debut album from your earlier releases. What was it about these two pieces that you felt was particularly worthy of a place on the album?

"Clannad" was always a favourite with the band and our fans, so we felt that it had to be on our debut album, everyone loved that song. We really wanted to represent the piano more and we had some interesting ideas for an album version of "Manuscript", so that's why it ended up as the first track.
Much gigging and promoting of the new album followed, but at the beginning of 2010 your UK tour dates were cancelled. Two cancelled tours in 12 months? That must have been a real downer for the band. What was the problem with the management? And how do you "bounce back" from something like that?
At that time we didn't have any management, we were doing everything ourselves. We were approached by an events company who we had played for before and they were really enthusiastic about getting us on this UK tour with a few other bands. Unfortunately the company disbanded and closed its doors before the tour got off the ground. We understood their reasons but it was a disappointment none the less. Before that we had been asked to support Ayin Aleph on a burlesque UK tour, this time the tour manager pulled out and we only ended up playing one gig with the band that we had arranged. After the second tour fell through we decided to focus solely on our second album, and not even think about the live side of things for a while. We lived in the practice studio, perfecting the songs and pre recording all the guitar/bass and piano.
It must have been a real buzz to join up with Femme Metal Records, as committed as they are to supporting and promoting their acts. Has it made a difference to the bands outlook and approach at all?
Now that we have a label and management team behind us that are actively promoting and getting our music and name heard; it's given us a definite boost as a band. We feel like we have a clear direction and always something to work towards. It also helps when dealing with others in the industry as they tend to see you as a serious act and not a "bedroom band" so to speak.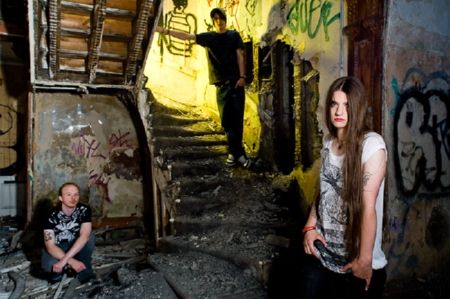 Towards the end of last year you were asked to guest on Isor's new album on the cover of "I've Got the Power". That must have been exciting! Did it tempt you to progress in an even heavier direction? Or are you happy with the band's "heaviness" as it is now?!
It was a last minute and spontaneous thing but I was very happy to do it. It was a nice feeling to be asked as Nick (drummer for Isor) has worked with lots of artists but chose me to guest on his album. In terms of heaviness, I would say we are writing "heavier" sections for some of the brand new material, but for us it's about a piece as a whole and we love contrast and unpredictability. I don't think we'll progress much more into the heavy side of things, but you never know.
The first thing you revealed with regards to the new album was the cover, which you posted up on your various sites. Could you explain its significance to us?
The whole album artwork was loosely based around a vinyl by Toyah called "The Blue Meaning". We all really liked the front cover and wanted to create something along the lines of that. We invested a lot of time and energy in a photo shoot for the artwork and let Gustavo run with it, we wanted photos to play a big part of it. He came up with about 4 different covers which were very hard to choose between, in the end we picked the one we did because it was a little bit darker and had a bit more mystery to it than the others.

It appears from the "Recording Breathing" video series that you released that you had a great time in the recording process of the new album!! What would you say is the key to successfully getting through this process alive and well at the other end (and with a great product!)?
Preparation before you even get to the studio is a major factor. The more practiced you are with the material the easier it is to record and it's going to make the process more relaxed and fun. You want to triple check every piece of gear and take spares if you can, something will go wrong!!! Other than that, discipline in yourself. Recording an album is a great experience and personally I want the finished result to be the best that it can be, if that means detoxing on caffeine, dairy, alcohol and the occasional smoke to make sure my voice is ready, then that's what I'll do.
The album starts with a deceptively simple song, after which we get "The Pier", a six minute journey through mellow parts, a really fast interlude and finally almost shouted/spoken vocals over riffing towards the end. With all that variety, how on earth do you decide upon the final structure of a song? Do you all have similar ideas as to where a song should be going, or do you all have conflicting influences and preferences that somehow create a coherent whole?
Sometimes we have a rough plan for a certain type of song and work round that, others we just go with the flow. We generally tend to write songs with the music first, and most of it comes from us having a jam until one of us plays something we all really like, and that's our starting point. I write all the lyrics completely separately from the band and match them up with whichever song I feel they suit the best, the vocal melodies are always the last thing to be worked on. All of us have very different influences and taste in music but we're happy to include bits from everyone's pool of experience, it's what makes our music so varied.
Being only a three-piece, the vocals are quite prominent in the mix and some of the backing is quite minimal in places. Do you feel that the band is limited at all because of this? Have you ever thought of having additional members?
I definitely don't see it as a limitation and it helps in writing by pushing us to think of more interesting ideas. We did experiment on this album with the track "Re-animation" (and are continuing to do so); it features some synth from Tom Johnstone – which works quite well! We're always trying to think of new elements and have discussed having a second guitarist from time to time; we usually come to the same conclusion that we feel it would make our sound more "mainstream" and lose some of the quirky edge it has now.

The album comes out on the 2nd May (It's was changed to June 6th) in the UK. Judging by the reviews you have received so far, how do you anticipate the album being received?
I hope the overall reception will be very positive, based on the reviews and comments so far it's heading that way. I think most reviewers will be able to appreciate the musicianship and intricacy of the music even if it's not a style that they would normally listen to. A big "thumbs up" from the UK prog scene would be very nice too!
You have played in the past alongside bands such as Delain, Octavia Sperati & Lahannya. Will you be (hopefully) touring the UK promoting this album? Any festivals planned?
Unfortunately not long before "Breathing" was released our drummer Cris decided to leave the band due to having other commitments; this has meant that any dates or plans for a launch party have had to take a backseat to finding a new drummer. Fortunately we have very recently recruited Dan Thomas to be our new drummer and are looking to get back on stage and playing shows as soon as we can.
Well we look forward to hearing more from the hAND camp in the future, but until then thank you so much for talking with us, we at Femme metal webzine wish you all the best with the album release!!
Cheers and thanks for the interview!
Links
MySpace * ReverbNation * Facebook * Twitter * Site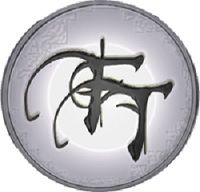 Interview by Si Smith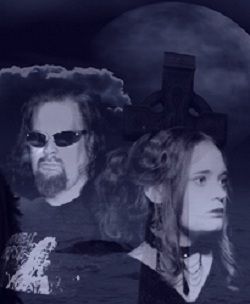 Fateless Tears hail from New Mexico, and considering that their first release was in 2005, it is no mean feat to have released their FIFTH full-length in 2010. When you throw into the mix a number of successful singles and an active side project, the illustrious pairing of Richard and S.Lee proves to be a phenomenon of great substance in the metal world. Femme Metal stole some of their precious time to uncover more….
Having featured on our "Ferocity and Femininity" compilation, and been reviewed and interviewed by Femme Metal already, there must be still some more we need to know! For a start, it is clear from your back-catalogue that you both have great musicality. How did you both get involved in the music at the start? Did you always know that this was what you wanted to do?
Richard: I knew pretty early on that music was something I wanted to pursue. I have several relatives who have played guitar and sang. One of my uncles has released a few country music albums, while another co-wrote and played on a couple of country music hit singles back in the '70s. I knew that I wanted to carry on their tradition, albeit doing it my own way in rock and metal instead of country.
S. Lee: I do not think that I have ever known a world without music and song. My mother sang to me, around me and with me. Wandering around singing little songs that I had heard, learned, or thought up are some of my earliest memories. As soon as I could write well, poems and lyrics as well as short stories and drawing became central focuses of my free time. I am not assured that any of these activities were truly separate from one another. I am told that I often sang in my sleep as a small child.
I believe that since we last spoke to you Paul has now joined you as a full member of the band. How has that affected the dynamic of the band, in the writing, recording and also the live setting?
Richard: Funny how that works… while Paul was a full member for "The Chaise", he went back to being a guest artist on our albums shortly after its release. Unfortunately, due to his very busy schedule, he was unable to be part of FT full-time. He is one of my closest friends and he will continue to have guest spots on our albums. Regrettably, he doesn't have the time to be more than a listening ear and helping hand. Chris from Amadeus & Demise of Gideon also guests on our albums covering vocal duties and some guitar. They are both very important to S.Lee and I, and we really appreciate their help on our music.
Richard, you have been active on The Demise of Gideon recently. Would you like to tell us about it? How does it relate to your work in Fateless Tears?
Well, one day I looked into my "Riffs" folder and I had a whole album worth of riffs that I felt were more in the vein of old school thrash metal. I didn't feel that they worked well for FT. At the same time, Chris and I started talking about doing a project together. Four months later, the album was done. It ended up being sort of an old school thrash/prog/death album. "Twingence", the 28 minute, seven-part epic, is one of my proudest moments as a composer/songwriter. Through it, S. Lee provided vocals on "Adagio", "Rondo" and "Coda". "Adagio" became part of the new album, because it is very much in the FT vein and we felt it would be a nice addition to the album.
The first song on the new album, "Primary" is a new song. Could you tell us a little about it?
Richard: "Primary" was originally written for the new FT album, on which we are currently working. When we signed with Blue Freya, Karl, S. Lee, and I wanted to get something new out there, especially out in digital shops like iTunes and Amazon. Consequently, we pulled "Primary" from the new album, as it was the song most completed and pushed it forward to HWYHBM.
S. Lee: The lyrics in "Primary" are very much a reflection on the dichotomy between the subconscious and conscious world within one's mind, thoughts and actions. I hope that they convey the truth of pieces of ourselves that we must subsume and the duality of faces we must assume to cope with and navigate the pressures, uncertainties, and pitfalls in the waking world. For me, "Primary" captures the essence of our true self, an ideal self, that is only unrestrained and dominant in sleep wherein we reconnect with who we are and rejuvenate to face daily life challenges.
The other songs on the album are all "retrospective". What criteria did you use to choose these songs in particular?
Richard:
Well "Cages" and "Inner Sanctum" were tunes that we both felt needed to be redone for various reasons. "MEDS", "Mesmerized", "Flicker" and "Cycles" are songs that are most often referred to as our best or favourite tunes by listeners. "Adagio" was included for two reasons: it was a new tune to FT's audience, by and large, and we felt it would fit better as a single for FT as opposed to DoG.
"Flicker" begins and continues with a quite striking keyboard "riff". How does a Fateless Tears song get birthed? And how does it begin to form itself from a simple idea into a complete song?
Richard:
Earlier I mentioned that "Riffs" folder. Every time I practice, I spend some moments just working on new riffs and those that emerge are all recorded, catalogued, and transcribed to the folder. That folder has a wealth of material in it ranging from metal to rock to you name it. Generally, I place things I think suitable for various projects in their place.
S. Lee:
I frequently write short pieces of verse, potential lyric lines, and random phrases in notebooks, a Lyrics folder, or scraps of paper lying around. Often, these snippets or full lyrics sets or poems emerge as Richard is writing and recording. I love to listen as a song takes shape and give feedback on different sound qualities and recording passes.
Richard:
In general, all of the music is written and then I give S.Lee finished mixes around which she tailors her final vocal lines, melodies, and lyrics. For the new album, S.Lee is working on a couple songs where she is creating all of the vocal melodies first and then we will work on arrangements together.
"Adagio" first appeared on The Demise of Gideon album. Did you change it much to turn it into a Fateless Tears song?
Richard:
By and large, the two versions are the same. I remixed it for FT, so, for instance, the rhythm guitars are eq'd differently and the drums are also a bit altered. Basically, it's just the difference between mixing it as a solo song compared to a part of a 28 minute story.
You have recently signed with Blue Freya Media Group. How will this affect the band in the future do you think?
Richard:
Karl is a great guy, and we are very proud to be part of BFMG. The only affect I can see has already started in that our music is now available in more places than ever before. Karl is a great promoter and he works very hard for his artists
.
Your last full-length album "The Chaise" was very topical, dealing as it did with economic crisis and how it affects the world. Are there any other topics you would like to get your creative hands on in the future? Any prospects of a completely new Fateless Tears album any time soon?
Richard:
The new album is currently underway. Due to the recording schedule of the studio, we are getting the music tracked now and then will go back in and track vocals and guitar solos in July. As part of the continued plan of us releasing our back catalogue in a unique way, there will be an album of our ballads from the first 4 albums titled "In the Midst of Sleep" that will be a digital release through BFMG. All of the old material has been remixed and remastered. It will also include two new tunes, one of which is an acoustic version of "Stasis" that is part of the new album along with the BFMG compilation "Born of Sand & Snow".
Just too completely throw in an odd question, I recently listened to "Dark Seasons of Sorrow" by Frozen Mist and noticed both your names in the credits. How did your involvement with Frozen Mist come about?
Richard:
Jamie and I met through MySpace, formed a friendship, and at one point we were both thinking of signing with Mournful Moon Production. Halfway through the recording of DSOS, things went south with his old band mates and they decided to leave mid project. He and I talked and we decided that S. Lee and I could help him finish that album. Jamie is a good guy and I was happy to help him out. I also played lead guitar on the next two FM albums.
S. Lee:
We are always happy to help out a friend and I find Jamie's lyrics intriguing in their visual imagery, so the experience was rather engaging.
Five albums on, this might seem a great time to look back over your musical repertoire and see the high and low points. As you look back, what have been the greatest and the worst moments of Fateless Tears' life? Any favourite song or lyric?
Richard:
Well, I think a couple of the high points are the inclusion of "My Doom Box" on several top albums of the year lists of radio stations in our genre and the worldwide reception of "My Endarkened Self". My favourite tune, including lyrics, is "Tapestry". I think it is a wonderful blend of S. Lee's voice and lyrics.
S. Lee:
I enjoy writing and singing, so recording, once I get past my initial self-consciousness in front of the microphone, is always a high point. The low point is finding enough time in the day to get everything done to a point where I can focus on our music. As for a favourite tune or line, I cannot truly name one as I generally find a line or turn of phrase that came out of a vocal take in each song that stays with me from the moment it is captured. One of my professors often spoke of "teachable moments" where the context of a moment leads to understanding. I think that these occur as we are recording when a vocal moment turns outré, teaches me something more about myself and crystallizes into an emotive vocal presence captured in the song.
I am sure many fans would love to hear the music performed live. Do you intend to do any live appearances on the strength of this new album? Or will you wait until a completely new full length?
Richard:
We have never been a live band. FT has always been studio only. This is due to multiple reasons, but the primary is that S.Lee and I both have jobs that require our attention daily. Taking any extended time to play live is simply out of the question.
S. Lee:
The daily grind and responsibilities of the modern world necessitate our studio only status for the foreseeable future. At least the experiences therein provide a wealth of material for future incorporation in our music.
There was also talk of a video of "Adagio" to accompany the new album. Did this come to fruition ?
Richard:

Yes there was, but it was shelved. There is a video for "Allegro"; however, we decided that to create what we wanted for "Adagio" and how it relates to the story simply wasn't feasible. Currently, a video for "Flicker" is being done. The song is being used in the movie "Dark of the Moon" and there will be a video released which ties in with the movie. We are hoping to have that available to people this summer.
Finally, it only leaves me to say a great thank you for answering to Femme Metal once again. We wish you success in 2011 whatever it may bring to Fateless Tears!!
Richard:
Thanks to you for giving us the opportunity to reach folks with this interview.
S. Lee:
We always appreciate the chance to talk about what we do and our enjoyment in sharing our music. We are grateful to you for extending another opportunity to do so.
Links
MySpace * ReverbNation * Facebook * Twitter * Site
Label : Spider Rock Promotions
Review by Tony Cannella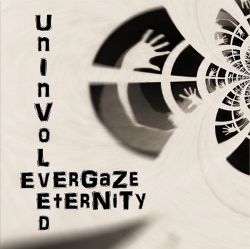 Italy's Symphonic/Gothic metal duo Evergaze Eternity began in 2007. In 2009 they released their "Incompatible Existences" demo. This brings us to 2011 and their full-length debut "Uninvolved". The band is led by two main members. Valeria Salerno on vocals and Giovanni Ferranti on synths comprise the duo that makes up Evergaze Eternity. Some guest musicians were included to help round out the band on "Uninvolved". From the very outset, "Uninvolved" is fueled by heavy guitar riffs and pounding rhythms, with the high-pitched vocals of Valeria Salerno leading the charge. The opening trio of "No Regrets", "Insane" and "Crumbling" starts "Uninvolved" off with a good shot of adrenaline. For "In a Corner", Evergaze Eternity is joined by Eldritch front man Terence Holler. This is one of the highlights and the song has a bit of a "Countdown to Extinction" era Megadeth vibe. Another highlight is a surprising cover of the Madonna song "Live to Tell". As one would expect, this is a totally metalized version of this song that bears little resemblance to the original. The song is hallmarked by some plodding Black Sabbath style guitar riffs and some cool Type O Negative-ish keyboard parts. Evergaze Eternity has totally made this song their own and it blows away the original (in my opinion). Other significant moments include: "In Vain", "Memories" and "Still Waiting". My one complaint – and this is just my opinion – is that perhaps, just maybe the songs are all in a similar vein and there is no real variety throughout. Again, that is just my opinion and fans may love the barrage of heavy riffs contained on "Uninvolved". One thing is for sure, there is no lack of energy and enthusiasm displayed by Evergaze Eternity. This band from Italy I am sure will be heard from in the future and prove they have a lot to offer the metal community.
Rating – 73/100
Tracklist
No Regrets
Insane
Crumbling
In a Corner (feat. Terence Holler of Eldritch)
In Vain
Live to Tell (Madonna cover)
The Hive
Memories
Still Waiting
Uninvolved
Line Up
Valeria Salerno – Lead and Backing Vocals
Giovanni Ferranti – Synths, FX, Programming
Marco Ribecai – All guitars and Bass (except "Memories") & Additional FX and programming (Additional Musician)
Lorenzo Carpita – Bass on "Memories" (Additional Musician)
Dave Simeone – Drums and percussions (Additional Musician)
Links
MySpace * ReverbNation * Facebook * Twitter
Label : Femme Metal Records
Review By Tony Cannella
Norway's Ancestral Legacy formed in 1995 and play symphonic black metal in 2005 they released their debut full-length titled "of Magic Illusions", the band returns now with their long awaited follow-up "Nightmare Diaries". The bands complex form of Black Metal also includes some hints of progressive music and nice acoustic passages throughout the entirety of this 10-song 56-minute opus. The band includes two singers: a male (Eddie Risdal – who provides the harsh vocals) and a female (Elin Anita Omholt) to give the songs a contrasting clash of styles. The band has since undergone a line-up change with Mexican vocalist Isadora Cortina replacing Elin Anita Omholt.The very strong opening track "Out of the Dark and Into the Night" gets things off to an energetic start and really sets the tone for what is to follow. All of the elements are there on this one, the cool duel vocals of Elin and Eddie, and some nice tempo and mood changes really lift this song, not to mention a cool guitar solo. The next song "Separate Worlds" is just pure aggression and heaviness. "Chosen Destiny" is one the absolute highlights for me, as the band slow down the tempo a bit, while still maintaining the heaviness of the previous songs – the duel vocals are especially strong on this one with Elin taking the bulk of the vocals, But Eddie joins on the chorus. Other highlights include: "Perhaps in Death", "Done", "…My Departed" and "The Shadow of the Cross". A good second release from this Norwegian band. It is cool how the band combines melodic music with some truly heavy and angry sounding music. I have to admit that I wasn't familiar with Ancestral Legacy's music prior to this, but after having the pleasure to hear "Nightmare Diaries", I now consider myself a fan. Hopefully, we won't have to wait another five years for album number 3.
Rating – 85/100
Tracklist
Out of the Dark and Into the Night

Separate Worlds

Chosen Destiny

Perhaps In Death

Trapped Within the Words

Done

Still

Tomorrow's Chance

…My Departed

The Shadow of the Cross
Line Up
Elin Anita Omholt – Vocals

Eddie Risdal – Guitar, Harsh Vocals & Synth

Tor Arvid Larsen – Guitar

Eddie Risdal – Guitar, Harsh Vocals

Atle Johanssen aka Anton Dead – Bass

Christopher Midtsvéen Vigre – Drums
Links
MySpace * ReverbNation * Facebook * Site
6 color styles available:

Style switcher only on this demo version. Theme styles can be changed from Options page.