Browsing articles tagged with " tad"
Label : AFM Records
Review By Tony Cannella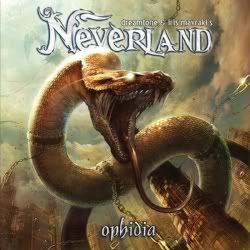 The band Neverland is a collaboration between Greek female singer Iris Mavraki and the Turkish prog/power metal band Dreamtone to create the project Neverland. They have previously released one album in 2008 titled "Reversing Time". Now, 2-years later the band have returned with their conceptual second release titled "Ophidia". In the beginning the bands subject matter was more fantasy based, but with "Ophidia" Neverland take on a more reality approach as they tell the tale of "evil lurking within mankind". It is a complex story that suits the complexity of the material. On the 11-songs and 53-minutes worth of music on "Ophidia" the majority of the vocals are handled by the male singer Oganalp Canatan with some input from female Iris Mavraki on harmonies and some lead parts. The songs flow together nicely and the lyrics tell a cool story that really paint a mental picture as the story developes. The opening track "This Voice Inside" really does a terrific job in setting the scene and getting things off to a rousing start. That gives way to the best track on the CD (in my opinion), "Silence The Wolves". Other highlights include: "Ophidia", "Invisible War", the melancholic ballad "Will of God", "Speak To Me" and closing instrumental "Into The Horizon". "Ophidia" also features a number of notable guest appearances from the likes of: Jon Oliva (Savatage, Jon Oliva's Pain) and Urban Breed (ex-Tad Morose, Bloodbound). Even though Neverland's main style is symphonic power metal, I also hear some elements of 70′s arena rock in their sound – with modern touches of course. I can't imagine the hard work that went into the completion of "Ophidia", but the finished product is definitely something that fans of conceptual metal should check out. Neverland should please fans of Ayreon, Blind Guardian and Angra to name a few.
Rating – 80/100
Tracklist
This Voice Inside
Silence the Wolves
Ophidia
Will of God
Invisible War
Places Unknown
No One Leaves the Hive
Speak to Me
Ashes to Fall
Final Odyssey
Into the Horizon
Line Up
Oganalp Canatan – Vocals
Iris Mavraki – Vocals
Onur Ozkoc – Guitars
Burak Kahraman – Guitars
Guney Ozsan – Keyboards
Can Dedekarginoglu – Bass
Emrecan Sevdin – Drums
Links
6 color styles available:

Style switcher only on this demo version. Theme styles can be changed from Options page.