Browsing articles tagged with " taglietti"
Label : Insomnia Media
Review by Lithium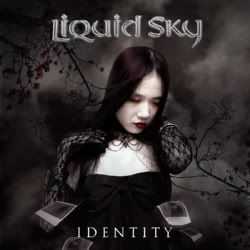 Whenever I listen to an album for the first time I'm always interested to see what my reaction will be. Sometimes all I can do is to ask, "Why ?". Other times I might ask, "Why not ?". In the case of "Identity" from Liquid Sky my initial reaction was simply, "Hell Yeah !". It's what I would describe as classy British metal with a progressive edge. Not overly complicated, not overwrought with unfounded angst, not over-anything, really. Just good, solid, traditionally based British metal done the way it should be done – the British way. "Identity" is one of those discs that doesn't waste any time getting right down to business. After a brief instrumental comes the album's high point, "Titan". Its opening riffs feature some nice artificial pinched harmonics (aka squealy riffs) that immediately let us know that something truly special lies in store. In fact, it's apparent from the very outset that this album has more to do with late-period Whitesnake and Martin-era Black Sabbath than it does with anything from the Gothic side of the femme-metal scene. Yes, there is a female singer and yes, there are some keyboards. But, the singer is not like the others and the keyboards lean slightly more progressive than they do Gothic. The first words sung on this album are "Read My Hidden Thoughts". The interesting thing about this is that vocalist Hecate Taglietti sings 'hidden' as 'hid on'. But she does this so naturally and so convincingly that one gets the impression this is exactly how she talks. When combined with her sweet voice and touching delivery, the effect is quite endearing. Still, in opener "Titan" it is guitarists Jonathan Craven and Andy Midgly who steal the show. They trade scorching leads that seem to keep coming at you without letting up. And just when you think they are finished, they somehow manage to kick things into an even higher gear that you never suspected was there. As impressive as that may be, it is still Hecate who is the important one here. She won't split your eardrums or make you want to slit your wrists. But, if you're not careful, she just might melt your heart. Hecate infuses a genuine sweetness and vulnerability into her lyrics that are so unlike the over-the-top soprano histrionics we sometimes hear. Rather than some illusory opera diva in a ball dress, what we find instead is the girl next door. A real person with the same feelings, emotions and problems as we have. "Dreamstate" for example features the refrain, "When I dream of you, it feels so true. I'm wishing that's the way it was". Not exactly what one would consider typical metal fare, but Hecate sells it so well that one gets the impression she is not selling it at all. My only negative reaction to this CD began in response to some faint croaking sounds I heard on "Stitches". I immediately thought to myself, '"No! They didn't!" Well, yes they did. Another otherwise-perfectly-fine song piled onto the scrap heap of otherwise-perfectly-fine songs that have been ruined by some dude trying to sound like a scary monster. This is not the least bit pleasant, it's not dramatic and it's not even interesting. It's ridiculous and annoying, and in this case extremely out of place. Instead of this joker/croaker, listeners would have been much better served by some nice vocal harmonies from Hecate. In fact, by the time the next song, "Laid to Rest", had finished my reaction was, "Leave her alone, Cookie Monster, or I just may have to kick your sorry ass all the way back to Sesame Street". Other than that I liked everything about this album. Fortunately, only one other song featured extreme male vocals. Overall, "Identity" is a very worthy effort. The songwriting is strong, the musicianship is first-rate and the vocals of Hecate are nothing short of flawless. Recommended for all fans of femme metal. Male vocals: Moderate amount of growled vocals featured on three songs.
Rating – 75/100
Tracklist
Tranquillity Base

Titan

Dreamstate


Echo

Stiches

Laid to Rest

Love Labours Lost


Watch the Ocean

Ghost in the Shell

Salvation

Dawn's Pale Light
Line Up
Hecate Taglietti – Vocals

Andy Midgley – Guitars

Jonathan Craven – Guitar


Rick Ogden – Keyboards

Den Constable – Bass

Anthony Marginson – Drums
Links
Label: Anthem Records
Review by Tony Cannella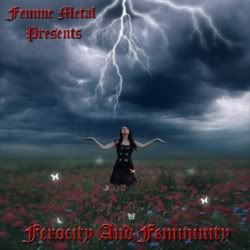 Metal is truly a worldwide phenomenon. Okay, maybe that is the understatement of all time but it is great to see how metal is represented all over the world. Different styles, different genres, it all has something to offer. In the realm of female fronted bands, it is no different. There is a lot of good music out there, sometimes you just have to look for it. Here now is a compilation CD brought to you by the good folks at the Femme Metal Webzine titled "Ferocity and Femininity". Represented are 15 bands and over 70-minutes worth of some of the best up-and-coming bands in the Female Fronted metal scene. The CD begins with "The Reach" by the UK's Adastreia. This is a good track to choose as an opener, since it sets the standard very high right away. The song is dramatic with great operatic vocals. From there are another two bands representing the UK are on board. The first of which Hanging Doll are on board with the fantastic "Sweet Retribution". This is an excellent track with an infectious melody and more great vocal work. That is followed by another equally good song by Submerged titled "This Thing of Darkness". A cool mid-tempo number that has plenty of killer riffs. Canada's AraPacis check in with "So Many Leapers". This song ups the heaviness a bit with it's Maiden-like galloping rhythms. It's just relentless. Their style is more in a traditional metal vein, but equally effective as the previous bands. Next is Fateless Tears from the U.S. Their style generally reminds of good progressive music as can be heard on their track "Mesmerized". Dueling female and male grunt vocals are used here. The UK's hAND are represented with "I Find Myself" and this is musically phenomenal track and the vocals are very strong. Dremora from the US check in with "Alone" and Maida Vale from the Netherlands with "Remote Control". A couple of perfectly crafted songs that highlight the strengths and differences of both bands. Dendura from the US are represented with Symphony – a symphonic metal masterpiece and that is followed Celticia (from the UK) with "Misshaped Scenes". Next is Afterdawn with "Top of Occasions". The great Australian band Temujin is heard with "Let You Go". This is one of the most promising new bands I've heard in quite some time and this is one of my favorite tracks from their brilliant "1000 Tears" CD. Dyonisis – another great band – is up next with "Xact". The final two songs "Ghost in the Shell" by Liquid Sky and "Disclosed" by Norway's Ancestral Legacy bring this collection of female fronted metal to a rousing conclusion. With 15-songs and over 70-minutes worth of powerful music, this CD should provide a great resource for fans who are always on the lookout for new bands to support. Caz and the Femme Metal crew have put a lot of dedication and heart in compiling this CD and that is to be commended. The spotlight is shone brightly on these 15 bands, who each bring something unique and interesting to the table. This is truly a great collection of songs and bands that should please not only fans of the femme metal genre, but fans of music in general. The packaging layout and artwork also deserve a special mention. Plus, it's all for a good cause. All proceeds will go to aid Cancer research.
Rating – 90/100
Tracklist
Adastreia – "The Reach"

Afterdawn "Top of Occasion"

Ancestral Legacy – "Disclosed"


AraPacis – "So many Leapers"

Celticia – "Misshaped Scenes"

Dendura – "Symphony"

Dremora – "Alone"


Dyonisis – "Xact"

Fateless Tears – "Mesmerized"

hAND – "I Find Myself"

Hanging Doll – "Sweet Retribution"

Liquid Sky – "Ghost in the Shell"

Maida Vale – "Remote Control" (New 2008 Version)

Submerged – "This Thing of Darkenss"

Temujin – "Let You Go"
Links
6 color styles available:

Style switcher only on this demo version. Theme styles can be changed from Options page.