Browsing articles tagged with " tales"
Label: Lava/Universal Republic
Review by Tony Cannella
As the holiday season approaches, Trans-Siberian Orchestra gets ready to embark on their annual Christmas tour/extravaganza. In conjunction with the bands holiday dates they have released a compilation album from all of the bands rock operas.
The cool thing about TSO has always been their wide-ranging appeal, from kids to parents to grandparents and of course metal fans. With "Tales of Winter" all six of their releases are represented in one neat 74-minute package. The band has included a long list of musicians/writers from founder Paul O'Neill, Jon Oliva, Al Pitrelli and Chris Caffrey among others. They have also utilized numerous female singers throughout the years on their albums and tours since their inception in 1993. Continue reading »
Label: Sound Age Productions
Review by Vard Aman
Alkonost is back! Since 1996, they have deservedly grown into one of Russia's best known and most accomplished Epic Pagan/Folk Metal bands (mixing bits of Doom and Black Metal into their sound). One of their greatest assets was the beautifully smooth operatic vocals of Alyona Pelevina – easily one of the best operatic vocalists the Metal world has produced in my opinion (and in the opinions of many others, no doubt). Incidentally, the Alkonost in Slavic mythology is a goddess of the underworld with the body of a bird and the head of a beautiful woman, and the sound it makes is so beautiful that anyone who hears it will forget everything they know, and will never want anything else again – making Alkonost a rather aptly named band. Now, where was I? Oh, yes…. It therefore came as a bit of an end-of-an-era style shock when Alyona left the band in 2011 (as did their drummer and keyboardist). How does one replace a vocalist like Alyona? (Answer: With Ksenia Pobuzhanskaya, that's how! More on that later). Continue reading »
Label: Massacre Records
Review by Tony Cannella
Okay, let's get this out of the way first. The Spanish band Tears of Martyr bears a lot of similarities to early Nightwish. That is in no way meant as a derogatory statement. Nightwish has been hugely influential and some bands are able to take that influence and put their own cool twist to it and that is how I would describe Tears of Martyr as it relates to their second album "Tales". Their sound is reminiscent of Nightwish from the first three or four albums and vocalist Berenice Musa has a wickedly gorgeous operatic voice and the thing I like about her the most is that she doesn't go too over-the-top with it, she manages to keep it in check and to always fit the song. Her voice is like another instrument and it fits the music and doesn't try to upstage it. She is a lot like Tarja Turunen in that way. That mini-rant out of the way, let's delve into "Tales" the sophomore outing from Tears of Martyr. Continue reading »
Label : Ravenheart Music
Review by Tony Cannella
From Italy, the Gothic metal band Armonight formed in 2008. In 2011 their debut "Suffering and Passion" was released. The band has recently signed with Ravenheart Music and has unleashed their newest offering "Tales from the Heart".
The narrative intro "Into The Deepest Dream" kicks things off and leads us into "With Your Knife". Armonight also made a pretty cool looking video for this track, which can be viewed on You Tube or their official site. There is a lot to like about this band. The songs are melodic, accessible and vocalist Sy delivers her lines with a great deal of passion and emotion.
She is definitely not of the operatic variety; instead she stays in a mid-range style that compliments the music perfectly – which is always a huge plus. "Dancing With Ghosts" has an up-tempo, symphonic sound and would make a great choice for the second video, in my opinion. "Always By Your Side" starts of as a beautiful, piano dominated ballad before picking up the tempo and quickly becoming another favorite. Continue reading »
Interview by Danny Robertson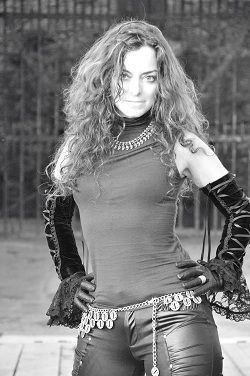 Giorgia Gueglio, singer and founder for heavy/melodic Italian metal act MasterCastle, spoke to us to discuss their debut album "The Phoenix" (released April 2009) and the band's history.
How and when did the band first get together?
I founded the MasterCastle band together with the guitar player Pier Gonella on 2008. We had many bands and collaborations in the past and we decided to put all experience and energy in something different. Pier wrote many hard rock/heavy metal songs and riffs using a particular baritone guitar, and we experimented my female voice on them. The result was an amazing mix for us. We went away composing and we called Steve Vawamas as bass player and Alessandro Bissa as guest drummer. We had known them for many years, as musicians and as people and their arriving changed the project into a real band. We finished 4 songs and we send them to the Lion Music label. They immediately proposed us a deal and we released the album "The Phoenix" on April 2009. We are grateful to all of Lion Music staff's work and promotion for us.
Who first influenced you to become a vocalist?
My musical background is based on British and American hard rock. My first influence was David Coverdale of Whitesnake. I like his voice because it's full of energy and very expressive.
Who/what are the band's main influences as a whole?
Of course Whitesnake was a great influence for me. Then many 70′s, 80′s stuff like Led Zeppelin, I like very much Robert Plant's voice also.
What inspired you to name the band MasterCastle?
We choose the MasterCastle name during travel after a gig. We were searching for something that could represent Giorgia Gueglio and Pier Gonella. Finally we found "Master" because of the great experience of Pier, as guitar hero, composer and producer and "Castle" because of my travelling passion. I visited many castles, especially in Scotland, and they've given me great emotions. So the two words are very common, but putting them together they become something different and original. You can translate them as "Main castle", or "castle of the master", and we like all those meanings.
How long did it take to write and record "The Phoenix"?
We sent a 4 tracks demo to Lion Music on August 2008. And at the end of December 2008 we sent to Lion Music all the stuff: the master of the album, three bonus tracks for the Japan release (Japan's edition was released on September 2009 for the label Spiritual Beast), all graphic and booklet files. I consider this as a record! We worked very hard, but without stress, because all the band really believed in MasterCastle's music and this has given us all the necessary energy.
What are the main themes and influences behind the tracks on the album?
I wrote all the lyrics and I get inspiration from human nature as well as forgotten tales and events. For example, the song "Greedy Blade" tells about the disaster of Vajont, a dam on the Italian alps that after a landslide, created a giant wave that destroyed towns and villages in the valley. The titletrack tells a story of human nature that needs to be as strong as the phoenix, the legendary bird which dies and is born again on his ashes. The song "Princess of Love" is a mystical tale about the magic presence of a clan of witches dancing in the forest. I really like this song and we made a videoclip that people can see on our MySpace.
How would you describe your sound? Are you comfortable with labels?
It's not easy to describe our personal style. When we sent the stuff to Lion Music, they described my voice as "very powerful" and I'm very proud of this. Thinking about female (vocalists), expecially metal heads, they always think simply about a voice that is higher than a male voice and frame this in the gothic style, with very few exceptions. I don't wanna do this. I try to be different from all female singers, putting all my energy and power in my voice, not necessarily going so high in frequences. Some months after the releasing of MasterCastle's album, I'm happy that people understood this and considered my voice as an original and particular. All MasterCastle sound was considered unique, not only because of my voice but for the original way in combining heavy metal and hard rock with classical influences.
What would you say has been your biggest non-musical influence?
Many non-musical things influence me, expecially in the lyrics. Maybe the biggest is nature. I like mountains, the sea, I like the color of nature, expecially in autumn and the sounds of nature. In the song "Cradle of Stone" I talk about this and about how man often kills nature with progress and technology. As I said before, I also like travel and visit uncontaminated places. They give me a lot of emotions and inspirations.
Who are your favourite current bands/acts? Made any recent CD purchases?
My last purchase was "The Resistance" by Muse. I like their music and their personal way of mixing rock with classical stuff.
Which other bands/acts, past or present, do you feel you share the most common ground with?
I think Whitesnake, Led Zeppelin, Kate Bush, Mike Oldfield.
What's next for the band? Any tours in the pipeline?
After the release of the album we made some gigs, expecially in Italy but we started immediately composing other songs because our plan is to release another album in April 2010. Lion Music have given us another deal, so we are currently working towards the next MasterCastle album. The album is called "Last Desire".
Any last messages for people?
First of all, thanks to you for this interview. Then I invite all listeners to MasterCastle site, where you can find our videoclips, unreleased songs and many other stuff. See you soon on stage!
Links
MySpace * ReverbNation * Facebook
Latest Multimedia
6 color styles available:

Style switcher only on this demo version. Theme styles can be changed from Options page.