Browsing articles tagged with " tales"
Label : Ravenheart Music
Review by Tony Cannella
From Italy, the Gothic metal band Armonight formed in 2008. In 2011 their debut "Suffering and Passion" was released. The band has recently signed with Ravenheart Music and has unleashed their newest offering "Tales from the Heart".
The narrative intro "Into The Deepest Dream" kicks things off and leads us into "With Your Knife". Armonight also made a pretty cool looking video for this track, which can be viewed on You Tube or their official site. There is a lot to like about this band. The songs are melodic, accessible and vocalist Sy delivers her lines with a great deal of passion and emotion.
She is definitely not of the operatic variety; instead she stays in a mid-range style that compliments the music perfectly – which is always a huge plus. "Dancing With Ghosts" has an up-tempo, symphonic sound and would make a great choice for the second video, in my opinion. "Always By Your Side" starts of as a beautiful, piano dominated ballad before picking up the tempo and quickly becoming another favorite. Continue reading »
Interview by Danny Robertson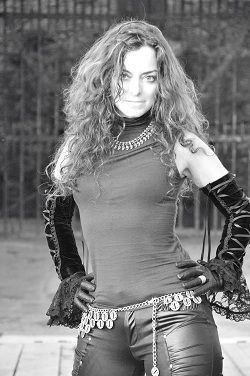 Giorgia Gueglio, singer and founder for heavy/melodic Italian metal act MasterCastle, spoke to us to discuss their debut album "The Phoenix" (released April 2009) and the band's history.
How and when did the band first get together?
I founded the MasterCastle band together with the guitar player Pier Gonella on 2008. We had many bands and collaborations in the past and we decided to put all experience and energy in something different. Pier wrote many hard rock/heavy metal songs and riffs using a particular baritone guitar, and we experimented my female voice on them. The result was an amazing mix for us. We went away composing and we called Steve Vawamas as bass player and Alessandro Bissa as guest drummer. We had known them for many years, as musicians and as people and their arriving changed the project into a real band. We finished 4 songs and we send them to the Lion Music label. They immediately proposed us a deal and we released the album "The Phoenix" on April 2009. We are grateful to all of Lion Music staff's work and promotion for us.
Who first influenced you to become a vocalist?
My musical background is based on British and American hard rock. My first influence was David Coverdale of Whitesnake. I like his voice because it's full of energy and very expressive.
Who/what are the band's main influences as a whole?
Of course Whitesnake was a great influence for me. Then many 70′s, 80′s stuff like Led Zeppelin, I like very much Robert Plant's voice also.
What inspired you to name the band MasterCastle?
We choose the MasterCastle name during travel after a gig. We were searching for something that could represent Giorgia Gueglio and Pier Gonella. Finally we found "Master" because of the great experience of Pier, as guitar hero, composer and producer and "Castle" because of my travelling passion. I visited many castles, especially in Scotland, and they've given me great emotions. So the two words are very common, but putting them together they become something different and original. You can translate them as "Main castle", or "castle of the master", and we like all those meanings.
How long did it take to write and record "The Phoenix"?
We sent a 4 tracks demo to Lion Music on August 2008. And at the end of December 2008 we sent to Lion Music all the stuff: the master of the album, three bonus tracks for the Japan release (Japan's edition was released on September 2009 for the label Spiritual Beast), all graphic and booklet files. I consider this as a record! We worked very hard, but without stress, because all the band really believed in MasterCastle's music and this has given us all the necessary energy.
What are the main themes and influences behind the tracks on the album?
I wrote all the lyrics and I get inspiration from human nature as well as forgotten tales and events. For example, the song "Greedy Blade" tells about the disaster of Vajont, a dam on the Italian alps that after a landslide, created a giant wave that destroyed towns and villages in the valley. The titletrack tells a story of human nature that needs to be as strong as the phoenix, the legendary bird which dies and is born again on his ashes. The song "Princess of Love" is a mystical tale about the magic presence of a clan of witches dancing in the forest. I really like this song and we made a videoclip that people can see on our MySpace.
How would you describe your sound? Are you comfortable with labels?
It's not easy to describe our personal style. When we sent the stuff to Lion Music, they described my voice as "very powerful" and I'm very proud of this. Thinking about female (vocalists), expecially metal heads, they always think simply about a voice that is higher than a male voice and frame this in the gothic style, with very few exceptions. I don't wanna do this. I try to be different from all female singers, putting all my energy and power in my voice, not necessarily going so high in frequences. Some months after the releasing of MasterCastle's album, I'm happy that people understood this and considered my voice as an original and particular. All MasterCastle sound was considered unique, not only because of my voice but for the original way in combining heavy metal and hard rock with classical influences.
What would you say has been your biggest non-musical influence?
Many non-musical things influence me, expecially in the lyrics. Maybe the biggest is nature. I like mountains, the sea, I like the color of nature, expecially in autumn and the sounds of nature. In the song "Cradle of Stone" I talk about this and about how man often kills nature with progress and technology. As I said before, I also like travel and visit uncontaminated places. They give me a lot of emotions and inspirations.
Who are your favourite current bands/acts? Made any recent CD purchases?
My last purchase was "The Resistance" by Muse. I like their music and their personal way of mixing rock with classical stuff.
Which other bands/acts, past or present, do you feel you share the most common ground with?
I think Whitesnake, Led Zeppelin, Kate Bush, Mike Oldfield.
What's next for the band? Any tours in the pipeline?
After the release of the album we made some gigs, expecially in Italy but we started immediately composing other songs because our plan is to release another album in April 2010. Lion Music have given us another deal, so we are currently working towards the next MasterCastle album. The album is called "Last Desire".
Any last messages for people?
First of all, thanks to you for this interview. Then I invite all listeners to MasterCastle site, where you can find our videoclips, unreleased songs and many other stuff. See you soon on stage!
Links
MySpace * ReverbNation * Facebook
Latest Multimedia
Interview by Erwin Van Dijk
Since the bio on the Midnattsol website (www.midnattsol.com) is writen in German, can you tell us something about the band?
Everything started some years ago, in 2002, when I moved from my hometown Norway to Germany because of different reasons, e.g. my longing for my sister and for learning more about the German culture and language. I was at a new stage in life, wanted to bring the little melodies keep circling around in my head to grow up to real songs by instruments as well. The coincidence was that I told my friends and family about my wishes for founding a band, about the same time Chris H. told about his wishes for founding a band too. So thanks to nice friends, we met in a metal-disco in the nearby of Stuttgart and talked about our plans and wishes. And luckily, we had some of the same ideas. From that point on, things went very fast. Chris talked with some of the earlier members of their Ex-Band Penetralia, Chris M. and Daniel F., and they were curious about finding out what this was. Chris contacted Birgit and we saw that we functions well together as a band, and with this formation we started to make some songs. The writing process went very fast, it was like the ideas popped out of us, it was a great time. But it didn`t stop there, it was only the beginning: in a very short time we made a demo, Daniel D. became a member of the band, we got a record deal with Napalm Records and then it just went up the hill, hehe.
About how you describe your music: what are the differences between the 'Nordic Folk Metal' you make and all the other folk metal bands like Korpiklaani, Battlelore and Cruachan?
Cool questions! And great bands indeed! I think that the main difference lays on the main focus; after my opinion Midnattsol has its main focus on metal with folk elements, while the other bands have the main focus on folk, which means that our music is quite heavy and dark. They use real folk instruments as well, which make a big difference for the sound, while the folk elements in our music mainly appears in the melodies, in our concept and in the lyrics. We also stress the word Nordic folk metal and use Norwegian titles and lyrics. So I think that are the main differences, but of course, that is only my opinion.
What made you decide to become a singer? And, who are your big influences?
It is difficult to say why I started with it, but I think I can say that it is my love for music and the great thing by coping with my thoughts and experiences. I use the writing and the lyrics for dealing with all these things, it gives me so much. I started as a little child singing, writing lyrics and stories and making songs, so I sang and made music almost my whole life, but not in a professional way. When I became a teenager I slowly started to get the feeling of founding my own band and when I was 18 I felt ready for it. But I have to say that my aim was never to be a famous singer, earning a lot of money or getting much attention. I work over 100% as a teacher, what I absolutely love, I have two studies, so I don't try to live from the music, even if I had the chance, I can`t stand the thought of letting money decide which kind of music and lyrics I should make and write, how I should sing, how I should dress, I want to do my thing, just as Midnattsol as a band want. Big musical influences are Anathema, Amorphis, Dead Can Dance, Paradise Lost and Norwegian folk music.
You are Liv Kristine's sister. She is very famous in the Gothic scene for her work in Theatre of Tragedy, Atrocity, her own band Leaves' Eyes and numerous guest apperances. Like on Cradle of Filth's "Nymphetamine". Does that make things more difficult for you? People will always compare you with your sister?
I would have lied if I said that I never would have thought about it, in the beginning I got totally shocked, everywhere you can read about the comparison between us. In the beginning I felt a bit sad as well, because people didn't see me as the person I was, only as a sister and I thought that people wouldn't take me and Midnattsol serious for what we really are. But luckily, I saw after I while that it has much more positive effect than negative. My sister is well known in this business and is touring a lot, so through her a lot of people got to know about us, with other words, for the promotion it opened many doors. And of course, it is positive to have the connections, through her I have since I was a teenager the chance to meet great people in the music business. So I think all in all you can say that it was much more positive than negative for Midnattsol. On the other hand, we hadn't come where we are now, if we wouldn't work hard every day, burning for what we are doing and having that quality of the music, lyrics, artwork and so on. It is so difficult to get a good record deal today, it is definitely not enough just to have the same last name as a well-known person, it is the whole package that you have to deliver. Additionally I have to say that I have grown a lot since then and I seldom read what people write about me. I think positive and try to enjoy life as good as possible and I am proud to have such a lovely sister!
Can you tell something about the other members of Midnattsol?
Yes, love to, Daniel D., who plays the guitar, acoustic guitar and also sang on our bonus track October is just exploding of great music ideas and melodies, I love to sit together with him and do some improvisations for new songs. He is also taking care of the organization of transport when we are on the road. Daniel F. is our keyboarder and at the same time he is taking care of the organization of our homepage and myspace. He always wants to try different things out and has a lot of creative ideas; Christian H. is playing the guitar and acoustic guitar and mouth harmonica and is also doing a lot of managing and is taking care of the financial stuff in the band, he knows the music business very well and has good connections. Chris M. is playing the drums and knows a lot about graphic design and does a lot of planning and organization of the concerts and the merchandise. Birgit plays the bass and acoustic bass and is helping Chris with the concerts and me with some interviews.
The lyrics of your last album "Where Twilight Dwells" are partly written in English and partly in your own language. Can you tell us what made you decide to do this?
I have to say that my feelings of the individual songs play an important role for the chosen language, and as on the debut, the languages I sing in is English and Norwegian. I can't really describe why I do it, it is like you indicate just a feeling that I get when I write a text for a certain song. It comes some text lines in my head and then I often can't change it, I just have to continue. It has a lot do with intuition, it has to fit with the atmosphere. When I sing in Norwegian, it is very personal for me, it is more close because it is my mother tongue. I also sometimes combine it with songs with folk elements, it fits well together, like perhaps "En Natt I Nord". It wouldn't give the same feeling in another language. But at the same time Norwegian is very difficult to sing, and English gives me more opportunities to experiments with words, because English has enormously more words than Norwegian.
Can you tell us how you get the inspiration for a song?
My main inspiration is the mystic and wonderful Nordic nature and the nature creatures in the Norwegian tales. In this clean untouched nature I feel real, I feel alive, I feel that everything flows. The sight of beautiful waterfalls, deep dark green woods, powerful waves of the ocean makes my thoughts escape from this industrial material focused society in kind of another world where these things don't matter. So the wonderful nature inspires me a lot, and direct description of the nature like e.g. the northern light, magical rivers of powerful winter landscapes, you can especially find in the songs "En Natt I Nord", "River of Virgin Soil", "Wintertime" and "Northern Light", and in the rest of the songs you can find it more indirect. But not only the nature inspires me, a great part of the influences are my thoughts, experiences, happenings in life like and feelings like frustration, loneliness, anger, sadness, but also happiness, hope and love. With other words, the music and the lyrics come from deep within, it's real, it comes from my soul.
You where responsible for the lyrics on "Where Twilight Dwells". How does the band Midnattsol write the music. Is it teamwork or is there a mastermind behind the writing process?
Yes, you are right and I have written all the lyrics for "Nordlys" as well, besides the lyrics for the song "October" on the limited edition, Christian H. wrote that one. The writing process of Midnattsol is really a big teamwork, we don't have a leader or a mastermind that is doing everything or deciding everything. Every band member has the right to say his/her opinion and we always discuss about things together. It takes much time and sometimes nerves, hehe, but it can also be very interesting, all the ideas, we can be pretty creative together! This way of thinking is also very important for us as a band, every individual is important and has something to say. We also don`t keep songs on the records that one member wouldn't like. So then everybody can identify with our songs 100%, that is a great thing. Mostly someone has a melody or a special idea, each member give their special part to their music, we are reviewing it, we make some changes, new ideas and then the lyrics are written and sometimes vice versa.
Midnattsol means Midnight Sun. What does "Nordlys" mean in English?
"Nordlys" means the northern light in English and is for me to be seen as a perfect symbol for the beautiful but mystical site of the nordic nature, which is a great inspiration for both the music and the lyrics of Midnattsol. This light shows the real beauty of the world, far away from material and industrial things, which only take us further away from the real meaning of life after my opinion. At the same time, the northern light, which appears because of the energetic connection between two extreme poles, the sun and the earth (like you see on the cover, Birgit and I are symbolizing these two poles and the connection between them) stands for diversity, it is made of two extreme poles, and stands as a symbol for treasuring different sites of life, both rain and sunshine. Like I sing in the song "Wintertime": "How could I ever recognize the light, without dark clouds?." Everything in the nature is special and beautiful in their way and shouldn't be seen as negative. The title is also strongly connected with the musical site of the album; the songs are diverse like the northern light as well, they content beautiful and melancholic melodies with inspiration of the folk, but at the same time complex song structures, heavy guitars and loud drums with a lot of double bass are central elements in the music. So the title was chosen because of its perfect fitting to the music and the lyrics on the new album, but also to the general band concept and style. So every element on "Nordlys", from the title to the layout and so on, is strongly connected, like a whole package, so to say.
And, can you tell us something about the new album. What are the differences between "Nordlys" and "Where Twilight Dwells" and about the songs.
You know, it is really interesting to hear about all the different opinions about the differences, some are like the night and day, so I don't think there is a 100% answer, it has a lot to do with personal opinions, which are great, because it would be quite boring if everybody would think the same. We in Midnattsol actually think that "Nordlys" is heavier and darker than the debut which I think is connected with the fact that we developed a lot as musicians in these three years. When we started to make the new songs we noticed that we could play and sing more complex and diverse stuff, it was a fantastic feeling, just looking how the band had grown. We wanted to create something new, and the result is what you hear on the new album, there are some differences; more quality and variability from both the vocals and the instruments, more details and extras, which you perhaps don't notice after only one time listening, more guitar melodies, more complex drums and bass and keys, the vocals have more volume and a lot of different matters to sing are used. Additionally I think the song structure is more progressive than before and the sound is more natural and warm. But even though there are differences, there is a strong the red line to the debut, e.g. the folk inspired melancholic melodies.
Like "Where Twilight Dwells", "Nordlys" is recorded the Mastersound Studio (www.mastersoundstudio.de) by Alex Krull. Was the whole recording process easier this time?
I have to add some information here. We decided to let different kind of studios with different producers give their best to our new album, so besides the recording of my vocals by Alex Krull at the Mastersound Studio in Fellbach in Germany, the recording of the instruments took place at the Studio E in Mellrichstadt in Germany by the producer Markus Stock. Tue Madsen at the Antfarm Studio in Aarhus in Denmark was responsible for the mix and last but not least the well-known Mika Jussila at the Finnvox Studio in Finland did the mastering. So which you understand, we had a lot of great and professional producers with a lot of experience to give their best into the new album, which we all think they did in such a great way, we can`t describe how satisfied we are! And yes, I think it was much easier this time, I grew a lot during these three years, both musically and personal. I got a lot more experience after recording the first record, you have to remember that Midnattsol is my first real band, before that I only sang and made music on my own. So I feel that after these important experiences, I am on a totally different level now and everything is easier.
"Nordlys" will be released at 28th march in Europe and 1st in North America. The first tour dates of 2008 are Metal Female Voices Fest (18th of October at the Oktoberhallen in Wieze, Belgium) and Summer Breeze Festival (14.08 – 16.08, Germany) MVFV will be the third time in Belgium. Any plans for a tour in Europe and/or North America?
Right now we are in the planning phase regarding live activities, so I can't say so much about it yet, unfortunatly. But we will come with more information on the new homepage which we just have put online, so you can keep yourself updated there! See you on the road!
And the last question, are there things the reader should know that I haven't asked?
I want to use the opportunity to thank all the fantastic people out there for the amazing support!! I hope you like the new album, we are so excited about your reactions! Take good care of yourself and have a great new metal year!
And the question from Lithium that won the competition on Femme Metal Forum… What are your thoughts concerning the recent popularity of female-fronted metalcore (The Agonist, In This Moment)? Do you feel that this poses a threat to more-traditional bands such as yours?
Wow, congratulation to you Lithium, how nice of you to ask me that question, it is a really good one! Actually, I never feel threatened in any way, no matter which band. I think that these are great bands and it would be so boring if every band would sound the same, I think it cool with variety. I can't speak for the other bands, but I have to say additionally that we in Midnattsol do our thing independent of what people think or say, we don't try to be fashion or something like that, we do what we always wanted to do and what we burn for, and the listeners decide whether they want to listen to us or not. And fortunately until now I have to say that most of the reactions and response were in fact not only good, but overwhelming, which of course we are very grateful for. We just hope that the music of Midnattsol can give the listeners something special like its giving us and the future will show what will happen.
Links
MySpace * ReverbNation * Facebook * Twitter * Site
Interview by Connie Bach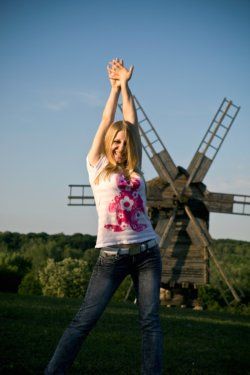 From Kiev, Infinite Tales is a unique band with a dark, fiery sound. The vocal stylings of Zolik and Kiwi contrast each other perfectly, over growling guitars and the machine gun fire of drums. The entire sound rides on a stable bass for a sound in which all elements speak to the listener. I found the sound and flavor exciting, with each song easy to ride along with.
Hello, Kiwi. Thanks for taking the time for an interview with Femme Metal.
Hey! In my turn, I would like to thank you for your interest in Infinite Tales. I really appreciate this.
As well as providing melodic vocals, you also play the cello. How did this come about? Tell me a little about how you learned both skills.
My first music lessons were coming from my family: my mom is a cellist. Later, at the age of 5, I went to the music school. Interestingly enough, I started to play the piano first. But all of my teachers were so bad that my mom decided to teach me by herself. And since that time (I was 12), cello, along with singing, became an obsession, I should say. During that time, I was singing primarily in the choir but it was really something special, exciting for me.
Infinite Tales existed before you joined them. What encouraged you to become a metal vocalist?
I like metal; I adore singing. Being a metal vocalist includes both of these preferences. So, when I met the guys from Infinite Tales, I realized that it's my thing.
"Only the Beginning" is Infinite Tales' debut album. What was the recording process like for you? How did the experience enhance your skills as a musician?
An experience, gained during the recording sessions, turned out to be indispensable for me. I even started to sing in a different way – and you can evaluate this difference on the next record.
"Only in the Beginning" is an album with balance and variety. How did it come together and what was the recording process like?
The recording process was something new and exciting for us. We worked really hard; we experimented a lot for those 6 months. We are very grateful to Morton (the sound producer), who've made the sound of the album the way it is.
Why did Infinite Tales choose to have "Running Away" appear on the Femme Metal compilation over other songs on "Only the Beginning"?
"Running Away" is a very deep and dramatic song. To me, it's my favorite song. I like to convey emotions though it.And at the same time, this song is dynamic and heavy enough.
How does the band create its sound: music and then lyrics, or vice versa? Why?
The music comes first – and it's all has been written by Glorf. All the lyrics and vocal arrangements for the new songs were written by Zolik (the male vocalist) and me because we know our highest and lowest notes and the main range. We're trying to make vocal parts more complicated with every new song and it helps us to develop faster. That goes for everyone in our band.
What kind of fan feedback has "Only the Beginning" received?
We've received a lot of positive responses. Having seen these messages, it feels like that our work has been really appreciated and it's really important for us. We feel like we can walk the same path we have been following for all this time and that we can make our second album even much better.
I hear Infinite Tales is working on their second release. How will this one differ from the last?
It's going to be more technical, intense, and more powerful. We have considerably grown over the past year, so the difference between the first and our second release will be easily audible.
For a little perspective, how does it feel, up onstage with your band members around you, performing such intense music?
It's a really great feeling! Seeing that people are enjoying the songs that you play live is an unspeakable experience. You're just trying to put your worries aside and put more energy into the music on the stage and if you see the feedback from the audience, it becomes the highest appreciation for you. So, that's really exciting.
Do you have any pursuits, pastimes, or hobbies besides Infinite Tales?
Now, I'm studying to receive the master's degree in management. I devote all of my free time to music and to my friends.
Finally, this one is completely open for you and any other band members to answer. What is the value of a song?
A song may alter emotional and physical state of a person. And with our music, we do it the best way possible!
Thanks, Kiwi. I look forward to hearing more. Keep on rocking out.
Thank you for the interview! Thanks to everyone who stays with us! Cheers from the Infinite Tales team!
Links
MySpace * ReverbNation * Facebook * Twitter * Site
Latest Multimedia

Interview by Miriam "NocturnalConcerto"
Talking via Skype with a legend of the heavy metal is not one of your regular day, believe me but we're able to track down Federica "Sister" De Boni, the legendary singer of the Italian defenders White Skull share with us some infos about the new album "Under This Flag" and a small chit chat about coming back in Italy and personal tastes. Hail on!
First of all Federica, welcome back in Italy!
Thank you dear!
How's coming back in Italy after so much time and what's the thing that you missed so much when you were in America?
It is amazing. Me and my family loved it here and were missing the Italian life. I think I missed my friends and metal the most. We lived in a State where country music rules.
A curiosity, what state?
Georgia.
I was saying Tennessee I was close hahah
Yeah …. just southern where the bible belt runs the place.
I totally got it.. I'm just wondering now one of those places with a wood bar all drinking beer and dancing country songs.. how you endure this, I mean your're a real defender in the midst of some lousy rockers…
Ha ha ha I felt just like you said… just staying in my porch with hubby and kids listening to "House of Hair" (Dee Snider Heavy Metal Radio Show) part.
Well, I must say that it was a great choice for endure all that stuff, something to clutch on hahaha…
Yeah, pretty muche THE ONLY choice and a few occasional concerts of local metal bands but very few oh and also we used to watch "That Metal Show" on TV so well we had some choice.
Luckily you have had that too, in Italy (I mean nowadays) except maybe for Virgin Radio we haven't nothing like that.. you're away 10 years but from that point of view nothing changed unfortunatly…
I realized that when I came back but we can still go online and look for those shows, we need to be flexible and get what we can find, right?
Exactly.. the Italian TV and the radio are only good for commercial music sadly. There are so many HM bands here in Italy and deserve to be recognized, we need to go to concerts and support them.
It's totally a good thing to do, support italian metal underground, in this case the HM genre.You know if the media is not supporting HM in Italy we have to stand up and support our way.
And I'm not to saying pleasentries now, I prefer to support underground instead of the big acts I mean the big big acts has already the right following of fans sometimes we need to look inside our country and give our support to this little bands but way back to us and if you are back in Italy, it's natural that you're back in White Skull. How's was the first meeting with the guys, how's after so much years (I remember to the readers that you left the band in 2000) being back in the White Skull squad?
I agree. I love big bands myself but just love to listen to what local (italian) bands come up with. It was just like it wasn't that long… I mean, since the first rehearsal we connected immediatly. We wrote the new album in no time. That really blew my mind how simple and natural the return has been.
You know, for the startest when I have read the news that you were back in WS I was really happy and yes kind of surprised I must admit it, yesterday that I was nailing down some questions I was thinking about it "Damn, after 10 years that she didn't record anything, would very hard for her" instead you tell me it easy maybe after all those years you still have had the "fire" burning inside you..
It comes natural for me. First I have known metal for 20 years or more, then I do have experience in song writing and most of all I do live Metal as my life style.
Everything helps.. well I've listened a little bit to the album congratulations.. it's very clear and an HQ production, what you can tell me about its genesis? Despite the fact as you have stated before that come out in a natural way…
WS is known for the concept albums. This time we wanted to get away from the past and talk about something modern and close to us. Therefore we had close experience with the wars around us and wrote about it. I've been a soldier wife and had a lot to say about the warfare and here comes "Under This Flag"… fight for everything you care for.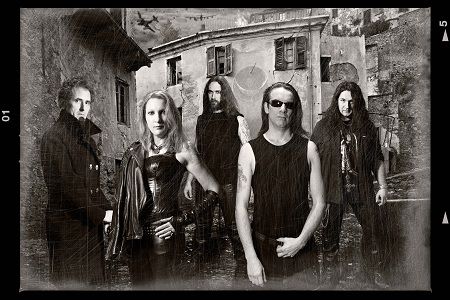 And for this is reason that the cover album, if we compare to "Public Glory, Secret Agony" or "Tales from the North", is more straight-in-your-face and very simply? Probably more direct but very powerful maybe means also "if we reunite us under a flag we can fight this wars (or evil) together".. when I saw I thought this interpretation, can be right?
Damn right. We want to get the Metal headbanger to join us and fight for Metal. We will say it as loud as we can and for as long as we can. WS flag is really a stand to reunite what is left of metal…
Well, talking about gather around and female solidarity I'm curious to know how was being a woman singing in a heavy metal band in the 90s? It was difficult or haven't had a model to follow? For what I know closest rode model that you have had at the times were Doro, Girlschool and Sabine Classen.
I was really lucky Tony believed I could do the job, in 1990 a woman singing Metal was sort of a "odd thing" even if Doro and Girlschool, Lita Ford and so on was around.
Maybe if we go deep deep in the italian underground we have Morgana, I don't know if you know her she was singing in the 80s/first 90s.
I do know Morgana and she did really challanged the Metal scene, I am really proud of having been around since the 90s and back now.
You are a national heritage, I mean also if the media won't promote the scene you're one of the Italian precursor female singer..comes really hard to think (at least for me) a closest singer to confront with you.
Thank you. I feel I am just one of many that are here living what they believe.
Many CDs of your discography are sold out since ages, there are any planes to re-released them without spending a lot of money on eBay? I know that the Polish Metal Minds Production has re-released years ago (in 2008 to be precise) in a limited number of copies "Tales From The North" and "Public Glory, Secret Agony" but the stocks are gone, really really gone and for the young fans that are trying to collect and buy the first albums is a problem, are really hard to find and it's kinda become utopistic have your entire discography.
I heard about it but this is the market and WS is unable to have a say about it. Sad but true YouTube helps this out by publishing the songs for free.
But if you face the truth you cannot earn anything from that…it's not fair! I mean is disrespectful towards you, the musicians.
I know but as far as WS music is broadcasted we will be all right.
So you count that all that people that listen WS on YouTube will support at live concerts and buying the last releases?
YouTube will spread the word, get us more opportunities and maybe some CDs sold but as we said Metal is not the TREND right now but who cares, we will get our message through.
Maybe I'm talking the wrong person (I'm imagine that you collect a lot of vinyls/CDs) but do you think about the digital music stores like Itunes?
Sure Itunes can sell the music. But this will be our label sale policy to decide it.
But now I put the question in a more personal way, as music lover what do you prefer the CD format or the digital one?
Right now in a digital world it would make more sense to get it out via internet I just do love the CD with pictures and lyrics.
Because you can "feel" them right? I mean when I see my collection I still cannot believe it have it and collect them everytime I listen to them and have the booklet in my hand I feel very proud of myself..
Yes, it does become a personal matter, you have it and can ask the musician to autograph it just like your own treasure, so much worth it m/
Hahahah that's true!! Well, we're near the end what are the next planes talking live gigs and promotions? I hope you come again near where I live 'cause some years ago with the old band members WS played a gig!!
We have a lot of gigs on schedule and I do really hope we will have the chance to play in your area as well…I am sure we will meet someday! Keep the Metal on and since then … if it ain' t Metal, well it's crap!!!!!!!
That's for true! As a final question I'll asking you to greet freely you fans and our readers and thanks for this awesome interview, Sister!
To all the metal heads: have a blast !!! WS is back and ready to kick ass just come out and play!!! Thank you for this opportunity I've really enjoyed the interview.
Links
MySpace * ReverbNation * Facebook * Site
6 color styles available:

Style switcher only on this demo version. Theme styles can be changed from Options page.