Browsing articles tagged with " tanja"
Label : Phonotraxx Publishing
Review by Tony Cannella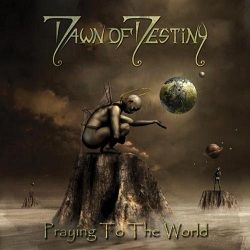 The German melodic power metal band Dawn of Destiny returns with their fourth album and first since 2009's "Human Fragility". My introduction to this band came via that album and I was very impressed with the vocalist Tanja Maul, but alas the band changed vocalists shortly following the release of "Human Fragility". Enter new vocalist Jeanette Scherff and while her style differs from Tanja's (Jeanette's is more of a soaring power metal style), she has definitely proven to be more than a good fit for Dawn of Destiny and sounds as if she has been with the band for more than just this one album – the chemistry is that good.
Dawn of Destiny wastes little time in getting right to it with the hard driving, bombastic opening song "My Life In Ruins". New vocalist Jeanette Scherff has proven to be a worthy edition to DOD's ranks. Bass player Jens Faber handles the male vocals on the album and his performance on the album is impressive. He sings in numerous styles, for instance, on the opening track he sings in a black metal screaming style, but he also contributes clean vocals and grunt vocals to "Praying to the World". Continue reading »
Interview by Erwin van Dijk
Dawn of Destiny is a German power metal band and was founded in 2005. They have done numerous gigs since then (mostly in Germany). With their latest album "Rebellion in Heaven" I think it is about time to do some gigs abroad. Or at least an interview. Usually we interview the females of the band so this interview with Jens Faber is a first.
The first question: how did your album release party with guest (& my friends from) A New Dawn go?
It was a very nice evening with hours of good music, friendly people and many drinks.
You are the bass player of Dawn of Destiny and that makes you the Steve Harris of the band. Who are your favourite bass players and to what kind of music do you listen yourself?
I listen to nearly all kinds of metal. I like Helloween as well as Dimmu Borgir, Nightwish or Nile. I must confess that I do not care so much about who might be the greatest bass player because the songs are much more important to me but I think Billy Sheehan (Mr. Big) and John Myung (Dream Theater) belong to the best.
Did you have any bands before Dawn of Destiny or are you currently in other bands besides Dawn of Destiny?
There were probably rather more projects than real bands that I played with and currently there is nothing more than Dawn of Destiny.
What do you prefer: The traditional four strings on your bass or five?
By now I prefer five strings basses because it gives me more opportunities to vary my sound and my play.
And what kind of bass and amplifier do you use onstage?
I use a five string Grass Roots (ESP) Bass and a Line6 amplifier on stage. I am satisfied with both of it.
Power metal and Germany are almost identical in the world of metal. Why is this kind of metal so popular in Germany?
This kind of music has its roots in Germany. Helloween played that style first and some many followed. Maybe people in Germany still like tunes and melodies with high screaming voices and fast double bass attacks but I think it's similar in other countries like Greece, Italy or Finland.
And what makes Dawn of Destiny different from all those other Power Metal bands?
We have a different approach concerning songwriting. We do not use the classical structure with Verse and Chorus. Furthermore we have more influences than just power metal because we like to express different feelings and emotions within our music. We want to create our CD's diversified and obviously it was proven to be right considering the reviews we got for "Rebellion in Heaven".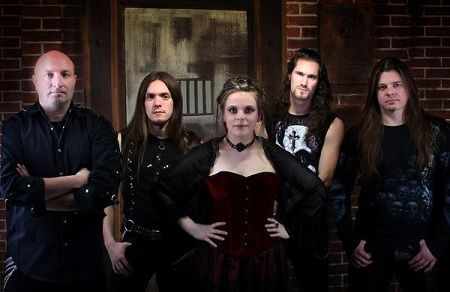 Another 'German' question: how big is metal really in your country? We foreigners know Germany mostly from all those festivals like Wacken Open Air and this might give some the impression that one out of five Germans is into Metal. Is metal really that big in Germany?
As far as I know metal is more popular in Finland (related to the population). In Germany metal was big in the 80's and almost dead in the 90's. By now Hip Hop is unfortunately the most popular music in Germany.
Does the album title ("Rebellion in Heaven") have any special meaning?
Some lyrics deal with a examination of God, so we thought this title would be fitting. Besides it just sounds cool to us.
Is there one mastermind behind Dawn of Destiny's music or is song writing teamwork?
No, I am the only songwriter but we all discuss the songs and the other members share their ideas to change some arrangements.
Can you tell us something about the songs on the album?
There are 14 songs and most of them sound different from the others. We have classical power metal stuff like "Angel Without Wings" or "Days Of Crying", some heavy thrashing parts like "Inquisition" or some Gothic influences like "Tears".
Your debut album is called "Begins" which is of course a perfect name for a debut album. What have you done different compared to "Begins" while writing and recording "Rebellion in Heaven"?
There are not so many differences between both albums. To me "Rebellion in Heaven" is the consequent continuation of "Begins" with the difference that we had a producer (Siggi Bemm) this time.
And the artwork: How did you get in touch with Mattias Nòren?
We found some very good material on his website and asked him to work with us for our first album.
Can you tell us something about the other members of Dawn of Destiny?
Tanja Maul – Vocals
Tanja and me make music for nearly six years. When we met each other she liked everything in music – everything but Metal!! Seemed to be a misunderstanding that we did not want to have a female singer and she did not want to sing in a metal band but it worked. Contemporaneously she sang in an a cappella band which has been a total contrast to our kind of music. Tanja has a very strong will and would do nearly everything for DOD. Her voice is crystal clear and enhances the emotions in our music perfectly.
Veith Offenbächer – Guitars
Veith is an extraordinary guitarist and a very pleasant character who fits perfectly to DOD. He was the latest member and joined us during the recording session of "Begins".
Dirk Raczkiewicz – Keyboards
The 'Grandfather' refered to his age with a good sense for nice tunes.
Ansgar Ludwig – Drums
Maybe you wouldn't expect him playing drums but he has very fast feet and a heavy groove.
What are Dawn of Destiny's ambitions for the future?
We want to spread our name all over the world and maybe there is one day a chance for touring the whole world and selling enough CD's to make DOD a full time living! We had several fantastic experiences and will always remember that.
And, the last question, is there anything the reader should know that I have not asked?
Not really. We thank you for the interview and hope that we could advise the reader of our band.
Links

Interview by Matteo Bussotti
After six years from their previous album, Lullacry are back on the scene with a darker, perfectly-crafted new cd, and they're ready to rock in the best way they can, rewarding all those fans who waited so long for another release. We interviewed their singer, Tanja, who kindly answered to our questions about her life, her career, and the creative process behind this long-awaited new album.
Hi Tanja! Welcome to Femme Metal Webzine, we are very glad to have you here!
Hi to you! It's great to be here!
First of all, why name the album "Where Angels Fear"? What's the meaning behind this name?
Well, six years period is a long time to take a break. All is still relative. We needed that time in order to create something new and we finally did. The album name comes from one of the tracks. The song "Where Angels Fear" presents something old and something new. We made the song already six years ago to the previous album, but we never recorded it. It's a great piece so we definitely wanted it on this album. For us the name means access out from old fears.
What can you tell us about the album? Are you satisfied with it?
"Where Angels Fear" turned out to be darker and not so party rock, if you know what I mean. This new album has its own style, which of course is a good thing. It's a bit different than previous albums, but still has the same old Lullacry elements on it, you know.
You've published 3 albums so far with Lullacry and you've played with them for 10 years so far. Has something changed for you from the beginning of your career? In your opinion, how were Lullacry and how are them now?
When the guys asked me to join the band I was like really uncertain what to do. I mean it wasn't really sure thing to me to join this band at first. Maybe because I wasn't familiar with this type of music and I was thinking if I had the power to do it. Otherwise I thought that my own unique style of singing would bring its spice to the whole combination and it did. With this journey I have experienced many things and learned a lot. Ten years ago Lullacry were a punch of crazy youngsters with full of energy and now only with full of energy.. haha!!! (Laughing out hard!) The band has grown over the years as a band musically and mentally.
Moreover, how do you want to be in the future? Is there something you feel you'd do, like, I don't know, trying new musical genres or experimenting with heavy metal?
I have thought that it would be great to do some kind of other music, experimenting new musical genres. Yeah, it would be great. I have always liked many kind of music. Example I don't have only one genre that I like. Maybe some kind of solo album would be nice. And of course I would like to do my own music too. In fact, I already have a few of my own songs waiting to be finished.
We know Sami plays a key role in Lullacry. What do you think about Sami as a composer?
Sami has his own unique Lullacry style as a composer. He's really precise on what he's doing. He wants to keep the puzzle together, you know. The key role is to keep the vision clear. You can easily say that Sami is the engine of the whole band.
Talking about "Where Angels Fear", Sami said that : "Last year has probably been the best we've had in Lullacry, at least when it comes to vibes. And you can hear that in the album. For the first time I made the songs without thinking that I have to do a goth ballad or a rock song. We just did things more spontaneously and it led to an album that is a lot more dark, ambitious and multi-dimensional than its predecessors." So, how was the creative process behind this album?
Well, Sami just made those songs. He told us that there were no boundaries. Songs are darker and there are also more complicated arrangements. On the other hand there are some really easy songs like "Stay". That song is very personal to me. I have made the words with Sami and Mikko. On this album there's also song from our bass player Heavy. He has done a few songs, which is great.
You sang some songs in the album "Virus" for the French power metal band Heavenly. Can you tell us how this collaboration was born? Have you learned something from Heavenly or from the "French way" of doing metal?
Heavenly guys asked me to sing the duet with their vocalist Ben Sotto. It was a cover song called "When the Rain Begins to Fall" (originally Pia Zadora and Jermaine Jackson). When I heard what the song would be I was like yes I want to sing it! Our schedules fit together and the rest is history. Co-operation went really well. It was a nice experiment for me musically! I wish all the best for the band.
What do you think about music industry in Finland? How was working with your producer, Mikko?And how did you feel singing with him?
If thinking the Finnish music industry I think there's a variation of potential music makers. It just needs more support from the Finnish government. It was really easy to work with Herranen. He has the right attitude on doing things. He's also a singer so it was very easy to communicate with him.
Have you already planned a tour for your album? Where are you most excited to go?
We focus on touring this fall. I personally would want to tour all around the world! Example Italy, Spain, Germany, Australia, USA…everywhere! We'll start tour in our home country. We do not yet have any more plans. Currently we're focus on getting things together.
Are there any places that you've never visited on a tour but you want to, one day? And what is the best place you remember you've been while touring?
There are a lot of places I haven't been before! South America, Italy (expect Rock Im Ring festival), Spain, France… North American tour was awesome! It's very hard to mention only one best place.
Last question, how's your fan base in Finland? How and how often do you interact with them?
When we made this new album we didn't know how our fans would remember us or if they remember us at all. It was great to notice that we still have the loyal fans out here and there. We're very grateful about it. I just hope that people spread the word about us, because there are still a lot of those fans, who don't know about the activation.
Thank you very much for your answers and your time! Good luck for everything, I hope to see you in Italy very soon!
Thank you! This was a pleasure. We would love to come to Italy! Rock on everybody and check out the latest Lullacry news on www.lullacry.com.
Links
MySpace * Facebook * Twitter * Site
Latest Multimedia
Interview by Eetu "Ene" Niskanen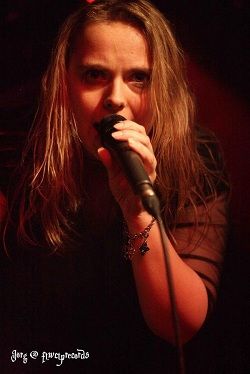 We have reached by email Dawn of Destiny's singer, Tanja Maul, for talking about the new album "Human Fragility" out now and more… Enjoy it!
Hello Tanja and thanks for accepting our interview.
You are very welcome.
So, you released your third album "Human Fragility" on September 21st, how much work did it take to get it out to the stores?
Most of the work is done by our songwriter Jens, who has the talent to write extraordinary songs within a very short time. The whole band decides which songs will be on the album and after the decision we practise and enter the studio. This time it took about three weeks recording and about one week mix and master. We all like the work in studio because it is an intense examination with our music that we all enjoy.
How much have you grown as musicians since your debut?
I think that "Human Fragility" contains my best performance so far. We all learn from studio and live experiences and try to improve ourselves.
On May you found a new drummer, Patrick Klose replacing your old dummer Ansgar Ludwig, how has he settled to the band?
We all are sad that Ansgar left the band but we found a very talented young drummer to join our DOD family. He fits perfectly and brings some creative ideas to the band. Although we had not much time to practice before the first shows with him he managed it very well.
Could you tell us something about your other bandmates?
Oh, where should I start? I make music with Jens for about eight years now and it is quite amazing considering our first attempts what we reached untill today. We started with a little PC, no real bandmembers, bad sound, only few ideas and a different taste of music. A few years ago Dirk joined the band and Veith completed Dawn of Destiny. Together we lived through some hard and some good times. When I speak of DOD as my second family it is more than serious. They even know me better than my parents.
Have you had any vocal training?
Yes, for about half a year I had a vocal coach. Afterwards I joined an acapella band for nearly two years that improved my auditory and my technique.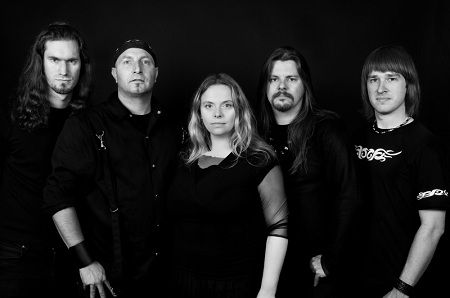 What kind of music do you listen yourself and how often?
I love melodic metal. Of course I sometimes listen to the big idols maybe to copy some little things. I do not listen to other kinds of music and I need to listen to it every day. It seems like the air to breathe for me.
Who are your biggest influences?
I try to perform my own style but influences for me are Stratovarius, Helloween, Blind Guardian, Nightwish, Evergrey, Kamelot or Within Temptation, just to mention some.
Do you have any musical projects out of DOD?
No, I can only concentrate on one band and that is Dawn Of Destiny.
From your new album, what is your personal favourite song?
"Unchained Someday" and "Silent Suffering".
Do you think "Human Fragility" is your best release so far?
Yes, defintively! Songs on "Human Fragility" are compact, complex but always possible to follow. Although the tunes are very catchy the songs do not become boring. Apart from this "Human Fragility" has the best sound so far. Every band likes to improve themselves on every album and I think we managed it.
As a band, have you ever thought of getting second guitarist?
*smile* I guess I couldn't do that to Veith

No, there is nothing that we miss on stage. Maybe a second guitar would make it even worse than better. There is nothing planned concerning this.
The last question, there are tons of female fronted bands out there, how does DOD keep unique?
We have no classic vocals, not so much keyboards, it is more Metal! So, to whom can we be really compared? We offer power, catchy tunes, songs to think about and songs to party. We like to present diversified songs which offer always something new to the listener. I believe that everyone who likes melodic metal in any way might find him/herself in Dawn of Destiny.
Links
Label: Shark Records
Review by Tony Cannella
Germany's Dawn of Destiny have previously released two full-length CDs. Their first was titled (appropriately enough) "Begins" and they followed that up with, "Rebellion in Heaven" in 2008. Now the band have returned with their third full-length, titled "Human Fragility" and it is packed some pretty relentless symphonic, power metal that should please fans of Helloween. What makes Dawn of Destiny a bit different than their contemporaries is the lyrical subject matter that can be found on "Human Fragility". Rather than sing about fantasy themes (which is also cool), the band take on real subjects with their lyrics, such as human relationship, diseases, dreams and fears. On the lyric sheet main songwriter/bass player Jens Faber offers a bit of an explanation of what each individual song is about, another cool thing about the lyrics is that they have a hopefulness and optimistic quality about them, they don't beat you over the head with the negative. That in and of itself is admirable. "Human Fragility" lasts for 15-songs and well over 60-minutes long, so you are definitely getting your money's worth from Dawn of Destiny. The vocals Tanja Maul are another positive aspect of this CD, she has a good range that she utilizes to it's fullest on "Human Fragility". Two of the best songs on the CD are helped out by two guest stars: Axxis vocalist Bernhard Weiss shares vocal duties with Tanja Maul on "Unborn Child" and Elegy frontman Ian Parry joins in on the excellent title track. Other highlights include: "Destiny Unknown" (which has a "Keepers… era Helloween-ish chorus), "In a Heartless World" and the great melodic track "Learning to Fly". In my opinion the main highlight comes with Egyptian themed "Ten Plagues of Egypt". The band really flex their muscles on this one and the chant along chorus and the extreme male vocals add a nice touch to the song. One thing I have found in the time that I have been reviewing CDs is that there are a lot of good power metal bands from all over the world, and contrary to popular opinion a lot of them have something different and unique to offer the listener. Dawn of Destiny are one of the best, that I've heard in quite awhile. The songs are so wonderfully crafted, mixing crunchy metal riffs with the symphonic and melodic bombast of say and early Helloween or Savatage. This German band may have what it takes to break out from the crowded power metal pack and really make a name for themselves – if that doesn't come to fruition, there is no denying the fact that they've made a great album..

Rating – 95/100
Tracklist
Decadence of a Heart

Silent Suffering


Unborn Child

In a Heartless World

Learning to Fly

A Better Time to Come

Human Fragility

Destiny Unknown

Ten Plagues of Egypt

Dying Alone

End of Pain

Blown Away

One Heart

Unchained Someday

For Love
Line Up
Tanja Maul – Vocals

Veith Offenbächer– Guitars

André Reis – Guitars


Dirk Rackiewicz – Keyboards

Jens Faber – Bass

Patrick Klose – Drums
Links
6 color styles available:

Style switcher only on this demo version. Theme styles can be changed from Options page.