Browsing articles tagged with " theatre"
Interview by Scott Brady
When I first listened to the "Afterlife" EP from Anne Autumn Erickson and her band Upon Wings my first impressions were this has to come from Europe due to the nature of its sound. However this metal siren and her band are not European whatsoever. Anne Autumn Erickson hails from Detroit Michigan. Many Americans are well aware that Detroit Michigan has fallen on some hard dark economic times in recent years. Anne Autumn Erickson is definitely a light coming from a very dark place and in the years to come will give Detroit Michigan something to be proud of much like Kid Rock and Ted Nugent and Motown have. Kiss even titled a song called "Detroit Rock City" and a young upcoming Female Metal singer has chosen to pick up the rich musical traditions coming from Detroit and carry the flag over into Female Fronted Gothic metal.
Her voice has certainly received attention by some very influential players in the modern American rock scene. Some of these artists that Anne Autumn Erickson has already worked with in her short time in the industry are Guest vocalist Brett Hestla (ex-Creed, Dark New Day), master Grammy-nominated mixing engineer Glenn Brown (Kid Rock's recording engineer) and guitar work and production from Canadian-based Kevin Jardine.
Continue reading »
The recordings of the studio album "Alchemy" have been officially completed and we can now confirm that the double album will be released on March, 4th in Europe and April, 9th in USA. This release will, however, be preceded by the world premiere of "Alchemy" show at the famous Wyspianski Theatre in Katowice, Poland on February 22, 2013, where it will be recorded for the purposes of a DVD to be released by Metal Mind Productions later next year. We can also reveal that the album will be available for purchase at the Theatre prior to the official release date.
And today you can listen to the first promo track taken from the "Alchemy" album. "Street Fight" is available to stream at the official Metal Mind Productions' channel on YouTube in THIS location.
LEAVES' EYES — the German/Norwegian band formed by ex-THEATRE OF TRAGEDY singer Liv Kristine Espenaes Krull and members of ATROCITY — has set "Symphonies Of The Night" as the title of its new album, due later in the year via Napalm Records.
A new LEAVES' EYES video, for the song "Melusine", featuring footage from live shows, tours and festivals like Wacken Open Air in 2012, can be seen below.
Interview by Miriam C.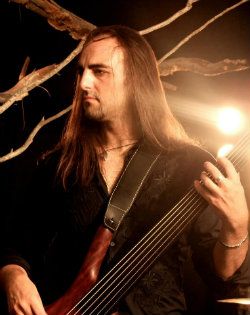 Soon I've have heard that Maltese Gothic Doom Metal Weeping Silence band have had a major line up change I've contacted the band and write down like hell this interview. I'm proud to offer the first exclusive interview the new singer Diane Camenzuli but beside this I've haven't forgotten to investigate more about the third album "For the Unsung" that sees the guest starring of Draconian singer Anders Jacobsson. To know more simply scroll down. Enjoy!
Hi Sean, first of all welcome to Femme Metal Webzine, how are you?
Thank you for the interview Miriam. I'm fine, hope the same for you and the reader of Femme Metal webzine.
Sean, would you mind giving me some biography infos for the users that don't know Weeping Silence?
Weeping Silence was formed in the late 90s and developed from a slow tempo doom female fronted band with the release of "End of an Era" (2008), then symphonic/gothic metal with the release of "Theatre of Life" to a present gothic/doom metal band with the latest full length album "For the Unsung".  As is expected with a band that has been around for some time, we have gone through some line-up changes, the latest being a vocal replacement. Weeping Silence is currently signed to Ravenheart Music Records and operates with Limelight Productions for non-exclusive concert booking in Europe.
So, your third album is out on Ravenheart Music and is called "For the Unsung". Can you tell us more its genesis?
The album is a reflection of the members' thirst to play gothic/doom with an aggressive edge. The insertion of male growling is an obvious indicator, but the riffs just sound heavier and more powerful, with several slow tempo passages. We wanted to do something that hits the core of the music we like and at the same time sounds modern.
"For the Unsung", it gives me an impression like something obscure and unfinished. What does the title mean for you, what did the band want to express?
The album is dedicated to all contemporary heroes that go unnoticed in the world. They do not have monuments erected in their honour or wear medals. They are the everyday people who comes to a cross roads and chooses the path they feel is right with courage. This idea can be transposed to many life situations, and the idea is for everyone to see it from their own perspective.
Also what infos can you reveal about the album cover? It's enigmatic…..
The artwork captures the theme of "For the Unsung" in the form of the Greek myth of the Coronides who in self-sacrifice saved the people from their doom. The Coronides are the two comets on the artwork, who are the daughters of the god Orion. They offered their lives in sacrifice to save their people from the plague. The gods were so touched with their humanity that they transformed them into comets to shed their eternal light. It is not a very popular myth when compared to others but it is a good representation of 'the unsung'. This artwork was done by Jan of Darkgrove, and we feel it looks very nice, especially on the digi-pack edition.
On "Love Lies Bleeding" Draconian's Anders Jacobsson participates as a guest star, when was the first contact with him and how's working with him?
Anders appears as guest singer on "Love Lies Bleeding" and "The Search Within". Joe knew him through Facebook, then I got to know him over the internet. He's a great guy really. To be honest, he could have easily said no to our request for him to feature, but he chose to do it even though we are not as famous as Draconian. This shows he loves the metal scene and is not a big-headed person. We respect him a lot. He did his vocal parts at Dead Dog Farm Studio in Sweden.
Also for "Love Lies Bleeding" you have shot your first videoclip, can you tell us more about it? How's was this experience?
This was a great experience. We did not have a great budget, and between us and the label we thought of shooting this video because we know how powerful YouTube has become. The experience was a blast! It was shot in summer, so you can imagine the heat. As a band, it really brought us together, and individually we realised how far we want to go in this scene. It was an eye-opener as well as a good experience.
Between "Theatre of Life" and "For the Unsung" passed only 1 year from the publication, do you notice (or better) are you able to notice any differences?
The difference is noticeable to anyone who has both albums. It is true that the release dates are close, but "Theatre of Life" was recorded in 2006 and released in 2011. So the music is much older than the release date. "For the Unsung" was composed between 2007 and 2011, and released in 2012. So the difference in composition time is more obvious to us!
Joseph and Rachel have recently left the band. And on Facebook you have already announced t
hat you have found a new female singer, mind you give the honours and present her?
We wish Rachel and Joe all the best with their future projects. The new female vocalist is Diane Camenzuli. She is 24 years old and ready for your questions!
Diane, welcome, I assume that this is your first interview that you ever made, how do you feel? Excited? Do you have any curiosity to share about yourself rather you prefer doing a detailed presentation of yourself?
Hi Miriam, thank you for the interview. Actually, I had some interviews about my music career in general, but this is my first interview regarding Weeping Silence. Yes, I am very excited about this new phase in my life. I have been into rock and metal for many years but never managed to settle down, the main reason being the difficulty to find musicians who are truly into the genre. Joining Weeping Silence is a challenge that has energized me like never before. All the band mates are on the same wavelength as I am, and I can feel a lot of positive energy between us – something I haven't felt for a very long time since my involvements in bands. The teamwork is fantastic and I can already sense the need & the will to create music & performing on stage with such great people.
How do you feel replacing Rachel after so many years that she was in the band? Do you feel any pressure?
I know how much Rachel is loved and have only respect for her achievements.  At first it was overwhelming and I cannot deny that it took me sometime to absorb what just happened to me. I had to make several adjustments to my new life such as cutting down on working hours. Having said all this, I can finally say that now, I have summoned the strength and courage to deliver at this new level of me.
A little bird told me that you have musical training, can you tell us more about your musical background?
To become a band member of a gothic metal band was a plan that had been in my mind for many years. Whilst awaiting the right opportunity to come my way, I used the time I had to learn more about music in general, to take piano and voice lessons, find my natural voice timbre and write a lot of lyrics. This was crucial and it is how I got to know myself better musically. It was the many rehearsals, auditions, live showcases, music courses and music lessons I attended, that helped me develop my voice & that thought me how to take care of it as much as possible.
How did you come across Weeping Silence? Did you know before someone from the band or did you simply apply for the position?
Being a fan of Weeping Silence myself, I saw their post on facebook and thus applied for the position.
For what the little bird  told me you're really enthusiastic and you are already doing rehearsals with the band: how hard is it to get started in a band that already has an "internal" equilibrium?
I am getting along extremely well with them. I had never experienced such teamwork. They are all committed, hard-working and open-minded. Their support has also been very encouraging.  I feel that my life is finally falling into place.
Instead let's talk about your personal tastes, what are your private passions?
I have always been interested in make-up and costumes. I love dark photography and gothic culture. Having said this, my greatest passion still remains that of being a singer-songwriter. It is a great way of expressing my feelings to the extent I want to, without harming anyone or anything.
Sean, what are the future project for Weeping Silence?
The future projects are definately composing a new album, that we hope will see the light of day in 2014. Between then and now, we will also be playing as many concerts and festivals as we can! All this should keep us busy!
So, Sean & Diane, we're at the end of the interview, please greet freely our user on Femme Metal Webzine and speak you soon!
We would like to thank the fans, Femme Metal Webzine and its readers who have always been behind the band giving us much support. We will be hitting the stage in 2013 and maybe we'll get the opportunity to meet some of you. Until then, visit our FB page, see what's brewing, and hit the like button: www.facebook.com/weepingsilence
The new album and earlier releases are available from the band's e-store on the website www.weepingsilence.com . Thank you for the support!Thank you very much Femme Metal readers, fans of female-fronted metal and metalheads in general all over the world! Keep it metal and hope to see you around someday! Thanks Miriam for this interview – Cheers to all!! Sean & Diane
Latest Multimedia
Links
Interview by Miriam C.
For the second time in this webzine we give space to the Italian progressive power metal band Lunocode promoting their latest work "Celestial Harmonies". This time the questions have been replied by drummer Perseo Mazzoni and singer Daphne Romano. Just a curious info – this interview was scheduled to be face to face but 'cause of the bad weather our editor Alessandra didn't make to be at the location by the way at the end it come out a real nice, as always.
Hi Perseo and Daphne, welcome to Femme Metal Webzine and how are you??
Perseo: Fine thanks, a bit tired but happy. The last two weeks have been great with two concerts, the first in acoustic, at Teatro di Anghiari with the show "C'è Vita intelligente sulla Terra?" (Is there intelligent life on Earth?) togheter with Francesco Cecconi and the last, just two days ago, in Rome, with Ivory Moon and Blind Horizon. We discovered that our acoustic side works very well and playing in a theater is something very special, something magic.
Daphne: Yes, two different and exciting gigs. The acoustic set in particular: I have to admit that it's been really thrilling.
Well, first of all, do you mind give us more insights about your biography?
Perseo: Lunocode formed in 2004 under the name "Anima". We played mainly cover for about 2 years and had another singer. Then we started writing new material and in 2006 we released the demo "Birth". The demo went well and we continued writing new material. At the end of 2010 we gained a contract with Spider Rock Promotion and in January 2011 we released the EP "Last Day of the Earth" that also went very very well. At the end of 2010 our previous singer left the band and we found Daphne. After releasing "Last Day" we continued writing and in January 2012 we released our debut album, titled "Celestial Harmonies". And here we are.
According the site, the band's name "lunocode" is a wordplay between Lunokhod and the english word Code. From where did you get it?
Perseo: I was watching a documentary about this Russian rover sent on the moon. It's been the first radio controlled rover to be sent on another planet. I thought it was very interesting and I proposed this name to the band. Giordano came out with the wordplay and everybody liked it so we took it as the new band name.
In your discography we can count the demo "Birth", the "Last Day of the Earth" EP and your debut "Celestial Harmonies". As I remember "Last Day of the Earth" EP was a stand-alone piece of concept. This time with "Celestial Harmonies", as your label states "It's a moving journey thru the Cosmos with the purpuose to search the origins and life's origins" although you declare that the album is not a proper concept. Can you tell us more about the album's lyrics?
Perseo: "Celestial Harmonies" is not a concept in the sense that we're not telling a single story that starts on a song and continues through the other songs of the album like a concept album usually do. "Celestial Harmonies" has a fil rouge, a loose connection between every song, but it's not a concept. Every song tells something about humankind, the cosmos, life or nature and things like that so, in a sense, is a trip through cosmos, a voyage by which we can explore the meaning of life, the universe, the pain and the joy of being alive.
"The Origins of Matter and Life" is a suite long almost 30 minutes. What insight can give us about it and also are the suite's lyrics a concept ?
Perseo: "The Origins of Matter and Life" is actually a story which develops through the songs "On Matter and Mind", "High", "The Cosmic Architect", "Tree of Life", "Crossing the Line" and "Albert II". Is a fictional story about a character (at the very end his identity will be revealed) who starts thinking and, by this act, gives birth to a universe in which he finds himself in. He then starts exploring this new world and he asks himself questions about what's happening all around him and even to himself. Following this questioning the story of this suite unfolds till the end when a dramatic turn of events occur. I prefer not to explain all the details of this story, as I think everyone, if interested, has to discover the message by himself.
For what I get the album was mastered by Ronan Chris Murphy, that has worked with legends like King Crimson, Steve Morse and Ulver. When and how you have contacted him and why work specifically with him?
Perseo: I followed him on internet, on his YouTube channel, on his Facebook and as I think he is a great engineer and producer, I asked him if he was interested in working with us. This was happening in 2010, during the "Last Day of the Earth" mixing sessions. He said yes and I sent him all the audio bounces. As I find myself very confortable working with him, I contacted him again in 2011 and asked him to master "Celestial Harmonies". Again, he said yes and I sent all the material. He made a great work and he was surprised about the songs quality and the big step forward we made in songwriting during the last year. Working with him has been so great!
"Celestial Harmonies"'s cover transmit a feeling of peace. Do you mind explain the meaning's cover building into your personal opinion about it?
Perseo: I too think so and this sense of peace was one of the goals I wanted to achieve with this cover I developed. The airplane you can see on the cover has a particular meaning to me, as actually is a wheater vane my grandfather has built. The cover is in fact a photo and not a computer generated image.
What are the band's influences?
Perseo: I think we are working hard to find and extract our real self so for sure there are influences but I think they are becoming more unconscious day after day. If I had to name just one band, I would name Anathema.
What difference you can see between the debut EP "Last Day of the Earth" and "Celestial Harmonies" in matter of musical style and lyrics? Do you feel more mature?
Perseo: There are big differences but, at the same time, the differences are not so big. In both albums the writing style of the lyrics remains the same, maybe in "Celestial Harmonies" our acoustic side is more prominent, but even in "Last Day of the Earth" there is a completely acoustic song called "Invisible Tears". Maybe in "Last Day of the Earth" the songs sounded more heavy but even in "Celestial Harmonies" we have heavier songs, like "The Cosmic Architect" or "Sin Cara". I think "Celestial Harmonies" is a more mature work, and a natural evolution from "Last Day of the Earth".
Daphne, what are is your musical background? Did you ever do any vocal training?
Daphne: I like different kinds of music like rock, metal and electronic. About my influences, I can say Freddie Mercury, Anneke van Giersbergen and Lisa Gerrard have always been a great inspiration for me. Today I found with Lunocode some new colours in my voice and in my soul that I've never suspected to have. I think I'm evolving…but, who doesn't? I studied opera singing for 1 year, years ago. Now I'm studying modern singing with a great Italian singer. I think singing is a vast world where you can always discover something new: I'm curious, I have a thirst for knowledge and I think exploring the voice potentialities is one of the most stimulating and satisfying elements of singing.
What we can expect next? I read in the website an East European tour with Theatres des Vampires…
Perseo: Yes, we've been on tour with TDV and JTR Sickert and it's been a great adventure and a great experience for the whole band. They are smart and nice people and we enjoyed very much visiting East Europe and Turkey! Then, two weeks ago, as I already said, a dream came true for me, to play with Lunocode in a real theater, in acoustic. We played 10 songs in Teatro di Anghiari (Tuscany, Italy) for about an hour of show. We re-arranged some songs from "Celestial Harmonies" and "Last Day of the Earth" in acoustic and we even played "The Origins of Matter and Life" from start to end! The show has been recorded so maybe we will use those recordings in the future! Other plans for the future? We have some ideas to record a new album, you will hear from us soon!
Daphne: Yes it's been amazing and crazy sometimes! Cool musicians and stuff, great audience, life on the road and foreign countries.
Well, Perseo and Daphne, I really thank you for this interview, I hope you like it! Please greet our readers (and your fans) freely! Thanks again!
Perseo: Thank you for your time, hope to see you at our shows! If you want, you can buy our cds at www.lunocode.com or follow us at www.facebook.com/LunocodeFan
Daphne: Thanks to you and all the readers of Femme Metal Webzine! See you soon!
Links
MySpace * ReverbNation * Facebook * Google Plus * Twitter * Site
6 color styles available:

Style switcher only on this demo version. Theme styles can be changed from Options page.