Browsing articles tagged with " theatres"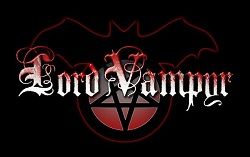 Interview by Erwin van Dijk
There are basically two branches of Black Metal: the ones with the corpse paint and great visual shows like Dimmu Borgir and Watain (but Watain is also very smelly) and the bands who compensate their lack of special effects with a cold self hatred like Skitliv and Shining. Lord Vampyr belongs to the first group. True to the genre everything seems to be shrouded in thick mists. For example, the website under construction and Myspace offers besides the names of the band members only very little info in Italian (a beautiful language but I do not speak it) but we have Wikipedia these days. Lord Vampyr (real name Alessandro Nunziati) used to be the singer of legendary Theatres des Vampires and Lord Vampyr is his solo project. This year the band has released their latest album called "Carpathian Tragedies".
Vampires seem to be very popular these days in the cinema. Do you watch those movies yourself?
Yes, but I'm not satisfied, cause all seem like a teen-movies and not a serious movies on the world of vampires.
Most of us know you as the singer from Theatres des Vampires. But have you been active in other bands before Theatres des Vampires?
Sure, my first band was Sepolcum (then called VII Arcano). Sepolcum was one of the first death metal band from Rome, then the band became more gothic style close to Tiamat, Paradise Lost, My Dying Bride.
You have been active in the music business for many years now. What are the high lights so far and what is still on your "to do" list?
If you ask me what I want to do yet, well many things. Probably put on a short project with our keyboard player, something pop-rock like 30 Seconds to Mars, The Rasmus and Muse.
As said before, you used to be the singer of Theatres des Vampires. Why did you left the band?
There were many personal problems and then on the music. Continue reading »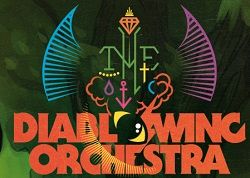 Interview by Miriam C.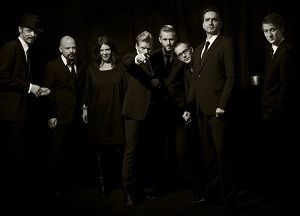 For the second time we give space to one of the most eclectic act of the last years : Diablo Swing Orchestra. This time we have had the pleasure to have a nice SkyPe chat with Daniel Håkansson for unleash more details about the third album "Pandora's Piñata".
Hi Daniel, first of all how are you?Do you mind present your band telling a little about the Diablo Swing Orchestra's history?
Our ancestors performed orchestral works in defiance of the ruling church at the time. The orchestra was forced to go into hiding, performing in secret, with the assistance of oppressed peasants during the era. After years of performing for the pleasure of these peasants, the story claims that the church put a bounty on the performers lives, and that this bounty was so high that the orchestra knew they would soon be captured, and thus chose to play a spectacular final show before becoming martyred to the church. We got letters back in 2003 and did some research to find each other and since that day we perform as Diablo Swing Orchestra.
We are here for speak and introduce "Pandora's Piñata", DSO third album. What you can tell about its genesis? When you have started composing it?
The songs on the new album I started to write for back in 2010 but we didnt start seriously to arrange the songs until 2011.
Ok.. who's like the recording process an a DSO album? I mean you have first the music and after you compose the lyrics or it viceversa?
First normally comes a rytmical idea (beat or riff) and if it's interesting enough I start to try and find a melody that fits. When that is done I normally start to find the "theme" for the song (arrangemets etc) Then me and Pontus (guitar & FX) do demos for the others to take part of to start working on their parts. too.
And when Annlouice comes in?
When the demos are send out. I normally check the key of the songs with her before we finish them so that the intervals are suitable for her voice.
So connecting to this question.. What you reply if I ask to say more about her – I mean her musical background and stuff like that? And how she got involved in this project?
She is a classically trained singer and works full time as an opera singer here in Sweden. She was introduced to the band when we started to look for a singer by the opera house's PR department. She got to hear a demo and she liked it and the rest is history =)
So she sing in the theatres as full time job?
Yes, indeed. We gain a lot for all her experience on stage even if it's a bit different.
Well, I think that something different from the usual singer helps to get more people to like your music and be noticed, I mean people get curious.
Yes, it gives the band a certain flavour also a different flavour that after can attract different people from different musical ambients
At your concerts I bet we can find a metalhead, someone who likes jazz and why not opera… but the metalhead but be really openminded.
Sure, we seem to have a mixed crowd.
And talking aboout crows and live gigs… it sound strange to me that, according to the press release that I have in my hand, it's hard playing gigs in US and Northern Europe. Why? On the contrary, for DSO music it's very easy planning tours in South America. What the differences between the 2 continents? I mean, in my point of view since you're close, should be more easy organize concerts in Europe instead in SA…
Well, we do have a much bigger following there which the promoters have picked up upon. It's starting to get better in Europe and we've signed with an italian booking agency so we will do a full blown tour in italy in the future. Also more gigs in europe will follow. They are just not finalized yet. It's probably the latin vibes in many of the songs that makes it work really well over there.
Now talking a little about the lyrics — I quote the press release about the album's theme – "The theme of "Pandora's Piñata", are the seven cardinal sins that one can imagine falling out of this like-no-other-audio-visual-piñata". Well, you can explain to us the real concept of the album because I haven't really caught the sense, maybe it's my fault but I haven't really understood it and I for this I want to give you free speech and hear directly from the mastermind the truth hahaha….
Yeah, that theme is more in the artwork than lyrics. The lyrics are of a more personal level and based on my own experiences.
Mmh.. interesting so are you gonna unveil more details about it? Because you have really anticipated my next question…
The only differnet one is "Guerilla Laments" which I wrote based upon many email and letters we get saying our music has helped them though tough times.
Nice to know it, for the artist (in these case you) should be like heaven reading those letter and emails…
Well, I'm glad that the music can help them but I'm quite horrified what people have to go though not very nice stuff and most time I don't feel qualified to answer
It's quite common that people tries/finds something to attach on because those words/melodies helps them not to give up I think that no one is qualified for the replies.
True, but I am glad that what we do can help peole. I truly am.
You know, the reality it's so brutal that sometimes we need to get away for it and sounds sweet be embraced by the music.
Yeah, it's one way to have a brief excape from everyday life.
Exactly..turning back to the artwork side.. I know that Peter Bergting for the second time is working with you for all the "Pandora's Piñata" graphics but who's Peter Bergting and can tell us more about him and his work to who don't know him yet?
He's quite well know here in Sweden and thoughout the world in come circels as a illustrator and have done some high profile jobs. He used to be Anders' teacher in university and they have kept in touch since then.
Interesting.. never imagine that, really! Congrats to him and Anders. Watching the site we get a preview of the album artwork with this 2 childrens and the snake. Can talk you more about its visual concept?
We always want to wrap up what the music is a bout in titles and art work. The music has both a playful and an aggressive/dark side to it. The name "Pandora's Piñata" kind of encapsulates it. It kind of shows how someone is tricked into let some malign out that is wrapped out in a pretty package.
Sounds like the reality to me and the everyday society.
Yeah, good point

Well, you know I haven't imagined that I was thinking something more fantastic and unrealistic the meaning of the title..
Yeah, we wanted a title that both wrapped up the album and piqued the listerer's interest.
Well I was talking about the previous album and that's it – If I recall well, your last album that you publish was on 2009 with "Sing Along for the Damned and Delirious" under Ascendance Records. Why took you so long to publish a new platter?
It seems that it takes us about 3 years to write and record an album, it was the same amount of time between the 1st and 2nd record as well (2006-2009-2012) so next time is 2015 then =)
Yes, but this sounds so funny like the three time table haha.
Yeah, I wish we were faster but it seems we dont really control it.Songs are done when they are done.
And "Pandora's Piñata" is your first album under Candlelight Records, finally I'm so happy you, you've reached the ambitious deal with a prestigious label. How was the first approch with them? I mean who contacted who, when happened the first contact?
Actually we first realeased the first record it ourselves and later it picked up by Candlelight and but this time we had the deal with Candlelight figured out form the start and they seem to do some good work with the promotion.
Let me understand before to sign properly with them you have only a distribution deal?
Well, we licened the album to the one year after we released the "Butcher's Ballroom" ourselves.
Reading the 2012 live line up I'm noticed that the only real change is the drummer: why Petter Karlsson is not coming on tour with you?
Petter decided to leave since he wanted to focus on his own music.
Still talking about line ups that are changing, can you talk more about the new members Martin Isaksson and Daniel Hedin? What are their musical background?
They are both classically trained and were brought in as session musicians for "Sing Along for the Damned and Delirious" and we got along really well and they added so much to the band so we decided they should join the band
Any plans for a DVD/live album? It should be an interesting release to buy…
We'll do it as soon as we feel we're good enough and have the money to do it properly .
Daniel, we're at the end. I really thank you for everything!! Thanks so much for the interview!!!!
Thanks for a nice one yourself.
Links
MySpace * ReverbNation * Facebook * Twitter * Site
Latest Multimedia
Label : Dreamcell11/Aural Music
Review by Andrea Disgraced
Theatres des Vampires are back and this time with full force! Ok, let's start from the beginning: being an old, huge fan of the band and having followed them since the beginning, loving almost every change in directions they had made, since most times they did it with both "brain & heart", maintaining a very high profile, musically speaking. Until that infamous "Anima Noir", which dates back to 2008 and that brought a lot of doubts to my mind. Don't get me wrong, I own it and enjoyed A LOT one gig of the promo tour here in Italy but after that period I didn't listen to it anymore; when I decided to have another go at it some months ago I suddenly realized all the flaws that back in 2008 the excitement of a die-hard fan didn't allow me to see. But this isn't a review of "Anima Noir" so I'll be brief, although it's a necessary prologue to understand my following statements. In few words, that was a bad album, with half of the songs that really didn't do any justice to such a band. There was a wonderful song, the ballad "From The Deep" and generally talking the first half of the album was more than decent, with some shivers then and there (no, that wasn't meant in a positive way!

). second half of the album was shamefully bad, bad songwriting, ridiculous keyboards-laden songs with that electro flavour that can appeal only to German goth dance clubs (no offense of any kind to anyone attached, be it clear). Only other wonderful song, the magnificent closing title-track couldn't save the album from drowning, in my personal and most humble opinion. So I admit I feared not that TdV took a direction I wouldn't like or became even less metal or bullshit like that, but simply that they would've come back with a – in my personal and most humble opinion – bad written album. God! Satan! Whoever you want! I was So wrong! I'm consuming this promo, I think.

The band decided somehow to dare, without losing its trademarks since countess Sonya Scarlet is the singer, and wrote a bunch of kickass songs that I refuse to call vampiric as if this review or the album where aimed at a teenie goth who thinks Stephenie Meyer invented gothic/vampiric literature. The album starts with "Keeper of Secrets", a good, heavy gothic metal song that perfectly opens to you the doors to what Theatres are today (and, I hope for several years to come). Aggressive guitars but never wannabe-aggressive, if you get my point: they don't try to be harder than they actually are and it's perfect this way. A catchy opener that will bring massacres during gigs! Last but not least, it introduces the first guest of the album, Mr. Snowy Shaw of Merciful Fate and Therion fame (let's not chat about the latest happenings around him I'm sure you all know of and that don't get him in the light so much hehe

). Let me tell you something that I'm sure you all crave to know about. Sonya's performance is here probably her best EVER. It must be said that that is also due to a finally perfect production, able to give Sonya's different vocal nuances the right tone to be well expressed and recorded. Actually I think that her rockish vocals are quite interesting in the scene: unusual, sensual, with a lot of "recitato" (I take this word from the opera terminology to say that she really means what she sings, so to say). Not to mention that her opera-like singing, being it in the background or the leading vocal line, has improved so much and sounds now so incredibly good! Ok, not as powerful as the queens of "opera metal", but at least so clear, pure, crystalline you can't but love it. I dare to say even better than in those days in which she was merely a back-up singer and all (or nearly all) she had to do was to sing that way. Of course, throughout the whole opus we meet the usual male vocals – same speech here, sometimes they're just in the background, sometimes they duet with Sonya and sometimes they sing alone. Shame on me because I can't tell you who and when is doing them, since Fabian, Zimon and Gabriel, respectively keys, bass and drums are used to do those deep, male vocals, live too, so I guess you'll all have to attend a show! "Fly Away" and title-track "Moonlight Waltz" will make you feel like you wanna throw away half of your (modern at least) gothic metal collection, since these two passionate songs are surely above an average rating and mark other two songs I'm craving to hear live as soon as possible! Let's arrive to the cover song of this album: beloved Hijo de la Luna by Mecano, here in an Italian version called "Figlio Della Luna". Now, I usually hate covers identical or almost identical to the original, I wonder what's the point in doing that… This is NOT identical to the original, but not even totally different, that must be said. You'd recognize it very easily. Nonetheless, it's a fucking masterpiece! Perhaps because Italian is after all my mother tongue and so it has a particular taste – the exotic one for non-italian speakers. Perhaps because the orchestration and the band's skills turned it into a perfect symphonic cover – lately the only similar example I've heard, of something not having anything to do with symphonic metal that became an awesome pièce of it is "Still of the Night" by the goddess Tarja. Anyway this cover has it all: a heartfelt interpretation by Sonya, soaring orchestra and choirs and the right, fitting hitting of the band on the respective instruments. And if I can add, Sonya's performance has a nice feeling reminiscent of some classic (not classical) italian singers like Patty Pravo which is simply a point more in the whole thing. Ninth track "Le Grand Guignol" displays the talent of one of the first and best extreme metal women of all times: Cadaveria. The production gives a good hint, when she growls, of how she sounded back in the past with her previous bands, always on the edge of symphonic black metal and thrash; besides, we can hear also how perfect and angelic her clean vocals can be. "Obsession" is a good example of how you can make a song with electronic elements with an orchestra and choirs (thanks to the Classical Music Academy of Rome directed by Luca Bellanova) that would make many symphonic metal bands quite envious. Of course that isn't something related to just this track, as beautiful violins act as a perfect side part in "Carmilla", chosen as first single and which you can see the video to here. When I first listened to "Medousa" and "Carmilla", the songs made available on myspace, I admit I prefrred the former, though now also the latter, after nine or ten listenings before writing this review, has started to grow on me. "Medousa" is the closing track of this album, which features the classy participation of Eva Breznicar from neofolk-industrial band Laibach. Unfortunately although I like the song in itself, I don't find it a good ending, too anonymous perhaps. And I expected something more in the veins of Laibach, with their singer collaborating but maybe it was just me thinking wrong, maybe she was just invited to sing and stop. I still think it would've been an interesting experiment. On a negative note I can't help but pointing out that once again the English pronunciation isn't at its top at all; partly I think that's because of Sonya's particulasr style of singing: I mean, also when she sings in Italian I have problems in understanding the lyrics!

And if it can be of any consolation that's a problem shared by 99,9% of Italian bands in any genre, apart from those so commercially big that I think are forced by their labels to sing as clear as possible. Pity, otherwise my final vote (even though it's a number that doesn't count anything without reading the whole review) would have been higher. So, welcome back, TdV! p.s.The limited edition includes a bonus DVD with the video to "Carmilla", a "making of" of the album and other exclusive stuff.
Rating – 82/100
Tracklist
Keeper of Secrets
Carmilla
Moonlight Waltz
Fly Away
Sangue
Figlio Della Luna (Mecano cover)
An Illusion
Black Madonna
Le Grand Guignol
Obsession
The Secret Gates of Hades
Medousa
Line Up
Sonya Scarlet – Vocals
Stephan Benfante – Guitars
Fabian Varesi – Keyboards & Backing Vocals
Zimon Lijoi – Bass & Backing Vocals
Gabriel Valerio – Drums & Backing Vocals
Links
MySpace * ReverbNation * Facebook * Site
Label: Zero Effect Records
Review By Tony Cannella
Sometimes you can't judge a book (or a CD) by it's cover. Take Italy's Lord Vampyr for example. When this CD arrived I was all set to dismiss them as just another black metal band based the album cover, song titles, band members names, etc., etc. Than I listened to their new CD "Carpathian Tragedies" and I couldn't have been more wrong. Sure there are elements of black metal mixed in there with other influences and styles, but the band offers so much more. The band is named after lead vocalist Lord Vampyr. He is joined by female vocalist Lady Eter The rest of the band looks like this: Seth 666 (Guitars), Aerioch (Bass), Aeternus (Drums), Endymion(Keyboards) and Yog Sothoth (Keyboards/Sax). "Carpathian Roots" begins things and right away you sense that this is going to be something a little different. The song is immediately theatrical and it sets a definite atmosphere. It's a very broad number that sets the tone. The vocals of Lord Vampyr remind me a bit of "Them"/"Conspiracy" era King Diamond – although he does incorporate various styles – and the music is very intricate and involved. The female vocalist of Lady Eter are also quite impressive and the two style have a great chemistry together. The next track "Land of the Dacians" is next and this song begins with some truly eerie orchestration before launching into just a heavy tune that shows off more of their black metal influence, but the song remains orchestral throughout. The lead vocals are handled by Lord Vampyre on this one with Lady Eter providing some background vox. With the third track "Dance of the Witches" the band provide no let-up as the CD continues it's relentless pace. The lead vocals are split pretty evenly here and the musicianship is just pure intensity. "Eternal War" is next and it offers up a change of pace. Their are lots of tempo changes in this one and the vocals are split pretty evenly on this one as well. This is definitely a favorite. "The Lady and the River – a Ghost Story" follows and it is more of a straight forward song, with great vocals by Lord Vampyre and Lady Eter. "When the Death Is Not the End" hands down is my favorite track and it features saxophone (!) played by Yog Sothoth. This song just really stands out and it's not everyday you hear sax on a metal record. The final three songs "The Blind Executioner – Part I", "The Blind Executioner – Part II" and "Strigoi" bring to a completion a very strong and powerful CD. "Carpathian Tragedies" has the look and feel of a big conceptual production. It's difficult to tell if there is story going on throughout, since sadly there are no lyrics included with the CD (with the exception of "Carpathian Roots"). Overall, this is a band that I really enjoyed. Just when you think you got things figured out they change things up and head in a different direction. Musically and vocally, this is dark music but it's not downer music. There is something uplifting and exciting about the music that can be heard on "Carpathian Tragedy". I loved this CD!
Rating – 90/100
Tracklist
Carpathian Roots

Land of the Dacians

Dance of the Witches

Eternal War

The Lady and the River – a Ghost Story

When the Death Is Not the End

The Blind Executioner – Part I

The Blind Executioner – Part II

Strigoi
Line Up
Lord Vampyr – Vocals

Lady Eter – Vocals

Seth 666 – Guitars

Endymion – Keyboards & Sax

Aerioch – Bass

Aeternus – Drums
Links
MySpace * ReverbNation * Facebook * Site
6 color styles available:

Style switcher only on this demo version. Theme styles can be changed from Options page.