Browsing articles tagged with " theatrical"
Interview by Si Smith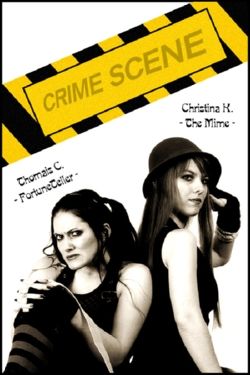 Although Dakrya is derived from the Greek word for tears, there is nothing weepy and morbid about this group of theatrical musicians! Dubbing themselves "The Charlatans" and branding their new album "an avant garde metal freakshow", this septet of metal magick brings you the thrills and spills of the stage alongside the sparkle and allure of the circus. I spoke to two of the leading talents, Christina and Thomais….
First of all, thanks so much for this interview and greetings from all at Femme Metal. You call yourselves collectively the Charlatans. I gather that this is a old 16th century reference to "a flamboyant actor; one who attracts customers with tricks or jokes". How well would you say this describes your little theatrical troupe?
Thomais: Well our little concept is based on this kind of twisted circus world. It's a different but yet the same aspect of seeing the world we live in. It helped us connect with the character each one of us had inside … and bring it to life… Each one of us has its own unique and important role to play within this world.
Christina: We use our music to attract "customers", in our case the audience, and through the cheerful circus themes and musical theater atmosphere we try to introduce them to the "Crime Scene" which is the world that we live in. Our lyrics speak of dreadful stories where money, ego, and fraud are the driving force of our society. So I guess we are Charlatans, we trick people to attract them to our world!
You burst onto the scene in 2008 with "Monumento" which was an invigorating mix of religious and operatic imagery. In contrast the theme of the new album is described in the opening song as involving "a dazzling haze of criminal minds; riddles, traps and horrible crimes". How did this concept for the new album arise?
Thomais: It came really natural I would dare to say! Just look at the world around you… the whole album theme is vital and you are a part of it as well… it is the everyday things we have to deal with… people hiding behind masks feeling artificially beautiful, a world based on creating fear and insecurity… it was really easy for us to evolve with this concept.
Before the release of the full-length itself came the single "The Urban Tribe" as a download. In what ways did you feel that this was a representative track to put out as a single?
Thomais: First of all I believe that this track shows our new style and sound in many ways…the one that could hold the listener by the hand and make him enter our new world step by step and become familiar with the new things we wanted to express.
Christina: "The Urban Tribe" is a song that reflects the change in our musical style in the best way in our opinion. Also we all love it! It's a powerful track, a combination of jazz and swing elements with metal riffs and strong lyrics that holds the essence of the album.
Many of the lyrics of the new album involve jugglers, clowns or mime artists. Your vocals too are extremely theatrical and effectively express different nuances of emotion. What are your musical and/or theatrical backgrounds?
Thomais: Well I started my studies in the vocal area as a classical/opera singer (exactly what I do in "Monumento" album) but I've always had the craving of experimenting with my voice… the sound and color of it. I had a great love for dance and theater as well so musical theatre came across my way and I started searching and expanding my potentials as a singer in this field… I guess that helped me to discover my demanding little dark twisted character in "Crime Scene"!
Christina: Actually I have no theatrical background, never took any acting lessons or participated in a theatrical play. As for my musical background, I started singing since I started talking! I took singing lessons for many years and before Dakrya I was in another metal band. But I believe singing and acting are strongly connected, and many times you are called to play a role when interpreting a song. So I think it would be very useful for me and probably any singer to take some acting lessons.
The "roving" rhythms of tracks such as "The Urban Tribe" and "Camouflage" are highly reminiscent of the recent achievements of bands such as Diablo Swing Orchestra. Where would you say your influences are, as musicians, vocalists and performers?
Thomais: I think that the fact the seven of us has so many and different influences and sounds we like to listen and experimenting with gives this rare and weird sound. Of course we love bands such as DSO and Unexpect, but speaking for myself I really love soundtracks, alternative music, jazz, blues, and artists that love to take their sound one step further and create different and unique worlds like Tool, Porcupine Tree, Shining… there are so many I could name right now… I also have many pop – electro and industrial favorites, folk and world music as well… there are no limits in what I listen to, it depends on my emotional state every time.
Christina: We all like Diablo Swing Orchestra and I guess their sound was a great influence for us. As for me as a vocalist, my influences are quite diverse. From Dusty Springfield and Aretha Franklin to Bruce Dickinson! I love soul music, blues and jazz, while musicals like Chicago give me ideas about my stage performance. I want to find my own identity as an artist and i always have my eyes and ears open during this way.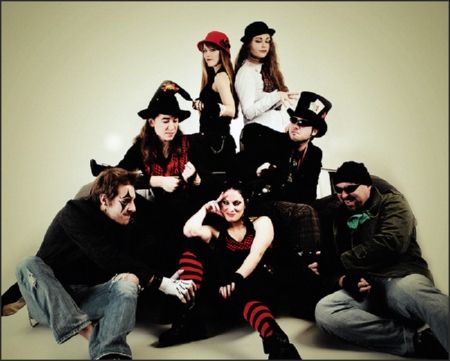 The album slows down a little for "Inertia" then bursts into life again for the arrival of "Dramatis Personae", which swells up like a Final Act before the ending of the play. In what ways does this song encapsulate or summarise some of the main themes of the album?
Christina: ''Dramatis Personae" is actually the Final Act, as it reflects the main reason for the fear, the consumerism, the corruption and generally the madness that composes today's life and were mentioned in the previous tracks. We all play roles, we are actors in a play we don't really know the scenario, but have to improvise every time for our own advantage or the advantage of those above us. As the song says if you want to survive "play your role right!"
You have recently been signed by Sensory Records, the same label as bands such as DSO, Wuthering Heights and Circus Maximus. In what ways (if any) has this changed the way things are done in Dakrya? In what ways is the label supportive of you as artists?
Thomais: Well we are satisfied that this cooperation came up! We have the right promotional support and many chances to take our sound beyond the borders of our country. We feel very proud sharing the same floor with so talented artists and it has helped us focus more on our targets for the future.
Christina: We are very glad we had the chance to be signed by Sensory Records. They have appreciated our work from the beginning and they support and promote us a lot, especially in the USA. So as far as we are concerned we try harder to do everything with professionalism and become better musicians and performers through a lot of work, so that we can return their trust in us.
By now you will have just completed your first February show in Athens alongside Psycrence and Allen's Hand. Please tell us how the show went!! What were the highlights for you?
Thomais: We had such a really nice time and enjoyed ourselves a lot!!! It was the first time that we played for the Greek audience after so long and introducing the brand new concept and album to them was pretty challenging… it came up more like a theatrical show in the end! I was very exciting feeling this live contact with the audience again!!!
Christina: Yes, we had our first show in Athens on February after the release of our new album "Crime Scene" and it went really great! We enjoyed it a lot and I think the audience enjoyed it as well. We had the chance to play in a great venue, the sound was very good and generally we didn't face any problems or misfortunes. As for the audience I think the whole show, with our performance enriched with theatrical elements came as a surprise to them!
The whole Dakrya experience must be very daunting to recreate in the live environment. How on earth do you all keep track of all the elements involved? This surely must involve a lot of practice….
Thomais: Yeah it takes a hell of a practice!! Haha… well every rehearsal is a small show for us… cause as you very correctly said we have to give this sense of theatrical experience to the people that will give it a try and check us live. We also have this need of creating a vital world to bring those characters we get to play, into life. So we came up with lots of ideas and combined them interactively into our show…
Christina: Yes, the truth is that it's really difficult to recreate live the whole concept of "Crime Scene". When we do our rehearsals we practice on everything. It's kind of preparing a theatrical play where we have to take care of the costumes, the stage scenery and our whole performance apart from playing music and singing. Every song is a story we want to tell people and we enrich it with theatrical elements. On February's show the audience took a small taste of what is coming up because we're still working on it and try to make our stage performance better and make a step forward all the time.
I imagine it must be good for morale to have more than one vocalist up on stage at any one time. How does the dynamic work between you two? How do you manage to encourage each other when things get rough along the way?
Thomais: Well it was a spiritual kind of bonding that we shared from the very beginning… We managed to work perfectly together and had many ideas on how to create styles and melodies within the songs. We came to the point that we can choose the parts that Sophia gives us to work just by instinct. I feel that without each other the whole concept wouldn't be whole… I would feel incomplete as a voice and theatrical character if Christina wasn't there; knowing how important we are to each other encourages us and gives us strength for the show to go on!
Christina: We work perfectly together and sharing the stage has become something essential for us. Actually we can't imagine Dakrya with just one of us! I think we complement each other and we manage to create a balance on stage. We always help and support each other and for example if I forget any lyrics, Thomais is there to cover it up and this can be a great relief!
With all the different ideas that make up a Dakrya album, how do the creative roles divide up between the band members? How does the average track get written?
Thomais: Each one of us created his own character and gave it personal characteristics. The average track and idea is written by SophiaX and then all of us are involving our ideas and colors in it… she gives us the toys and then we play haha… then the roles and their development are take their natural way I believe due to the fact that we are not only band mates but very close friends, we know each other's way of thinking and there is a bidirectional trust in between us… so we always respect each other's "sound space".
Christina: Usually SophiaX is the one that composes the music and writes all the lyrics. So after the main directions from SophiaX, we all have the chance to add our own ideas and improvise on our instruments. Along with Thomais we get the music and the lyrics and then we make the vocal arrangements with SophiaX helping us especially when it comes to matters of expression and interpretation of the lyrics.
Finally, it would be great to know if you have any hopes of aspirations for the future of Dakrya. Or for yourselves as individuals? Is there anything revealing you would like us to know about yourselves before we close?
Thomais: We are planning to have some shows here in Greece and hopefully abroad, because we will be entering the studios once again soon!!!
Christina: What we really want for the future is to keep playing music that expresses us and making albums like "Crime Scene" which we feel very proud of. We are planning to have more live shows around Greece and abroad and we want more people to enter our "freakshow"!
Thank you so much for taking part, really, you guys do a great job, and we at Femme Metal wish the album and the Charlatans all success in the future!!
Christina: Thank you as well for your support and this great interview! We hope to see you all soon on stage!
Links
MySpace * Facebook * ReverbNation * Twitter * Site
Latest Multimedia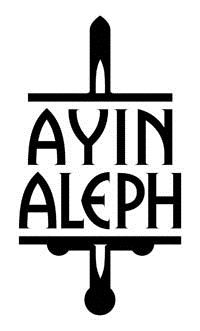 Interview by Ed MacLaren
Every once in a while an artist comes along that defies description, challenges convention and polarizes the listening public – like all great musicians should. Ayin Aleph's singular combination of metal, goth, and the classical culminates in a unique musical viewpoint that is at the same time attractive and repulsive. Her first album, "Ayin Aleph I", goes for the emotional jugular in full metal splendor while her recent "Ayin Aleph II" re-interprets much of the album in a more classically-based but equally chaotic manner. Recently, Femme Metal got a peek inside the fertile mind and imagination of Ayin Aleph.
It's been two years since "Ayin Aleph I" and you've recently followed it up with "Ayin Aleph II" – an acoustic album of sorts – with piano and harpsichord versions of the tracks on your first album. What was the genesis of this idea?
I had a few ideas. Firstly, I wanted to show that metal music can sound in a grandiose and immense way on a classical instrument without the electric effect (saturation and distortion) but of course in another sounding aspect and in another expressivity type. Secondly, I wanted to enlighten all the tracks played by the instruments of the metal band. (You know clearly that with distortion and saturation it's hard to hear clearly all the precise shapes of the melody.) My piano parts are playing the guitar and bass parts and sometimes even the pictures of some drums parts (percussive piano). Thirdly, I gathered all the choirs and songs into a monolith in order that it sounds like an drawing of a mini metal opera with an evolution of emotions that is the only topic: that means that this allegoric sense starts with the big choir and first song (the smallest in terms of sound effect) then the second song becomes bigger and more developed in terms of arrangement. All that evolves into a culmination and ends with a "soft death" of divino-diabolical emotions and with regrets about the future.
"Ayin Aleph I" is an elaborate album with layers and layers of densely structured harmonies and melodies. While "Ayin Aleph II" is not as intense, there is still a chaotic element that threads though much of the music on both albums. At the same time it feels natural and integrated. How does your music evolve from concept to completion?
It evolves like each suffering: at the beginning it is a shock because of something new that goes through your existence spontaneously like a bullet; the "swimming" period in some spheres with the hopes to find the source of that; and the tragedy of despair and love into eternity. All that is like inside life: of course it is highly intensive. Even if the musical period is less intensive, this strength is hidden simply in the depth in order to have its blast just after.
You see an affinity between metal, opera and baroque chamber music. What gave you the idea to integrate these musical forms and how did you know that it could be done so successfully?
I do everything myself on the level of inspiration. All the elements and musical norms are gathered between each other alone, like my music is asking for it. I do like it asks without digging into an analysis of the musical form or style. I am sure that all music cannot be "from" someone, even from its creator. I think that each creator is only a workman of inspiration that is coming down on behalf of Heaven.
With that said, "Ayin Aleph II" focuses more on the acoustic side of your music – "Ayin Aleph unplugged" so to speak. Your vocals are brought to the front and the music is softer while retaining its distinctive edge. If "Ayin Aleph I" was made for the avant-garde metal heads out there, who is the audience for "Ayin Aleph II"?
A much larger public. Because the sonority of metal belongs only to metal and the hard rock public. For the rest of the people this kind of sonority is not possible. I did this record like a transcription of my metal music. For me, in music, the first and last thing is melody. If someone doesn't accept the saturation or distortion, I can easily do without it which means denude my music and show it to the public that hates metal or rock with all the ingredients that are composing my metal cake. My metal public like this album no less than the first one. I also enlarged my public with the gothic-classical public and some jazz fans.
The trill in your voice gives you one of the most recognizable voices in metal. It can morph from a sultry whisper to a shrill cry instantly. There is such conviction and versatility in your vocals and you maximize the emotional impact on every track. How did you develop such a unique vocal delivery? Does it augment your music in a way that traditional operatic vocals wouldn't?
Of course, I don't sing in an operatic way except the very sharp notes where it is not possible to sing with my natural voice. In sharp sonority, if you don't sing with the head voice it is impossible. The vibrato of opera is essential: remember Freddie Mercury. The rest are only emotions that express with the means of the notes. I use my voice more like an instrument but not like a singer. My vocal sense evolves alone linked with the music and its requests. The idea is such: I search with my voice for the right musical expression that (sometimes very strangely) corresponds to the emotion involved. Of course, in opera there are too many codes and laws. It is divinely beautiful but this universe exists with a certain part of the public: a little elite of professionals or opera amateurs, but I, as a singer, exist for a much larger public and I search for the means of a direct liaison with those people.
Your music has such a theatrical aspect to it that it craves a visual component to complete the listening experience. The meticulous detail and staging in your videos and stage shows look to be so integrated with the music that in some ways listening to the music alone is incomplete. Do you compose with that visual performance component in mind or is the music meant to stand on its own?
My music is, of course, very linked with my visual realizations but all my videos are my sole point of view on this music. But with another individual that is listening to my music without watching my video can have completely different visions linked with his own experience and knowledge of this world and with his own luggage of emotional sensations. Here is my music. It exists completely without the videos in order to give the possibilities to each of us to create its own visual universe.
You project a strong sexual image in your videos and promotional materials but it doesn't feel like it's done in a gratuitous manner. We see you at times dirty, bloody and disheveled but you always maintain a potent sexual aura. What role does your sexuality play in expressing yourself musically and in the visual presentation of that music?
Not a very big role. But I think there is a blink of the eye at the very first moment. But for me it is an allegory of the human sin. All people observe beauty very quickly but at the same time don't want to understand the source of this beauty by transforming it into vulgarity. Vulgarity kills this sense of beauty. The source of exteriorized attraction and the beauty are simply love. But not the stupid use of this love like a satisfaction of low physical envies. Love and beauty like the consequence of this love disappear forever… And I yell into the space about that in all my videos.
Your lyrics contain the same detail and potent imagery as your music. Does the music infuse the inspiration for the lyrics or viceversa? How do they serve each other in context of your overall musical vision?
Of course, music gives birth to all my lyrical characters. It's like the lyrical drawing of all my sufferings and their history, mixed with my cerebral remarks. With the tools of my lyrics, I explain not only the mood or the subject.With them, I help go to the depth of emotions and you definitely know that emotions and sensations give birth to this sublime substance: music.
It's difficult to discuss your music without touching on the reaction it arouses. When your name comes up with metal fans there are generally only two reactions: love or hate. There is no ambivalence towards your music. It gets a strong polarized reaction – which is rare thing. Is it simply a matter of taste or are the detractors just missing something? Does it even matter if they love it or hate it as long as you achieve a reaction?
I know that people either love me or hate me and that's the same with my music. For me the people who hate exist in two categories: the ones that don't understand and they are disturbed; the second category understand everything and it's normal that they hate me because for human nature it is normal to love weakness – something lower in order to feel its own existence. The strength and beauty (of course I don't speak about myself) call only for love from individuals that have the beauty of soul and body and, of course, from individuals less strong and beautiful it's called jealousy. That is completely normal and about that I speak a lot in my videos. To love everybody and everything is not possible. Each person has his own taste, his color of love, his state of mind and his level of strength. To not understand is possible but the hate at the end kills the one who hates. If you don't like something, don't take it. Take something that is compatible with the chords of your soul and believe me you will not have the time to hate something.
Your music shares many musical ideas with the American musician Tom Waits. He hijacks traditional music forms, strips them of convention and injects a disorder and mayhem that creates a glorious musical noise that is only identifiable as his. His raspy vocal delivery is legendary as well. How important is it to evolve the musical form and push the boundaries of musical expression as an individual?
For me, Tom is an actor inside music. But me I am a musician inside cinema. It means that I do music and then I am transforming myself as she requests it from me. If this music takes or changes the expression or the shapes, I change as well in the same way and I hope that you can see that in my videos.
You go to great efforts to create a complete visceral experience for the listener. Is it more important to respond to music from and emotional level or an intellectual standpoint?
Only with the means of emotions: the highest in art was born from the emotion that sourced this envy or another envy. The envies have built that. The intellect can only do a very primitive and materialist analysis of the emotions.
In the movie "Bill and Ted's Excellent Adventure", Beethoven is kidnapped by two teenage time travelers and brought to the present. At one point they leave him alone in a music store and return to find him gripped in fervent compositional rapture using synthesizers and other modern instruments. Your music could have just as easily been used in that movie. Does that scene resonate with you at all? Do you have an attraction to taking older music and amplifying idea and form through modern technology?
'My music worn in a form of song is, of course, a music of cinema.
Your music can be a challenging listen for the uninitiated. What advice do you have for people who want to understand your music better who might not have the frames of reference?
Clean your eyes, clean your ears, understand what you like and what you don't like, exist in the place that you correspond to with the people that you like. Stop lying to your own soul because only your soul knows what is convenient for you and what is not. Throw out the concept "I must". Don't wear the shoes of others. The word "I must" should be changed to "I love" or "I like". Gather your pains with my pains, for instance, and you could see my music in a very different way. The point of view can change each time but your envies – like an expression of your love – will never change.
You have mentioned in the past that you've been working on a metal opera and a metal requiem. Are there any new developments or surprises in those areas? Is there an "Ayin Aleph III " looming anywhere on the horizon?
I already have some songs for the new album and some drawings for the video and the music of my metal opera.
With the contrasting styles of "Ayin Aleph I" and "II" and interacting with the crowds at your live shows, who do you see as your core audience?
The metal, gothic and classical public.
(Famous) last words?
Be in love or fuck off and die.
Links
MySpace * Facebook * Twitter * Site
Latest Multimedia
Label : Sensory Records
Review By Tony Cannella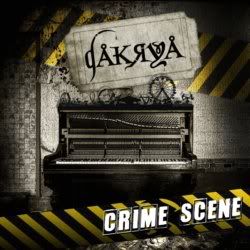 From Greece comes the avant-garde metal band Dakrya. On their impressive 2008 debut, "Monumento", Dakrya proved to be a difficult band to categorize and the same holds true on their new album "Crime Scene". The bands style and influences are wide ranging and they manage to incorporate it all in a metal framework.Dakrya are a band that really does not set any boundaries or limitations on themselves and that much is certain on "Crime Scene". The opening intro of "The Charlatans" kicks things off. This song is actually a straight-forward metal track, with a powerful guitar riff running throughout the duration of the song. "Blind Man's Bluff" is a great sounding second track, as female vocalist Christina Kalantzi really stretches her vocal range throughout this one and this track also features a number of cool tempo changes. With all that is going on throughout their songs, Dakrya still manages to inject heavy doses of melodicism – which is always a plus in my book. Other songs worth checking out: "Scare Mongering", the bombastic "The Urban Tribe", "Camouflage" and "Phantasmagoria". With "Crime Scene", Dakrya has released an album that is both adventurous and challenging but in the end, the payoff is well worth it.
Rating – 80/100
Tracklist
The Charlatans
Blind Man's Bluff
Scare Mongering
The Urban Tribe
Camouflage
Phantasmagoria
Inertia
Dramatis Personae
A Dreadful Side Scene
Line Up
Christina Kalantzi – Vocals
Thomais Chatzigianni – Vocals
George Droulias – Guitars & Vocals
Angelos Charogiannis – Guitars
SophiaX – Keyboards
Alex Drake – Bass
Stavros Vorissis – Drums
Links
MySpace * ReverbNation * Facebook * Twitter * Site
Label: Another Sphere Records/279 Productions
Review by Tony Cannella
Dakrya is a Greek word written with Latin characters and means Tears In metal circles they are a six person band from Greece. They have been in existence since 2004 and feature three female members in their ranks: Sophia X (keyboards & piano), Christina (lead vocals) and Thomais (Classic vocals). The band is completed by George D. (guitars), Alex D. (bass) and Stauros V. (drums). Musically, they are described as Theatrical Atmospheric Metal and they have just issued their debut effort titled "Monumento". The opening track "Crucifixion of Faith"opens with some really cool keyboard music and some male spoken word passages before things speed up and get heavier. Vocalists Christina and Thomais work well together and the male brutal vocals are supplied by Dagwn (from the band Nethescerial) throughout the CD. Next up is "Thorns of Punishment". This is one monster of a song. It is heavy, with a great guitar riff, with lots of changes and the interplay between the different vocal styles is a definite highlight and one of this bands strengths. "Newborn Hope"is next. Once again it begins with an eerie keyboard passage. It starts off slow, before getting heavier and evolving into just a classy track with plenty of atmosphere. Once again this song features some spoken word passages. Next is "Reflexions & Illusions". This is more of a straight forward metal track, but effective nonetheless. Next, we have "Waters of Oblivion". This is more of a mid-tempo number, but it still has plenty of aggression and great vocals. It keeps things going nicely. "Revelations of a Madman" is probably my favorite track here. It's got an epic feel and the three vocal styles are amazing and really gives the song an added. "Black Opera (Opus IX)" is another favorite. At 7 minutes long this is longest track. "Wingless Souls" closes things out on a classic note. This just a piano song with operatic vocals and orchestration. This is a beautiful track that really wraps things up nicely. The majority of the songs were written by Sophia X. She is obviously very talented in that respect as the songs are not your average, run-of-the-mill metal songs. It is quite apparent that she puts a lot of thought and effort into the material. "Monumento" is a fitting title for this CD. It's sound and ambition is indeed monumental. The songs presented here are heavy and aggressive whilst still being melodic and accessible. The music ranges from beautiful, symphonic passages to brutal all-out metal. The different vocal styles are a nice touch and a good way to change things up a bit. All of the vocal styles fit perfectly with the songs and they do a great job in conveying the emotions and feelings they are meant to. The talent and style shown by the two female singers is immense and the male brutal vocals are done very well. "Monumento" features 10 songs and 53-minutes worth of well thought out music that has a lot to offer the listener.
Rating – 85/100
Tracklist
Crucifixion of Faith

Thorns of Punishment

The Newborn Hope


Reflections & Illusions

Waters of Oblivion

Inner Scream

Revelation of a Madman


Into the Vortex

Black Opera (Opus IX)

Wingless Souls (Buons Track)
Line Up
Christina Kalantzi – Lead Vocals

Thomais Chatzigianni – Classic Vocals

Sophia Charalampous – Keyboards

Alex D. – Bass, Vocals

Stauros V. – Drums
Links
6 color styles available:

Style switcher only on this demo version. Theme styles can be changed from Options page.