Browsing articles tagged with " this"
Label : Century Media Records
Review by Tony Cannella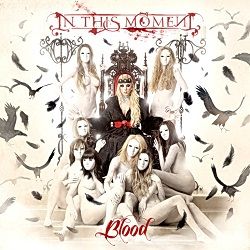 The American metalcore band In This Moment released their last album "A Star-Crossed Wasteland" two years ago. Since then the band has undergone a lot of changes, with vocalist Maria Brink and lead guitarist Chris Howarth the only remaining members from the previous band. Now they are back with perhaps their heaviest, most aggressive and adventurous albums to date titled "Blood".
The opening 2-minute intro "Rise With Me" is disarming. It has got an eery feel to it, but is just the calm before the storm as the band launches into "Blood". In This Moment have always done a great job in balancing melody with aggression and "Blood" is no different. Continue reading »
Label : Robo Records
Review by Tony Cannella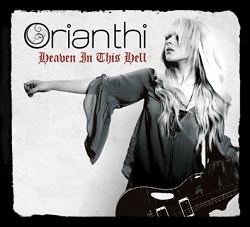 Orianthi Panagaris is a 28 year old singer-songwriter guitarist from Australia. Previously she had been best known as the lead guitarist for Michael Jackson on his "This Is It" tour, a tour that never materialized due to his untimely death. From one legend to another she can be seen as the lead guitarist for shock-rock icon Alice Cooper on his current tour. In 2010 she won the award for "Breakthrough guitarist of the year" from Guitar International Magazine. In 2007 she released her debut album "Violet Journey" and followed that up in 2009 with "Believe". Now Orianthi returns with her 3rd solo album entitled, "Heaven In This Hell". Continue reading »
Interview by Ary R.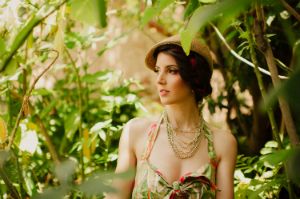 Some of you know this band thanks to Ryan Folden's work, After Midnight, some other got in touch with these guys on the occasion of the Dark Adrenaline tour by Italian act Lacuna Coil. Who are we talking about? The answer is here: American band THIS IS SHE, that in this 2012 enter the music scene with a well-respected EP, "Nobody Is Ok". As soon as the tour came to an end, I had the pleasure to exchange some chats with the sweet Alana Grace, that revealed something about this European tour and about the new goals of the band. This week Femme Metal hosts an interview with This Is She and we have the pleasure to talk with the singer Alana Grace.
Hi Alana, welcome on our website. How are you doing?
I'm doing great! I'm happy to be back from tour and relax into the holiday season. It's my favorite time of the year, and I'll get to see my family soon so it's a good time.
This Is She is an American music reality that slowly tries to introduce itself in Europe in the proper way. Would you like to share something about the band biography or about your musical careeer?
I met Christian and Ryan back in 2009 when I toured with the Vans Warped Tour. They were out with their band After Midnight Project at the time, and we all bonded together throughout the summer. Both bands had their ups and downs and in 2011 I think we were all ready to try something new for a change. I had an idea for an electronic rock band, and I was looking for players right as After Midnight Project decided to take a hiatus. So we hopped in the studio together and wrote for a few months before starting to play live. Finally we released our first EP in July of this year and have been trying to promote it ever since.
You've ended up the European tour recently, This is She was chosen as the support act for the Italian band Lacuna Coil. How would you describe this experience?
It was an incredible experience for us to go on tour with Lacuna Coil. They are so good live it was a little intimidating at first, but they were very nice to us and we became easy friends. I would say the crowds were awesome for us. They have a really dedicated fanbase who generally had checked us out before coming to the shows. It was so much fun to see some people were already familiar with our songs, and it really made us feel at home with their fans.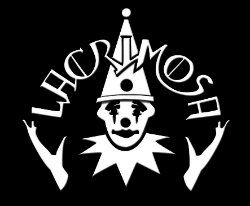 Interview by Miriam C.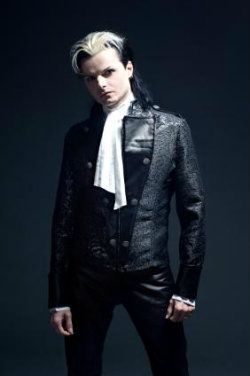 After four three of silence gothic/darkwave Swiss duo Lacrimosa are back! So we took the chance to ask a few question to the mastermind Tilo Wolff about on "Revolution", the new album out on Hall of Sermon.
Hi Tilo, first of all thank so much for reply at our questions. How are you??
Pretty fine. We are on tour in Germany right now, have the last five shows ahead and so far we are pretty happy with everything that happend during the tour!
"Revolution" comes after a three year break with "Sehnsucht", how was the album's genesis, when have you started to nail down the first lyric?
Actually the first lyric for "Revolution" was "This Is the Night" which I wrote in Bejing right after we played there in 2009. So the first seed for this album was planted while we were still on tour with "Sehnsucht" which might also be the reason why this new album sounds like the conclution of the previous one.
For this last album you have worked with Mille Petrozza (Kreator) and Stefan Schwarzmann (Accept), how's this collaboration was born and how was working with them?
It was quite spontaneous. Mille was at my house visiting me and I played him the track "Revolution" in a version recorded by myself. He instantly liked it and asked if this would be the final version. "Why?" I replied and he said that he'd like to play this song himself. Of course I had nothing against it and then he played more and more songs getting really into it! Afterwards I asked Stefan if he'd like to participate on the production since we already some time ago talked of doing something together, and well, so it developed.
Will you shoot any videoclip from the "Revolution" album? What songs will you choose?
Yes, we made a short clip for "Irgendein Arsch ist immer unterwegs" and a live clip for "Revolution" which is in the post production right now.
How is to be your self entrepreneur of your music? What are, in your opinion, the pros and cons? Also I've read that you have taken the decision to not sign anymore external band like has happened with Sandra Schleret's Dreams of Sanity, why?
The pros are that there is no-one telling me what I shall do and what I shall not do. I can write and produce exactly the music I want to free from any commercial aspects! This is essential for me! The cons are that I don't have much free time. This is also the reason why it always takes so much time from album to album. While other bands are on tour their record labels are preparing the next album and taking care of the promotion while I'm just busy traveling and playing.
Between "Sehnsucht" and "Revolution" are passed 3 years, there's something that you'll change in "Sehnsucht" and, in your order of ideas, what are the differences between the last album and this one?
I improved in the production and mixing matter but I love "Sehnsucht" as it is. Pure and majesticaly unpolished while the new one is straight, direct und uncompromising – so far my favorite album!
What is the lyric in "Revolution" that you are more fond of/attached to? And why?
"Weil Du Hilfe brauchst". Here it all comes together for the album. If we don't realize that we have needs that need to be fullfilled and that there are people around us that might need our help, if we don't realize that we all are sitting in the same boat and will only survive if we row together and not against each other, than we might be lost!
In your long musical career what is/are the thing(s) that you regret the most and there's something that you'll change?
Of course when you are doing all by yourself and have no adviser you make mistakes here and there but all in all I am pretty happy with everything and if things would have been different I wouldn't be where I am right now and where I am right now makes me thankful, so no need to regret anything so far!
How should consider the status of your other band Snakeskin? Something is going on or all is quiet and would be for a long long time?
Well, it's all a question of time. Since years I want to make a new album for Snakeskin but I just don't come to it. Maybe in the end of next year, let's see.
Maybe this question can sound harsh to you but I hope to explain well what I would like to ask : what you can tell me about Anne's musical background and, if I recall right, in 1994, what was triggered the decision to insert/add her in the line up? In the end what was the thing that you have been hit/intrigued about her?
Since I started with Lacrimosa I was trying to find a female voice suiting my voice. Already on the first album I recorded with some but never was so completely happy. When I heard Anne plus she playing after I never had a good live keyboarder I asked her in for some test recordings and musically and personately it worked perfectly.

Well, dear Tilo, I really thank you for this interview, hope you'll finding it entertaining and interesting. I would ask you now to greet your fans and our readers. Thanks
Thank you and take good care!
Links
MySpace * Facebook * Twitter * Site
Photo & Review by Ed MacLaren
Christmas came early to Texas this year as In This Moment's A Winter To Remember tour made its way to San Antonio. But as Santa's sleigh slid to a stop atop Scout Bar, it looked like vocalist Maria Brink's only Christmas wish would be for a functioning ear monitor system. Dressed in a candy cane mini-dress and fuzzy boots and surrounded by sparkling Christmas trees, tinsel and strings of light, Brink, along with guitarists Chris Howorth and Blake Bunzel, drummer Jeff Fabb and new bassist Kyle Konkiel took the stage to the throbbing metalcore of "Next Life" and instantly turned the crowd into a sea of banging heads. However, it didn't take long before ear monitor issues had Brink spending more time at her monitor stack than at the front of the stage. Despite the obvious distraction, Brink and the band pushed through ear-crushing versions of "Prayers", "The Great Divide" and "All For You" before Brink apologetically brought the show to a halt to rush backstage. Brink comes across as very sweet and soft spoken when she's not screaming like a banshee but from her look of frustration, those responsible should have stayed away from the spiked egg nog. In This Moment has been riding a wave of success since 2007's "Beautiful Tragedy" followed the next year by "The Dream". Constant appearances over the last two years with Ozzfest, the Vans Warped Tour and periodic festival spots at the Download Festival have turned the band into a touring monster. Malfunctioning guitars, drums and even ear monitors are daily irritations but the best bands take it in stride. Within moments Brink was back – ear monitor fixed – and definitely more in the Christmas spirit. In This Moment then blasted into a string of their strongest tracks from "The Dream". While "The Dream" featured more clean vocals instead of Brink's trademark screams, the slashing riffs of "Mechanical Love", and the single "Forever" kept the energy level high and gave her a chance to focus on another weapon in her vocal arsenal. Muscially, the band played as tight as Santa's belly after a Christmas Eve eating cookies and milk. Howorth, dreadlocks swirling like a helicopter, kept the riffs coming and the breakdowns fast and heavy but the show belonged to Brink from beginning to end. Brink's instrument is incredible, vocally changing from a guttural yowl to a powerful melodic wail in a heartbeat but her solo turn on piano with the ballad "Into the Light" showed an emotional range had held the audience enraptured. Eyes closed and soaked in sweat, she sang the song of hope in a raw clean voice making the lyrics sound just as personal to her now as the day she wrote it. Just to make sure the audience remembered they were at a metal show, In This Moment finished strong with a blistering take on "Ashes" – with guest screams from Chris Cerulli of opening band Motionless in White – and a truly majestic version of "Beautiful Tragedy". With the crowd primed for more, the band returned for a well deserved encore – not to the stage, but to the middle of the Scout Bar floor. Taking the mosh pit to the next cardio-inspired level, the audience literally ran circles around the band in a "circle pit" while the band slashed through "Daddy's Falling Angel". Things are looking good for a new In This Moment CD in 2010 which means more touring and possibly another visit to San Antonio. For now, there was nothing left for fans to do but head home and nestle all snug in their beds while visions of sugar plums and a killer In This Moment show dance in their heads.
Links
6 color styles available:

Style switcher only on this demo version. Theme styles can be changed from Options page.