Browsing articles tagged with " thomais"
Interview by Si Smith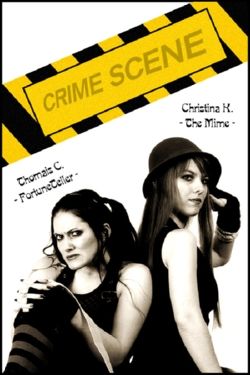 Although Dakrya is derived from the Greek word for tears, there is nothing weepy and morbid about this group of theatrical musicians! Dubbing themselves "The Charlatans" and branding their new album "an avant garde metal freakshow", this septet of metal magick brings you the thrills and spills of the stage alongside the sparkle and allure of the circus. I spoke to two of the leading talents, Christina and Thomais….
First of all, thanks so much for this interview and greetings from all at Femme Metal. You call yourselves collectively the Charlatans. I gather that this is a old 16th century reference to "a flamboyant actor; one who attracts customers with tricks or jokes". How well would you say this describes your little theatrical troupe?
Thomais: Well our little concept is based on this kind of twisted circus world. It's a different but yet the same aspect of seeing the world we live in. It helped us connect with the character each one of us had inside … and bring it to life… Each one of us has its own unique and important role to play within this world.
Christina: We use our music to attract "customers", in our case the audience, and through the cheerful circus themes and musical theater atmosphere we try to introduce them to the "Crime Scene" which is the world that we live in. Our lyrics speak of dreadful stories where money, ego, and fraud are the driving force of our society. So I guess we are Charlatans, we trick people to attract them to our world!
You burst onto the scene in 2008 with "Monumento" which was an invigorating mix of religious and operatic imagery. In contrast the theme of the new album is described in the opening song as involving "a dazzling haze of criminal minds; riddles, traps and horrible crimes". How did this concept for the new album arise?
Thomais: It came really natural I would dare to say! Just look at the world around you… the whole album theme is vital and you are a part of it as well… it is the everyday things we have to deal with… people hiding behind masks feeling artificially beautiful, a world based on creating fear and insecurity… it was really easy for us to evolve with this concept.
Before the release of the full-length itself came the single "The Urban Tribe" as a download. In what ways did you feel that this was a representative track to put out as a single?
Thomais: First of all I believe that this track shows our new style and sound in many ways…the one that could hold the listener by the hand and make him enter our new world step by step and become familiar with the new things we wanted to express.
Christina: "The Urban Tribe" is a song that reflects the change in our musical style in the best way in our opinion. Also we all love it! It's a powerful track, a combination of jazz and swing elements with metal riffs and strong lyrics that holds the essence of the album.
Many of the lyrics of the new album involve jugglers, clowns or mime artists. Your vocals too are extremely theatrical and effectively express different nuances of emotion. What are your musical and/or theatrical backgrounds?
Thomais: Well I started my studies in the vocal area as a classical/opera singer (exactly what I do in "Monumento" album) but I've always had the craving of experimenting with my voice… the sound and color of it. I had a great love for dance and theater as well so musical theatre came across my way and I started searching and expanding my potentials as a singer in this field… I guess that helped me to discover my demanding little dark twisted character in "Crime Scene"!
Christina: Actually I have no theatrical background, never took any acting lessons or participated in a theatrical play. As for my musical background, I started singing since I started talking! I took singing lessons for many years and before Dakrya I was in another metal band. But I believe singing and acting are strongly connected, and many times you are called to play a role when interpreting a song. So I think it would be very useful for me and probably any singer to take some acting lessons.
The "roving" rhythms of tracks such as "The Urban Tribe" and "Camouflage" are highly reminiscent of the recent achievements of bands such as Diablo Swing Orchestra. Where would you say your influences are, as musicians, vocalists and performers?
Thomais: I think that the fact the seven of us has so many and different influences and sounds we like to listen and experimenting with gives this rare and weird sound. Of course we love bands such as DSO and Unexpect, but speaking for myself I really love soundtracks, alternative music, jazz, blues, and artists that love to take their sound one step further and create different and unique worlds like Tool, Porcupine Tree, Shining… there are so many I could name right now… I also have many pop – electro and industrial favorites, folk and world music as well… there are no limits in what I listen to, it depends on my emotional state every time.
Christina: We all like Diablo Swing Orchestra and I guess their sound was a great influence for us. As for me as a vocalist, my influences are quite diverse. From Dusty Springfield and Aretha Franklin to Bruce Dickinson! I love soul music, blues and jazz, while musicals like Chicago give me ideas about my stage performance. I want to find my own identity as an artist and i always have my eyes and ears open during this way.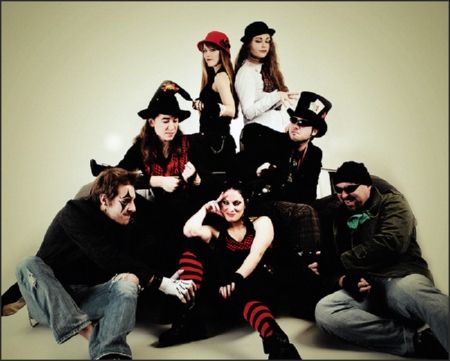 The album slows down a little for "Inertia" then bursts into life again for the arrival of "Dramatis Personae", which swells up like a Final Act before the ending of the play. In what ways does this song encapsulate or summarise some of the main themes of the album?
Christina: ''Dramatis Personae" is actually the Final Act, as it reflects the main reason for the fear, the consumerism, the corruption and generally the madness that composes today's life and were mentioned in the previous tracks. We all play roles, we are actors in a play we don't really know the scenario, but have to improvise every time for our own advantage or the advantage of those above us. As the song says if you want to survive "play your role right!"
You have recently been signed by Sensory Records, the same label as bands such as DSO, Wuthering Heights and Circus Maximus. In what ways (if any) has this changed the way things are done in Dakrya? In what ways is the label supportive of you as artists?
Thomais: Well we are satisfied that this cooperation came up! We have the right promotional support and many chances to take our sound beyond the borders of our country. We feel very proud sharing the same floor with so talented artists and it has helped us focus more on our targets for the future.
Christina: We are very glad we had the chance to be signed by Sensory Records. They have appreciated our work from the beginning and they support and promote us a lot, especially in the USA. So as far as we are concerned we try harder to do everything with professionalism and become better musicians and performers through a lot of work, so that we can return their trust in us.
By now you will have just completed your first February show in Athens alongside Psycrence and Allen's Hand. Please tell us how the show went!! What were the highlights for you?
Thomais: We had such a really nice time and enjoyed ourselves a lot!!! It was the first time that we played for the Greek audience after so long and introducing the brand new concept and album to them was pretty challenging… it came up more like a theatrical show in the end! I was very exciting feeling this live contact with the audience again!!!
Christina: Yes, we had our first show in Athens on February after the release of our new album "Crime Scene" and it went really great! We enjoyed it a lot and I think the audience enjoyed it as well. We had the chance to play in a great venue, the sound was very good and generally we didn't face any problems or misfortunes. As for the audience I think the whole show, with our performance enriched with theatrical elements came as a surprise to them!
The whole Dakrya experience must be very daunting to recreate in the live environment. How on earth do you all keep track of all the elements involved? This surely must involve a lot of practice….
Thomais: Yeah it takes a hell of a practice!! Haha… well every rehearsal is a small show for us… cause as you very correctly said we have to give this sense of theatrical experience to the people that will give it a try and check us live. We also have this need of creating a vital world to bring those characters we get to play, into life. So we came up with lots of ideas and combined them interactively into our show…
Christina: Yes, the truth is that it's really difficult to recreate live the whole concept of "Crime Scene". When we do our rehearsals we practice on everything. It's kind of preparing a theatrical play where we have to take care of the costumes, the stage scenery and our whole performance apart from playing music and singing. Every song is a story we want to tell people and we enrich it with theatrical elements. On February's show the audience took a small taste of what is coming up because we're still working on it and try to make our stage performance better and make a step forward all the time.
I imagine it must be good for morale to have more than one vocalist up on stage at any one time. How does the dynamic work between you two? How do you manage to encourage each other when things get rough along the way?
Thomais: Well it was a spiritual kind of bonding that we shared from the very beginning… We managed to work perfectly together and had many ideas on how to create styles and melodies within the songs. We came to the point that we can choose the parts that Sophia gives us to work just by instinct. I feel that without each other the whole concept wouldn't be whole… I would feel incomplete as a voice and theatrical character if Christina wasn't there; knowing how important we are to each other encourages us and gives us strength for the show to go on!
Christina: We work perfectly together and sharing the stage has become something essential for us. Actually we can't imagine Dakrya with just one of us! I think we complement each other and we manage to create a balance on stage. We always help and support each other and for example if I forget any lyrics, Thomais is there to cover it up and this can be a great relief!
With all the different ideas that make up a Dakrya album, how do the creative roles divide up between the band members? How does the average track get written?
Thomais: Each one of us created his own character and gave it personal characteristics. The average track and idea is written by SophiaX and then all of us are involving our ideas and colors in it… she gives us the toys and then we play haha… then the roles and their development are take their natural way I believe due to the fact that we are not only band mates but very close friends, we know each other's way of thinking and there is a bidirectional trust in between us… so we always respect each other's "sound space".
Christina: Usually SophiaX is the one that composes the music and writes all the lyrics. So after the main directions from SophiaX, we all have the chance to add our own ideas and improvise on our instruments. Along with Thomais we get the music and the lyrics and then we make the vocal arrangements with SophiaX helping us especially when it comes to matters of expression and interpretation of the lyrics.
Finally, it would be great to know if you have any hopes of aspirations for the future of Dakrya. Or for yourselves as individuals? Is there anything revealing you would like us to know about yourselves before we close?
Thomais: We are planning to have some shows here in Greece and hopefully abroad, because we will be entering the studios once again soon!!!
Christina: What we really want for the future is to keep playing music that expresses us and making albums like "Crime Scene" which we feel very proud of. We are planning to have more live shows around Greece and abroad and we want more people to enter our "freakshow"!
Thank you so much for taking part, really, you guys do a great job, and we at Femme Metal wish the album and the Charlatans all success in the future!!
Christina: Thank you as well for your support and this great interview! We hope to see you all soon on stage!
Links
MySpace * Facebook * ReverbNation * Twitter * Site
Latest Multimedia
Interview by Erwin van Dijk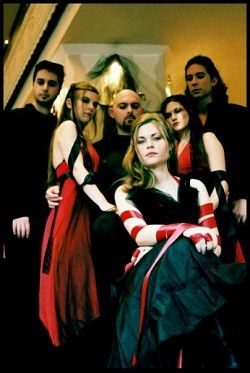 Dakrya is a gothic metal band from Greece and the bandname means "Tears" in Greek. They recently released their debut album called "Monumento".
The first question: can you tell us something about yourself?
Christina : Hello, I am Christina and I am singing in Dakrya. Singing sets my soul free, makes me feel alive, and I hope that through our music the audience will find a way to express their feelings.
Thomais : Well… I am Thomais sharing the vocal area (the more classical one) with Christina in Dakrya too. It's a tough job but someone has to do it… haha I'm just kidding. Love sharing the stage with those guys cause they are my friends, and like a family to me.
How did you get into the music business? Did you always wanted to become a singer?
Christina: I always wanted to become a singer, since I remember myself. As a child I used to give performances in front of my parents! My deepest will was to sing and share this joy I felt with others. When I graduated from high school I thought that journalism was a good idea, so I studied mass media at the university. But singing is something that has always been chasing me and I'm quite sure that I won't let it go! At the age of eighteen I started singing lessons and soon I came across people who helped me find my way into the music business.
Thomais: Certainly a tough one, and difficult to handle with! Well, its classical background makes it even more demanding when I have to combine the techniques in this kind of music and it has its needs of space and time. That's why I believe emotion and expression are so important. They give colour and meaning to a voice, helping you pushing your limits further.
Guitarists and drummers can talk endlessly about their gear. Since you are one of the singers of Dakrya, what do you do to keep your voice in top condition?
Christina : As I said before, I've attended singing lessons for 4 years and I'm still working on my voice with exercises. Actually, I'm going to continue the lessons and try to improve my technique and my potentials.
Thomais : For me keeping my voice in a good condition is really important. It's my instrument and the way I handle it shows in the results so I have to be careful. I always prepare my voice before a show, rehearsal or entering a studio. Of course there is a weekly exercise too. The voice is a very fragile instrument and a unique one in every human being. You have to practise its different abilities every day and it never stops to amaze you.
Have you played in other bands before Dakrya? Or do you have an other band besides Dakrya?
Christina : I've participated in another band before Dakrya. That was my first experience in a band, which helped me to learn how to cooperate with other musicians and move on. We didn't have discography or even a band name, we were just a group of people who shared their love for metal and rock music. At the moment Dakrya is my only band and try to give my best to it.
Thomais : Yes I have been in other bands. I was the singer of Insidius Infernus for a period of time, a Greek black metal band, releasing two albums in our active years. I was 17 years old back then and had the cliché nickname Luciferia… hahaha. I have also participated in some theatrical choirs and giving session performances… at the moment I'm giving my full attention to Dakrya and I'll keep it that way for a while as we have new recordings coming and shows to give.
To what kind of music do you listen yourself? And who is your favorite singer?
Christina : I love music in general, but metal and rock music have a special place in my heart. Black Sabbath is my favourite band, with their incomparable riffs stuck in my head! Lately I'm more into southern rock, and listen to bands like Monster Magnet and the Greek's Nightstalker. As for the voices I admire, I love the powerful voice of Bruce Dickinson, the absolute rock voice of Axl Rose and the black voice of Joss Stone.
Thomais : I prefer listening to music that suits my emotional state at any time, I have some favorites starting with Primordial, Shinning or Meshuggah (the third one will make our guitarist really happy! Haha), ending with Loreena McKennit, Ayreon and so on. I listen to metal and classical music of course but I also love industrial, folk – acoustic and rock in general.
Christina, what are the differences between you and Thomais when it comes about singing for Dakrya?
Christina : Thomais has a more lyrical voice with a classical background and as I said we try to combine our voices. Of course, each voice has a different role in the songs. I believe that in Dakrya we are experimenting so much with our voices that sometimes our voices seem like one.
Thomais, what are the differences between you and Christina when it comes about singing for Dakrya?
Thomais : Well, first of all how our voices make as different… plus she is blond! Haha! Every song is a different concept… we have to express different emotions, playing a different role in a more theatrical aspect. That gives us different orientations, but makes us more bonded too. Depending on what you need to feel that very moment you listen the song.
What is the idea behind the band name?
Thomais : Dakrya is a Greek word written in Latin characters and it means 'tears.' I guess Sophia came up with that name for the band because she was having a kind of dark and esoteric period, nostalgic or even a hopeful one. A tear can be shed for many reasons… joy to anger, sadness or fulfillment.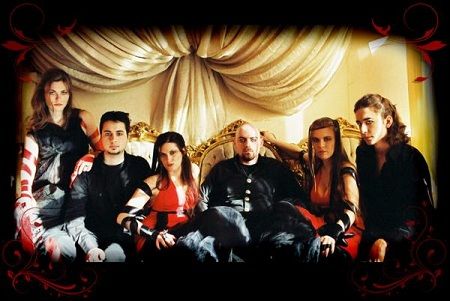 Can you tell us something about the songs present on the debut album?
Christina: The first three songs in the album is a trilogy. They are talking about faith and its loss, the punishment that follows and the domination of pain, and finally about the newborn hope that rises from the ashes of our existence. The human element is very intense through the songs and they describe the emotional changes of a man and the function of the subconscious.
Thomais: All the songs have their own reason to appear in the album, even their order and their structure gives them a concept meaning. Past dominates and bounds a timeline when things change us personally, musically even the people participating in this attempt of giving life in this work. It's a monument of memories that became melodies for you to listen.
About the songwriting: is there one mastermind in the band who does all the writing or is it teamwork?
Thomais : Yes, all the credits go to SophiaX for that. She begun having a dream and tried give it life through her compositions and lyrics. Christina and I create all the vocal arrangements and George D. enriches the sound with extra guitar parts and solos.
Dagwn, the singer from Nethescerial did the brutal vocals on "Monumento". How was it to work together with a male singer?
Thomais : It was fine! We had a great time and fun during the studio sessions! We needed a masculine feeling and he clicked really nice. He is doing a great job with his band too and he was the first we though for the guest vocals.
Christina : It was fine! We had a great time and fun during the studio sessions! We needed a masculine feeling and he clicked really nice. He is doing a great job with his band too and he was the first we though for the guest vocals.
And how are you going to do his part live? With guest singers?
Thomais : George has already taken the responsibility for the brutal vocals and it works really well on stage too. Well, guest singers may appear in the future but for different reasons and not from the lack of one.
Christina: Yes, I think it's time for George to show all of his talents!
I could find little information about Thomas K, who did the declamations on "Monumento". Who is he?
Thomais : Thomas is a very good friend of us and had been preparing during rehearsals as a second guitarist for a small period. He left the group though for his own personal reasons and we won't have him with us but of course our friendship still remains.
Christina : Thomas K except from our friend I believe he is our biggest fan! He is very supportive and we are so grateful about it.
There are not many metal bands from Greece and certainly not with female singers (exceptions are to name a few Ismini and Astarte) Can you tell us something about the music scene in Greece. Is it difficult there for the more heavy metal oriented bands?
Thomais : Things are very difficult in the metal Greek scene in general. Labels don't pay a great attention to newcomers and sponsorships are rare in the beginning. So you have to try with your own forces, to prove yourself to the audience who is the only factor that will set the fate of a new group, by accepting or reject it.
Christina : Actually there are many metal bands in Greece. The problem is that it is very difficult for metal bands here to move on and become known to a larger audience and especially outside the borders of Greece. The most popular music in Greece is the local Greek music and dominates the music business without leaving any opportunities for metal or even rock bands to develop. It is really sad…
And since Greece is relatively far away from Western Europe (some 3,000 kilometres by car) is that the reason why we see not many bands from Greece tour in the west? (Besides Rotting Christ).
Thomais : All that I said before comes to the answer in your question. A label will make an attempt to support a band and helping it's effort by booking a European tour and so on, when it will notice it's success and acceptance in Greece.
Christina : If you don't have some kind of financial support I think it's too difficult to tour to Europe. Especially for young people who are working hard just to make a living and they have no savings…
So, are there any plans for a tour in Europe?
Christina : There are no plans at the moment, as we want to tour in Greece first, but there are a few potentials for European gigs in 2009 and we are going to make it true despite the obstacles! We want to see the world and taste new experiences as musicians and as persons too.
And the last question, are there things the reader should know that I haven't ask?
Thomais : Thank you Erwin, for giving us the chance to come closure to the audience. We would love to see you soon by giving a live performance in your country.
Christina : I want to thank you too! Well, the readers should know that we have some new stuff to work on and hope we will surprise them positively!
Links
MySpace * Facebook * ReverbNation * Twitter * Site
Label : Sensory Records
Review By Tony Cannella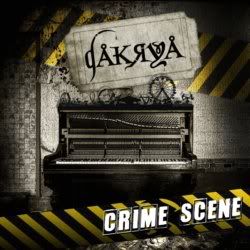 From Greece comes the avant-garde metal band Dakrya. On their impressive 2008 debut, "Monumento", Dakrya proved to be a difficult band to categorize and the same holds true on their new album "Crime Scene". The bands style and influences are wide ranging and they manage to incorporate it all in a metal framework.Dakrya are a band that really does not set any boundaries or limitations on themselves and that much is certain on "Crime Scene". The opening intro of "The Charlatans" kicks things off. This song is actually a straight-forward metal track, with a powerful guitar riff running throughout the duration of the song. "Blind Man's Bluff" is a great sounding second track, as female vocalist Christina Kalantzi really stretches her vocal range throughout this one and this track also features a number of cool tempo changes. With all that is going on throughout their songs, Dakrya still manages to inject heavy doses of melodicism – which is always a plus in my book. Other songs worth checking out: "Scare Mongering", the bombastic "The Urban Tribe", "Camouflage" and "Phantasmagoria". With "Crime Scene", Dakrya has released an album that is both adventurous and challenging but in the end, the payoff is well worth it.
Rating – 80/100
Tracklist
The Charlatans
Blind Man's Bluff
Scare Mongering
The Urban Tribe
Camouflage
Phantasmagoria
Inertia
Dramatis Personae
A Dreadful Side Scene
Line Up
Christina Kalantzi – Vocals
Thomais Chatzigianni – Vocals
George Droulias – Guitars & Vocals
Angelos Charogiannis – Guitars
SophiaX – Keyboards
Alex Drake – Bass
Stavros Vorissis – Drums
Links
MySpace * ReverbNation * Facebook * Twitter * Site
Label: Another Sphere Records/279 Productions
Review by Tony Cannella
Dakrya is a Greek word written with Latin characters and means Tears In metal circles they are a six person band from Greece. They have been in existence since 2004 and feature three female members in their ranks: Sophia X (keyboards & piano), Christina (lead vocals) and Thomais (Classic vocals). The band is completed by George D. (guitars), Alex D. (bass) and Stauros V. (drums). Musically, they are described as Theatrical Atmospheric Metal and they have just issued their debut effort titled "Monumento". The opening track "Crucifixion of Faith"opens with some really cool keyboard music and some male spoken word passages before things speed up and get heavier. Vocalists Christina and Thomais work well together and the male brutal vocals are supplied by Dagwn (from the band Nethescerial) throughout the CD. Next up is "Thorns of Punishment". This is one monster of a song. It is heavy, with a great guitar riff, with lots of changes and the interplay between the different vocal styles is a definite highlight and one of this bands strengths. "Newborn Hope"is next. Once again it begins with an eerie keyboard passage. It starts off slow, before getting heavier and evolving into just a classy track with plenty of atmosphere. Once again this song features some spoken word passages. Next is "Reflexions & Illusions". This is more of a straight forward metal track, but effective nonetheless. Next, we have "Waters of Oblivion". This is more of a mid-tempo number, but it still has plenty of aggression and great vocals. It keeps things going nicely. "Revelations of a Madman" is probably my favorite track here. It's got an epic feel and the three vocal styles are amazing and really gives the song an added. "Black Opera (Opus IX)" is another favorite. At 7 minutes long this is longest track. "Wingless Souls" closes things out on a classic note. This just a piano song with operatic vocals and orchestration. This is a beautiful track that really wraps things up nicely. The majority of the songs were written by Sophia X. She is obviously very talented in that respect as the songs are not your average, run-of-the-mill metal songs. It is quite apparent that she puts a lot of thought and effort into the material. "Monumento" is a fitting title for this CD. It's sound and ambition is indeed monumental. The songs presented here are heavy and aggressive whilst still being melodic and accessible. The music ranges from beautiful, symphonic passages to brutal all-out metal. The different vocal styles are a nice touch and a good way to change things up a bit. All of the vocal styles fit perfectly with the songs and they do a great job in conveying the emotions and feelings they are meant to. The talent and style shown by the two female singers is immense and the male brutal vocals are done very well. "Monumento" features 10 songs and 53-minutes worth of well thought out music that has a lot to offer the listener.
Rating – 85/100
Tracklist
Crucifixion of Faith

Thorns of Punishment

The Newborn Hope


Reflections & Illusions

Waters of Oblivion

Inner Scream

Revelation of a Madman


Into the Vortex

Black Opera (Opus IX)

Wingless Souls (Buons Track)
Line Up
Christina Kalantzi – Lead Vocals

Thomais Chatzigianni – Classic Vocals

Sophia Charalampous – Keyboards

Alex D. – Bass, Vocals

Stauros V. – Drums
Links
6 color styles available:

Style switcher only on this demo version. Theme styles can be changed from Options page.