Browsing articles tagged with " tolkien"
Interview by Robin Stryker
Femme Metal spoke with Leeni-Maria Hovila, frontwoman of Finnish extreme fantasy metal band, Kivimetsän Druidi, six months ago. Since that time, the band has completed a massive North American tour and released its sophomore album, "Betrayal, Justice, Revenge" (Century Media 2010). We are delighted to chat with Leeni-Maria again and get caught up on Kivimetsän Druidi's whirlwind of activity.Hello, Leeni-Maria! We're glad you could join us today.
First things first, please tell us about Kivimetsän Druidi's new album, "Betrayal, Justice, Revenge".
"Betrayal" is our second album — the first in which I have made most of the lyrics, and the first in which we have tracks composed also by our drummer Atte and lead guitarist Rinksa.
If you had to describe the new album's sound in three words, what would they be?
Massive, symphonic, complex.
The title, "Betrayal, Justice, Revenge", has a nice ring to it. Where does the name come from?
It is simply a summary of the things and ideas happening on this album.
From earlier interviews, it sounds as though the band was not completely satisfied with its debut album, "Shadowheart". How much of the harder, more aggressive sound on the new album comes from a natural evolution in Kivimetsän Druidi's music, versus lessons learned from the first album?
The compositions are all natural evolution which was not even as fast as it would seem by listening to these two albums. All the elements of the tracks on "Betrayal" were already present in the few new songs of "Shadowheart", but most "Shadowheart" tracks were both very old and some very new material which sound quite different from one another. On the other hand, the harder, more aggressive sound in general is all about making "Betrayal" sounding how we wished "Shadowheart" would, so that was about a lesson learned.
As I understand it, you are a classically trained soprano. Did you ever consider pursuing a career in opera, instead of metal?
I don't have a great desire for that. The opera world seems a rigid place to me, also I do not have such a big voice. If I do classic genre and I do study it at the present, I am a lied-oriented performer, that is an other-than-opera- kind of classic vocal style. I see myself in the future as a performing cross-over soprano artist, who is most probably chronically broke.
Would you introduce your bandmates, and tell us what you like best about each person?
Joni Koskinen is something of a leader amongst us, if at all it can be said that we have one. I like and sometimes even envy his confidence. He is one of the two of our main composers, who used to do all of the lyrics in the past. He is a founding member and does the growls as well as rhythm guitar. Antti Koskinen, the former's little brother, is our keyboardist and the other main composer. Antti is also a founding member, is somewhat multi-talented, and is very much self-educated as a musician. He is very empathic. Rinksa, our lead guitarist, is also a founding member, although the original idea of Druidi was Joni's and Antti's. But Rinksa has been aboard from the very beginning. He is quiet and conscientious. Simo-Pekka, our bassist, is big and reliable and older than his young years would say. He is always sensible, speaks the utter unquestionable truth, and others never have to worry for him. But, if he gets hungry and there's no food around, you'd better come up with some. Quick! Atte, our drummer, is as far as I remember the last line-up change before myself. He is very good in his area, and the only member besides myself who has at least some classic studies. He used to play the faggot – hold on, I have to check if that, in fact, is how it is written … err, no. I meant to say fagotto. Or bassoon, my dictionary seems to claim they mean the same. Atte is funny. The joker of the band. And open-minded.
"Shadowheart" was inspired by a fantasy story that Joni has been working on. What is the inspiration for "Betrayal, Justice, Revenge"?
I think it still is the same story actually, regardless of the fact that most lyrics are mine or even the fact that most stories of those lyrics I had thought about well before I joined the band. I simply decided — when Joni said I should try writing lyrics and I decided I should try using my old ideas — that fine, now all these things are going to happen in the world he made to happen and that's it. And the truth is that in those stories, both the ones Joni wrote and the ones I'd had in my head before, some very basic things always remain the same. It is the nature of stories regarding where and when they happen. The same things, the same big truths always are the ones that people write stories about or fight wars over. Love. Honour. Justice. Betrayal. Ideals, be they false or true. Religion is the only "big thing" we haven't touched and have no desire of doing so in the future, but I think that if you take religion down to the little pieces to find what it has eaten, what you will find are all those smaller things I already pointed out and some more of their kind. Like pride. Fear. Especially fear.
You wrote many of the lyrics for "Betrayal, Justice, Revenge". Does singing your own lyrics feel different than singing lyrics written by someone else?
Yep. I sometimes feel pretty stupid about them, and this time I can only blame myself.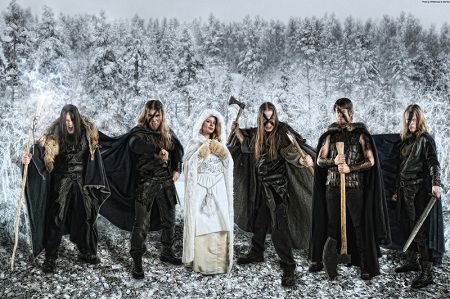 Are you a fan of fantasy? If so, what is your favourite work of fantasy?
Indeed I am. From the works of Tolkien, I prefer "The Silmarillion". The first books I ever read from the genre were the first "Dragonlance" trilogy. Perhaps my all time favourite is Orson Scott Card's strange little one-of-a-kind story "Hart's Hope".
Is "Betrayal, Justice, Revenge" mainly for fantasy fans, or does it have broader themes with universal appeal?
All the themes in our fantasy, as well as fantasy stories in general, are ultimately universal. They are always about the same things which make people move: love, ambition, ideals — betrayal, justice, revenge. Among others.
If you could select any Kivimetsän Druidi song for a soundtrack, which song would you choose and which movie would you put it in?
"Desolation: White Wolf" would be my pick — actually, we made a video for that one lately. Hasn't been published yet. Don't know about the movie, though … maybe it hasn't been made yet. Maybe we should make it. A full-length Kivimetsän Druidi fantasy adventure.
Most of the songs on "Shadowheart" are in Finnish, while most of the songs on "Betrayal, Justice, Revenge" are in English. Was the language switch intentional or happenstance?
Happenstance, actually. I sort of regret that, and hope to make more Finnish ones on the Number Three, whenever that may happen.
In November 2009, Kivimetsän Druidi performed at the Heathenfest Tour in North America, playing 20 different cities and covering 15.000 kilometres in the nightliner. What stands out in your mind from the tour?
Hollywood Boulevard. Giant turkey legs. Helmuth of Belphegor making me drink whiskey. Hilly views. Ridiculously good-looking night liners. Sushi places in NYC. A university campus cafe in Cleveland. Being slightly afraid at Detroit.
When you have a hectic tour schedule far from home, do you do anything special to make sure you stay sane and healthy?
Stay in my bunk whenever I feel bored. Go for a walk outside the bus when possible. Alone! Always, always have good and reliable ear plugs which damp out as much of surrounding noise — preferably talk — as possible. I can't always go for a longer run, sometimes I just jump or run on spot in the backstage or the hall before audience is let in. I go out, if only around the corner, to get a cup of coffee and look and listen to the local people.
Just reading about Kivimetsän Druidi's schedule in 2009 – a Russian mini-tour, writing songs for the new album, recording, going on the North American tour, and back into the studio to finish recording – exhausts me. Were you able to relax some after all that?
We did a little too much relaxing in the summer when we were supposed to be writing songs — or at least I did a little too much "relaxing" when I was supposed to be writing lyrics — so we ended up having to hurry in the studio, again. But it was not too stressing. It's not that all the band activity was overwhelming. It is this stupid thing called "normal life" like going to school, having to work alongside the school, paying the bills, having at least some hobbies and getting to see friends that makes things difficult.
What are the band's plans for the remainder of 2010?
Promoting "Betrayal, Justice, Revenge", doing as many shows as we can, perhaps getting to make a tour later in the autumn, also we have already lightly touched the idea of the Number Three Album if and whether there's going to be one. So writing new songs.
Thank you for taking the time to chat with us, Leeni-Maria. Do you have any parting words for your fans at Femme Metal?
Beware of fragile old bearded guys in strange looking clothes. They are bound to be wizards or something of the kind. Do not piss them off. Come check us out live. Get the new album, it really rocks. Rock 'n Troll.
Links
MySpace * Facebook * Twitter * Site
Latest Multimedia
Interview by Danny Robertson, Marc Sels & Miriam C.
We spoke to Jessica from German folk metal act Lyriel to get the story behind the new album "Paranoid Circus" and more news about the band.
How did the band first get together?
Lyriel was formed in autumn of 2003. Oliver, Sven and Dani had been in a band called Sorrowsend. Oliver decided to found a side project with me and the other Sorrowsend-members joined the new project. We chose to add some other instruments and Lyriel was born.
Who are your main influences as a band?
Partially our music is inspired of the fantasy world and other musicians in this scene. It is sometimes not easy to find music that contains all our musical taste. We try to find a way and solution that is based on this concept. But we try also to develop our own kind of music and style. This is the idea behind Lyriel.
How long did it take to write and record "Paranoid Circus"?
The creative process just began after the release of "Autumntales". So we worked almost three years at this album. It sounds very long but a great attention to detail costs a lot of time and gives the album that certain something. We haven't got that possibility at the first two albums.
Are there any musicians that you admire?
There are a lot of good musicians in this world but I don't admire anyone special.
What are the album's main themes and concepts?
The main themes are several situations in life and its consequences and also personal experiences.
What inspired the album's title?
We thought that "Paranoid Circus" is the suitable title of the sometimes paranoid situations of life which we described in the songs.
What would you say are the main differences between the new album and previous releases?
"Paranoid Circus" sounds mellower. The first two albums were more an expedition of our own style and sound. Something what can be recognised with Lyriel. Our music gets more folk-influences and less of the Middle Ages. "Paranoid Circus" sounds modern and different as "Autumntales" or "Prisonworld".
Do you prefer to play live on stage or the studiowork (recording, writing new songs, rehearsals…)?
I, personally, prefer to play live on stage. I'm never satisfied when I'm singing in the studio. My voice is much better with a bit of adrenalin in it

.
On the first CD there was a song in Elvish. Are you a Tolkien-fan? If yes, did you like the Lord of the Rings-movies?
I think we all are little Tolkien-fans but not fanatic. It was just an idea and the speech sounds very interesting. I like the movies and they are in my personal collection.
You played with Sabine Dünser, and she was a guest on the first CD. How was she to tour and work with?
Sabine was one of the nicest persons I've ever met. She was so native and we had the luck, to meet such a person on our first tour. She liked our music. One evening on the toilet, I catched her, singing "The Crown of the Twilight". This was very funny. We were so delighted that she followed our invite to sing on the album. Although she was a little ill, she gave her best and brought her ideas into the melodies of the song. We miss her!
Are there any interesting young female fronted bands in Germany?
Oh – there are so many, like Xandria, Leaves Eyes, Jennifer Rostock etc.
Which current acts would you say you share the most common ground with?
Blackmore's Night, The Gathering, Loreena McKennitt, Xandria, Within Temptation.
What is the band's greatest aim/ambition?
We try to reach as many people all over the world with our music.
Where the fans can buy the "Live auf Burg Greifenstein 2005″ DVD and if it is sold out, as expected, shall is planned to publish out like a rerelease?
I'm sorry, it isn't planned at the moment, to re-release it but it is available at YouTube.
What's next for the band? Where can we next expect to see you perform?
We plan to produce a video of one of the songs. Anyway a tour to present "Paranoid Circus" is planned for this year and a few live dates are already fixed: 30.04.2010: Walpurgisnacht 2010, Bockwitz/Ger 02.-04.07.2010: 2. Bordun Rocknächte, Halle/Ger 11.-12.09.2010: Rollfeld Festival, Großhain Airport/Ger
Is music an escape from reality, or does it have to be critical concerning political and society?
Music is my passion. I just love to sing. Most of the lyrics are written by Linda and she described the critic on the society sometimes. I think one song of "Paranoid Circus" "Welcome" describes the whole feeling we have for music very well. ("Healing just as ruin – but it´s worth the fall it´s our last escape").
What is for you the cd, movie, book and live show of 2009?
More a book then a movie. Most of the lyrics base on personal experiences but not only of 2009.
Any last messages for people?
We like to greet and thank all our fans. We know that they had to wait more than three years for a follower of "Autumntales". Thank you for your patience! We hope "Paranoid Circus" can compensate this. Please visit our pages (below you can find the links). There you can listen to our music.
Links
MySpace * ReverbNation * Facebook * Site
Interview by Marc "Peston" Sels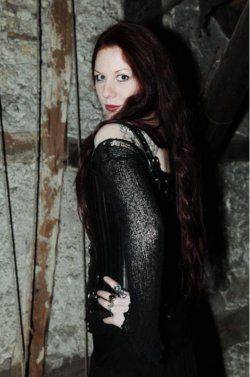 Caladmor is a Swiss Folk Gothic band that released an their interesting debut cd called "Midwinter" this year. Earlier they released three demo's and an EP under the name Pale. Singer Barbara can explain a lot what happened and will happen with the band.
Can you give us a brief history of the band?
The band was formerly known as Pale, founded by Nick, Maede and me in 2001. Our early years were dedicated to Alternative Metal and then the sound developed more and more to what it is now. Mäcka joined the band in 2005. By writing and recording our album "Midwinter" we decided to look for a new name which would represent our music in a better way. Caladmor (meaning "dark light" in Tolkien's language Sindarin) is just perfect in that sense! After having finished the recordings of "Midwinter" in spring 2009, Plaeschy joined the band as the newest member.
Have you got, beside music, some other passions?
I do but unfortunately I hardly ever find time for them

I love designing and sewing my own clothes or having a good glass of red wine and draw a picture. Further I'm strongly interested in history of our past's rites, beginning in the ancient past to modern times. Switzerland for example holds a chest full of magic tradition! Have you got some affinity with other female vocalists like Tarja, Floor Jansen (ReVamp)?
There are several female singers I consider Goddesses! In Metal there is Anneke van Giersbergen (Ex-The Gathering) and of course Floor. Their voices are just perfect in every single aspect – intonation, expression, warmth … amazing and a true inspiration! Further I love the stunning voices of Tori Amos, Loreena McKennitt, Malena Ernman and opera legend Maria Callas.

Is there a song you wish you had written?
No, I cannot really think of
If you had to go to a deserted island, which book, movie, cd, comic, music dvd would you take with you? And why?
Hard question! Only one of each??

As a book, I'd probably take the full collection of Grimm's fairytales – as a student of German language and linguistics I have a great affinity to the Brothers Grimm and their work, also to fairytales on the whole because they're witnesses of old traditions and beliefs. And I have to admit that I've never grown up regarding fairytales, I'm still fascinated by their magic and mystic like a child.
As a movie I'd take "Braveheart" with me – I know this movie is quite pathetic and doesn't stick in all cases to historical facts and yes, it's Hollywood, but in spite of all these facts there has never been a movie touching me the way like "Braveheart" did.
But still, I'd need a CD on my Island

So I'd choose "Nighttime Birds" by The Gathering, an album which has already been inspiring me since years and it seems it'll never stop doing so. Also it creates a certain magical atmosphere when listening to it, what makes the album even more special.
How is the CD selling? Are you pleased with the reviews so far?
Considering that we are still a quite unknown band in a country like Switzerland where Metal doesn't really have a platform, the CD selling works surprisingly well, also thanks to our label Twilight Zone Records in Germany. The reaction to the album was really positive! We didn't expect that mixing such a lot of styles like we do would find any recognition, but it did! So we're truly pleased and motivated to make a further album. Sean Killey (Alice In Chains-drummer) once said :"All good singers are freaks". Are you a freak?
The question is: What behaviour or attitude is significant for a freak? To me people doing absolute nonsense jobs like bank managers spending more money than they earn (which is definitely crazy regarding their incomes) are the true freaks. Compared to them, I'm quite normal… (which would then mean I am a bad singer

But to be honest, I often experience that people don't get my very black sense of humour and then they glance at me thinking "oh what a freak"

If you called someone a freak who likes being dressed differently from the main masses and who doesn't and didn't always choose the straightest and most easy way in life (in order to be more free and pleased), then yes, I'm definitely a freak. Can you live from your music or do you all have "regular" jobs?
We all have regular jobs, Maede and me even have part time jobs and study at the university. The band work also takes a lot of time and it is sometimes difficult finding enough time for everything. I'd love to give priority to the music but I'm afraid we'd starve if did so

Therefore we need to do normal jobs up to now. How would you describe Caladmor to someone who'd never heard of you?
Caladmor – Gothic Folk Metal from the middle of where darkness meets light. After, or during intense touring, can you remember witch day it is, and where you are? And can you see something from the town you're in?
I'd love to answer: "Well no, not really, you know, touring can be sooo exhausting!"

But unfortunately we've never been able to afford doing a tour so far. There were some offers for the opening slots of quite well known bands but the prizes we'd have had to pay were breathtakingly high and it's a fact that as a small band you just get screwed after having signed such contracts. But still we're open for any offers! Please contact us, we'd love to play at the venues all around the world!

What was the first record you bought? Your all time favourite? And what do you sing under the shower?
My first record was a compilation with some pop songs from the 80's – nothing really worth to talk about

I have several all time favourites, accompanying me since a lot of years: "Who cares a lot?" by Faith no more; "Tuonela" by Amorphis; "Bestie in Menschengestalt" by Die Ärzte; "Nighttime Birds" by The Gathering; "Under the Pink" by Tori Amos; and a compilation of Celtic Songs – actually there are a lot more. I often use the time under the shower to do some exercises for my singing technique, as I hardly find any other time for them

What are the plans for the future?
We're already about to write new songs for our second album which is planned to be out next summer. It'll show again a broad variety of styles, beautiful melodies, thundering riffs… I can't wait to enter the studios! Also we want to play some festivals next summer or do a little tour. Stay tuned!
Any "Famous last words"?
It's great that there is a platform like Femme Metal for female fronted bands! Keep up the good work and thank you very much for the interview

Links
Label : Napalm Records
Review by Tony Cannella
With 2011 just underway, one of the most highly anticipated Femme Metal albums is "Doombound" by Finland's Battlelore. This epic, fantasy metal band set the bar incredibly high on their previous releases, so with "Doombound" there is a lot to live up to. On "Doombound", Battlelore has returned to their main source of inspiration, that being J.R.R. Tolkein. "Doombound" is Battlelore's first full fledged concept album and is based on the story "The Children of Húrin" by Mr.Tolkien. The pounding, melodicism of the opener, "Bloodstained" begins this epic journey as the unmistakable duel male/female vocals provided by Kaisa Jouhki and Tomi Mykkänen are present to enhance this strong opening number. "Iron of Death" is next and picks up the tempo a bit. "Bow and Helm" is a powerful piece that showcases Battlelore at their best. "Enchanted" is a beautifully, melodic mid-tempo piece which sees Kaisa handling the bulk of the vocals while Tomi joins in at various points to Inject his forceful style. This was my favorite song.The aggression gets picked up a notch on the next track "Kärmessurma". Other highlights include: "Olden Gods", "Men as Wolves" and the 8-minute "Doombound". "Doombound" continues Battlelore's metal journey through Middle-Earth and it is a worthy edition to this great bands catalog of music. This CD is also available in a limited edition Digi-Pack which also comes with a bonus DVD featuring some live footage, video clips and behind the scenes stuff. "Doombound" is vintage Battlelore, which should please their growing fan base.
Rating – 90/100
Tracklist
Bloodstained
Iron of Death
Bow and Helm
Enchanted
Kärmessurma
Olden Gods
Fate of the Betrayed
Men as Wolves
Last of the Lords
Doombound
Kielo
Line Up
Kaisa Jouhki – Vocals
Tomi Mykkänen – Vocals
Jussi Rautio – Guitar
Jyri Vahvanen – Guitar
Maria Honkanen – Keyboards & Flute
Timo Honkanen – Bass
Henri Vahvanen – Drums
Links
MySpace * ReverbNation * Facebook * Site
Interview by Claudio Grippi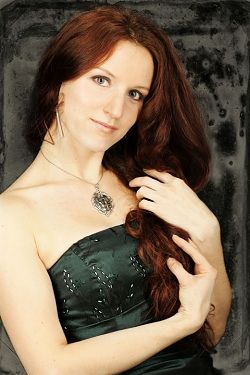 This time we let the guitarist and mastermind, Anastasia, intruduce this young German band symphonic metal caressed by JRR Tolkien's symphonies and some real kick ass girl power (hahahahaha men this time you're the minority). Well, hail to the girl power, isn't?
Hello Anastasia! Thank you for taking the time for this interview. Let's start immediately. First of all, How are you?I would like to start with a simple question. Where does the name Arven come from? What is its meaning? Is it somehow related to the name Arwen from the movie trilogy "The Lord of the Rings"?
Yes, you got it right. We named the band after the female character from the book "Lord of the Rings" by J.R.R. Tolkien. Well, we are certainly not the first band to look for a name in his book but Arwen seemed perfect for us because the beautiful story of an she-elf, who gives up her immortality for a love of a mortal man, represents very well everything our music stands for: intense passion and strong emotions.
How did this project start?
Before I founded the band Arven, I have already played in a couple of metal bands, where I always was the only female musician. I thought it's a bit sad that metal music is so men-dominated and on the other hand I was personally acquainted with 2 girls, who also played in metal bands. So when I started to compose songs and wanted to found a band it seemed only natural to me to try and form a female metal band. But finding capable female musicians, who would be interested in playing metal turned out to be a real challenge. The search for musicians lasted almost a year and at times I was so frustrated, that I almost gave up. It seemed to be impossible to find what I was searching for, no matter how hard I tried. But in the end I'm really happy that I didn't give up, because finally I got lucky and Arven finally came into the world. I can say that for me it's a big pleasure and an honour to make music with the girls of Arven and it's one of the best things I ever experienced in life!
Why did you choose "Music of Light" as the title of the album? Does it have a special meaning for the band since it is also the opening track of the album?
On the one hand "Music of Light" was a title of one of our early songs, that represents our musical style really well. On the other hand "Music of Light" seemed like a good description for our musical style in general, as you can associate "light" and "clear" or "ardent" with our sound. This double meaning seemed interesting so we choose it to be the album title.
Arven is mainly composed of ladies with several musical backgrounds: from classical music to metal. Which musical backgrounds or bands do you mostly inspire to when it comes to song writing? Is it a specific choice you made to hire female-only musicians and singers? Or it just came as it is?
Yes, like I said earlier it was a choice. From the beginning I wanted the band to stand out of the crowd in some way. There are very many metal bands out there with a female singer and sometimes you see a girl play an instrument in a metal band. But I know of only very few metal bands, where the song writing and the whole musical concept has been done by female musicians, so from that perspective Arven creates a feminine version of metal.
In your opinion, what are the main differences in terms of song writing within a group of five girls and one boy? Do you think 'female song writing' is more detail-oriented?
I don't think that the song writing process itself is different in a female band but our tastes may be. In general our music seems to be softer, than the most men-dominated metal bands are, but actually we didn't plan it to be this way. Our desire was (and still is) to explore different styles of metal from soft to hard and create our own version of it: there is a distinct soft and feminine side to our album but we also like to contrast it with powerful aggressive energy, that you could call our masculine side.
As far as the lyrics are concerned, what are the main topics that inspire you?
In our song writing process music always comes first and lyrics are created after the song is almost finished. This way we have to find a theme for a song that fits the mood created by the music. Basically we try to write lyrics that mean something to us, we put a lot of our very personal experiences in the lyrics, though it may be not so obvious sometimes. As a songwriter I put a lot of myself into my music and with Carina I'm very lucky to have found a singer, who us able to express the feelings that I put in the music in a genuinely way. She really "means" what she sings about. Typically for a female dominant band there are a few love songs on our album: in "Music of Light" we tried to capture the euphoria of being freshly in love whereas "Till Death do us Part" is about a painful experience of a breakup. The song "My Dear Friend" is the song that means most to me, I wrote it after the death of a close friend of mine. But not all songs on the CD are earnest, "Raise your Cups" is a cheerful party-song, for example and "Midwinter Nights" is a fairy tale with reversed gender roles.
Your new album has been released recently. This is a very delicate time for new female-fronted metal bands to come out with new, interesting material among the greatest female-fronted metal bands. How do you think "Music of Light" may find its way into the listener's heart?
Considering the great number of the female-fronted metal bands on the market it's indeed a difficult time for a new band that plays this kind of music. Often times we get the: "Please, not yet another female-fronted band out there" message, even before someone even listened to our music for one second and it can be very frustrating, after you put so much passion and energy into the songs. But in the end, we just have to accept that fact and we certainly wouldn't change our musical style because of that. No matter what, we will stay true to our style and hope that there are enough people our there who follow their hearts instead of just being in line with the musical trend.
This album features many well-known names in this genre. Stefan Schmidt from Van Canto and Sascha Paeth (producer) are among these, for example. How did their experience help contribute to the production of the album? Did they influence your sound somehow or did you already have a clear picture of the album?
Working with Stef (Stefan) Schmidt was a great experience for us. He met us at one of our live-shows and he liked our music and offered some great ideas, so that we ended up doing some kind of a "song writing workshop" with him, where we took some new song material of Arven and experimented with different arrangements and song structures. He is a real professional and a very skilled and experienced musician and we enjoyed to work with him so much, that we decided to record the choirs for the album in his studio. You can hear Stef among the male voices in the choirs. We think that he did a great job and would like to thank him one more time for supporting us along our way. Finally Sascha Paeth did the mastering of the album and gave the sound of "Music Of Light" it's final touch.
How would you describe the new album in terms of genre? It seems you are fond of Medieval/Celtic music.
I was always fascinated by medieval music because of it's background and history. Every music tells it's own story,and I am very interested in this time. I love the instruments and the sound of medieval melodies so it became one of the main musical influences for the album. We are often asked the question about genre but for me this question is not one the really important ones.
Do you think your sound is going towards symphonic or power metal in the near future?
Actually right now we are experimenting with both. We have a couple of new up-tempo power metal songs that are a lot of fun to play life. On the other hand I'm thrilled by the idea of using more orchestral arrangements in future but it's a relatively new approach to me and will certainly take time to get the results that I'd like to have in this area.
What are your plans for the future?
Our greatest wish right now is to play live-shows as often as possible because playing live in front of our fans is what a metal band is all about in the first place. This year a number of live-concerts are already planned and we are very much looking forward to the shows. On the other hand we are working on new material for a second album and we hope that it wont be long until we enter the studio one more time and go on the musical journey and find out where it would lead us to this time.
One last question. Are you planning to tour in Europe supporting other bands or are you looking for promoters for your own tour?
As a young band it's not quite easy to get the opportunity to play great live shows, but we hope that we will be able to play more live shows in Europe in near future. We already played in France a couple of times last year and we got excellent feedback from our fans there, so we are curious to see more countries, visit new places and get to know more people who are interested in metal.
Anastasia, thank you very much for your time! Is there anything you would like to say to our readers?
Thank you for your interest in our music and the band and also thanks to our fans all around the world! We didn't expect that much positive feedback and we are happy to find that our music is so well received. Best wishes for all of you, and who knows, maybe one day we can meet at a live show

.
Credit Photos
Photos by angst-im-wald.com
Links
6 color styles available:

Style switcher only on this demo version. Theme styles can be changed from Options page.