Browsing articles tagged with " tony"
Independent Release
Review by Tony Cannella
From Japan, the all female band exist†trace have been around for a number of years and have already released quite a few albums and EPs. Their latest EP was actually released in 2013 and it is called "Diamond". The EP contains only 3-songs and about 15-minute minutes worth of music and is a testament to far ranging, global appeal of metal. The opening track, "DIAMOND" sets the tempo with an electronic influenced beginning before launching into an infectiously wicked fast paced tune. The next track "Kuchibiru" has a definite 70s classic rock vibe to it and a guitar riff that would make Jimi Hendrix or Eric Clapton proud. For the final track "Just One" the band speeds up the pace and introduces more modern influences.  Continue reading »
Label: Napalm Records
Review by Tony Cannella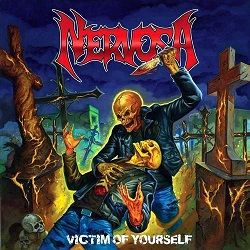 Nervosa is an all female thrash metal trio from Brazil. They've already been receiving some pretty positive buzz based on their initial 3-song demo released in 2012. Now the band is ready to unleash their debut full-length, "Victim of Yourself" via Napalm Records. Amidst all the female fronted symphonic, folk and power metal it seems like the thrash metal genre has been left behind, well Nervosa is about to change all of that. "Victim of Yourself" is definitely an old school thrash metal record, but having said that, it sounds pretty damn fresh. "Victim of Ritual"features 11-songs and 46-minutes worth of whiplash inducing, hair whipping thrash metal. The songs are aggressive, relentless and brutal. From the opening intro into "Twisted Values" the band strikes hard and fast with a ferocity that is infectious. Continue reading »
Label: Napalm Records
Review by Tony Cannella
The Dutch Symphonic metal band Delain returns with their fourth full-length album "The Human Contradiction". This is the follow up to their excellent "We Are the Others". After that album, it was interesting to see how they would follow what many consider to be their best album. Would they be up to the task? Well, the answer is a resounding yes.
The opening track, "Here Come the Vultures" is a wonderful way to start. It begins with a haunting intro before transforming into a bombastic metal track and Charlotte Wessels is fast becoming one of my favorite singers. "Your Body Is a Battleground" is even more awesome than the previous song. Continue reading »
Label: earMUSIC
Review by Tony Cannella
The much anticipated debut solo album from Anette Olzon is finally here. Of course Anette was previously the lead singer for a little band called Nightwish for two albums and prior to that she fronted the AOR band Alyson Avenue. She started working on this solo album while she was a member of Nightwish, so it has been several years in the making. Not knowing what to expect, I was quite excited when this album came my way  having been a fan of her work with Nightwish and Alyson Avenue. Would she continue the musical path set forth by Nightwish or revisit her AOR roots ala Alyson Avenue? Continue reading »
Label: Flyingcat Records
Review by Tony Cannella
Wow! There is so much great metal coming from all parts of the world these days that it so hard stay on top of it sometimes. In particular, Japan has really picked it up as of late. One of the best bands I've heard from Japan in quite awhile is the all female band Destrose. The band formed in 2005 and have just released their mind-blowing, powerhouse, excellent (insert adjective here) self-titled debut.
The thing about Destrose that really caught me by surprise is how metal they are. I'm not sure what I was expecting, but it wasn't this. The band is clearly influenced by Iron Maiden, Helloween and other power metal bands. The songs are soaring with some great solos, guitar harmonies and the band never comes up for air. It is just a full-on melodic metal assault with not a ballad in sight. Continue reading »
6 color styles available:

Style switcher only on this demo version. Theme styles can be changed from Options page.