Browsing articles tagged with " top"
Interview by Alessandra Cognetta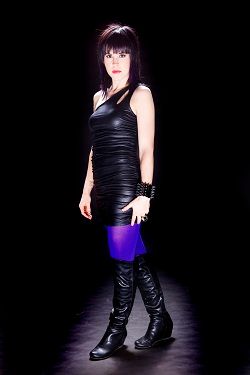 Leslie Hunt is the lead singer of District 97, a prog band from Chicago that is (not so) slowly conquering the American music scene and establishing its own name at home and abroad. Their work is a surprisingly fresh combination of different styles and musical experiences, with two full-length albums released and an ever-growing touring activity. If you want to know more about District 97 (and believe me, you want to), this is the right place to start! 
Hello and welcome to Femme Metal, Leslie! We're really glad to have you here with us. District 97 has just finished their US tour, how would you describe this experience, now that it's over?
I thoroughly enjoyed myself! Each show was a success in its own right, and I absolutely love performing this music. I also love our fans! They are some of the most genuine and appreciative people I have ever met, and I am so honored to be on the receiving end of their loyalty. It was definitely a challenge to play eight nights in a row, especially since my performance style is getting more and more theatrical as our sound evolves, but as soon as we would play the first note, I was able to transport myself to the headspace required to experience the song as if it were my first time.
District 97 has never been featured on our Webzine before, could you introduce the band and its members to our readers?
Sure! I'm Leslie, and I sing, dance and play tambourine sometimes. Jonathan Schang is the drummer, primary composer, bandleader, AND he manages everything that happens behind the scenes, so we all give him serious props. Jim Tashjian plays lead guitar and sings backgrounds. Rob Clearfield plays keyboards and additional guitar. Patrick Mulcahy plays bass. Continue reading »
Label : Wacken Records
Review by Tony Cannella
It is no secret that legendary all girl band Girlschool were at the forefront of the metal changing New Wave of British Heavy Metal (NWOBHM) in the late 70s / early 80s. The fact that this band still exists while many of their peers fell by the wayside is a testament to their endurance and staying power, not to mention the quality of their tunes. You simply do not last this long unless you have a strong catalog of music. Now Girlschool have decided to give one of their classics "Hit and Run" the re-recorded treatment. Sacrilege you say? Re-recording a classic album isn't exactly a new trend, but it is one that many die-hard fans wish would go away. So, let's 'revisit' this NWOBHM classic. It is now time for "Hit and Run – Revisited". The original "Hit and Run" was released in 1981 and was the second album to be released by this seminal band. The raucous "C'mon Let's Go" gets things started and is as powerful as I remember it. "The Hunter", "I'm Your Victim" and "Following the Crowd" are classic examples of a band firing on all cylinders. Next we have a cover of the ZZ Top classic "Tush". Other highlights include: "Hit and Run" (probably my favorite Girlschool track of all time), the Motorhead vibe of "Watch Your Step" and "Future Flash". Two bonus tracks are available here. The first one is a re-recording of "Demolition Boys" that originally appeared on their debut album "Demolition" in 1980 and the next one is another version of "Hit and Run" featuring none other than Doro Pesch on vocals. I'm still not sure if I like the whole re-recording a classic album thing, but "Hit and Run – Revisited" has reminded me what a great album this is, and what a criminally underrated band that Girlschool was and continues to be. It does my heart good to see these girls still out there and kickin' ass.

Rating – 90/100
Tracklist
C'mon Let's Go

The Hunter

I'm Your Victim

Kick It Down

Following the Crowd

Tush

Hit and Run

Watch Your Step

Back To Start

Yeah Right

Future Flash

Demolition Boys

Hit and Run (with Doro)
Line Up
Kim McAuliffe – Lead & Backing Vocals, Rhythm Guitar

Jackie Chambers – Lead Guitar & Backing Vocals

Enid Williams – Bass, lead & backing vocals

Denise Dufort – Drums & Backing Vocals
Links
6 color styles available:

Style switcher only on this demo version. Theme styles can be changed from Options page.