Browsing articles tagged with " tour"
Interview by Alessandra Cognetta
Many of you remember her from Kamelot, but Elize Ryd's career is so rich I don't think I can fit it all in an introduction. A talented artist and a really sweet person, she agreed to answer some questions for us about her latest effort with the unique band Amaranthe (their second album "The Nexus" will be in stores by the end of March, check their website to see when it's out in your country!). You're going to read about music, dancing, Eurovision (?!), bizarre incidents on tour and, well, I'm not gonna spoil anything, see for yourselves, you're in for a truly interesting interview!
Hello and welcome once again to Femme Metal, Elize! It's always a pleasure to have you with us at the 'zine. Amaranthe's new album is about to be released, and the band has a world live premiere planned for March 2nd in Sweden. How's it going with the preparations for the event? What can we expect to see?
Thank you very much, it's a pleasure for me as well! It is going great, on Monday the band are gonna meet in Gothenburg and start to rehears of the new songs. You will see Amaranthe in full and healthy shape, we all have had some time of the scene so it will be extremely fun to gather again and start this what will be an extremely intense and exiting year
Interview by Vard Aman
To rise from the sea of Female Fronted Symphonic Metal and stand out as a band that is both of an exceptional quality as well as something that is distinctly different from the rest takes quite an act; and Lanewin, from St. Petersburg, is just such an act. They are fronted by Anna Belaeva – a multi-talented, versatile and highly imaginative vocalist; if you listen to their newly released masterpiece "Eclectic Tour", you'll hear what I mean. I was honoured to interview her recently.
Hi Anna, welcome to FMW! First of all, tell us a bit about your singing career before Lanewin? When did you start singing? What inspired you?
Hi! I'm glad to be here and answer your questions! Honestly I didn't have any singing career before Lanewin. I started singing at the age of 18 and immediately formed Lanewin, because I was not able to live without music and singing. What inspired me? Well, one evening heard amazing song that my friend sang to me. It was Nightwish's "Sleeping Sun". I was so impressed by that music, that the same day I listened to all their songs, and straight after that I started listening to music, before that day I didn't listen to it. And several days later I tried to sing with Tarja's voice, and soon realized that singing is what I want to do in my life. Continue reading »
Interview by Vard Aman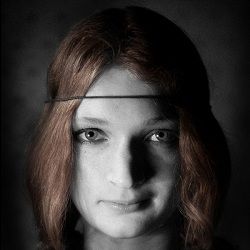 Near Manaus in Brazil the dark clear Rio Negro joins the muddy Amazon and the water from two rivers flow beside one another without mixing, distinctly separate for a distance of about 6 km in the same river bed. It is known as the "Meeting of Water", and such an unusual natural phenomenon has made it one of the main tourist attractions in Manaus. In Moscow, Russia, the beautiful melodic vocals of Slavic Folk joins the heavy, powerful guitars; pounding drums; and electronic elements of Industrial / Industrial Metal without mixing, distinctly separate from each other in the same band, and throughout an entire album and 3 track maxi-single. They are known as Risha, and such an unusual and unique blend has made them one of the hottest new prospects around. I spoke to two of those responsible: vocalist and bassist, Rishafox (also known as Risha, and sometimes, on the odd occasion, as Irina Lvova), and guitarist and programmer, Andrey Ostrav.
Hi, welcome to FMW. Nice to be able to talk to you!
Risha & Ostrav:  Zdravstvujte!
So, how did the three of you meet and when did you decide to start Risha?
Risha: We met a long ago. I was 17 then and it was probably my first time on stage, exactly with the musicians who play in Risha now. After that we were scattered about different music projects but 2 years ago we met again. I and Ostrav have created the idea of Risha and Alex, the drummer, joined us thereafter.
Tell us a little about your musical background, previous bands, and your session work.
Risha: Oh… During my not-that-long rock'n'roll life I played with about 20 bands, went on a European tour with Arkona, performed at big venues in Moscow, St. Petersburg and other cities, as well as in small underground clubs all over Russia. I always played in bands that differed a lot by style.
Оstrav: For about 8 years with the drummer Sasha we made part of one of the cult Russian industrial gothic bands of the 00′s – Deform. We toured over our endless country from side to side, shared stage with famous Russian and foreign bands like Korn, Papa Roach, Marilyn Manson, Eisbrecher, Deathstars, etc. This was fantastic! Continue reading »
Independent Release
Review by Vard Aman
There is currently no shortage of really good Female-fronted Symphonic Metal bands around the world plying their trade, so for a band to really stand out as distinctly different and/or a cut above the rest takes quite some doing. Just over a year ago, I discovered one of them, from Ukraine – a band called Delia whose debut album, "Spogad", could and should go down as one of the ultimate Symphonic Metal masterpieces, and certainly would if they were a better known act. Now, from the Russian city of St. Petersburg, there is another one, and they're called Lanewin: a standout act, not just because of the superb quality of their product, but because they have developed something that is different and distinct from the norm on top of that – something very few bands are able to do. Like Delia (although a very different kind of act), Lanewin's strongest standout quality is their vocalist: in Lanewin's case, the multi-talented, highly versatile, and delightfully quirky and witty (and stunningly beautiful) Anna Belaeva. Anna has the full vocal repertoire at her disposal; knows when and how to use it all in the right amounts and in the right places. Her repertoire includes things that, while I'm sure many other vocalists are capable of, few have considered using, and fewer in the way that Anna does. Do you want me to give an example? Ha! No! Listen to the album and you'll hear what I mean! Lanewin formed in 2007 under the name Infinity, changing to Lanewin in 2009. In 2010 they released their debut album, "Autuua", and now, in 2012, their second, "Eclectic Tour" (i.e. this one). "Autuua" was closer to more standard Symphonic Metal fare (particularly the Dutch kind), but already they, and especially Anna whose versatility was already on display, were beginning to perfect the style and the sound that they would later be using on "Eclectic Tour" (although Anna didn't reuse any of the occasional growls that she used on "Autuua"). Continue reading »
Interview by Alessandra Cognetta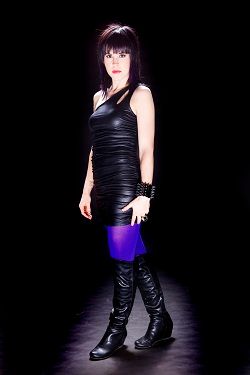 Leslie Hunt is the lead singer of District 97, a prog band from Chicago that is (not so) slowly conquering the American music scene and establishing its own name at home and abroad. Their work is a surprisingly fresh combination of different styles and musical experiences, with two full-length albums released and an ever-growing touring activity. If you want to know more about District 97 (and believe me, you want to), this is the right place to start! 
Hello and welcome to Femme Metal, Leslie! We're really glad to have you here with us. District 97 has just finished their US tour, how would you describe this experience, now that it's over?
I thoroughly enjoyed myself! Each show was a success in its own right, and I absolutely love performing this music. I also love our fans! They are some of the most genuine and appreciative people I have ever met, and I am so honored to be on the receiving end of their loyalty. It was definitely a challenge to play eight nights in a row, especially since my performance style is getting more and more theatrical as our sound evolves, but as soon as we would play the first note, I was able to transport myself to the headspace required to experience the song as if it were my first time.
District 97 has never been featured on our Webzine before, could you introduce the band and its members to our readers?
Sure! I'm Leslie, and I sing, dance and play tambourine sometimes. Jonathan Schang is the drummer, primary composer, bandleader, AND he manages everything that happens behind the scenes, so we all give him serious props. Jim Tashjian plays lead guitar and sings backgrounds. Rob Clearfield plays keyboards and additional guitar. Patrick Mulcahy plays bass. Continue reading »
6 color styles available:

Style switcher only on this demo version. Theme styles can be changed from Options page.