Browsing articles tagged with " toy"
Live Review & Photos by Jesse St.Clare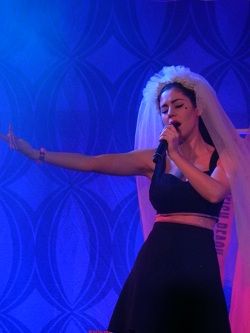 Welsh recording artist Marina and the Diamonds (or Marina Diamandis) is well known for being the quirky, Anti-pop star whose music often depicts American Pop Culture in a rather unflattering light. These days, most pop acts have a gimmick or a "thing" to compensate for a lack of voice. Marina proved on Monday night that this is simply not true about her. The Kool Haus was packed for a cold, windy Monday night and was filled with people of all ages who had drawn hearts on their faces in a trend that Marina herself started with them. Marina took the stage about 9pm with Madonna's "Hollywood" as her introduction music. It fit the theme of her show very well as one could say, Marina's works are like a continuation of where Madonna left off in 2003. Marina came on stage in a two-piece black skirt and halter-top and began with her semi spoken word piece "Homewrecker". She played plenty of newer songs off of "Electra Heart" as well as some older ones off her debut "Family Jewels". Marina's voice is much more powerful live and occasionally flirted with operatic notes in songs such as "Obsessive" and "Fear and Loathing". She also demonstrated musicianship when she sat down at a keyboard and played some songs acoustically and by herself. Throughout the night, Marina had two costume changes as well as many props to help visualise her story. The most dramatic of which was when she returned from the encore in a sparkly silver prom dress that would make even the prettiest of Prom Queens jealous. She had a coat rack on stage which she would very often pull hats, coats, scarves and just about anything imaginable so she could change looks without having to waste time running off-stage. She also had props such as a very massive hamburger on a tray and pompoms for "Hollywood" or a light-up heart belt for "Radioactive". Marina's stage presence on its own would have been engaging enough for the audience, but these props brought the show to a whole new level and made it all the more intriguing. The most memorable moment of the night was when Marina held up a toy dog that walked and balked. She proclaimed "I cannot have real pets because I'm a musician and pets die so quickly. This is my dog and I rescued her from the Betty Ford Clinic. She was addicted to meth". The show lasted for just over an hour and everybody left the show impressed. There was a massive sing-along party outside the show afterwards while fans waited for Marina to come out and sign autographs. Even though there were a lot of people outside waiting, and it was so freezing cold, Marina came out and signed something for every single fan that was waiting. She even took some time to interact with a very young fan who was attending his very first concert with his mother. The Kid picked a very good first concert to attend as it was everything you could have ever wanted to see: Incredible voice, great stage presence and all around visually stunning.
Setlist
Intro (Hollywood by Madonna)
Homewrecker
Oh No!

Mowgli's Road

Lies

I Am Not A Robot

The State of Dreaming

Power & Control

Bubblegum Bitch

Starring Role

Obsessions

Sex Yeah

Valley of the Dolls

Primadonna

Shampain

Hollywood

Radioactive

Fear and Loathing

Teen Idle (Encore)

How to Be a Heartbreaker (Encore)
Links
Interview by Si Smith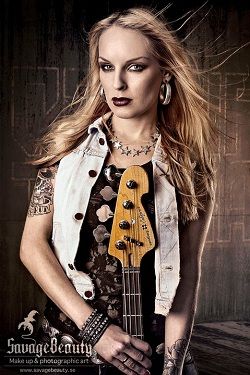 Crucified Barbara will stomp across your skull and leave skidmarks, such is the impression they are having all over the world. Their style is balls-to-the-wall hard rock, no holds barred. Third album "The Midnight Chase" hits the streets soon so Femme Metal caught up with bass player Ida Evileye for a quick word.
First of all thank you for taking the time for this interview, and a warm welcome from all at Femme Metal Webzine. For those who are presently unfamiliar with the band, would you like to introduce the different members to us?
Yeah. We're a four piece band and I (Ida) play the bass, Mia sings and plays lead guitar, Klara plays rhythm guitar and Nicki plays the drums.
Almost 15 years since your humble beginnings you are back with another powerful album. From the outset it is clear that you mean business, with opener "The Crucifier" giving it large 100%. For this listener it is a remarkable trip back into the early Motorhead days and punk-influenced heavy metal. Do you think the band in 2012 still reflects those kind of influences?
Absolutely, we love that type of music. We listen to a lot of different music (Mainly old school for me) and of course that shines through in our songwriting.
You certainly have a memorable band name – could you enlighten us as to where it originates from?
Actually "Barbara" in Sweden is the name for a blowup doll (a sextoy). We were at the Roskilde festival many years ago and we saw that somebody had pinned a barbara on a cross and it looked really evil and cool so that's where it comes from.
You guys look great in all the promo shots we see and have a very distinct look that reflects your music style – how important is image to the band?
The music is of course the most important thing without a doubt but image is important too. I love to go to concerts and it's always more fun when the band wants to entertain the audience. So that what we're trying to do with clothes and makeup!
It has been a remarkable journey across three albums. What are the highlights of the journey for the band?
Oooohhh, there are soo many. The Motörhead tour, the Nuclear Blast deal, the Russian tour, playing at the Download festival, the Australian tour. Meeting Brian May, having a drink with Lemmy……the list goes on!
Throughout the band's life your lyrics have touched on all the usual hard rock topics. Does this reflect your lifestyle? Who is the biggest party animal?
Hahaha, of course! I am the party animal. You can always count on me and Nicki!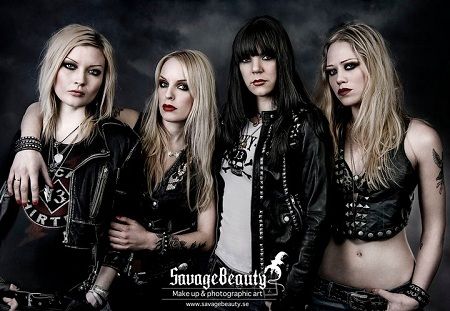 Three years on from "'Till Death…" , you seem to have a tradition of working a long time on your albums, what is it you are looking for in the final product?
We don't want it to take so long time but we've toured a lot and there has also been business things that's prolonging the releases. And of course that we don't wanna release something that we aren't 100 percent happy with!
"The Midnight Chase" has 11 well-crafted anthems. How does the song-writing process work for you as a band?
It's different with every song. Some of the songs has been written by one person only and then we've worked on the arrangements together ("Kid for the Upperclass" in on example, Mia wrote that song). Other songs we've done based on a riff or a melody and we're written it together ("The Crucifier", "Shut Your Mouth"). So it's different with every song really!
By the time this interview gets to you, the band will have just played the Sweden Rock Festival. How did it go?
Greaaaaat! It was fantastic, so many people and a really good crowd! We had a great time, I love that festival!
In July you are heading to Italy alongside Elvenking. That should be some good shows! How have you found the band's reception in different countries? Have you a favourite?
Italy is really good for us and France is very good too. It's been good from the beginning and it's always so nice to come back, you feel like home!
You have also recently been booked for the Getaway Rock Festival in Sweden alongside bands such as Manowar, Saxon and Nightwish. What are your hopes for the festivals this year?
I really like that festival, it's a bit smaller than Sweden Rock but a lot of cool bands are playing. So we're gonna have a great show and then drink some beers and watch the other band, so it'll be a fun night!!!
Finally, what is the next stage for the band? After all the touring this year is there a plan?
More touring, another album etc! This is what we love to do and we've just got started so you won't get rid of us anytime soon!
Thanks for your time, we at Femme Metal wsih the band all the best for the rest of 2012.
Thank you! I wish you the same!!!!!!!
Links
MySpace * Facebook * Google Plus * Twitter * Site
Latest Multimedia
6 color styles available:

Style switcher only on this demo version. Theme styles can be changed from Options page.