Browsing articles tagged with " tracks"
Greek death metallers SEDUCE THE HEAVEN announce they have signed with Japanese label SPINNING RECORDS and confirm the official release date of a Japanese edition of their debut album "Field Of Dreams" which is scheduled on February 20th 2013. The Japanese edition of the album is going to include two new, unreleased songs as bonus tracks which are also going to be available as digital singles. Continue reading »
After the success of last year's "III", and the reissue of debut album "Soma", the Marseille, France-based female-fronted metalcore band ETHS will make its first EPs — "Autopsie" and "Samantha" — available on February 15 via Season Of Mist.
Originally released in 2000 and 2002, respectively, "Autopsie" and "Samantha" spread like wildfire and gained the young band cult status. The raw emotionality of outstanding singer Candice Clot on top of a raging mixture of metal and core captured the immediate interest of their rapidly growing following. Now these two milestones of French metal will be reissued with the addition of four previously unreleased bonus tracks.
Continue reading »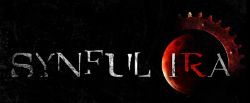 Interview by Ary R
Young and talented, the Italian band Synful Ira is proud and ready to introduce itself to the European metalheads with their first full length album, "Between Hope and Fear". After having signed a deal with the label logic(il)logic Records, this sturdy young sextet is ready to enter the International music biz, spreading their own symphonic-gothic metal sound. For the occasion, the lead singer Letizia addressed herself to our crew and she talked about the creation of the project and much more about the band and the record itself.
Today Femme Metal puts the lead singer of Synful Ira up. Welcome to our website Letizia and thanks for your precious time and to allow us this interview!
Thank you! It's really nice to answer your questions and to introduce myself to all the readers!
Let's break the ice starting our chat talking about your band, Synful Ira. It's an Italian gothic rock/metal band and of course you are the lead singer. Would you like to introduce the band and to tell us how did this project come to life?
I would like to introduce you all the members of Synful Ira:
Bass – my brother Emanuele Chiozzi
Guitar – Laura Balducci
Drums- Marco Renzi
Keyboards- Filippo Mantignano
Guitar- Fabio Balducci, project leader.
After several years playing "covers" we finally made something by ourselves. Fabio put into music the main phases of his life, his emotions, feelings, memories and he created the main character of our album "Between Hope and Fear" by taking out all the emotions people experience during their lives.
The band was born mainly as a Nightwish/Evanescence cover/tribute band. How did this choice of imprinting your sound on the wake on these famous bands in a first moment rather than some others?
At the beginning Laura proposed to form a Nightwish and Lacuna Coil cover band and meanwhile Fabio was trying to form an Evanescence cover band; when they told each other about their same ideas to form a gothic-metal cover band, they decided to combine them. This was the germinal try to set their dreams up.
Interview by Robin Stryker
Femme Metal spoke with Leeni-Maria Hovila, frontwoman of Finnish extreme fantasy metal band, Kivimetsän Druidi, six months ago. Since that time, the band has completed a massive North American tour and released its sophomore album, "Betrayal, Justice, Revenge" (Century Media 2010). We are delighted to chat with Leeni-Maria again and get caught up on Kivimetsän Druidi's whirlwind of activity.Hello, Leeni-Maria! We're glad you could join us today.
First things first, please tell us about Kivimetsän Druidi's new album, "Betrayal, Justice, Revenge".
"Betrayal" is our second album — the first in which I have made most of the lyrics, and the first in which we have tracks composed also by our drummer Atte and lead guitarist Rinksa.
If you had to describe the new album's sound in three words, what would they be?
Massive, symphonic, complex.
The title, "Betrayal, Justice, Revenge", has a nice ring to it. Where does the name come from?
It is simply a summary of the things and ideas happening on this album.
From earlier interviews, it sounds as though the band was not completely satisfied with its debut album, "Shadowheart". How much of the harder, more aggressive sound on the new album comes from a natural evolution in Kivimetsän Druidi's music, versus lessons learned from the first album?
The compositions are all natural evolution which was not even as fast as it would seem by listening to these two albums. All the elements of the tracks on "Betrayal" were already present in the few new songs of "Shadowheart", but most "Shadowheart" tracks were both very old and some very new material which sound quite different from one another. On the other hand, the harder, more aggressive sound in general is all about making "Betrayal" sounding how we wished "Shadowheart" would, so that was about a lesson learned.
As I understand it, you are a classically trained soprano. Did you ever consider pursuing a career in opera, instead of metal?
I don't have a great desire for that. The opera world seems a rigid place to me, also I do not have such a big voice. If I do classic genre and I do study it at the present, I am a lied-oriented performer, that is an other-than-opera- kind of classic vocal style. I see myself in the future as a performing cross-over soprano artist, who is most probably chronically broke.
Would you introduce your bandmates, and tell us what you like best about each person?
Joni Koskinen is something of a leader amongst us, if at all it can be said that we have one. I like and sometimes even envy his confidence. He is one of the two of our main composers, who used to do all of the lyrics in the past. He is a founding member and does the growls as well as rhythm guitar. Antti Koskinen, the former's little brother, is our keyboardist and the other main composer. Antti is also a founding member, is somewhat multi-talented, and is very much self-educated as a musician. He is very empathic. Rinksa, our lead guitarist, is also a founding member, although the original idea of Druidi was Joni's and Antti's. But Rinksa has been aboard from the very beginning. He is quiet and conscientious. Simo-Pekka, our bassist, is big and reliable and older than his young years would say. He is always sensible, speaks the utter unquestionable truth, and others never have to worry for him. But, if he gets hungry and there's no food around, you'd better come up with some. Quick! Atte, our drummer, is as far as I remember the last line-up change before myself. He is very good in his area, and the only member besides myself who has at least some classic studies. He used to play the faggot – hold on, I have to check if that, in fact, is how it is written … err, no. I meant to say fagotto. Or bassoon, my dictionary seems to claim they mean the same. Atte is funny. The joker of the band. And open-minded.
"Shadowheart" was inspired by a fantasy story that Joni has been working on. What is the inspiration for "Betrayal, Justice, Revenge"?
I think it still is the same story actually, regardless of the fact that most lyrics are mine or even the fact that most stories of those lyrics I had thought about well before I joined the band. I simply decided — when Joni said I should try writing lyrics and I decided I should try using my old ideas — that fine, now all these things are going to happen in the world he made to happen and that's it. And the truth is that in those stories, both the ones Joni wrote and the ones I'd had in my head before, some very basic things always remain the same. It is the nature of stories regarding where and when they happen. The same things, the same big truths always are the ones that people write stories about or fight wars over. Love. Honour. Justice. Betrayal. Ideals, be they false or true. Religion is the only "big thing" we haven't touched and have no desire of doing so in the future, but I think that if you take religion down to the little pieces to find what it has eaten, what you will find are all those smaller things I already pointed out and some more of their kind. Like pride. Fear. Especially fear.
You wrote many of the lyrics for "Betrayal, Justice, Revenge". Does singing your own lyrics feel different than singing lyrics written by someone else?
Yep. I sometimes feel pretty stupid about them, and this time I can only blame myself.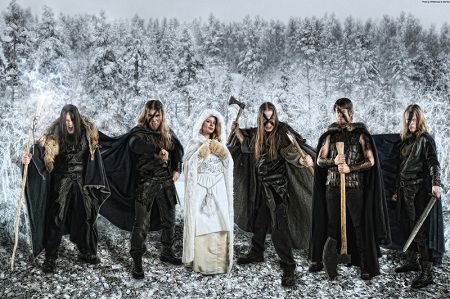 Are you a fan of fantasy? If so, what is your favourite work of fantasy?
Indeed I am. From the works of Tolkien, I prefer "The Silmarillion". The first books I ever read from the genre were the first "Dragonlance" trilogy. Perhaps my all time favourite is Orson Scott Card's strange little one-of-a-kind story "Hart's Hope".
Is "Betrayal, Justice, Revenge" mainly for fantasy fans, or does it have broader themes with universal appeal?
All the themes in our fantasy, as well as fantasy stories in general, are ultimately universal. They are always about the same things which make people move: love, ambition, ideals — betrayal, justice, revenge. Among others.
If you could select any Kivimetsän Druidi song for a soundtrack, which song would you choose and which movie would you put it in?
"Desolation: White Wolf" would be my pick — actually, we made a video for that one lately. Hasn't been published yet. Don't know about the movie, though … maybe it hasn't been made yet. Maybe we should make it. A full-length Kivimetsän Druidi fantasy adventure.
Most of the songs on "Shadowheart" are in Finnish, while most of the songs on "Betrayal, Justice, Revenge" are in English. Was the language switch intentional or happenstance?
Happenstance, actually. I sort of regret that, and hope to make more Finnish ones on the Number Three, whenever that may happen.
In November 2009, Kivimetsän Druidi performed at the Heathenfest Tour in North America, playing 20 different cities and covering 15.000 kilometres in the nightliner. What stands out in your mind from the tour?
Hollywood Boulevard. Giant turkey legs. Helmuth of Belphegor making me drink whiskey. Hilly views. Ridiculously good-looking night liners. Sushi places in NYC. A university campus cafe in Cleveland. Being slightly afraid at Detroit.
When you have a hectic tour schedule far from home, do you do anything special to make sure you stay sane and healthy?
Stay in my bunk whenever I feel bored. Go for a walk outside the bus when possible. Alone! Always, always have good and reliable ear plugs which damp out as much of surrounding noise — preferably talk — as possible. I can't always go for a longer run, sometimes I just jump or run on spot in the backstage or the hall before audience is let in. I go out, if only around the corner, to get a cup of coffee and look and listen to the local people.
Just reading about Kivimetsän Druidi's schedule in 2009 – a Russian mini-tour, writing songs for the new album, recording, going on the North American tour, and back into the studio to finish recording – exhausts me. Were you able to relax some after all that?
We did a little too much relaxing in the summer when we were supposed to be writing songs — or at least I did a little too much "relaxing" when I was supposed to be writing lyrics — so we ended up having to hurry in the studio, again. But it was not too stressing. It's not that all the band activity was overwhelming. It is this stupid thing called "normal life" like going to school, having to work alongside the school, paying the bills, having at least some hobbies and getting to see friends that makes things difficult.
What are the band's plans for the remainder of 2010?
Promoting "Betrayal, Justice, Revenge", doing as many shows as we can, perhaps getting to make a tour later in the autumn, also we have already lightly touched the idea of the Number Three Album if and whether there's going to be one. So writing new songs.
Thank you for taking the time to chat with us, Leeni-Maria. Do you have any parting words for your fans at Femme Metal?
Beware of fragile old bearded guys in strange looking clothes. They are bound to be wizards or something of the kind. Do not piss them off. Come check us out live. Get the new album, it really rocks. Rock 'n Troll.
Links
MySpace * Facebook * Twitter * Site
Latest Multimedia
Label : AFM Records

Review by Tony Cannella
Originally released in 2007, AFM Records have recently re-issued the debut album "The Curse of Crystal Viper" from Poland's classic metal heroes Crystal Viper. In addition to the full album, this new version also features five rare bonus tracks that have appeared on tribute albums and hard to find material, so while these songs may not be un-released per-se they are still rare and thus valuable to any Crystal Viper fan. What can be said about "The Curse of Crystal Viper"? I remember the first time I heard it and being blown away by its sheer power and ferocity. It also gave me a feeling of when I got into metal in the first place in the early 80s. Crystal Viper really captures that vibe, but musically they go beyond that. Lead vocalist Marta Gabriel has got a great classic metal vocal style. The somewhat Running Wild like intro "…I See Him!" starts things and segues straight into the Iron Maiden style riffs and guitar harmonies of "Night Prowler". Some of Crystal Vipers best songs appear on this album: "Shadows on the Horizon", "Island of the Silver Skull" and "Sleeping Swords" is all considered Crystal Viper classics. Among the 'bonus' tracks, you get a covers of the Manilla Road track "Flaming Metal Systems" and Warlock's "Mr. Gold" as well as alternate versions of "Demons' Dagger", "The Last Axeman" and "Sleeping Swords". This is top-notch classic metal played Crystal Viper style. In Re-visiting their debut, it is easy to see why they have become one of best bands in their genre. Crystal Viper continues to churn out classic metal, but this is where it all began and thus a will always have a special place in my heart.
Rating – 85/100
Tracklist
…I See Him! (Intro)
Night Prowler
Shadows on the Horizon
City of the Damned
The Last Axeman
Island of the Silver Skull
I Am Leather Witch
Demons' Dagger
The Fury (Undead)
Sleeping Swords
Flaming Metal Systems (Manilla Road Cover)
Demon's Dagger (2008 version)
The Last Axeman (Polish version)
Sleeping Swords (2008 version)
Mr. Gold (Warlock Cover)
Line Up
Marta Gabriel – Vocals, Guitar
Andy Wave – Guitars
Tommy Roxx – Bass
Golem – Drums
Links
MySpace * Facebook * Twitter * Site
6 color styles available:

Style switcher only on this demo version. Theme styles can be changed from Options page.