Browsing articles tagged with " tribe"
Interview by Miriam C.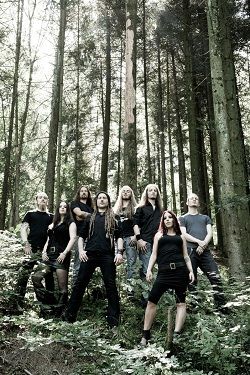 For the second time we give space to one of the last metal sensation of these years : Eluveitie. We asked to the singers and instruments players Chringel Glanzmann & Anna Murphy some news about their recent new album "Helvetios" and his concept behind. Enjoy!
Hi Chrigel and Anna, how are you?? I hope all allright!!! And thanks for reply at our questions!
Anna: Hey there! Fine, thank you. And that's no problem, thank you for the interview.
Ok, let's get delve into the brand new album "Helvetios". How was the genesis of this album, when you have started to compose it?
Chrigel: The idea of doing a concept album about the so-called gaulish wars we had quite a while ago. Somewhen in summer 2010 I started working on the concept for the album. I started composing the single songs somewhen in winter 2010, but most of the songs actually emerged in spring/summer 2011 though. I worked closely together with our guitar player Ivo. He's an amazing composer of awesome riffs.
First of all what's means the word "Helvetios" and is related to the lyrics inside the album?
Chrigel: "Helvetios" is basically the name of the celtic tribe that inherited the area of todays Switzerland: The Helvetians. The album tells the story of the gaulish wars – from the Helvetians perspective.
How's recording an album with a great legend like Tommy Vetterli? Is like a mentor, a friend or a little despotic (XD I'm joking now hahaha) ?
Anna : If somebody would have told me 7 years ago that I'd be talking to Tommy Vetterli on the phone on a regular basis I would have freaked out, haha. I've always been a huge Coroner fan so I was thrilled and a little nervous at first to record an album with him. We were quite overwhelmed by his perfectionism, the guy has insanely good ears and you can imagine that that can create quite a problem for him when dealing with tons of folk instruments that simply aren't perfectly in tune all the time. But soon enough we could work together really well and we got to know him as one of the nicest and funniest guys we've ever met. We're still good friends and spent some fun times on the 70'000 tons of metal cruise together. And more importantly, "Helvetios" is our best sounding album, I'm sure we will be faithful to Tommy for a while!
I really liked the historical in-depth explanation that you have published on Facebook and get me to assumethat "Helvetios" is a concept because I've seen quite a connection between the 2 lyrics. Who were the Helvetians and firstly when you have decided to focus on these topic? Also are a lot of historical infos that you have provided, where did you got it? You should have an encyclopaedia at home!
Anna: "Helvetios" tells the harrowing chronic of the Gaulish war. But it's not just a chronological account of this terrible war, the album tells the story from the viewpoint of the Helvetians, a Celtic tribe. This wasn't a very simple task, since history is mostly written by those who triumphed in war which in this case was the Roman empire, Gaius Julius Caesar to be exact. Most of what we know about the Gaulish war nowadays stems from Caesar's transcripts and that these do not convey the full truth is pretty obvious and also confirmed by historians. His scripture "De Bello Gallico" is political propaganda for his benefit to a great extent in which home and family defending Gauls become "belligerent barbarians" and sheer genocide over Gaulish tribes become "glorious battles" that were fought by Roman legions "heroically to protect the Roman people." So you can see it's not an easy undertaking to portray the Gaulish war as Helvetians (Gauls) would have. We still tried and cooperated with scientists to question historiography and let historical and archeological findings influence us in writing the album. But we also just let simple emotions and feelings speak by imagining what it really must have been like back then.
I'm getting so really curious about the various goddess and god workshipped by the Helvetians. Excluding Epona, who totally hit me, are you able to give us more cultural insights about this population?
Chrigel: First of all we have to face the fact that we don't know too much about the Celts religions today. All we can base on are historical literature on one hand (which is partly very vague) and archeological evidence on the other hand. The existence of diverse gods (such as Epona) is documented by the latter. All across Gaul there were small Epona temples found. Regarding this goddess there's also one note in historical literature, stating that there were usually fresh cut roses or rose petals offered to Epona in those little temples (that's also where the song title comes from, btw).
According to Facebook – "Helvetios is a concept album about the gaulish war (58-50 B.C.), the story of the war being told in a chronological timeline." – can you, somehow, explain the chronological timeline referring to the songs titles'?
Chrigel: To be honest, I seriously think that this would break the mold of an interview – it would be a bit too much (unless you're planning to publish an 8 page Eluveitie feature, haha

). But yeah, the story of the gaulish war is actually well documented and publicly accessible. So, just check a good scientifical book on the gaulish wars. If you're familiar the story of the gaulish wars, the song titles will make a lot of sense.

Talking instead about the cover album is really simple, white and black a badge. What's stands for? Who representing? And why opt for so simply cover? (You know, that badge remembers me a lot the Aurum from the 1984′s "The Neverending Story" film, never watched it?)
Chrigel: Haha, yeah I've seen the movie, when I was a kid. Well, the album cover just shows a traditional helvetic ornament, which has been found through archeological excavations (it was chased in a golden fibula). So, it basically represents the celtic tribe of the Helvetians. The black, simple cover forms kind of a "book cover", you know. The inside of the (btw quite extended) booklet pretty much elaborated. The idea behind the album artwork was to create something like a volume of art photography. You know, to create pictures as they would have occurred if a gifted art photographer – such as Andre Kertesz or Henri Cartier-Bresson – would have been there, 2000 years ago, and documented the events of the gaulish wars photographically.
Now for Anna only, which are the vocal part that you have enjoyed recording the most on the latest Eluveitie album? Also, not so time ago, you have joined Nucleus Torn, how happened and how you'll manage it?
Anna: That's a difficult question, I enjoyed everything of course. But in a different way, maybe. "A Rose for Epona" is probably the most difficult (and high as f***) thing I've ever undertaken, so my singing was taken one step further just by recording this song I'd say. "The Siege" is something completely new which was a lot of fun, but made me lose my voice completely for two days, haha. I guess I still enjoyed "Alesia" the most though, because I probably improvised more than half of my parts in the studio and Chrigel and I were still working on arrangements right before recording them… I really like doing things spontaneously. Yeah, Fredy asked me quite a long time ago if I'd like to do some guest vocals on his new album. We noticed that we work together very well and have similar tastes, so it came naturally that I joined as an official member. We're going to compose new stuff together very soon and I'm looking forward to it! I'll manage somehow, of course Eluveitie is Nr. 1, but that doesn't mean I can't be creative with other projects, I just don't have all the time in the world.
Chrigel, running down the list of the line-up and the instrument played I notice that you're playing the gaita too. I've never heard of it, can you explain its peculiarities?
Chrigel: Hmmm, check: http://en.wikipedia.org/wiki/Galician_gaita

The gaita is just a bagpipe. We're using diverse kinds of bagpipes in our music and among others also the galician gaita. It's a rather simple bagpipe. But really love it's sound and also the way it can be played (it allows much more "emotional" expression than a scottish bagpipe for example).
The band started as a merely studio project, Chrigel, when have you "understood" that Eluveitie was evolving into a proper live metal band?
Chrigel: To be honest – the only reason I formed Eluveitie as a mere studio project at first, was because I couldn't find dedicated fix members for a band back then. You know, back then the combination of folkmusic and metal was not common at all, there was no folk metal scene or something like that. It was new, unknown and most people considered it a pretty weird, crazy and pointless idea. But yeah, actually it has always been my wish and idea of have Eluveitie as a proper live band – which was possible later then, fortunately.

In your opinion(s) where lies the differences between "Everything Remains as It Never Was" and "Helvetios"? What is the step towards a musical evolution that you have accomplished on this last album?
Anna: I don't know Chrigel's opinion on this one, but I would never think about differences between albums. We just write music, do what we feel sounds good and if it sounds different from the last album, well so what? We don't care or think about these things. At least I don't, haha. I mean, our music has always been very diverse, though still creating a solid entity. That's what Eluveitie is.
Will be a an "Evocation II" in the near future?
Chrigel: There will be "Evocation II" for sure. But I can't say if it will come in near future or not (well, regarding the fact that we're just about to release a full studio album and thus we just started a world tour that will keep us on the road for at least 12 months, it's actually not very likely that "Evocation II" will happen in NEAR future

).
Anna, can you talk more about ThruByRed and Fräkmündt I must presume that are some other bands beside Eluveitie and Nucleus Torn. And by the way congratulations for being so diverse in your tastes, for being so really young (me and you we have tha same age hahaha) you rock.
Anna: Hey cool that you checked out my other projects, thanks! Well, Fräkmündt is my other band. It's Swiss traditional folk music, but still has a rather dark, atmospheric and sometimes even modern touch to it. We're all really good friends and do exactly what our music sounds like, we hike in the mountains for hours or days and then go get wasted somewhere and talk for hours from philosophical debates to complete and utter nonsense. I play the hurdy-gurdy, flute and acoustic bass, do some vocals and composing. ThruByRed started shortly after I joined Fräkmündt. Christoph Ziegler (who is also in Fräkmündt and apart from that the man behind Vinterriket, Atomtrakt, Nebelkorona etc.) and I really hit it off when we got to know each other and pretty much immediately decided to start an electronic project together. The plan was for it to just sound completely weird and have all sorts of musical elements and confusing lyrics in it. I think we managed pretty well, ThruByRed was born!
Well, guys I think we're at the end do you have any last consideration about your next projects?
Anna: We're touring our asses off this year to promote "Helvetios", that's project Nr. 1! Then, I guess we'll see what's next.
Chrigel: Yeah… couldn't add anything to that.

Just greet as you want your fans and our readers. Thanks so really much for everything! Hugs, Miriam x
Anna: Cheers to our fans and readers! You guys rock! And thank you Miriam for the cool interview and your interest!
Chrigel: Yep! Thanks! And see you on the road! Cheers
Credit Photos
Photos by Manuel Vargas
Links
MySpace * Facebook * Twitter * Site
Latest Multimedia
Interview by Si Smith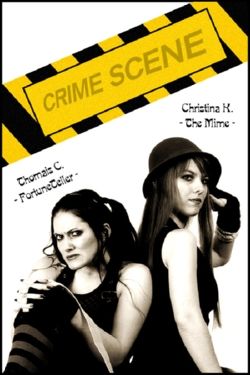 Although Dakrya is derived from the Greek word for tears, there is nothing weepy and morbid about this group of theatrical musicians! Dubbing themselves "The Charlatans" and branding their new album "an avant garde metal freakshow", this septet of metal magick brings you the thrills and spills of the stage alongside the sparkle and allure of the circus. I spoke to two of the leading talents, Christina and Thomais….
First of all, thanks so much for this interview and greetings from all at Femme Metal. You call yourselves collectively the Charlatans. I gather that this is a old 16th century reference to "a flamboyant actor; one who attracts customers with tricks or jokes". How well would you say this describes your little theatrical troupe?
Thomais: Well our little concept is based on this kind of twisted circus world. It's a different but yet the same aspect of seeing the world we live in. It helped us connect with the character each one of us had inside … and bring it to life… Each one of us has its own unique and important role to play within this world.
Christina: We use our music to attract "customers", in our case the audience, and through the cheerful circus themes and musical theater atmosphere we try to introduce them to the "Crime Scene" which is the world that we live in. Our lyrics speak of dreadful stories where money, ego, and fraud are the driving force of our society. So I guess we are Charlatans, we trick people to attract them to our world!
You burst onto the scene in 2008 with "Monumento" which was an invigorating mix of religious and operatic imagery. In contrast the theme of the new album is described in the opening song as involving "a dazzling haze of criminal minds; riddles, traps and horrible crimes". How did this concept for the new album arise?
Thomais: It came really natural I would dare to say! Just look at the world around you… the whole album theme is vital and you are a part of it as well… it is the everyday things we have to deal with… people hiding behind masks feeling artificially beautiful, a world based on creating fear and insecurity… it was really easy for us to evolve with this concept.
Before the release of the full-length itself came the single "The Urban Tribe" as a download. In what ways did you feel that this was a representative track to put out as a single?
Thomais: First of all I believe that this track shows our new style and sound in many ways…the one that could hold the listener by the hand and make him enter our new world step by step and become familiar with the new things we wanted to express.
Christina: "The Urban Tribe" is a song that reflects the change in our musical style in the best way in our opinion. Also we all love it! It's a powerful track, a combination of jazz and swing elements with metal riffs and strong lyrics that holds the essence of the album.
Many of the lyrics of the new album involve jugglers, clowns or mime artists. Your vocals too are extremely theatrical and effectively express different nuances of emotion. What are your musical and/or theatrical backgrounds?
Thomais: Well I started my studies in the vocal area as a classical/opera singer (exactly what I do in "Monumento" album) but I've always had the craving of experimenting with my voice… the sound and color of it. I had a great love for dance and theater as well so musical theatre came across my way and I started searching and expanding my potentials as a singer in this field… I guess that helped me to discover my demanding little dark twisted character in "Crime Scene"!
Christina: Actually I have no theatrical background, never took any acting lessons or participated in a theatrical play. As for my musical background, I started singing since I started talking! I took singing lessons for many years and before Dakrya I was in another metal band. But I believe singing and acting are strongly connected, and many times you are called to play a role when interpreting a song. So I think it would be very useful for me and probably any singer to take some acting lessons.
The "roving" rhythms of tracks such as "The Urban Tribe" and "Camouflage" are highly reminiscent of the recent achievements of bands such as Diablo Swing Orchestra. Where would you say your influences are, as musicians, vocalists and performers?
Thomais: I think that the fact the seven of us has so many and different influences and sounds we like to listen and experimenting with gives this rare and weird sound. Of course we love bands such as DSO and Unexpect, but speaking for myself I really love soundtracks, alternative music, jazz, blues, and artists that love to take their sound one step further and create different and unique worlds like Tool, Porcupine Tree, Shining… there are so many I could name right now… I also have many pop – electro and industrial favorites, folk and world music as well… there are no limits in what I listen to, it depends on my emotional state every time.
Christina: We all like Diablo Swing Orchestra and I guess their sound was a great influence for us. As for me as a vocalist, my influences are quite diverse. From Dusty Springfield and Aretha Franklin to Bruce Dickinson! I love soul music, blues and jazz, while musicals like Chicago give me ideas about my stage performance. I want to find my own identity as an artist and i always have my eyes and ears open during this way.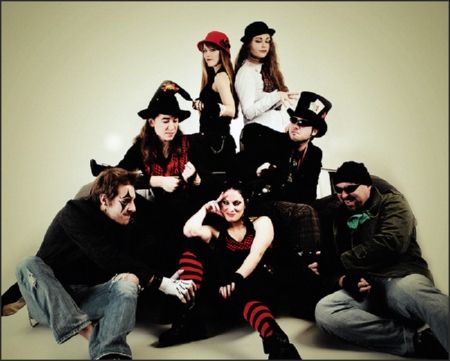 The album slows down a little for "Inertia" then bursts into life again for the arrival of "Dramatis Personae", which swells up like a Final Act before the ending of the play. In what ways does this song encapsulate or summarise some of the main themes of the album?
Christina: ''Dramatis Personae" is actually the Final Act, as it reflects the main reason for the fear, the consumerism, the corruption and generally the madness that composes today's life and were mentioned in the previous tracks. We all play roles, we are actors in a play we don't really know the scenario, but have to improvise every time for our own advantage or the advantage of those above us. As the song says if you want to survive "play your role right!"
You have recently been signed by Sensory Records, the same label as bands such as DSO, Wuthering Heights and Circus Maximus. In what ways (if any) has this changed the way things are done in Dakrya? In what ways is the label supportive of you as artists?
Thomais: Well we are satisfied that this cooperation came up! We have the right promotional support and many chances to take our sound beyond the borders of our country. We feel very proud sharing the same floor with so talented artists and it has helped us focus more on our targets for the future.
Christina: We are very glad we had the chance to be signed by Sensory Records. They have appreciated our work from the beginning and they support and promote us a lot, especially in the USA. So as far as we are concerned we try harder to do everything with professionalism and become better musicians and performers through a lot of work, so that we can return their trust in us.
By now you will have just completed your first February show in Athens alongside Psycrence and Allen's Hand. Please tell us how the show went!! What were the highlights for you?
Thomais: We had such a really nice time and enjoyed ourselves a lot!!! It was the first time that we played for the Greek audience after so long and introducing the brand new concept and album to them was pretty challenging… it came up more like a theatrical show in the end! I was very exciting feeling this live contact with the audience again!!!
Christina: Yes, we had our first show in Athens on February after the release of our new album "Crime Scene" and it went really great! We enjoyed it a lot and I think the audience enjoyed it as well. We had the chance to play in a great venue, the sound was very good and generally we didn't face any problems or misfortunes. As for the audience I think the whole show, with our performance enriched with theatrical elements came as a surprise to them!
The whole Dakrya experience must be very daunting to recreate in the live environment. How on earth do you all keep track of all the elements involved? This surely must involve a lot of practice….
Thomais: Yeah it takes a hell of a practice!! Haha… well every rehearsal is a small show for us… cause as you very correctly said we have to give this sense of theatrical experience to the people that will give it a try and check us live. We also have this need of creating a vital world to bring those characters we get to play, into life. So we came up with lots of ideas and combined them interactively into our show…
Christina: Yes, the truth is that it's really difficult to recreate live the whole concept of "Crime Scene". When we do our rehearsals we practice on everything. It's kind of preparing a theatrical play where we have to take care of the costumes, the stage scenery and our whole performance apart from playing music and singing. Every song is a story we want to tell people and we enrich it with theatrical elements. On February's show the audience took a small taste of what is coming up because we're still working on it and try to make our stage performance better and make a step forward all the time.
I imagine it must be good for morale to have more than one vocalist up on stage at any one time. How does the dynamic work between you two? How do you manage to encourage each other when things get rough along the way?
Thomais: Well it was a spiritual kind of bonding that we shared from the very beginning… We managed to work perfectly together and had many ideas on how to create styles and melodies within the songs. We came to the point that we can choose the parts that Sophia gives us to work just by instinct. I feel that without each other the whole concept wouldn't be whole… I would feel incomplete as a voice and theatrical character if Christina wasn't there; knowing how important we are to each other encourages us and gives us strength for the show to go on!
Christina: We work perfectly together and sharing the stage has become something essential for us. Actually we can't imagine Dakrya with just one of us! I think we complement each other and we manage to create a balance on stage. We always help and support each other and for example if I forget any lyrics, Thomais is there to cover it up and this can be a great relief!
With all the different ideas that make up a Dakrya album, how do the creative roles divide up between the band members? How does the average track get written?
Thomais: Each one of us created his own character and gave it personal characteristics. The average track and idea is written by SophiaX and then all of us are involving our ideas and colors in it… she gives us the toys and then we play haha… then the roles and their development are take their natural way I believe due to the fact that we are not only band mates but very close friends, we know each other's way of thinking and there is a bidirectional trust in between us… so we always respect each other's "sound space".
Christina: Usually SophiaX is the one that composes the music and writes all the lyrics. So after the main directions from SophiaX, we all have the chance to add our own ideas and improvise on our instruments. Along with Thomais we get the music and the lyrics and then we make the vocal arrangements with SophiaX helping us especially when it comes to matters of expression and interpretation of the lyrics.
Finally, it would be great to know if you have any hopes of aspirations for the future of Dakrya. Or for yourselves as individuals? Is there anything revealing you would like us to know about yourselves before we close?
Thomais: We are planning to have some shows here in Greece and hopefully abroad, because we will be entering the studios once again soon!!!
Christina: What we really want for the future is to keep playing music that expresses us and making albums like "Crime Scene" which we feel very proud of. We are planning to have more live shows around Greece and abroad and we want more people to enter our "freakshow"!
Thank you so much for taking part, really, you guys do a great job, and we at Femme Metal wish the album and the Charlatans all success in the future!!
Christina: Thank you as well for your support and this great interview! We hope to see you all soon on stage!
Links
MySpace * Facebook * ReverbNation * Twitter * Site
Latest Multimedia
Label : Sleazy Rider Records
Review by Tony Cannella
Germany's Re-Vision have been with us since 1993 and released its debut in 1997. Now, the band is back with their 4th full-length platter, "Chapter IV: …All for the Sake of Love". The CD features production and guest vocals by Devon Graves from the band Dead Soul Tribe. The material highlighted on "Chapter IV…" is quite melodic hard rock/metal with a heavy groove that has an immediately infectious impact. Among the 14-songs, Re-Vision gives the fans a strong metallic record, with a bit of an alternative vibe present as well, but at its heart, "Chapter IV…" is a melodic, metal guitar-driven disc. The CD sets a solid pace from the outset with "Colours", "Scream" and "Deconstructed". "For the Sake of Love" is just a huge sounding number and an early favorite of mine. "Tomorrow May Come" has got a ferocious sounding guitar riff that really drives the song. In vocalist Anke Willnat, Re-Vision has a singer with a powerful voice that oozes character and emotion. Other highlights include: "Awake My Soul", "While We Sleep" (a great ballad), "Chew 'Em Through" and "Light on Me". "Chapter IV…" comes to its conclusion with a stirring cover of the underrated Iron Maiden song, "Strange World" featuring just an awesome duet between Devon Graves and Anke Willnat. In addition to their duties in Re-Vision, the members of the band (minus vocalist Anke Willnat) have been supporting ex-Iron Maiden singer Paul Di'Anno as his backing band on tours throughout Europe, this is a solid choice by Mr. Di'Anno in my opinion. I have never been familiar with Re-Vision prior to hearing "Chapter IV…" and was shocked to hear how long they have been around but consider me impressed with what I have heard from this outstanding German band.
Rating – 93/100
Tracklist
Colours

Scream

Deconstructed

For The Sake of Love

Tomorrow May Come

Shapeless

Awake My Soul

While We Sleep

Chew 'Em Through

Don't Wake Me Up

Tantalized

Light on Me

Deep Forever

Strange World
Line Up
Anke Willnat – Vocals

Daniel Duering – Guitar

Christoph Luecker – Bass

Dominik Nowitzki – Drums
Links
Label : Napalm Records
Review by Tony Cannella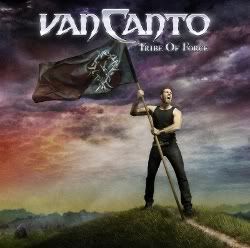 A Cappella metal. What a concept! Some may think that the idea of playing metal, minus the screaming guitars and bass would be corny and just wouldn't fit in to what most people consider to be metal. The German metal band Van Canto are sure to change that perception with their third album "Tribe of Force". The band includes five lead vocalists and one drummer, with one of the vocalists Stefan Schmidt performing the "guitar solos" with his voice. Stylistically Van Canto are not all that far removed from bands like Sonata Arctica or Stratovarius and other power metal bands.You would think that with a playing time of 55-minutes that Van Canto would have a hard time keeping things interesting throughout "Tribe of Force", but the band manages to do so. From the opening track "Lost Forever" you know that you are in for a different metal experience. The band do a good job in mixing the different vocal styles together to create an interesting sound. Each singer is given a chance to take the lead on the CD with female singer Inga, taking center stage on one of the main highlights "One to Ten". Two cover songs are included, the first one is a rendition of the Grave Digger track "Rebellion" featuring Grave Digger frontman Chris Boltendahl joining in on vocals for a great version of the track. The second cover song is a big surprise as the band absolutely tear into the Metallica classic "Master of Puppets". They do an excellent job on this track, I know it's hard to imagine "Master of Puppets" done a Cappella style, but they really do the track justice. Other highlights include: "I Am Human", "My Voice", "Last Night of the Kings" and "Hearted". The drummer Bastian also proves to be a valuable member of the band as he provides a thunderous beat that really helps drive the CD. The limited edition version comes with a DVD of the band live at the 2008 Wacken Open-Air festival and also includes some behind the scenes footage, making it an essential release for fans of the band. With "Tribe of Force", Van Canto prove that they are more than just a novelty act. The songs on "Tribe of Force" pack a pretty strong punch and they are heavy, even without the use of actual musical instruments. All hail Van Canto!
Rating – 95/100
Tracklist
Lost Forever

To Sing a Metal Song

One to Ten

I Am Human

My Voice

Rebellion

Last Night of the Kings

Tribe of Force

Water.Fire.Heaven.Earth

Master of Puppets

Magic Taborea

Hearted

Frodo's Dream
Line Up
Inga Scharf – Lead Vocals

Philip Dennis Schunke (Sly) – Lead Vocals

Ross Thompson - Higher Rakkatakka Vocals

Stefan Schmidt – Lead & Lower Rakkatakka Vocals

Ingo Sterzinger (Ike) – Doom & Bass Vocals

Bastian Emig – Drums & Percussion
Links
6 color styles available:

Style switcher only on this demo version. Theme styles can be changed from Options page.