Browsing articles tagged with " true"
Label : IAMSOUND/Atlantic Records
Review by Luisa Mercier
Charli XCX (aka Charlotte Aitchison) is another rising indie pop artist coming from the UK, a country that has given us a long strip of stars, first of them coming to my mind is Marina & The Diamonds that Charli is supporting on tour. The album is a powerful mix of modern sounds, '80s synths, industrial, darkwave that clearly reminded me of The Birthday Massacre. Listen to the keyboards in the opener (and single) "Nuclear Seasons" to see what I mean. "You (Ha Ha Ha)" is another single that was launched some time ago and sounds like something you might hear on a mainstream radio, but at the same time it is totally unfit for people who like normal chart-hitting pop. "Take My Hand" is my personal favourite thanks to the epic synth in the background, so the danceable feeling is matched to a more symphonic sound. Continue reading »
Label : Rare Breed Records
Review by Tony Cannella
From New Zealand comes Alpine Fault. Their debut album "Iraena's Ashes" combines old school and modern metal riffs with a pretty unique concept lyrically. Alpine Fault was formed in 2005 and their music can be described as power metal combined with symphonic metal. The story told within the lyrics of "Iraena's Ashes" is based on true events. Iraena Asher was an Auckland (New Zealand) school teacher who disappeared under mysterious circumstances in 2004 and that is what makes up the concept of "Iraena's Ashes". The songs flow nicely, starting with the power metal of the opening track "Into the Night". Lead vocalist Nadia Vanek has a wide vocal range that occasionally hits operatic territory. Guitarist Antony Royle contributes male vocals, and also on display is a full-time violinist (Yvette Van Wyk). Next is the 8-minute "Above the Storm". This is the longest song and packs plenty of power with a very infectious stop/start guitar riff being played throughout. There are some albums that have great music, and others that you pay more attention to the lyrics, "Iraena's Ashes" is one of those album where the lyrics really make an impression and help paint a picture of the story in your head. "I'll See You Soon" starts off acoustically as the mournful violin joins in and gives it a sad quality; the song eventually gets heavier, but for the most part it is a mid-tempo number and one of the best songs on "Iraena's Ashes". Other highlights include: "Requiem", "The Watcher Beneath" and "Under a Dying Sky". With "Iraena's Ashes", Alpine Fault set out to do something ambitious for a debut and it succeeds on most levels. The musicianship is excellent, Nadia Vanek's voice is enchanting and the songs are first rate.
Rating – 95/100
Tracklist
Into the Night

Above the Storm

I'll See You Soon

Mourning Has Broken (Sleep)

Requiem

The Watcher Beneath

Severance

March of the Tides (Palladio)

Under a Dying Sky
Line Up
Nadia Vanek – Vocals

Antony Royale – Vocals & Guitar

Yvette Van Wyk – Violin

Kalen Austin – Guitars

Ben Trappitt – Bass

Daniel O'Brien – Drums
Links
MySpace * ReverbNation * Facebook * Site
Interview by Connie Bach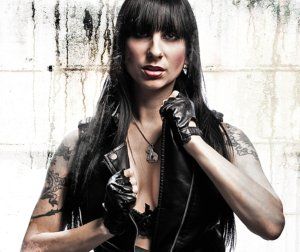 Rock with attitude. This is Sister Sin's personality. The "attitude" aspect is loud, edgy, and melodic. If you are furious with someone this is a great album for the situation. And if you are not in a rage, there is energy for entertainment, and plenty to spare.
Hi, Liv. What's going on with the band right now?
Hi! Right now we are playing lots of shows in Scandinavia and doin' some tours in Europe, we hope to be back in US early next year! The album is just released in Japan too so hopefully we will get the opportunity to do a tour over there next year too. This one's for the whole band. How did each of you get involved in rock music? What's your background?
Liv : Well, I started to get into rock in my early teens when I found Nirvana and Hole, and a Swedish metal band called Drain. Drain had Pantera as their favorite band and that got me into Pantera and the heavier stuff. I so wanted to become a rock star that I forced my to best girlfriends to start a band with me. After a while they got into it too ha, ha… We were called Sisters of Kali and we´re very, very dark and angry on everything. Jimmy : I got into rock music seriously when I was around eleven years old. I loved Metallica and Pantera at that time which friends introduced me with. Then I discovered more extreme music such as Slayer, Sodom, Entombed and later on bands like Morbid Angel, Deicide, Suffocation, Gorefest and also a lot black metal. I played in many bands in those days, mostly death and black metal bands. Then I had a break from playing and one day I heard from a friend that Sister Sin was looking for a new guitarist, knew nothing about who they were. But I gave it a shot since I always had a soft spot for classic hard rock and heavy metal. It turned out to be perfect! Dave : I stole all my brother's heavy metal vinyls after discovering Vanessa Warvick hosting "Headbangers Ball" in the early nineties. After that I got in to a lot of punk, hardcore and eventually black metal as well. Started playing guitar back then but moved on to drums for the usual reason that there weren't any drummers around. And here I am today, piss poor but happy with a Metal Heart, ha ha. It's been a few months since Benton, Sister Sin's bassist, unfortunately had to part ways with the three of you. Liv, how is the search for a new bassist going? What challenges does a change in line-up present, even with the qualifications you have in mind?
It's always very hard to find replacement for someone that you liked and that suited the band so well and we have been thru this before so we are pretty tired of this whole bassplayer thing. That's why this time we really need to find someone that has the passion for music and touring that we do and that could dedicate their life to this band. Even if you do find someone who is technically qualified the most important thing is always the social aspect. When spending so much time as we do in a van you can't have one guy you wanna choke to death every half hour. I think we´ve actually found the right man for job but he´s gonna do at least one tour before we make it official, for both parties sake.
Why does Sister Sin require that the new bassist have studio experience?
Do we? Ha ha… I didn't know that. No, but I guess it´s more of sorting out the serious ones, like we get so many e-mails from people who think that anyone can play bass and let me tell you; just because you can play guitar and get by doesn't mean you can play bass. What are you expecting with the tour with Grave Digger and Grand Magus?
I think that will be a blast! We haven't toured so much in Europe with all the focus that's been on U.S last two years so it´s gonna be cool for sure and we are hitting some very interesting countries as well, so I'm really looking forward to that.
What determines where a tour takes Sister Sin, or any other band? Why?
Since we haven't really sold shitloads of albums around the world we can't exactly pick and choose where and when we wanna tour and whom with. Many people ask why we go on tour with bands like Arch Enemy or OTEP and the reason is just that we got offered those tours and we need to be on the road all the time. Got nothing against any of the bands we´ve toured but yeah, if we could choose we would definitely tour with headliners that are more close to our genre and fan base. We´ve been over totimes and the reason for that is that our label has spent more promotion over there and we need to back that up.

Liv, you are featured as "Miss November" in Revolver's "Hottest Chicks in Metal" calendar. How do you feel about the award? Nice job. The reason I ask is that for some it is a source of pride, whereas some feel it mocks women in metal.
For me it's a pride!! I'm very, very glad to be one of the girls in that calendar, it's an honor. I truly can't believe it really, I'm just a working girl from Sweden and a big American rock magazine wants me in a calendar ? That's so cool! And I don't understand these people that think it's mocking women, if you are a beautiful woman with a talent, show it! Both your talent and your beauty, that calendar is a way to celebrate both in my opinion! "True Sound Of The Underground" did quite well on the charts. What does that mean for the band?
Of course it means a lot to know that people enjoy our work and that we hopefully can inspire others with our music. Not that you have to sell a lot of copies these days to end up on a chart but it´s a nice motivator for us that there is a growing market for the kind of music we play. Do each of you have a personal goal that you are fulfilling through being in Sister Sin?
Jimmy : Yes absolutely. I get to play guitar just they way I dreamed of when I first picked up a guitar and all the countless hours of practice finally pays off with releasing albums and touring, it certainly is a privilege and a dream come true.
Dave : Ever since first got in to heavy metal I always wanted to tour and see the world. And now I get to travel, see new places, new people and be on stage every night doing what I love to do. I've never dreamed of making lots of money (although it would be nice! ) and playing big arenas, I'm just glad that 3 nobodies like ourselves who have been stuck in a rehearsal studio for 5 years never gave up and it´s paying off the way I always wanted it to do. Liv : This is my personal goal, to be able to be in a great band and play live all over the world! One thing that would make it even better would to be able to live from the music one day, that's very much a goal for me. To just live 100% for the band, now I have to share my time with my job as a personal trainer.

Liv, Sweden (especially Gothenburg) has a huge metal scene, with many famous acts. Why does this scene influence Sister Sin?
I really don't think there are any Swedish bands that influences us really. There´s a lot of extreme metal coming out of here which obviously is what Sweden is mostly famous for in metal. A lot of those bands, like In Flames for example definitely inspire in another way though that you can make it if you just hang there, never quit and be true to what you love. Liv, Dave, and Jimmy, thanks a lot for your time. Your musical energy and commitment to Sister Sin is impressive. Hopefully we'll see you in the States again soon.
We will be back 4 sure!
Links
MySpace * Facebook * Twitter * Site
Latest Multimedia
Interview by Danny Robertson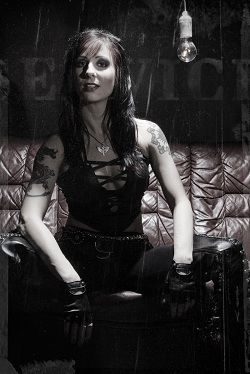 Check out Sister Sin – the Swedish rock'n' roll quartet hailing from Gothenburg, who recently supported their heroes Motorhead whilst on tour in the US. Here, singer Liv gives us an update.
How did the shows with Motorhead go? It must have been quite an experience to be supporting an act who've influenced you all for so long!
We had a blast!! It was a dream come true for all of us to support Motorhead. Both shows went very well and it was truly amazing to play in front of a full sold out show!
Did you win many new fans from the Motorhead crowd?
Absolutely! I think we got a good amount of new fans. People were standing in line waiting for photos and autographs after the show and we sold a lot of CD's, I think we did a really good job and people seemed to really enjoy our show.
Got any tour stories you'd like to share? Any strange or unusual experiences?
Hmm no not really, everything went very smooth during the shows with Motorhead. But on the tour we did before with Faster Pussycat, we had a lot of trouble! Our van broke down like 3 times during the tour and we nearly missed a show waiting at a truckstop for 7 hours for a new ride to the show that evening. When we finally got to the gig, we were 45 minutes too late and only got to play 3 songs.
Let's go back to the beginning – how did the band first get together?
Well, at the beginning we had another bass player and guitarist, and they and drummer Dave formed the band in 2002. I had put out an ad in a magazine looking for a rock band and one of them called me and told me they really wanted a male singer, but maybe I could try anyway. So I did and they didn't audition any other after that, so I guess I did make a good impression, haha! Since then, me and Dave have been looking for the right members and now it feels like we found them! Both Jimmy and Benton suit the band perfectly.
You hail from Gothenburg, a place normally associated with melodic death metal, thanks to bands like At the Gates, In Flames, etc. Given that yours is a very different sound, was it difficult for you to get shows and build a local fanbase in the early days?
Yes a little actually and still in Gothenburg that sound is dominant but the more hard rock/old school sound is beginning to come back.
You're described on your MySpace profile as being the new ambassadors of 'Street Metal' – who first came up with that term?
That is a good question, and I don't remember who first came up with that, haha. But I think it suits us very well. We are just true hardworking rock, very down to earth – very street, nothing fancy. We don't expect things to happen, we make them happen!
What would you say has been your biggest non-musical influence?
Just everyday life! From both close in our own lives and that very big, big unpredictable world.
The Motorhead shows aside, what do you feel have been the high points of your career thus far?
Well playing at Masters of Rock in the Czech Republic for 5000 people and with bands like Doro and Cradle of Filth was pretty amazing. And then playing at the Sweden Rock Festival last year was a dream come true too!
Who are your favourite current acts?
My personal favourites are Airbourne and Deathstars. We met the singer of Soilwork while in the US and they are working on a new album, and I am looking forward to that very much.
Are there any new bands back in Gothenburg that you'd recommend to people?
Maybe not Gothenburg, but I think people should check out Hysterica and Babylon Bombs, good Swedish bands!
What's next for the band? Any tours or future releases in the pipeline?
Yes hopefully both hahha! It's depending on if we are gonna do more tours this Autumn or not. We really want to tour as much as possible and we are right now working on finding new tours. But if we don't, the plan is to record a new album early next year. We are working on new songs right now and we are looking forward to giving the world some more kickass heavy metal!
Links
MySpace * Facebook * Twitter * Site
Latest Multimedia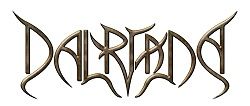 Interview by Ed MacLaren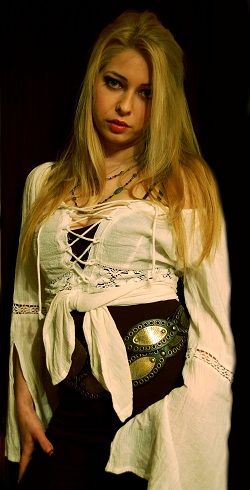 Music has always been an amalgamation of styles and influences and metal is no exception. By channelling folk through the heavy riffs of metal, Hungary's Dalriada have combined the best attributes of both styles with intricate and unique results. With their latest release, "Ígéret", Dalriada prove without a doubt that you can celebrate culture while still bludgeoning the eardrums. Dalriada's vocalist Laura Binder took some time to speak to Femme Metal about the challenge of expressing Hungarian folklore in a metal framework as well as the band's goals for "Ígéret".
The new album "Ígéret" on AFM is an album that really transcends language. You don't have to understand a word of it to feel the energy and passion in the music – and that's no small achievement. Congratulations on another great album!
Thanks a lot on behalf of the whole band! We all put a tremendous amount of work into this album. I tried really hard to add more of myself, ourselves, my style and our combined style to it and to share some of the emotions I felt while writing these songs with the whole band.
You choose to stay true to your folk tradition and write and sing in your native tongue. Many bands adopt English lyrics to reach a wider audience. What are the advantages and disadvantages of singing in Hungarian or is it even an issue with the band?
Not an issue really! We've been writing our lyrics in our native Hungarian since the beginning back in 1998, and that isn't realistically going to change.The Hungarian language in itself sounds quite exotic already to the western European ear and Hungarian folk music isn't very well known in your region either, so I think it gives us something that is totally unique. This is only one of the many things we're able to use to strengthen our work: it's a way of honouring our own culture as well. If you look very closely, you'll probably find more similarities between Swedish, Finnish or German folk metal bands than you'll find comparing us with them.
Technically, folk music isn't really about the type of instrumentation but the common people reflecting the traditional forms of a society. Do you and Dalriada consider yourselves a modern folk band?
Yes, I think we accept that but we also embrace being tagged as a folk metal band too because in terms of a definition of our work, this sounds about right. Having said that, we operate with lots of other musical elements too and we aspire to diversity and variety, whilst adhering to our principles, so I always try to ask people to look below the surface as well!
The music on "Ígéret" feels very 'celebratory'. Is this how Dalriada views its country's history?
Well, our home country's history abounds with severe, tragic events, yet much of it is extremely heroic too, so in a way you're right! Peace was extremely rare. Hungary never went to war to conquer as such – although it had the power to do so – but very often to defend its people from outside foes. Many of our songs tell about our ancestors' bravery and self-sacrifice and therefore their character is quite celebratory and epic; yes!
How do you determine your source material for each album?
It depends; it's very different. In many cases, it's a single folk song, a poem or a good book that starts the process of song writing. But, sometimes we knowingly adapt a specific folk song or melody too – a particular tale or legend. There are some personally very inspiring songs on our new album "Ígéret".
Is Dalriada making an igéret – that's a promise in Hungarian I believe – with this album? Is it to anyone in particular?
Yes, in a way, but it's a pointer as well. This album is for anybody who is open minded and interested in modern metal, combined with eastern European folklore and culture and especially Hungarian folklore and musical traditions alike. We don't expect a sudden flash of brilliance and increase in our popularity abroad; our goal with this album is to put ourselves on stages across Europe (and maybe beyond) and to become a viable part of the world's "metal heartbeat"!
You and Andras Ficzek serve up some excellent vocal performances and harmonies on "Ígéret" – especially on tracks like "Igazi Tuz" and "Leszek A Hold". Did you two have any particular vocal strategies when recording the album?
Thanks a lot! Basically, we are our own producers; when Andris sings his parts at the studio, I regularly give him instructions and feedback and vice versa. We can be quite productive when working together; it's a result of long lasting, constant teamwork, and we compose all the vocal and choir parts this way. We have no specific plan; I, for my part, try to utilise my abilities as best as I can to add something new and extraordinary to the whole, for what the songs require and he's also trying to always give each and every song its own unique note.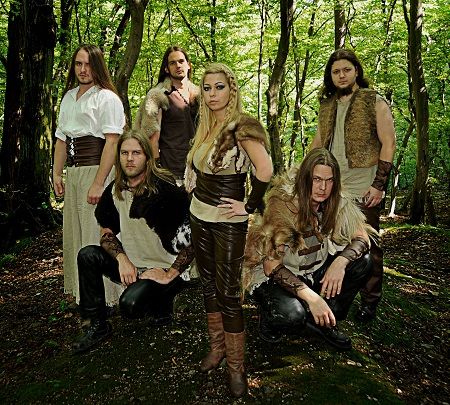 You even did some grunting on your part! How did that go? Had you done this before or did you have to learn how to do it? Hopefully your throat held up well!
Yes, it's not hard… I've actually used this technique on stage for years now and even on our album "Szelek" from 2008 where I had a small screaming part. The new album is truly the first one with longer parts, that's true, but I didn't have to learn or even practice this kind of vocal technique. It just bursts out of me, naturally. In one of our new songs – "Hajdútánc" – I alternate, time and again, between screams and clean vocals, and it drives the crowd crazy! (Laughs)
The traditional "Intro" and "Outro" were very interesting bookends to the album. Were they functioning like a book's prologue and epilogue, setting up and closing the stories in between?
Exactly and that was definitely our goal: to create some kind of frame for the album. The "Intro" – chosen and played by the Fajkusz Band – a traditional Hungarian folk music trio that has constantly backed Dalriada on stage since 2009 – is a fragment of an old poem written by Tinódi Lantos Sebestyén who's a Hungarian soldier/poet from the 16th century. The "Outro" is a part of the song "Leszek A Hold" with shaman drums.
Tracks like "Mennyei Harang" and "Ígéret" incorporate lyrical and melodic elements of older traditional folk songs in your music. How important is it to maintain a connection between the modern and your traditional folklore?
Extremely. When we first started playing back in 1998 in a slightly different band to Dalriada, our primary goal was to mix Hungarian folk melodies and some classical music elements with traditional heavy metal. Of course, this idea wasn't new since there were some outstanding folk metal albums by bands such as Skyclad and especially Amorphis who were writing masterpieces of this genre with their album "Elegy" in 1996. But, although we wanted to create something similar we knew we had to better this and add to it our main idea of expressing our love for Hungarian folk music and folklore. We mustn't forget to mention the Fajkusz Band in this regard too, since they too have helped us a lot in combining these styles in an authentic and real way.
"True Fire" is a tribute to a fallen band mate, Peter Hende. What a great homage to immortalize him and his life in a true folk fashion.Thank you once again.
Yes, Péter Hende was a founding member and the spirit of the line-up back in 1998. He died suddenly and unexpectedly in January 2001. He spent only 3 years in the band and was only 23… This song was written in his memory. Rest in peace!
Dalriada is very prolific as far as metal bands go – six albums in seven years. What's the secret to producing such consistently high-quality music for so long? Isn't it about time for a break?
I hope not! There's no big secret, we just like to work on short deadlines; it seems to inspire us, and it's just the way it goes in this band. Certainly, it's always important to show progress from album to album; the sound and the songs' need to move forward. If, in our opinion, the new stuff will be weaker than the previous ones, we wouldn't publish it and I think that would be the time to stop for a bit. But we'd like to stick to this schedule for now – one album per year approximately. That's, of course, just theory though because you never know how it'll turn out! (Laughs)
"Ígéret" is very danceable, for a metal album – it has a real groove to it. Your concerts must be a real party!
Our Hungarian friends and fans support us in an incredible way; the spirit and the atmosphere of a Dalriada gig is fantastic. I can't even compare it to anything! Without the support of our Hungarian fans, we'd be nowhere!
Do you have any tour plans for the summer? Will you be performing around Europe or maybe North or South America?
We have some confirmed concerts abroad in Europe certainly; in Austria, Germany and Italy, but hopefully, there will be more of them as well. The tour dates will soon be available on our homepage. Feel free to check them out!
(Famous) Last words?
No real quote, sorry!! Just thank you for this opportunity, and I hope to see you at a gig somewhere in Europe soon to show you just what a real Dalriada concert is like!
Links
Latest Multimedia
6 color styles available:

Style switcher only on this demo version. Theme styles can be changed from Options page.