Browsing articles tagged with " US"
Label: Dramatico Entertaintment
Review by Tony Cannella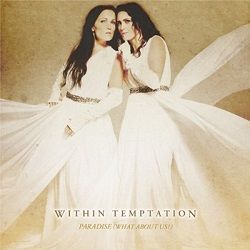 What a treat this turned out to be. The collaboration between two of the most iconic female singers in metal was eagerly anticipated (by me anyway). On their new EP "Paradise (What About Us?)" the Dutch band Within Temptation joins forces with Tarja Turunen on the excellent title song and it is a match made in Femme Metal heaven.
In addition to the title song, "Paradise" also comes with three demo versions of new songs, which will presumably be on the next Within Temptation album. But the song and video that has everyone talking is "Paradise (What About Us?)". This song is a melding of two phenomenal singers who bring different styles to the table but also go about their business cohesively – neither one tries to show up the other and neither tries to hog the spotlight. Continue reading »
Independent Release
Review by Luisa Mercier
After the "Stay" EP that I already had the privilege to appreciate in the past weeks, now Jennifer Paige and Coury Palermo have released the follow-up to that little gem. "Go" keeps the same features that made the previous EP so valuable, first of all the variety in styles.
Hence, the opener "Against the World" is an uptempo, ultra catchy and classy song with electro-pop and rock pop hints, while "Like Fire" is a delicate, sweet acoustic ballad which reminds me of Coury solo works.
It highlights his soft voice together with Jennifer one which entwine with each other, especially in the chorus. While "Like Fire" was more focused on male vocals, "For You" let Jennifer shine with Coury appearing in the chorus. Continue reading »

Interview by Tony Cannella
The Dutch metal band Delain recently embarked on their first extensive U.S. tour as the opener for Kamelot. The band has impressed the audiences with their high energy, powerhouse performance on each stop of the tour. I had the opportunity to see them live in Worcester and they did not disappoint. With their new EP "Interlude" available now, I had the chance to chat with lead vocalist Charlotte Wessels prior to their set in Worcester and we talked about a variety of subjects including their last album "We Are the Others". It was a nice conversation and this is what she had to say
…  
You've been on tour with Kamelot in North America for a few shows now. How has it been going so far?
It's been going well. This is our first ever U.S. tour. We've done Prog Power before, that was one show, we've done the 70,000 tons of Metal Cruise, but that was also just one gig, so this is actually the first time we are doing a full-fledged U.S. tour. It is really exciting for us to see the audience response, even though we are with a little bit of an adjusted band because we have some people who are expanding their families' right at the moment. It's going pretty well; especially yesterday in New York we had a really cool reception. It's been amazing. Continue reading »
Label: No Comment Records
Review by Davide Torresan
I really don't like this season. Well, I think I truly hate summer. This heat makes me insane and, to contribute to this coma there is also the 2nd studio album of Stolen Babies, "Naught". I mean, I'm not saying that I didn't like it. The sound of this American trio of musicians composed by Dominique, Rani and Gil is an avantgarde rock/metal with a lot of experimentations. There are so many influences that they stun the listener, leading him into a hypnotic vortex from which it is impossible to escape. For me it is even hard to decide if it is weirder the "Naught"'s cover with its cartoon smiling houses, flowers, the sun and a strange pink sheep or its content. They call it madness, but the risk to do a hotchpotch with too many things was behind the corner. Stolen Babies solved it with some melodic refrains that will be stuck in your head for hours. Continue reading »
Label: HMMR Records/Cargo Records
Review by Tony Cannella
It is hard to believe that American singer Robin Beck released her debut album over 30 years ago. On her latest outing, "Underneath" she continues to exhibit melodic rock charm throughout the 11-song, 40-minute disc. Once again Robin Beck is collaborating with her husband and House of Lords front man James Christian. He actually plays a huge role on this album. In addition to producing, co-writing and contributing vocals, he also plays guitar, bass and keyboards, so James Christian is a man of many talents, but the real star of this show is Robin Beck who is in fine form and seems to be getting better.
The opening duo of "Wrecking Ball" and "Ain't That Just Like Love" provides a bouncy, up-tempo melodic opening to "Underneath". Continue reading »
6 color styles available:

Style switcher only on this demo version. Theme styles can be changed from Options page.