Browsing articles tagged with " usa"
Live Report and Photo by Vinnie Johnson
Edge of Paradise, heavy metal band from California stormed through Seattle WA this past Saturday, April 27th and they marked their presence. I've discovered Edge of Paradise a few months ago when they released their single, "Break Away". I was curious to find out weather they are just another female fronted act or a band to watch, and they are definitely the latter. With solid and refreshing material and phenomenal musicianship, Edge of Paradise is no band to take lightly. Continue reading »
Label : Adore Records
Review by Tony Cannella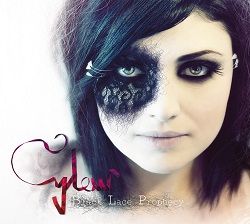 Born in France and raised in Los Angeles, CyLeW has an interesting musical pedigree and on her second album "Black Lace Prophecy" she and her band showcases their brand of infectious, darkly romantic and ethereal alternative hard rock with pop overtones. "Erase the Scars" is an okay opener, but it is the next song that initially made an immediate impact for me. "Survivor" is just a flat out great song which is the perfect showcase for CyLeW's emotional vocal style. The band also made a video for it which is worth checking out on their web site. "Dizzy" opens with a simple rock guitar riff and CyLeW's breathy vocals are the highlight here. Continue reading »
The Sevendust, Coal Chamber, Lacuna Coil tour rolled into Hartford, Connecticut and played to a packed and crazy house at the Webster Theater.
Just joining the tour is the California based experimental metal band Stolen Babies. This is a name that I have heard only in passing, and this would be my first time experiencing them live or otherwise. Their sound is a quite interesting mix of metal, cabaret, polka – how's that for an eclectic mixture? The band is fronted by female vocalist Dominique Persi; she also plays the accordion throughout most of their set. Yep, you read that right, a metal band with a full time accordion player. They played for about 30-minutes and I was impressed with their performance. They had a lot of energy and they eventually won over the crowd. Most impressive was the drummer Gil Sharone – he attacked his kit non-stop through the whole set. They are touring in support of their new album "Naught" – which I'm told is "pretty good." Continue reading »
Label : P-Dog Records
Review by Tony Cannella
Never judge a book by its cover or a band by their name. I was way surprised when I first listened to the 2nd album "Bitten" by New Jersey based hard rock band Spider Rockets. Odd name, I thought. With a name like that they must be some 80s style glam rock band. This is why you should never go into listening to new music with preconceived ideas – I couldn't be more wrong. Sure they add some of the best elements from 80s hard rock, combined with some modern metal riffs to create one of the more surprising albums of the year, "Bitten".
Spider Rockets comes at you straight-ahead with all the enthusiasm and swagger of punk combined with melodic hard rock which helps make the album instantly memorable. I liked the vocals of Helena Cos. She has very a rocking approach that is perfect for Spider Rockets. Continue reading »
Interview by Scott Brady
When I first listened to the "Afterlife" EP from Anne Autumn Erickson and her band Upon Wings my first impressions were this has to come from Europe due to the nature of its sound. However this metal siren and her band are not European whatsoever. Anne Autumn Erickson hails from Detroit Michigan. Many Americans are well aware that Detroit Michigan has fallen on some hard dark economic times in recent years. Anne Autumn Erickson is definitely a light coming from a very dark place and in the years to come will give Detroit Michigan something to be proud of much like Kid Rock and Ted Nugent and Motown have. Kiss even titled a song called "Detroit Rock City" and a young upcoming Female Metal singer has chosen to pick up the rich musical traditions coming from Detroit and carry the flag over into Female Fronted Gothic metal.
Her voice has certainly received attention by some very influential players in the modern American rock scene. Some of these artists that Anne Autumn Erickson has already worked with in her short time in the industry are Guest vocalist Brett Hestla (ex-Creed, Dark New Day), master Grammy-nominated mixing engineer Glenn Brown (Kid Rock's recording engineer) and guitar work and production from Canadian-based Kevin Jardine.
Continue reading »
6 color styles available:

Style switcher only on this demo version. Theme styles can be changed from Options page.