Browsing articles tagged with " valo"
Interview by Roberta Ilaria Rossi
What a great year for Battle Beast! After a great tour that has seen them supporting Nightwish and a huge change in the lineup, where the singer Nitte Valo decided in parting ways, this band from Helsinki comes back with a super news. Having announced the new vocalist Noora Louhimo, these guys embarked on a new European tour, supporting Sonata Arctica, and they focused themselves on the second (and of the same name of the band) record, already acclaimed by the press as a new masterpiece, so we've got the chance to exchange some words with the beautiful Noora, for a very simple chat.
Hi Noora and welcome to Femme Metal. Let's start our chat with the very first question: would you mind to introduce yourself to our readers?
Hello dear readers, I'm Noora Louhimo. I'm a singer from Finland and been singing since I was 4 years old. My passion has always been music and different ways of expressing myself as an artist. I do many things in music including heavy metal, soul, rock and blues and everything between heaven and hell. Different influences keeps me in balance and inspires as a singer. Continue reading »
Interview by Ary R.
With an upcoming album that will be released for Nuclear Blast, Finnish metal band Battle Beast is ready to bring its music around Europe. Femme Metal had the honor to exchange some words with front woman Nitte Valo, who revealed to us something about the new album and she also spoke of her own impressions about the amazing tour that will see the Finnish guys with one of the most famous Finnish band around: Nightwish.
Hi Nitte and welcome to Femme Metal.net First of all, let me thank you for having stopped here and giving us a chance to have a chat with us. How are you doing?
Hi! I'm doing great! I'm preparing for Christmas in cold and rainy, but not so snowy Finland.

You're the lead singer of the Finnish heavy metal band Battle Beast. Would you like to introduce yourself to those people who still don't know you and/or your band?
Battle Beast are Anton Kabanen (Guitar, lead and backing vocals), Juuso Soinio (Guitar), Pyry Vikki (Drums), Eero Sipilä (Bass and backing vocals), Janne Björkroth (Keyboards and backing vocals) and then there is me, Nitte Valo (Lead vocals) .
Recently you've signed to one of the biggest companies ever: Nuclear Blast. How did this happen?
Well… It happened so fast.. Nuclear Blast contacted us. Then sooner than we even realized the fact we got signed to them… And that was really good thing.
Your debut album is called "Steel" and it will be released on January 27th 2012 for Nuclear Blast but it was previously released in April with another company. Why did you decide to reissue again the album?
Because it wasn't released anywhere else than in Finland and so many people from around the world was very willing to get that album. So why to make a new one yet, if we can release a good 'old' one for Nuclear Blast.
Why have you chosen this title for the album? And what could you tell me about the artwork? It's a very curious one…
We are hard as steel! And of course it's the one of the songs in the album. Roman Ismailov does our artwork. He is a good friend of Anton and he's been working with the band since the official foundation which occurred in 2008.
How did the process of the song-writing happen?
Anton does all the songs with every detail in his home alone. And when a song is composed and arranged he'll presents it to us and then we start rehearsing it.
What is the most beautiful part in recording an album?
Most beautiful part…well.. maybe the most beautiful part is when you get your 'baby' in your hands
Let's talk about lyrics: where does the inspiration to write music and lyrics come from?
Because Anton is the guy wo does all the lyrics and writes music for Battle Beast by himself, he could be the right person to answer this question.. but he gets his ideas from cyberpunk related movies, literature and pictures. Also he get's inpirations from the Japanese dark fantasy manga and anime series called "Berserk" by Kentarou Miura. Of course some of the older action and sci-fi movies inspires him too. Personally I'm not so huge fan of all those inspirations what Anton has but most important thing is that I can still reveal those feelings and moods what Anton wants to tell to people with his lyrics and songs.
And about the arrangement and music?
Again I have to answer that Anton is the guy who does all the magic!
How much of yourself do you put in the writing/recording an album?
Even if I'm not participating writing or song making process I put my whole soul in it. I give my everything to album with my voice and my feelings.

Talking about your voice skills, someone has said that you are like the female version of Fabio Lione (with much more vocal extension) which meets a little part of Manowar. Do you agree with this statement?
I don't feel that it's necessary to compare my voice with someone else voice(s). Every singer, female or male has their own voice to sing. For me, it's more important that I have my own sound and style to sing. I can't, or I don't even want, to have same kind of singing style or voice than someone else has already. I just want to sing with my own style.
Vocally speaking I've also noticed that you use "a little" vibrato. Is that the result of some innate talent or have you done some study to use it?
It has to be somekind of innate talent because I haven't taken much singing lessons. When did you start to sing?
I've started to sing before I started to talk… But first time when I was singing with the band was when I was twelve or thirteen years old. Did you ever think, even when you were a child, that this passion for music would have lead you to these levels? Carrying you with your own band touring Europe with bands that have a great reputation worldwide, like, for example, Nightwish…
Of course it has been my dream for a long time. So I guess that nowadays I have to be careful what I'm dreaming because now I've seen that my dreams can really come true! I"ve listened to "Steel" and I"ve noticed that your voice is quite versatile, as I"ve heard for "Savage and Saint" or "Iron Hand", where there's also some classical singing (albeit slightly). I like these two songs so much and your voice shows off a great ability in fitting perfectly the songs and the music itself. What could you tell about this?
Like I said before, I just try to reveal those feelings and moods what Anton wants to tell to people with his lyrics and songs. If some part of song needs to be sung with classical or operatic style then I'll just do it. And of course I have somekind of sense in myself how I should sing in different parts in different songs. As I"ve mentioned, there's a track, called "Savage and Saint", that there is a ballad, actually. Why have you decided to put a ballad in this album? Was it previously decided or was it decided randomly?
"Savage and Saint" fits just perfectly in our first album. And I think that "Savage and Saint" is great warrior-ballad. It's not so soft and cry-baby ballad, it get's heavier from the middle of that song. Actually I don't even think that song as a ballad. What kind of music has inspired you and your way of singing? Is there anyone who influenced you, musically speaking?
I've always liked and listened the bands like W.A.S.P, Judas Priest, Iron Maiden, Manowar.. etcetc. I know that I can't sing like those guys are singing and actually I don't even want to. I want to be me with my own voice. Strangely I haven't listen so many female singers. Except Angela from Arch Enemy. But I have to say that Marco Hietala (Nightwish, Tarot) inspires me a lot with his style of singing. As I"ve mentioned a few lines above, you'll join Nightwish in this upcoming tour. What do you think of this great experience you'll start with these guys?
This was one of the greatest things what has happened! We are waiting eagerly to get on tour with them. This is so great opportunity for us and we are grateful to Nightwish that they wanted to take us with them on tour. How did you react when you discovered that Battle Beast would have toured with Nightwish?
First I thought that somebody is joking with me but then after a while I realized that tour with Nightwish is really true. Maybe I ran around screaming for happiness and excitement for a while but I bet some of you have done the same thing too. What is your own opinion about female fronted metal bands?
Some of female fronted metal bands are so similar with each others… same kind of clothes, same kind of way to sing… I'm not saying that it's bad thing, but in my opinion you always have to have something how you stand out from the mass. Is there a particular band you would like to cooperate with in future? Maybe for a studio project or… why not… a tour?
I can't say any specific band. I think that each band with whom we are cooperating in the future will teach us something. What's new now for Battle Beast?
To make a killer second album in some point in the future and to get more tours abroad. And all the while having a blast doing it! Ok, thank you so much Nitte for the great chat. Is there something you would like to tell to your own fans and Femme Metal readers?
Thank you very much! Thanks for reading this interview. I hope you guys and girls come to our shows and become Battle Beast fans! Remember to buy our album "Steel" as well if you don't own it yet! And a big thanks to our fans who listen to our music, come to the shows and keep spreading the word about us.
Links
Latest Multimedia

Interview by Miriam NocturnalConcerto
Transcription by Robin Stryker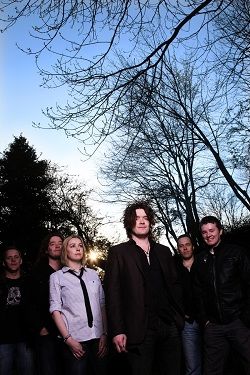 I cannot tell you how excited I was to doing this interview with Danny Cavanagh, Anathema singer and guitarist, for a lot of causes, take it because was my first phoner interview, take it because I was worried that something gone wrong. The interview has started with a delay of 30 minutes preview by the slot I was very nervous but in the end I'm happy to share with you this interview, hope like it!
Since are passed 7 years from your last album "A Natural Disaster", why it passed so much time?
Well, mainly it is because we didn't have a manager. We didn't have a record company, and one or two of our band members had family commitments they had to attend to. Different things were happening in their lives. You know, at the time, you don't realise… one month becomes another month, becomes another month. It was just one of those things. Without a record company, it was just something that happened, and it will never happen again.
And also we must add that is your first album under KScope Music (excluding the semi acoustic album "Hindsights"), why have you chosen this label?
Why did we choose KScope Records? Well, they are very good and they believe in us very much and they wanted it more than anybody else did. They were really keen to have our record, and they wanted it for many years. We saw that, with the work they did on "Hindsight", they are actually quite good. They do things properly and they don't spend a fortune. They don't spend quite a lot of money wastefully. Our manager — we have a manager now — he recommends we take this and we did. We were not the kind of band at that time that could attract a much bigger label, so we went with that one. We are happy and I am happy that we did.
I make a question about the title of the new album – it sound like a statement, who came up with title and why?
Well it's not very very important and it's not very meaningful. It is the title that we all liked. It's the only title that everybody in the band liked. We couldn't find another one where six people agreed. That's the only one that six people agreed on. For me personally, it doesn't have the greatest meaning for the songs. It does though, however, suggest the bond that we have as a band together… the family, the friendships, the caring that we have for each other. It is suggested in that title because we are here for each other, so I like it for that reason. I like it because it suggests "being there for each other" to me. It's not a great statement, it's not a spiritual statement or an anti-religious statement, or anything. It is just the fact that we all like it. Also, the fact is, it comes from a very moving story from the First World War in Europe when many, many millions of men and women died for no real reason. That was one of the most extreme situations that humanity has ever seen. And, during that war, young men in England used to sing this song, "We're Here Because We're Here". You can actually hear a very small selection of that song… as the song "Hindsight" is tuning into the radio, you can hear it there. They used to sing that song in defiance of the situation that they were in. They were in an impossible situation, and there was no reason for them to be there, so they used to sing that song, "We're Here Because We're Here". We like that story. And we like the meaning behind it and the memory of those men, so we chose it.
A question about the cover – How's your interpretation and in some manner, is it related to the lyrics of the album?
Yes and no, really. The front cover and all of the artwork is related to Anathema, to the people and to our childhood, our story, and to our personalities. They are childhood memories of everyone… an old school, an old playing field, an old street that we lived in. The beach with the man in the distance is actually Liverpool Beach in the north of Liverpool. The mountains in the distance are the Welsh Mountains, the mountains of Wales where we spent many, many years on holiday as kids. So, what I love about the artwork and title is not that it relates very, very, very closely to the meaning of the songs. It relates to the meaning of the band and to the people in the band and the personalities and the family and the heritage and the love and the memories that we have together. And that's why I like it.
I've listened to album like I said before and my favourite album song is "Everything" with the duet of Lee. What your favourite track?
My favourite track is "Dreaming Light" because it is probably the most personal one to me, and it is the one I am most proud of it. That's my favourite one, but I love them all really. I think it's the first record that … okay, well maybe not … I would say that it's a consistently good album. All the songs are very good, and (for me) one or two are truly great. Those two would probably be "Dreaming Light" and "Universal". What I like about "Dreaming Light" is the optimism in the melody and the emotion in the melody. I remember the day it was written, I remember how it came through me and I remember how I felt after it was written. It was just a special time. It was a special feeling to have that feeling come through. To feel that tune and feel those words. I do think it's a gift. That song is a gift.
So now I have three curiosity to satisfy: How's born the collaboration with HIM singer Ville Valo, how's working with Steven Wilson and who sang the spoken words on "Presence"?
Ville Valo is a lovely guy. He is a very nice person, and I like him very much. He is a good friend. And that is the only reason, really, that we asked him to do it. He's been very kind to Anathema and he's been a loyal fan, if you like, of the band. He likes the band very much and he's been supportive of Anathema very much. I wanted in a way to say "thanks" to Ville Valo because he's been such a gentleman and a kind person to us that it felt appropriate for me to ask him. And he said yes. It was simple and he has added something very good to the song. It's a background, but it works for me. He adds something to the song "Angels" and doesn't take anything away. I like it very much. And that was really just a matter of friendship, he's a good friend. Second question, Steve Wilson. Well, that was much more involved because we worked together for two weeks to mix the record, or maybe longer. It was a great pleasure working with him because he is very very very good at what he does. So I would go to his house, sit on the couch and drink tea and listen to his work and comment and work on the collaboration and he would suggest some things. He would try to make us think carefully about all the choices that we're making, and he would try to encourage more simplicity in the record. I had a clear vision, almost, of how it should sound. What I appreciated about Steve was his willingness to allow us to follow that vision and to only speak up when he really felt that something was a little bit wrong. We worked well together. There was no real difficulty and I like him very much. So that was a great pleasure and I am delighted we did that collaboration with him. I think it makes a difference in the impact of the record also, because people are talking about this record because of it. The final question was the spoken word on "Presence". That is an interview I made with a gentleman in Liverpool , England where I was living at the time. A gentleman called Stan Ambrose. He is a very beautiful person, he's a musician and a radio presenter. He was involved in counselling for a long time and he is a local activist. Just a gentleman who many people like… many people like this man. He is very humble, very kind and we became friends. We started to talk about spiritual things and the essence of life and these things. He's always been interested in those things, interested in mediation and all that stuff. So I interviewed him actually in the Cathedral — in Liverpool Cathedral I interviewed him – and he began talking about a book by Eckhart Tolle, who is a spiritual writer, a very successful spiritual writer whose message of stillness is making an impact around the world. Stan is a person who is very much interested in these things and very sincere. When he spoke to me about this, he almost had a tear in his eye. I made the interview with him, and it just seemed to fit with the song, "Presence". Also, the fact is that he is talking a little bit about the possibility of life beyond death and I know that he was thinking about that. And that relates directly to "Angels Walk Among Us", which is also asking that question. Just the same as "Are You There?" was asking that question: "Is there something beyond?"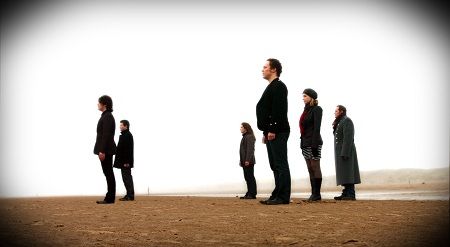 With this album you have confirmed Lee Douglas like a full member in Anathema. Can you give more infos about her and say something about the decision to confirm her in the line up.
Lee is family, and a very good friend, and a very very good singer. She was always there… she sang on all the records since "Judgement". Ever since "A Natural Disaster", she became more involved because she sang the lead vocal on that song. It just, you know, developed. When she came to the studio to record, she did say that she would like to be more present at the live concerts because she has to balance it with work and stuff. She has always been there, really. If I'm honest, she's always been there, so it's okay. We are very glad about it because she is one of us. She does fit very well — a very good singer, easy-going and easy to be around, fun. So, no problem there, really. We're happy about it.
So, now some advices for the new fans, what Anathema album to advise to start from?
I would advise to begin with the new album, "We're Here Because We're Here". That's what I would advise. And the reason is because that is the best one, and also it's the picture of who Anathema really is right now. I would start with this record. I would suggest that it is just open-minded music. A powerful rock band, it's emotional and it's honest and it's real … from the heart.
I would say that you have similitaries with The Gathering, you know, you first started like a doom metal band after you came through with an alternative rock band.
I understand what you're saying. They really developed and changed and grew into much more of an alternative rock band. And I suppose we did the same. But, I'm looking at the interview schedule and it's still Metal webzine, it's in Metal Maniac, it's in Metal Hammer (Germany). Those are our roots. The band is much more than metal and has not been a metal band for many years. Real musicians — like Radiohead or The Beatles, Pink Floyd, Led Zeppelin, Black Sabbath, U2, band like this – the real musicians, they do evolve. We are of that stock. I love Iron Maiden and their music has evolved a little bit. Our heritage is much more in the Radiohead, the Pink Floyd, the Led Zeppelin and the Sabbath and that area of evolution, which is much more expansive and open-minded. That's just our style. And if they don't like it, that's tough shit.
What are the next band planes (talking about tours ecc.)?
We are in between playing Turkey and Russia right now. In three days we're going to Russia, and then there is a show in London. Then I'm touring with Anneke van Giersbergen in South America. It's just one or two festivals over the summer and a time over the summer to collect ourselves, to relax, to gather our strength and to do some new writing. Then, in the autumn, a natural machine will start, and a long tour will happen. I look forward to that, actually.
We know that you do acoustic tours with Anneke van Giersbergen and now I make you a question, do you think that in the future there will be a project or a collaboration with Anathema? I mean not only with your solo project…
We have talked about that, and she would be welcome because she is such a great person and such a great singer. So, she would be welcome. But, the fact is, we have a female vocalist in the band. You know what I mean? Lee has the voice for our style, so she's in the band. I did have ideas for Anneke to sing on the new record and she would have sounded beautiful. But Lee Douglas is there and she's committed and it wouldn't really be appropriate. But we certainly love Anneke very much. She has sung live with Anathema. We love her very much. I think she is a wonderful person and a really wonderful singer and a really good professional. Of course, it's a possibility.
So we're at end greet as you want our readers.
Thank you, my dear. Ciao and grazie.
Links
MySpace * Facebook * Twitter * Site
Label : Nuclear Blast Records
Review by Tony Cannella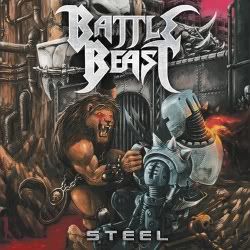 You like true heavy metal? If bands like Manowar, Crystal Viper, Holy Hell, Zed Yago and Accept are your speed, than this band is must-listen metal. They are Finland's Battle Beast and they have just released their excellent, gloriously over-the-top heavy metal debut "Steel". To put it quite simply, "Steel" is an album will not relent. It just keeps hitting you over the head with loud, heavy guitar riffs and all things heavy metal. The opener "Enter the Metal World" is great and a perfect introduction to Battle Beast. Just by looking at the song titles, you can pretty much tell what this band is all about and where their inspiration lies. "Armageddon Clan" is next and is quite simply phenomenal. Is that Udo Dirkschneider on male vocals? No it isn't it's one of the other members of the band (not sure which one, sorry) but he does sound a lot like Udo to go along with Nitte Valo's vocals that remind me – at times – of Jutta Weinhold from the criminally underrated band Zed Yago. "The Band of the Hawk" is next and features some tempo changes and a catchy and memorable as all hell choruses, that reminds me of Accept in their "Restless & Wild" glory days. Nope, there is no let up with this song either. "Justice and Metal" is next and starts off with a bit of Uriah Heep vibe maybe? All be it, much faster and heavier. This song is just a straight-forward, head banging heavy metal anthem. The opening riff to the next track "Steel" has a bit of a similarity to "Balls to the Walls".This is another great anthemic track which the band does very well. Battle Beast is not just a group of people living out their heavy metal fantasies. The songs on "Steel" are good and musically well played. Just check out the songs: "Die Hard Warrior", "Cyberspace" and the excellent "Savage and Saint" which starts off as a ballad before bringing back the metal half way through and vocalist Nitte Valo offers her most passionate vocal performance. I really grew to love the directness of Nitte's vocals. Her vocals are just pure in your face metal vocals. The final track "Victory" ends "Steel" as it began in a blazing glory of heavy metal thunder. Battle Beast will surely not appeal to everyone, but there is always a fan base out there for a heavy metal band like Battle Beast. There is no doubt that they sound like they could have existed in another era, but that doesn't make them irrelevant today. On "Steel" Battle Beast proudly and loudly flies the flag for heavy metal and in the process has released a damn good debut.

Rating – 95/100
Tracklist
Enter the Metal World

Armageddon Clan

The Band of the Hawk

Justice and Metal

Steel

Die-Hard Warrior

Cyberspace

Show Me How to Die

Savage and Saint

Iron Hand

Victory
Line Up
Nitte Valo – Vocals

Anton Kabanen – Guitar & Vocals

Juuso Soinio – Guitar

Eero Sipila – Bass & Vocals

Janne Bjorkroth – Keyboards & Vocals

Pyri Vikki – Drums
Links
Label : KScope Records
Review By Tony Cannella
From the U.K., Anathema are a long-running atmospheric metal band. Their career first started way back in 1990, with the band releasing their full-length debut in 1993. In that time they have built up quite a cult following all over the world, and now with the release of their new album, "We're Here Because We're Here", Anathema are sure to build up their fan base even more. The majority of the vocals are handled by Vincent Cavanagh with Lee Douglas adding female vocals throughout the album. The songs on "We're Here Because We're Here" continues the evolution of this legendary band. The songs are well thought out – and at times – progressive and quite addicting. With a playing time of about 1-hour, "We're Here…" includes a couple of songs in the 7 – 8 minute range, with the best of these being, "A Simple Mistake". This song features some outstanding musicianship and great male and female vocals. The track, "Everything" quickly became a favorite, with it's piano driven opening as the song builds slowly and the vocals provided by Vincent Cavanagh and Lee Douglas work well together. Other highlights include, "Angels Walk Among Us" (featuring Ville Vallo of H.I.M. on backing vocals), "Universal", "Presence" and "Hindsight". There are quite a few big, orchestral moments throughout the CD. Even though Anathema have been at it for 20-years, they continue to release good, quality music, "We're Here Because We're Here" is a testament to the longevity and consistency of Anathema.
Rating – 80/100
Tracklist
Thin Air

Summernight Horizon

Dreaming Light

Everything

Angels Walk Among Us

Presence

A Simple Mistake

Get Off, Get Out

Universal

Hindsight
Line Up
Vincent Cavanagh – Vocals, Guitars

Lee Douglas – Female Vocals

Daniel Cavanagh – Guitars, Vocals, Keyboards

Les Smith – Keyboards

Jamie Cavanagh – Bass

John Douglas – Drums
Links
6 color styles available:

Style switcher only on this demo version. Theme styles can be changed from Options page.