Browsing articles tagged with " van"

Questions by Ed MacLaren
Collected by Edoardo Fiumi
Dutch singer Anneke van Giersbergen is never one to rest on her musical laurels. Since leaving The Gathering in 2007, she has been tearing up recording studios on three continents releasing a string of successful albums with Agua de Annique and as a solo artist – not to mention the lengthy list of incredibly diverse musical collaborations. The constant recording and touring to an ever expanding audience around the world is great news for her fans, and thankfully it shows no signs of slowing down. One of the truly unique voices in music, van Giersbergen is looking to break out big with her new album, "Drive". A heavy power pop album brimming with hooks, riffs and stellar vocals, "Drive" achieves the perfect balance with her metal roots and her ever-expanding musical palette. Femme Metal got a chance to talk to the groundbreaking singer during sound check on her most recent swing through Italy.
Continue reading »
Interview by Laura Medina
What do you get when you mix five female musicians, one male drummer, heavy guitar riffs, and enchanting, mesmerizing beautiful melodies, you get Arven! Arven is the female-fronted melodic-metal band from Frankfurt, Germany that just released their sophomore album, "Black is the Colour" that is out now via Massacre Records. I had the complete and absolute pleasure and honor to chat with Carina Hanselmann of Arven to discuss Arven's new album, her memorable moments on tour, her three wishes for Arven and much more.
Hi Carina and welcome to Femme Metal Webzine! Thank you so much for allowing us to interview you today! I hope you are doing well today.
Hi Laura, thanks a lot for this interview. I´m fine, thanks !
Would you mind telling our readers a little about yourself and your band, Arven?
Continue reading »
Label: PIAS/Inside Out Music/Agua Recordings
Review by Luisa Mercier
Our dear Anneke is back with her fourth solo record, one year and a half after "Everything Is Changing". Since I was quite disappointed with the path she had chosen in "In Your Room", I welcomed the rock/metalish style that she sang on in the previous release and hoped she went on that way.
She partially met my expectations in "Drive", since the record is very uptempo and fresh, perfect to fit the positive vibes that Anneke emanates. I would advice to listen the album while on a short trip since it is perfect to accompany driving a car or while walking or running. Listen for example the opener "We Live On" which is absolutely perfect for the purpose just like the following "Treat Me Like a Lady". A bit slower is "She", but the chorus will make it up for that, plus I absolutely love the meaningful lyrics.  Continue reading »
Live Report & Photos by Erwin van Dijk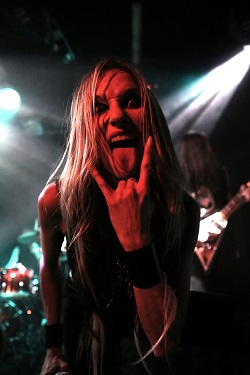 Huntress and Gold are two bands which qualify the describtion "Female Fronted Metal" but are worlds apart musicwise. The two bands did share the stage at the 013 venue in Netherlands on a hot saturday night. The 013 is one of the larger venues in the Netherlands. Bands like Therion, Kamelot and Dragonforce visited the venue in the past. In fact, Huntress was the opener for Dragonforce some time ago. The Stage1 is of course not as big as the main hall of the 013 (the Stage1 would fit on the stage of the main hall) but as Milton said it's "Better to reign in Hell than to serve in Heaven" and a headliner gig is more fun than a couple of songs in front of an audience who are waiting for the headliner. It's also the second gig for Gold at the 013. The band did a gig at the very prestigious Roadburn Festival.
Gold (from the city of Rotterdam) decribes themselves as a "comtemporary rock band that's heavy because of the songs, not the sound". The band has only time for 6 songs (see setlist) from the "Interbellum" album. Continue reading »

Interview by Grace Méridian, Kassandra Novell & Lindsay Schoolcraft
Video by Mary Zimmer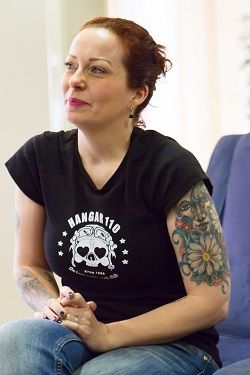 Here what we present you is a special interview done by the Eve's Apple (Don't you know what is? Just take a peek

here

!) members Grace Méridan (

Lifeaftergod

), Kassandra Novell, 

Lindsay Schoolcraft

 & Mary Zimmer (

Luna Mortis

). First of all I thank the girls for this awesome interview and if you wanna enjoy the video experience, please check out

here

but we must warn we that there's a little mistake that we cannot fix, we hope you like it the same.
Then we come to the special guest – we're talking about Anneke Van Giersbergen. The fantastic Dutch singer, after her departure from The Gathering, has slowly built a solo career with her 5 albums. The girls interviewed Anneke during her short trip in US, on March in Chicago. Beside the girls, I want to personally thank Mr.Rob Snijders for helping us setting this interview up. Well, after this short intro it's time to read the interview, so enjoy it!
Grace: I'm Grace Meridan and we're here interview Anneke van Giersbergen for Femme Metal and Eve's Apple. So, Hi Anneke, pleased to meet you. Continue reading »
6 color styles available:

Style switcher only on this demo version. Theme styles can be changed from Options page.