Browsing articles tagged with " vancouver"
Label : Nettwerk Music Group

Review by Luisa Mercier

Delerium are the masters of electro/dream pop and their enchanting melodies are immortal for all of us, ambient music lovers. After so many masterpieces, the combo decided it was about time to release an acoustic album containing all their most successful songs in a new and unreleased version plus three never heard tracks. The opener "Send Me An Angel" is one of them and it has a heavenly feeling. The mood is calm, dreamy, the chorus is catchy. Feels like floating in the sea in a summer day. The vocals are delivered by Miranda Lee Richards; they soar over the music creating an angelic atmosphere. "Dust in Gravity" is the first of the old songs here proposed as acoustic version. The original had a distinctive pop, modern sound thanks also to Kreesha Turner vocals. The acoustic has a slight jazzish, bluesy taste and it is as enjoyable as the song featured on "Remixed: The Definitive Collection". Another unreleased is "Too Late, Farewell", so sad, melancholic. The piano and guitar notes highlight the nostalgic feelings that are in Butterfly Boucher's vocal lines. Really an outstanding piece of music. "Silence" is maybe Delerium's greatest hit and it has been rearranged by several DJs during the years, for example by Tiesto. The present version is piano, strings and percussions based and it has an exotic mood to it. Sarah McLachlan's vocals shine once again throughout it. Another successful song is "Innocente" and the acoustic version has retained the folk-Middle Eastern feeling of the original coupled with Leigh Nash's sweet voice. Last brand new song is "Vienna" featuring Elsiane on vocals. Her voice is quite strange at first listen, she recalled me the Belorussian singer/pianist Leandra, but it's just a matter of getting used to it, I guess. Piano, strings and acoustic guitar make the track another perfect Delerium gift to their fans."Lost and Found" has Jael from Lunik on vocals and it has the same pop sound of the original, though more elegant and refined thanks to strings and piano. A more ethnic style is the one chosen for the acoustic version of "Flowers Become Screens" with the ethereal vocals of Kristy Thirsk. "Love" has become even more refined in the acoustic version with the distinctive voice of Zoe Johnston as perfect complement. A simple piano and vocals arrangement for "After All" with lovely Jael again, while the chill-out/lounge mood of "Orbit of Me" becomes a nice ethnic beat. Last track is "Touched" featuring Rachel Fuller which becomes a nice classic ballad with piano and strings. The romantic atmosphere of this track closes this beautiful album. A must for all Delerium fans.
Rating – 85/100
Tracklist
Send Me An Angel (featuring Miranda Lee Richards)
Dust In Gravity (Acoustic) (featuring Kreesha Turner)
Silence (Acoustic) (featuring Sarah McLachlan)
Innocente (Acoustic) (featuring Leigh Nash)
Vienna (featuring Elsieanne Caplette)
Lost And Found (Acoustic) (featuring Jaël)
Flowers Become Screens (Acoustic) (featuring Kristy Thirsk)
Love (Acoustic) (featuring Zoë Johnston)
After All (Acoustic) (featuring Jaël)
Orbit Of Me (Acoustic) (featuring Leigh Nash)
Touched (Acoustic) (featuring Rachel Fuller)
Line Up
Bill Leeb – Founder, Writer & producer
Michael Balch – Co-founder, Co-writer & co-producer
Rhys Fulber – Co-writer, co-producer
Chris Peterson – Co-producer
Miranda Lee Richards – Vocals
Kreesha Turner – Vocals
Leigh Nash – Vocals
Jaël – Vocals
Kristy Thirsk – Vocals
Elsieanne Caplette – Vocals
Zoë Johnston – Vocals
Rachel Fuller – Vocals
Links
Label : Nettwerk Music Group

Review by Luisa Mercier

I know a lot of people that thought that Delerium had split up. Well, this record is here to prove that it is not true, even though six years since last record "Nuages du Monde" are a lot of time. "Music Box Opera" is a long-awaited album that has been a bit hit and miss for me. Let's try to see why. First track "Consciousness of Love" is a sweet, delicate piano and electronica track featuring Stef Lang, a promising Canadian singer songwriter. The chorus is catchy and groove while the verses are more piano-based. Lovely song. Following, you will find the already known single "Monarch", an Eastern flavored melody sung by Nadina, Canadian singer of Lebanese origins. It is a dark, fascinating song, even though I am not totally sold. "Days Turn into Nights" features a male vocalist, Michael Logen. Song is classic atmospheric Delerium tune, but I confess that I don't like very much male voiced in this genre of music. "Chrysalis Heart" is maybe my least favourite. It is good, poppier and faster than the others, but I find it a bit dull, cheesy. Again Stef Lang is on vocals and those are the best part of the song. One of the highlights of the record is "Light Your Light", sung by Jaël of Lunik. The song has the mystical feeling that lacks in the others, thanks to choirs in the background and beautiful uplifting vocals in the chorus. The work of Jael has been impressive and really expressive. "Rain Down" is a simple, beautiful instrumental that sets apart the first half of the album from the second. Piano and electronica-based, it has the same dreamy, chilling mood that you find in the rest of the songs. Maybe something that lacks in "Music Box Opera" is a bit of variety in tempos that range from slow to mid-tempo. Most beautiful song is "The Sky" thanks especially to the amazing Kristy Thirsk, one of the most famous and loved Delerium voices. She sets the atmosphere being sweet, whispering or soaring. "Hammer" featuring British singer songwriter Leona Naess is darker and more industrial oriented. In general, it has a heavier kind of electronica, maybe to support Leona's vocals that are less ethereal compared to the other singers. I like the track, it has a sexy vibe that I was missing. "Awakening" is another dark, groovy, Eastern sounding song in which Nadina sings some vocalisings. Since it is quite long, it might result boring on the long-term. Anna-Lynne Williams sings in "Frostbite" that is a heavenly, dreamy song, slow and lush. Typical Delerium, with layered vocals and thick electronica. Azure Ray is one of my most recent discoveries in dream-pop and it was good to find them collaborating with Delerium. "Keyless Door" is a nice, sweeping ballad that ranks among the best songs with Jael and Kristy Thirsk one. Closing track is instrumental "Music Box Opera". Epic, relaxing and modern sounding at the same time, it is the perfect conclusion for a record that might have been better, but has outstanding moments.
Rating – 75/100
Tracklist
Consciousness Of Love (feat. Stef Lang)
Monarch (feat. Nadina)
Days Turn Into Nights (feat. Michael Logen)
Chrysalis Heart (feat. Stef Lang)
Light Your Light (feat. Jaël)
Rain Down
The Sky (feat. Kristy Thirsk)
Hammer (feat. Leona Naess)
Awakening (feat. Nadina)
Frostbite (feat. Anna-Lynne Williams)
Music Opera Box
Line Up
Bill Leeb – Founder, Writer & producer
Michael Balch – Co-founder, Co-writer & co-producer
Rhys Fulber – Co-writer, co-producer
Chris Peterson – Co-producer
Stef Lang – Vocals
Nadina – Vocals
Michael Logen – Vocals
Jaël – Vocals
Kristy Thirsk – Vocals
Leona Naess – Vocals
Anna-Lynne Williams – Vocals
Azure Ray – Vocals
Links
Interview by Luisa Mercier

It was on 2006 that we heard news, for the last time, about Bill Leeb's electronic pop project Delerium. After that nothing. But with 2012, after 6 years of silence, Delirium reappears in the music business with the fourteenth album called "Music Box Opera" and since I have always been a great Delerium fan, so it was a great pleasure to have this exclusive interview from Bill.

It's been a long time since "Nuages du Monde". How does "Music Box Opera" connect with the past and how does it differ from it?
The concept is still the same, we are trying to create ethereal electronic pop music. Having said that, a lot has changed in the world and with all of us so there's definitely a growing scenario going on with all the people involved… More specifically would be that we've come along way in writing, producing and programming and our tastes have changed… We've all matured and we've evolved and we tend to think that it comes out in the music.

There are some new entries among the singers, together with already known voices like Kristy Thirsk. How and why did you choose the new ones?
With every record we try to evolve and bring new flavours into the mix, we usually make a list of potential singers we want to work with. We then reach out to them and through attrition and luck we end up with people we respect and want to contribute to the album. It's definitely a lengthy task cause a lot of people have busy careers and lives so sometimes these things take much longer than anticipated. That's why its also been 6 years been albums, good things take time.

Am I wrong or the sound is more electronic? What audience do you expect to reach in the music business overcrowded by mainstream acts?
No, we've definitely put away all the organic instruments and have gone for a really electronic feel this time. More programming, no acoustic guitars or anything. We thought it was really time to change it up and go down the electronic road, which is kind of where Delerium started from anyways, we like things to be really tweeky now and since technology has so much to offer now we try to expand our horizons.

Have you ever felt so hopeless towards music scene as to want ro give up everything and just go back to a normal kind of life?
No, being an artist is something that picks you, you don'y really pick it. I think all artists are tortured souls, whether they are successful or not because how does one measure success. Is it done through the amount of status you have versus how much wealth you obtain? Or is it just trying to be a pure creative genius who's simply putting forth something you think the world needs to see or hear. It's a never ending journey, you could ask any artist of any genre and they will all tell you pretty much the same thing. No piece of art is ever perfect or complete, you go on forever striving for that perfect song even though in the back of your mind you know it's unreachable, which keeps you going. As far as normal goes, I don't think anybody lives a normal state, the world is a pretty complicated place.

On an happier note, is there still something you have not tried and you would like to do -music related – in the future?
I would definitely like to score a major motion picture with a real budget that is very artistic and off the beat and track. This is something that has always eluded me and kept my curiosity, I keep hoping that this will be the one thing will still come to fruition down the road. We just finished our second video game soundtrack for a game called AirMech with Front Line Assembly so we are interested to see how that will pan out and where it will lead.

Future project? Touring?
Touring has become a very insidious proposition because it seems like it's hard to put the show together that you want, and putting something out there that is less than 100 % of your idea and vision feels like you are not reaching your full potential for your audience to see. Everybody tells you now day to go out, lofi, low cost, literally get in a van and tour but is there really a point to that? Will that actually help sell records these days? This is a question the band always talks and thinks about, so at this point we are pretty undecided what the future of live shows will be at this moment in time. Having said that, if the feedback merits it and there is a real demand we will obvious give it a rethink and possibly hit the road and do some shows.
Links
Latest Multimedia
Independent Release
Review by Tony Cannella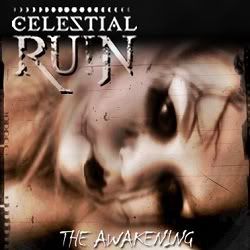 From Vancouver, British Columbia, Canada comes the Gothic, Symphonic Metal outfit Celestial Ruin. The band has not been together for a long amount of time, yet their debut EP; "The Awakening" boasts professionalism in both the musicianship and songwriting. The opening track "From Beneath You" begins with a thumping bass to open the song as the track quickly morphs into a catchy, straight-forward metal track. "Goddess" is next and begins with a slower tempo as the truly beautiful vocals of Larissa Dawn joins in. As the song progresses the tempo speeds up and gets heavier. This song quickly became my favorite of the four songs featured here. "Behind These Doors" is next and begins with a nice piano intro, before developing into a nice, melodic mid-tempo number. Vocalist Larissa Dawn shows off her diversity on this one. "The Hunted" neatly wraps things up, after about 18-minutes. Celestial Ruin is currently looking for a label and if they continue to progress, based on what is presented on "The Awakening", they should find a home in no time. This band has tons of potentia.
Rating – 73/100
Tracklist
From Beneath You

Goddess

Behind These Doors

The Hunted
Line Up
Larissa Dawn – Vocals

Logan Constant – Guitar

Nathan Loflin – Keyboards

Mike Dagenais – Bass

Adam Todd – Drums
Links
MySpace * ReverbNation * Facebook * Twitter
Independent Release
Review by Tony Cannella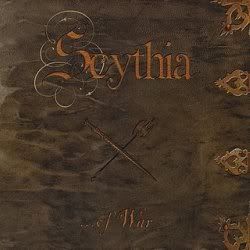 Okay, so here is another Folk-Metal band.This band, Scythia hails from Vancouver, British Columbia, Canada and makes no mistake about it; they play Epic Folk-Metal.The main lead vocalist Dave Kahn (I believe) but they could use several different singers since there are a couple of different styles at play here – some better than others. Some Female vocals are used as more background or harmony vocals. Musically, Scythia is Folk-Metal and they don't stray too far from that path. The best track on display here is the 7-minute "Red Wizard". This is just a cool epic type number that features a lot of tempo changes. Another favorite is the orchestral instrumental piece "Elegy". Other highlights include: "Fierce Riders of Scythia", "The Black Death" and "Dies Irae Pt.1". Folk-Metal is a sometimes polarizing metal genre and I don't see Scythia really appealing to fans outside of said genre. Still, "…Of War" features plenty of strong material that will please the many in the Folk-Metal crowd.
Rating – 70/100
Tracklist
Caspian Rhapsody
Fierce Riders of Scythia
The Black Death
Red Wizard
Elegy
Adamantium
Dies Irae Pt. 1
Warrior's Anthem
Epilogue
Line Up
Dave Kahn – Lead Guitar, Vocals

Scott F. Thompson – Keyboards

Morgan Zentner – Oboe

Terry Savage – Bass
Nik Golar – Guitars, Bass, Vocals
Scott F. Thompson – Keyboards
Celine Derval – Drums & Vocals
Links
MySpace * ReverbNation * BandCamp * Facebook * Twitter * Site
6 color styles available:

Style switcher only on this demo version. Theme styles can be changed from Options page.