Browsing articles tagged with " vard"
Interview by Vard Aman
Armenia is little country that is steadily claiming its rightful place in the in the music world (and right near the top of my "to visit" list). While there may not be many bands (yet), the bands that are coming out of Armenia are top quality. Take Dogma – a unique band fusing Armenian Folk music with Progressive Metal. How good are they? Here is what Ian Anderson of Jethro Tull had to say about them: "The best musical Metal band this side of Mars. Amazing bass player. Brilliant vocals. Searing guitar. Thundering neutron drums. This band feature instruments which are weapons of mass destruction…. Oh, to be so young." And I'm inclined to agree (you can read the review

here

). I caught up with Dogma's vocalist, Zara Gevorgyan, for a chat about Dogma and Armenia.
Hi Zara. Welcome to Femme Metal Webzine!
Hi Vard, firstly I need to say a big thank you for the nice and positive review of Dogma's second album "Under Dogma" you presented to the readers of Femme Metal Webzine. And another thank you for this interview offer! Continue reading »
Interview by Vard Aman
Tantal
formed in 2004 in Moscow and have been growing ever since. In 2007, the released their highly acclaimed debut album "The Beginning of the End", but in 2011 their vocalist, Sofia Raykova, left the band. Meanwhile, they had begun the long process (they're perfectionists – and it shows) of recording their second album, "Expectancy". Milana Solovitskaya was brought in to do the clean vocals for the album, and she is now their permanent vocalist. We caught up with her for a chat.
Hi Milana, welcome to Femme Metal webzine.
Hello!
How did you end up becoming the vocalist of Tantal?
I found their advertisement in a music forum and sent them my live video and audios. I didn't hear them before.
What is your musical background? Did you sing for any bands before Tantal? Continue reading »
Label: Irond
Review by Vard Aman
Anckora formed in Moscow in 2006, initially as a more standard Symphonic Metal band before morphing into the Industrial Metal sound they have now. They released a demo in 2007 and a couple of EPs in 2010 before releasing their debut album "Машина" in 2011. That's pronounced "Mashina", which means "Machine" in the context of this album (rather than "Car", which is its most common use in Russia). They followed this up with their second album "Открой Мне Дверь" in 2013 ("Otkroy Mne Dver", which roughly translates as open the door for me). Now they have a new EP out, "Экстрим" ( "Extreme").
And, yes, it is pretty extreme! Anckora have mastered a harsh and heavy Cyber/Industrial Metal sound, greatly emphasized by Katrin Antares's rasping, snarling vocals; heavy Rammstein-eque guitars; and driving rhythms. Continue reading »
Label: Bakerteam Records
Review by Vard Aman
Tantal was formed in 2004 in Moscow by guitarist, Dmitriy Ignatiev. A year later they were joined by vocalist, Sofia Raykova who took care of both clean vocals and growls. In 2007, the released their highly acclaimed debut album "The Beginning of the End"… and the rest, as they say, is history. Well, not quite: Sofia left in 2011 and was replaced in 2013 by Milana Solovitskaya, who now takes care of the clean vocals. Oh, yes… and after 3 years in the making, they have now recently released their new album, "Expectancy". They play a intricate fusion of Melodic Death Metal and Progressive Metal and have mastered it in a way that few bands have. Their sound has also evolved: "The Beginning of the End" was a more brutal Death + Thrash + Melodic Death + Progressive fusion, while "Expectancy" is more refined, less brutal, with the Melodic Death Metal + Progressive edge coming to the fore. Continue reading »
Interview by Vard Aman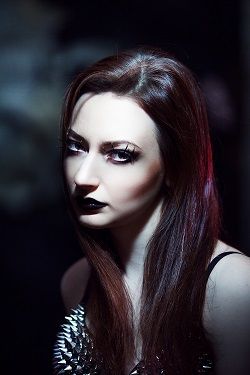 Well crafted, with superb songwriting, arrangement and lyrical skills, Sanctorium is a band whose art has grown and matured with time and patience (not unlike, as the saying goes, "a fine wine"). Having recently released their debut full length album "The Depths Inside", I caught up with Sanctorium's vocalist, Daria Zhukova.
Hi Daria, welcome to Femme Metal Webzine! To start off, how and when did Sanctorium start and how did you all meet?
Hello! Well, Sanctorium was founded in 2005 by guitarist Victor and drummer Andrew. They had been already played together, and after previous project decided to form a new band. I joined to band in November, and guys have started in July. We had met with Victor for 2 years before on guitar courses. The funniest thing was that fact, that I've started to sing seriously only since September 2005! Nevertheless I was accepted into band, and I'm still grateful for that. Continue reading »
6 color styles available:

Style switcher only on this demo version. Theme styles can be changed from Options page.