Browsing articles tagged with " veil"
Interview by Matteo Bussotti
"The Current", Midday Veil's latest album, is simply spectacular. Listen to it immediately! And, while you're listening to it, why not reading our interview with their excellent singer, Emily Pothast? So, let's read what this young, talented singer from Seattle has to say about her band, the meaning behind the album and much more!
Hi Emily, it's really an honor to have you here with us! My first question is kinda of an obvious one: are you excited for the release of your new album, seeing that you're receiving pretty much only positive reviews (and I'll add one more: I found "The Current" simply beautiful. Great job, to all of you)?
Aw, thank you so much! It's great that people seem to like the album, but mostly I'm just excited to finally have it out in the world. Continue reading »
Label: Tranlinguistic Other Records
Review by Matteo Bussotti
"The Current" is the latest release from the American, psychedelic band Midday Veil. And we all pretty much already figured it out already. Now, let's get down to business. This album is really intriguing. I, as a drummer, immediately noticed the strange tempos (they're not impossible tempos, but at lest they're not all the usual 4/4 ), which give the songs a strange, catchy vibe. The other instruments all add to the psychedelic atmosphere of this CD, making each song "full" (I can't find a better way to describe it. Each song fulfills your senses, and has the right amount of instruments and sounds in it, without resulting redundant) and a real trip for your ears (Like the second track, an instrumental 6-minute-ride with a semi-greek title: "Choreia" ). Continue reading »
Label : Equilibrium Music
Review by Stina
Some outstanding music has come across our ears throughout the course of 2010 from Equilibrium Music, and Hexperos's "The Veil of Queen Mab" is no exception. This Italian duo (the bandname derives from the characters Esperidi and from Hesperos – the former designing the three nymphs of the evening, who take care of a tree of golden apples and sing with melodious voices, and the latter the name of the first vesper star, the one preferred by Venus) was established in 2004 by multi-instrumentalist and main composer Francesco Forgione (double bass, cello, Bardic harp, percussions and keyboards) and vocalist Alessandra Santovito (also transverse flute and hammered dulcimer), formerly known for her work in the band Gothica. Alessandra is gifted with a rich and suave lyrical soprano voice that is destined to rejoice the ears of every fan of female vocalizations (she achieved a first class degree in opera singing at Pescara Conservatoire with full marks and honours), yet, what makes Hexperos stand out, and the reason why "The Veil of Queen Mab" scored so highly in my appreciation, is due to how they effortlessly escape the redundant approach that scuppers many a band with a Neoclassical edge to produce music that it's as synergic and airy as it's majestic and powerfully evocative. "The Veil of Queen Mab" has taken its time coming out, having been recorded and meticulously assembled over the course of three years (the band's debut, "The Garden of the Hesperides", saw the light in 2007), and thus the arrangements are manifold and finely crafted, but the textures found on each piece, dexterously fused with Alessandra's jaw-dropping voice, sound so graceful and impalpable they softly wrap the listener up like Queen Mab's merciful azure veil: the album title is inspired by that of a short novel by Nicaraguan writer and poet Rubén Darío, paying homage to the queen of fairies and dreams – originated by the Anglo-Saxon mythology, probably with roots in Celtic legends, and referred to in countless works by a number of artists, from Shakespeare or Percy Shelley to Gustave Doré – who brings solace to the Artists comforting them during their struggles. Hexperos used this figure as a striking metaphor to underline the aim and spirit that pervades the whole work, which is dedicated to Art, and Artists. The result is an album that can draw comparisons to top-shelf Gothic/Neoclassical acts, but ultimately sounds like nothing else but the work of their creator – and most importantly, like a true work of Art. Recommended.
Rating – 85/100
Tracklist
The Fairy Appears
Queen Mab
El Velo Azul
Moon Spell
Summatem Deam
Diadem of the Night
Summoning of the Artists
A Reason to Live
Nocturne
Le Lacrime di Proserpina
A Forest
A Midsummer Night's Dream
Time of Spirit
Asturiana
Line Up
Francesco Forgione – Double Bass, Cello, Keyboards, Bardic Harp, Bodhrán, Jambè, Programming
Alessandra Santovito – Voice, Flute, Hammer Dulcimer
Francesca Romana Di Nicola – Celtic Harp
Alessandro Pensa – Violin, Viola
Manuel Manzitti – Bassoon
Links
MySpace * ReverbNation * Facebook * Site
Interview by Ary G.& Anna Fortini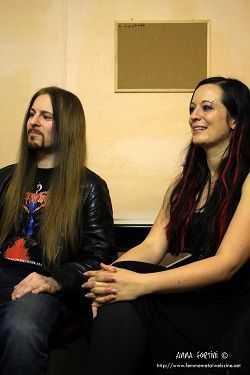 On the occasion of the two new italian dates that see Xandria as the opener act for the new Epica tour, Femme Metal had the pleasure to have a great chat with Manuela and Marco in Milan, that kindly talked about the new record, "Neverworld's End", about the influence they've taken from Nightwish, the life on the road with the colleagues Epica and Stream of Passion and a possible of a new music direction.
Ok. We are here with Xandria, with Marco and Manu. Welcome to Femme Metal.net!
Marco: Hello!
Manuela: Hello!
How are you doing guys?
Marco: Oh great!
Manuela: I'm fine, grazie!
So, yesterday you've been in Rome for the very first time. How was to visit a city that you've never seen before?
Manuela: Well, actually we didn't visit the city, but I could tell you about the concert: it was really amazing! The people were really great and we really had fun on stage, so it was great to be there, really…
Marco: The location was about 40 km far from the city center of Rome, so unfortunately we had no chance to see all the famous things in Rome…
What about the weather?
Marco: April weather! Ehehe! Rain, shine, rain, shine…
What could you tell about the lyrics, instead? Today you are here in Milan again, after having been here for Out of the Dark Fest. How is going? How do you feel like coming here again in Italy, for the second time this year?
Manuela: I like it very much

because concerts in Italy have always been great, also for me in the past I've been here with Haggard already, so I know we can expect a big concert.
This tour is the first one that doesn't see Nils unfortunately, because he had been injured after some dates you had with Epica and now you have a replacement, that is Fabio D'Amore from Serenity. What did cause this choice and how have you decided to take Fabio in your crew?
Marco: We have joined Out of the Dark Fest with Serenity, the main band with Fabio, it was one of the five bands we have been on tour, we were in the same tour bus, we were friends, so he was the first one we thought of when we were searching for a replacement.
Manuela: He is a very good bass player and he has a great personality, we like him very much. Nils is recovering, but he will be with us as soon as possible…
We want to wish Nils a good recovery, we wish him to get well soon!
Marco & Manuela: Oh, thank you

So, as I said, you'll be in Milan tonight. So, will we expect some surprises tonight from you guys?
Marco: We'll play the songs from our new album, some songs because we have only 35 minutes, as we're the opening act, but it's the first time we'll play some of the new songs of the album for this tour, it's a great thing for us because we're also fond of the new material, all the years we've been really looking forward to play that stuff, because we knew that it would have been working, it would be great fun to play live, as we've seen in these last 2 days it's really the case and so I think it will be great tonight.
This tour sees you with Epica and Stream of Passion. It started a week ago or so, but I discovered that some dates were already sold out, so what's the feeling of discovering that "your dates" are sold out?
Marco & Manuela: Ehehe!
Marco: Of course, it's Epica sold out shows, but we are amazed of possibility to get new fans, we hope to get new fans on this tour

Last month you've released "Neverworld's End", after five years of silence. How've been the feedbacks so far from the media and the fans? Are you happy about the result?
Manuela: Well, until now it has been really positive and we got very good reactions and responses to the album. Of course there is someone that says "We want Lisa back!", but it's always like that when singer is changed, but most of the people accepted me as the singer now, so I'm really happy about this…
I see that daily you receive lots of compliments on your Facebook profile and Facebook page, so are you happy to be so accepted in the band from all the foreign and European fans of course?
Manuela: Yes, of course I am! I am really thankful for it. It puts me a big smile on my face when I see all the comments on Facebook, this gives me strength to go on, I know that I am on the right path, that we are on the right path with what we do, so it's very nice to have such good fans!
Marco: It's the best choice we could ever do with Manuela, really…
Manuela: Oh, thanks you

Marco: I think all those five years of silence you've mentioned it was all good worth, we followed ourselves again for the future, a new musical path, we wanted to do more heavy, more symphonic, more bombastic. The new album is the more ambitious we've ever done and we also have the best singer we could ever find for this album, I think it's the strongest incarnation of Xandria.
Yeah, I agree

Marco: We really feel like that. We feel like being reborn, it's a really good feeling!
What about you? Are you happy about what you wrote in this album? Because I know that you write and wrote most of the lyrics for Xandria, so what about this result?
Marco: Yeah! It really turned all the way I wanted from the beginning, I wanted this symphonic, this more epic style for the very beginning, when we were thinking about the album, we wanted to be like that from the very beginning.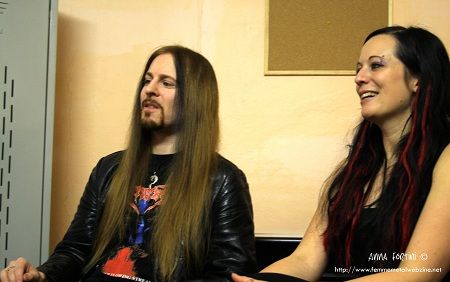 Now Xandria is more metal-oriented than before. In the last album called "Salomé", if I'm right, it was more gothic-oriented, it was less metal than this one. This is more symphonic. What do you feel like writing some new stuff? Do you feel yourselves more mature in this new record?
Marco:Yeah, definitely! As a songwriter, I've been able to do things that I've never been able to do before, and I've always been fan of more complex, more heavy stuff, because also the new songs are a bit more sophisticated and complex and this was a challenge for me as a songwriter, I always need new challenges, something that pushes me forward.
Where do you get the inspiration when you write something for Xandria?
Marco: It comes every day from somewhere

While driving the car from my home to the studio, where we recorded the vocals in Munich with Manuela… or on long travels or even here on tour and that comes the inspiration…
So you're definitely happy of having written this new record, that fans really appreciate for what I've seen but my attention was catched up by a song called "A Thousand Letters". What can you tell us about this song?
Manuela: For me it's a very personal song, because I wrote the lyrics for it. The lyrics are about my grandparents, it's inspired by what my grandfather and my grandmother told about the War and about their love. I've read a diary of my grandfather and it touches me very deeply and after their death, it was easily for me to overcome this sadness about their death and I wanted to write something for them and about their love. It's about their love and the 2nd World War and it has a positive end, because they meet again after the end of the war. In reality, it was the same so… It made me very happy that this song has finally made it on the album.
Concerning "Neverworld's End", I've read some reviews on the web and I've seen that so many reviewers told that you are a "clone" of old Nightwish. How do you react to this statement?
Marco: Well, I think that they think this album reminds something of the old Nightwish but I really don't like the word "cloneW because most of the people see that it's not about doing the same stuff again, but understanding what they did and appreciate it, taking it as an "influence" and making your own stuff with that.
Was you inspired maybe by from old Nightwish era somehow?
Marco: Honestly, I am a real fan of Nightwish, yeah… that's right! I love all their material, even the last two albums! Yeah.
What do you think about "Imaginaerum"? Random question…
Marco: It's different from what I expected! When they told all the people that it would have been a real soundtrack thing, I expected more soundtrack and not so much rock songs, it was a bit surprising for me but I like it

Usually when you get some criticism, from the media or fans, even if they are positive or negative, how do you react? Do you feel yourselves offended or do you think "Ok, it's a constructive sentence, it's a constructive critique, so I have to accept it"?
Manuela: Well, I try to take the good things out of the comments, I separate the critique, I mean I take the rights ones and I put away the bad ones, what I mean is: there are some comments that are sometimes very mean. I don't care about those! I just try to take the good things

Marco: You have to push them away, sometimes it's just a matter of tastes, you know! If someone say "Oh it's too much bombastic!", it's more cheesy, sometimes for some people, I just say "OK, this is not the music you like, it's ok for us". We can't include everything that comes from somewhere, because it would be something that doesn't please everyone. We want to make music we feel, it's all from our heart, it the people like it, it's ok, if the people don't like it, it's ok also!
Manuela: Yeah! Everybody has different tastes! That's okay

When a band changes her own vocalist, every single fan always dares to compare the single member, the female singer and so on. So has it never happened to hear maybe some fans saying "We want Lisa back" or "We want Kerstin" back or some evil things like that?
Manuela: Yes, of course, but that's okay for me, because you know, we have very different voices and some like Lisa's voice better, some like mine better, so it's ok. I was prepared for that, because of the things I saw going on in Nightwish, for what concerned Anette and Tarja and so on and so I've thought "ok, it might be some people say that", but it really didn't touch me, I just focus on people that really like me and love me and appreciate me.
As you said, you're on tour with Epica and Stream of Passion. Have you had the chance to get in touch with the girls or the boys?
Manuela: Well, of course we had the chance to get in touch a lot with Stream of Passion because they are in the same bus with us, so it's really great, they're really great guys and a great girl and we had lots of fun together…
What about Epica?
Manuela: Well, not so much but we still have some talks here and there and had fun of course.
Marco: We're just not in the same bus, so we always meet occasionally. We have different date schedules on the show dates, so sometimes we meet and they are great people too!
What do you think of Simone Simons as a vocalist or as a person?
Manuela: I think she's a very, very great vocalist, I adore her voice very much, and well she is a very beautiful person.
Marco: And she knows how to handle a metal audience, it's really cool.
What about Marcela?
Manuela: She is a really ground to Earth person! I love her personality a lot, she's a very interesting person! I like her very much!
Okay. Tonight you will play here at Alcatraz venue and I assume you'll play also some old songs. What could we expect?
Marco: We will play "Ravenheart", eheheh. You know, we have only 6 songs, we're the opening act so it's a short time for us to play . We really want to present our new album to the people, because it's the new Xandria! We want to leave the past behind because of course it still belongs to us, there are still some songs we like to play, but the time is very short on stage on this tour. We chose just one of the old song and the rest is new, in order to know the new Xandria.
Ok. This question is for Manuela only. I've seen some videos on Youtube from Marcela practicing some famous opera by Puccini and some other famous composer. The same did once Simone Simons from Epica so what about you? Will we ever hear you singing and playing something from any famous composer?
Manuela: Perhaps. I don't know yet. I focus now on my metal things but next I'm going into a Celtic project, so I don't know what to expect now, but this is going on. Perhaps you will hear some classical stuff in the future, but nothing is planned yet.
Ok. Thank you for the interview. Would you like to say something to our readers and your fans of course?
Marco: Thanks for your support, Femme Metal! It's really great. Thanks to all of your visitors for supporting us and coming for the show, it would be great to meet you in our shows.
Manuela: Thank you very much for accepting the new album so much and for accepting me, as the new singer. I'm very happy about the new response, so thank you for your support!
Credit Photos
Photos by Anna Fortini
Links
MySpace * Facebook * Twitter * Site
Latest Multimedia
Interview by Roberta Ilaria Rossi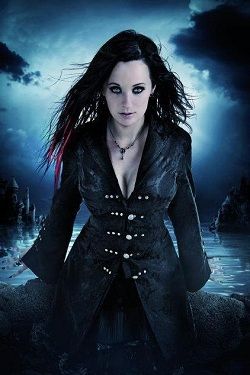 After so many years of silence, Xandria comes back in the metal scene with a masterpiece album, "Neverworld's End", showing the power and the new direction the band is going through. I had the chance to talk with the new singer, Manuela Kraller, which brought me into a magic world, explaining what is this new album for the band and for helself as well.
Hi Manuela, welcome to Femme Metal! New Xandria's album, "Neverworld's End" was released a few days ago, would you like to share something with us?
I was very excited before the release and about the reaction of the people. But all went well and until now we got a lot of good feedback from the fans, what shows us that we are on the right path

The record was released by Napalm Records and I know that it took long time to produce it and to create it. What can you tell about it? How long did the recording last?
The recording itself took a few months all in all. The recording has taken less time than creating and producing the album of course: The production and songwriting from beginning till the end took a few years… ….it was a lot of work, but it was worth the passion and time we put in it.
Last Xandria album, "Salomé – The Seventh Veil", has been released in 2007. What prompted you to "delay" the release and the creation of this new album? I know that some changes have been made: Lisa left the band, then Kerstin left as well… What can you tell us about it?
Of course there has been a delay because of the front woman changes and the searching for a new singer. For the Xandria boys it was hard to find a new singer after Kerstin has left, but finally they found me

You have a sort of opera singing and listening to the album, I've found so many references to Tarja Turunen. Some fans that had the chance to listen to "Valentine" have thought the same thing. Do you agree with this statement? Do you see yourself like the heir of the great Tarja?
No, I don't see myself as a heir of Tarja and I don´t want to be a second Tarja. I am Manuela and I am an individual woman with my own voice. Of course people compare us, because we both sing classical and have a dark timbre, but everything else is different. And everybody who listens closely will recognize this. Some people also think I want to sound like Tarja, but that´s not correct. My voice sounded like this already before I have ever listened to Tarja. My voice is like this, not because of Tarja, but because of myself. Well, don´t understand me wrong: It is not a bad thing being compared with Tarja, but I really hope that once people will stop this comparison and say: "This is Manuela's voice" and not saying "She sounds like Tarja". That´s my aim, to develop my voice more and more and get my own unique voice.
I think that this album will finally make the history for Xandria and it will bring you lots of great surprises. Now Xandria is a symphonic band, to all intents and purposes. What do you expect from yourself and from the band?
With "Neverworld´s End" we laid down the basis for a new beginning. And now it is time to go forward and upwards, step by step. I expect a lot from Xandria and from myself. I am a kind of perfectionist concerning singing, so I will always try to make my voice grow and to give my best on stage. My wish for Xandria is that we will make music that enthuses people, give as many concerts as possible and perhaps once make a world tour, I think this must be amazing!

Listening to the record, I've found similarities that recall albums like "Once", "Century Child" and, why not, "Wishmaster" by Nightwish as well. What is your thought about this? Have you ever thought of proposing yourself as the new Nightwish singer?
Many don't know it, but I really applied in 2006 as new Nightwish singer!;) But at this time I didn´t have any possibilities to make a demo, so I just send some live recordings of me when I sang in church, not a very good way to make an application

But I tried and that´s the most important thing for me, even if they didn´t take me as new singer. But Xandria did and now I can make real symphonic metal, yeahh! Many people compare us with Nightwish, we expected this, because we make symphonic metal with opera voice and if you do this it is normal that people make this comparison, because Nightwish is the most known band in this genre and people always compare with something that they know. The comparison is ok for me, but I think that Xandria nevertheless has its own style! For example do we have much more progressive style in our music than Nightwish had in further times, we have our own catchy melodies and I use my voice in a much more different way than Tarja does. I also use rock voice sometimes (f.e. in "Soulcrusher") or a very fragile not very classical voice in the verses of "A 1000 letters…"
Personally, I think that now Xandria can consider itself as "Old Nightwish at the Age of Tarja". Many similitaries have been found and I think that you've "stolen" something from Nightwish, in order to explore some new "lands". Do you agree with this statement?
We surely wanted to explore new lands, but don't want to "steal" anything from anyone, though I know you don't mean this in a way of plagiarism but of spirit in the music. Yes, we share a lot of this spirit with Nightwish, I think we have some similar visions and it's great to realize that people enjoy our music because of this vision. But we would not reduce this to a certain era of another band, we surely want to originate much of a similar spirit but create our own music with it.
Talking about the sound, a change is so evident, a sort of an evolution, as if the band wanted to experiment a new sound. You are more metal-oriented, more symphonic metal and you've "left" the gothic genre, as experienced in the first albums. What did cause such choice?
With "Salome" you can say the music of Xandria hasn't had a real development anymore, they went in a kind of blind alley in my opinion. It was time to decide in which direction Xandria wanted to go and Marco and the others found their consent in focus on the symphonic and metal elements. Marco also wanted a coherent sound for Xandria and the music and this was the way for a new beginning.
We can say that Xandria has been brought to life again: after a possible split in the years, Xandria found a new singer, worthy of this role, a new sound, a metal-oriented one. It will be a successful year for you. What are you expectations for this news adventure?
As I said before: We expect that our way leads now upwards step by step and we are working for this with passion. What the future will bring for us nobody can tell, but hopefully it will bring only good things to us

How do you see yourself in 10 years?
I'll see myself in my red wooden house on a lake, with a golden record on my wall

and as someone that made a living from singing (it´s not about the money, but about the opportunity making music everyday and everytime

, someone who still tours around the world and gives concerts…
What does it represent "Neverworld's End" for you?
It's my fantasy world. The world that I loved as a child and when I sing the songs, I have the feeling I am reviving my childish dreams again…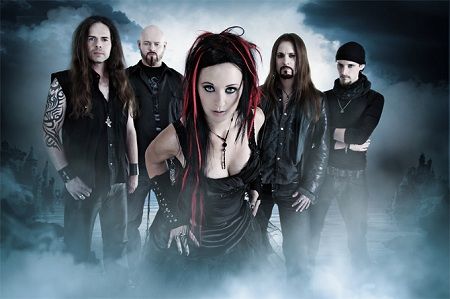 What is Xandria for you,for your personal and artistic growth?
Since I am in Xandria I learned a lot, also personally. I grow with every step on our way and I have the feeling I find more and more myself as a person. Artistically it gives me the possibility to develop my voice and to make the music I always wanted to make…
We've talked about bands, I know that you've worked with Haggard. What is the most beautiful memory related to this experience?
We had a concert in front of 100.000 people in Colombia, that was quite amazing! I also made wonderful experiences on tour, got to know many great people and countries and learned a lot. But the most beautiful memory stays the very first concert with Haggard. It was the first time that I sang in front of a few thousand people at the Masters of Rock festival. It was an amazing feeling to stand there on stage, because in this moment I knew that I want to be a singer and that this is the right profession for me.
Had you worked with some other bands before?
Before Haggard I have never worked with any band before. Haggard was my first band, second band was Nagor Mar (now Forty Shades) of switzerland.
Now you've joined Xandria and you're the female singer, replacing that role that once was Lisa's. how do you feel to be in her shoes, now? I know that you and Lisa have a beautiful friendship. Will we ever see the both of you in a duet, someday?
Well, I think I brought my own shoes with me

I don´t want to step in somebody's footsteps, I want to leave my own on Xandria's way. To be honest, I don´t know Lisa very much, we've met only twice in life…I don´t know if there'll be a duet one day, we'll see

Ritual question: what do you think was the impact of the fans when they heard about your entrance in Xandria?
From the first moment on the reaction of the fans was very positive. They supported me from the very beginning. Of course some fans will always say: "We want Lisa back!", but that´s ok. Everybody has its own opinion and own taste concerning voices. I try to concentrate on the positive critics and feedback, that´s what counts for me

At the first public event, Classic Meets Pop, where the band officially introduced you to fans, you've performed live the song called "Ravenheart", as you have sung several famous songs at Out of the Dark Fest, like "Now and forever", "India", "Save My Life". In my opinion, your voice makes perfectly what the song wants to convey to the listener. How did you prepare yourself to sing these songs?
I tried not to copy Lisa, but do give in my own voice into the songs. I thought a lot about the meaning of the lyrics and tried to express the content of the songs with my voice. It wasn't very hard to sing the songs. For the new songs I had to practise a lot more, cause they are much more complex.
Is there a song, among the ones I've named, or among the most famous Xandria songs, that you like the most or you feel more connected to? If so, why?
I can almost not choose just one song of the new album, every song fascinates me and I love to sing everyone of them! Of the older songs I like "India" and "End of Every Story" a lot…
A videoclip for "Valentine" will be out very soon, in particular it will be released for St Valentine's Day. Would you like to share something with us? From a small taste, I was under the impression that it seems a very particular videoclip…
Well, it is not about love

It´s about an artist that sells his soul and heart to a higher instance. Outside he laughs, but inside he is very sad. The harlequin represents the artist….
Talkin' about live experience: after a long time, Xandria embarked on a short tour in Europe, and as I was saying earlier, you've been the long- awaited protagonist for Out of the Dark Fest, along with Serenity, Amberian Dawn, Van Canto and Tristania. What was it like for you to scale back on stage with your new band, feeling the chills down your spine given by fans that were there, all the emotions, giving the people what they wanted to convey? I guess it was a truly remarkable experience for you…
It was a great feeling to stand finally with Xandria on stage and sing a full set with them! The fans were amazing and we really had a great time on tour also with the other bands! It was a wonderful time!
The audience has witnessed the power of your voice and how much drama, energy and versatility you will be able to give. How do you train your voice? How do you prepare yourself before a show or a particular event?
I make some voice practices every day, 2 times a week I go into a rehearsal room near my home, where I practice the Xandria songs and sing to the instrumentals. Because it is not possible to practice every week with Xandria: We are living about 800 kilometers away from each other, so I have to practice also on my own. Next to that I do sports: Swimming, jogging and I also go to fitness (Pilates, Zumba). My body is my instrument so I try to take care of it as much as I can

According to what you wrote in your "biography", you've been introduced in the music scene at 23. What could you tell about it? What has been your Art Education?
That's right, I started singing very late. In my family no one made music, so it lasted a long time until I found music on my own. In a choir in Finland I discovered classical singing for me and back home I started to take singing lessons. I have never studied singing, I had 6 years of private classical singing lessons. Now I practise on my own….
How did you discover your own passion for metal music? Is there any band that has inspired your way of singing or that you like to listen to/to sing of?
When I started taking singing lessons, I haven't been inspired by female fronted metal bands or Tarja. After two years of singing I started to listen to Nightwish's "Once" and that was the point when I recognized by myself in which direction I wanted to go as a singer. Tarja was for sure an inspiration when I started singing.
2012, as I was saying, will be very rich and full of surprises. We've seen you around Europe last year. What will happen this year? Are you going to plan a new tour? I know that you will support Epica for a few dates…
Yes, we'll support Epica in March and in April! I am really looking forward to this! And we want to play as many festivals as possible. There is not another tour planned yet, but there'll be one for sure this year…
Which is the most beautiful memory related to the band and to the music itself? Maybe I realize that it's too early to ask for this question…
That's difficult, because there have been so many wonderful moments. For example at concerts. But when I saw our CD "Neverworld's End" in a record store between all the other Metal CD´s, I was very proud:) It was like a kind of present for all the hard work we've done. It was a wonderful feeling…and of course every single concert, when I see in the people's face that they love our music and that we bring joy to them with what we do. That´s the biggest present of all

Thanks so much Manuela for having allowed us this interview. Waiting for the release of new Xandria album, the editorial staff wishes you lots of happiness and we wish you all the best. Is there something you would like to tell Xandria's fans and to our readers as well?
Thank you! It was a pleasure for me:) To all the fans: Thank you sooooo much for the support and for the positive reactions and comments related to our new CD!! It makes me very happy to see that you love our music…Love you!! Kisses, Manuela.
Links
MySpace * Facebook * Twitter * Site
Latest Multimedia
6 color styles available:

Style switcher only on this demo version. Theme styles can be changed from Options page.