Browsing articles tagged with " venice"
Interview by Si Smith
"It exists a girl who lives on the moon, her name is… LUNAINFEA". So begins the Lunainfea biography and it is at this point that we greet the band in their creative process. Italy has produced many high-calibre bands recently and Lunainfea are the latest to hit the big time. Femme Metal had a word with Katla Hausmann, to find out more.
First of all thanks for making your EP, and thanks for this interview. Welcome to Femme Metal webzine. Lunainfea is a new band to many of us, please tell us how you formed and introduce the other band members to us?
The band was born in the 2005 from the intimate vision of the music by Julian Nardi and Kaio Karras, which began to create a background blues sound. After Alessandro Rubin gave a stoner boost, I became the Nymphet moon's Voice that completed the alchemy that burst into our best sound.
The moon is a very strong symbol on your album cover and CD. Where did the fascination with the moon begin?
Conceptually, the moon is a far away symbol from demeaning stereotypes that we are surrounded to this day: it's distant but present and strong. In this point of view research of sound and themes began.
The story concerns a girl who lives on the moon – what is her story, briefly?
The loneliness's Daughter, Lunainfea spent her childhood in the lunar desert where the scent of nothing enveloped and protected her. In this absolute silence she evolved in a shell where she could feed herself of her being, feeling the deepest and the most intimate emotions of human beings, coming to pick an unknown flower to many : the purity is the metaphor, the idea behind our music.
When you started putting music together for this release, did you always know that it would be a conceptual album or did that come later?
The music is without limits and we knew before starting our EP, that we don't know where it will lead us.. thankfully.
Musically your influences appear to be many, from blues to psychedelia to stoner. Are there any bands you as a band like to follow or style yourself like? What music do YOU appreciate?
I started singing in childhood and in this moment I needn't rely on a definitive style, what matters is to express the energy inside me.
Your voice is very soulful and expressive when you sing. How did you get into singing, and how has your voice changed over the years?
My voice is something connected to my Island homeland, to the deep of the volcano and the screaming earth, a lunar earth that tells stories. My voice is the same through the years but the essence has changed, today I breathe on a stone … while the moon shines.
There has already been quite considerable positive critical reaction to the album. How have the reviews been so far for you? Has the coverage spread much outside of Italy?
Once we were convinced of the potential of the songs, we needed to record with someone who knew how to model, not just digitalize, the disk and Giulio Ragno Favero was the ideal person to entrust this task. This choice allowed us to receive good reviews from both public and professionals.
The EP begins with a inviting guitar riff, a hello and the call to "follow us". How do you hope that fans old and new will react to this material?
The following sentence is "I am your secret mirror", and a mirror never lies to old and new fans.
"In the Cage" is one of the more soulful and jazzy numbers on the EP. What style do you prefer to sing? Are there any favorite songs of yours you would love to cover on a future release?
I let myself go, will you put me in a cage for this??? Now we are focused on the new songs since we have a lot to say. We'll think about a cover later on.
On "Letter to Hell" there are more discordant musical tones in there and it has a harsher feel to it. Were you happy with how these songs sounded in the final mix? Does any one member of the band have the final say as to when a track is complete and if there is more work that needs to be done?
Each of us is born and lives with a distinctive character. "Letter to Hell", like other songs, is a statement written by four hands. My smile so benevolent and evil at the same time is what is that now.. and in the future.
This song is followed by a short spoken interlude entitled "It has arrived". Does this track and the arrival of winter represent a particular part of the Lunainfea story?
The winter's coming is experienced not as a cold signal but as an opportunity to see things through another point of view.
The EP seems to end on a hopeful note, except that Lunainfea cannot forget the events of "Winter '85″. What is your hope that a listener will feel by the end of the album? Do you think you have achieved this?
"Winter '85″ speaks about a child who for the first time has seen snow. This EP contains , not only songs but also an album of old pictures where many people can recognize and find themselves.
The music sounds like it would be a blast live. Have you more songs to fill a live set? Is it your intention to play live soon?
Together we are developing our label Nomadism live-promotion but now we are focused on the disc to give visibility to the band.
Finally, are there any secrets about the band you would like to reveal for our enjoyment?
Lunainfea is a declaration of love for the music and emotional challenge to ignorance. A search with no stereotypes, with a broad creative. This closely inspires us to a symbol, free and pure as a girl in nothing consciously represented by the lunar desert, brings us to rediscover sensations and memories simple, but for us, essential.
Thanks again for the interview and the great music, we wish you well with the EP and future projects.
Thanks you! it was a pleasure.
Links
Label : Red Pony Records
Review by Tony Cannella
From Italy (where else?), comes the symphonic metal band TeodasiA. The band is fronted by vocalist Priscilla Fiazza and has just issued their debut album titled "Upwards". "Upwards" begins with the 3-minute intro/instrumental "Intro-Spection" and then segues into "Temptress" which proves to be a powerful opening number. The next song "Revelations" immediately became a favorite of mine, thanks to the stellar instrumentation and Priscilla's soaring vocals. That is followed by the monumental song "Lost Words of Forgiveness". This song sees Priscilla sharing vocals with Rhapsody of Fire front man Fabio Leone – the song has a huge epic vibe to it, and the two vocalists show great chemistry together. This is another highlight. I really like the way TeodasiA uses the symphonic, orchestral elements throughout the album. Nothing is overdone and they don't rely on the orchestral side of things too much. Everything ties right in with the songs and it complements the music perfectly. Moving on, the ballad "Close Call" brings the tempo down a bit and is a good change of pace from the previous material, but in my opinion it is one of the weaker songs. Other highlights include: "Aurora", "Eulogy" and the fabulous closing number "My Minotaur". With "Upwards", TeodasiA offers the listener a perfect combination of sophisticated, dramatic metal with a lot of melody while still being moody and emotional as well. For a debut, "Upwards" is a great first step. For fans of the symphonic metal genre – and even if you just love good metal – there is a lot to like about TeodasiA.
Rating – 93/100
Tracklist
Intro-Spection

Temptress

Revelations

Lost Words of Forgiveness

Close Call

Inside

A Powerful Life

Hollow Earth

Aurora

Pandora's Knight

Eulogy

My Minotaur
Line Up
Priscilla Fiazza – Vocals

Fabio Campagno – Guitars

Michele Munari – Keyboards

Nicola Falsone – Bass

Francesco Gozzo – Drums
Links
MySpace * ReverbNation * Facebook * Twitter * Site
Interview by Miriam C.
Lately, the Italian symphonic metal scene has churned out new bands that, slowly, are having a lot of success on the web and that are making their own way into the music biz. One of the latest discovered talents is embodied in Teodasia, a symphonic metal band from Veneto, that has produced and released this year the first full length album, "Upwards", via Red Pony Records/Audioglobe. Personally, I had the pleasure of exchanging some chats with the band's front woman, Priscilla Fiazza, who told us the meaning of this project for her and which kindly has revealed some interesting facts addressed to her colleague Fabio Lione.
Hi Priscilla, welcome to Femme Metal. How are you doing? You are the lead singer of the band Teodasia, from Veneto, which is a new music reality of the metal panorama scene. Would you like to give us a short biography of the band?
Thank you for having me here. I am doing great! I'm very excited because our music is doing really well and I am looking forward to tell you all about it. Teodasia began its journey back in 2006. The original idea behind the band was conceived by Francesco Gozzo, our composer, drummer and founder. He held a vision so strong that he was able in time to recruit a fair lot of musicians that have come and gone throughout the years. The one thing that never changed in time was the artistic vision behind the project. Francesco wanted to record a demo and – just before starting the process- he met Fabio, our guitarist. This was in 2009. Later came Nicola, the bass guitar player. Straight away, the demo caught the attention of our producer, Andrea Bezzon, who has guided our endeavors from then onward, producing our first full-length, which I am here to present! In mid 2010 the band begun auditioning for a singer and in May of that year I was picked from a bunch of 40-something candidates from all over Veneto. We started recording "Upwards" in June of the same year and my vocals were scheduled for January of the next year. The process of mixing, mastering and the hunt for the label and distribution companies was very long and much thought-through, and, at last, we made it to our release date in April 2012. A few months ago, the former keyboard player of the band, Michele, joined the project for the second time- after he quitted for a period of time. We can now proudly say that the formation has finally settled and we are ready to take on whatever challenge our musical path will bring.
To introduce yourselves to the people that still haven't had the chance to get in touch with your own music, Teodasia has released on its YouTube Channel the videoclip for the single "Lost Words of Forgiveness", that sees the cooperation with Fabio Lione (Rhapsody of Fire). What could you tell us about this single, and, later, about the videoclip you've done for it?
To be honest, we never thought that "Lost Words of Forgiveness" would have been our debut single- up until the moment where Fabio agreed to make a collaboration. That was when we thought that such an important collaboration would have guaranteed us to have a lot of attention. Besides, the song is very representative of the album itself. It's melodic and heavy at the same time, sweet and powerful, vocally elaborated but also instrumental, rock and metal and symphonic all at once. It holds all the characteristics that will later unfold in the album. In the song we try and make the point that communication must not be taken superficially. If they are left there without proper care, even the little things end up gnawing away at the soul. In the video to the song, the character that I play falls from the edge of a mountain. Her fall comes as a warning to the offenders, not to pretend that hurtful words are innocuous; it comes as a warning to victims too, to take emotional pain seriously and take the steps to heal it. The making of the video was an incredible experience. We went to Tuscany for three days and in the last day we filmed the scenes with Fabio and had an amazing fun dinner and night with him and the whole crew to wrap up the work done. What a success!
As I mentioned before, this track includes the duet with Fabio. How did it happen to chose him in this song? Are you a fan of Rhapsody of Fire?
We wanted to have male vocals somewhere in the album. A change in the timbre at some stage of the music creates sonic interest. Male backing vocals are present here and there throughout the whole album- but main male vocals were lacking. "Lost Words of Forgiveness" seemed to be the perfect track for a duet. Fabio has one of the greatest voices amongst the male vocalists in the metal industry. We took our chance – made contacts with him and sent a demo of the track. His response was positive and enthusiastic. And in no time we received the recording of his fantastic vocals. I was in the studio when we began to assemble our vocals together- and it was such an overwhelming feeling. I thought: "Yeah! You go girl! This is serious stuff!". Really, I couldn't be happier than I was. Rhapsody and Fabio Lione are our very own Italian metal musicians who are not only famous worldwide, but also amongst the pioneers of power metal. This makes our collaboration the more incredible.
A few weeks ago, Red Pony Records/Audioglobe released your debut album, "Upwards". How were you acclaimed by fans and lovers of the symphonic metal/rock and from the press? I know that this album has got very nice reviews and good feedbacks…
I must say that both fans and press have been very generous to us. Our fans play a lead role in our musical path. They make sure to communicate to us their support at all times and they are very giving people. Facebook and Twitter are on fire as we are greeted from all over the world. Our fans have supported us from the start. We are a very young and not so well-known band yet but nevertheless they all believed in us from the very beginning. Our fans have contributed to our rise by promoting and supporting us in any means that they can. We feel that the press has also been of great support. Overall, the many reviews on our album show us that we have successfully communicated our sound and message. The very astonishing part is that we received attention from the press not only in Italy but in the US, South America, Europe, and even in Australia. English, American, Australian web radios have also asked to air our tracks and we were completely blown away by all of this.
How long did the recordings last for the album?
The recording process for "Upwards" was very long and sometimes quite difficult. It was a life-changing experience and character building. Francesco started recording the drums in June 2010. Fabio's guitars and Nicola's bass guitars were done by the end of July. We had to wait until December for the keyboard, electronics and orchestration. Nicola added a few different bass guitar lines in late December, whereas I recorded my vocals in January 2011. The mixing and mastering was also very long. It was above all a research process where we could learn exactly how we wanted our music to sound like. By April the album was ready. But it had to wait another whole year to be released. Again, we had to look for the ideal situation regarding the label and distribution service. We made it at last! And it feels great.
How much of yourself is inside this record?
I think we couldn't be more involved in the record and in the project overall than we are. I speak on behalf of everyone by saying this. Not only we made our music, but we have taken part in all the decision-making process regarding the entrepreneurial side of the project. Teodasia has a very strong identity and solid base also because of this.
Who is the person that mainly writes the music and the lyrics for the band? Do you have a team work or does everyone work by his/her own?
Francesco writes all the music and I write all the lyrics. It's a fantastic collaboration. Each track begins with an idea being drafted on the piano. The main emotional content of the music soon takes shape, and my task is to translate it into a verbal form. While I take care of the message, Francesco arranges piano orchestration and electronics while Fabio and Nicola work on guitar and bass guitar and Michele experiments with the keyboards. I am very passionate about what I write. I speak out from the heart and I make sure that I build a strong and thorough picture of the message I want to bring across. I like the idea behind concept albums. Each track is like a face of a prism. "Upwards" is indeed a concept album, and so is the next full-length to come! I am already a good way through the lyrical content of it and I cannot wait to start recording again.
Is there any song of this record to which you feel more connected to?
There is one song that I am greatly connected to above all. On the night of my audition, straight after my audition, Francesco took me to his car along with the band and he proudly started playing a demo recording of this song. He said: "They (music industry) are gonna love it!" And with it, he communicated all of his enthusiasm. That was the moment when I began sharing his dream and holding his very same vision. I felt a great connection with the band too, all at once. I had no idea how the audition would go, but all I knew is that there was no way I wanted to lose that feeling I had when listening to that track together. After I was recruited to be the singer of the band, the very same song was the first one I began writing lyrics for. I titled the track 'Revelations' because of all the meaning it had for me.
After the release of the first single, you've published a second videoclip for the single "Hollow Earth". Why have you chosen to publish two singles all together at the same time?
"Hollow Earth" was released about a month after "Lost Words of Forgiveness". We wanted to keep the attention going- the very same attention we received by media and fans after releasing the song with Fabio Lione. We wanted to make an impact, and first impressions are always important. We wanted our public to think: "Hey, these guys have really been up to something!".
Soon Teodasia will play at Gods of Folk in Italy and you will share the stage with artists like Varg, Dark Lunacy, Heidevolk, Ancient Bards and so on. Are you excited about playing live in a so particular festival?
Gods of Folk has just been and it was an amazing experience. We have an inside joke in the band- and we basically say that all of us have changed after playing at the Gods of Folk. And there is much truth behind a sentence as such. It was the first time we were asked to play at a major festival with many international acts. We had played in great live shows before this one- and I particularly want to mention being the opening act for Elvenking at Deposito Giordani (Virus' very own gig stage)- but it was the first time we were playing almost as 'equals' as major acts in a famous festival. The stage was unbelievable and the sound system was to die for. Our live shows have improved by far after hitting the stage of Gods of Folk- and mainly because of the confidence boost it gave us.
Is there something new for the band, now that the album has been released?
Our aim for the near future is to schedule our tour. We have been concentrating mainly on the release of the album and on its promotion- but now time has come for us to greatly focus on touring. We would like to cover the whole of Italy and then take our music around Europe- to start with. We will inform fans as soon as management settles into a course of action.
How do you feel like being the only girl in a band mainly formed by males? Is it hard to be the lead singer nowadays and to show your voice?
In many ways, the lead singer is representative of the whole band- regardless of being male or female. The singer delivers the message of the music- and it's as simple as that. That is why being the lead singer holds many responsibilities. It is up to the band and front woman to decide together where they want to take their music and message. Clearly, if the focus of the band is that of simply being of great visual and sonic impact- they care little of the lyrical message. I respect everyone and it is not up to me to make judgments. I think the world needs both. Sometimes it's ok and even great to enjoy a band whose aim is mainly to be theatrical. At times you feel the need to listen to a band whose aim is to deliver a message. If you are a true artist and you are the lead of a band- then you need to show your public that you are being authentic and that you are being yourself. If the natural way of expressing yourself is through a certain type of visual and sonic impact- that's great! If you wish to focus on a message because you feel strongly for it, that is wonderful. Sometimes your nature enables you to combine both in a coherent manner- and that is even better. I have nothing to say to front women and bands who simply respect the way they are. On the other hand, what I do not admire at all are lead singers and bands which follow standards. That's being superficial. That's lack of originality. That's thinking to take the short-cut to notoriety. And on the long run, it won't pay off.
Is there any female band you like to listen to the most or you like the most?
In the metal scene, Nightwish have all my admiration. They display a variety of musical proposals, and they have always been able to re-invent themselves in time. I admire them for their strong personality and artistic vision.
Is there any female artist (or band) that has influenced you in your musical career?
There are many female vocalists that I look up to. My passion for singing began after listening to Sarah Brightman. I followed all of her discography and collaborations with the very talented Andrew Lloyd Webber. I later discovered the voice of Jessica Harper, who could deliver very well the meaning of the words she was singing. Kate Bush and Roxette were a constant reference point in my singing formation too. I could list a million other voices that I love, but these are the ones that made an impact on me throughout the years regardless of fashion.
Have you ever thought of proposing a cooperation with a famous band like Epica or someone else?
We have many ideas in mind for collaborations for our follow-up album. As much as we all have individual ideas on who we would dream of collaborating with, we let the music speak and suggest who would perfectly fit the vocal line. There are a few tracks of the new album that are calling for very well-known vocalists. All we can do is to hope they will accept!
If you would have the chance to propose a new duet for Teodasia with a very famous person (or an unknown person), who would you like to chose and why?
The music chooses for us. There is always the perfect vocalist for the right track- and we just follow that ideal. But I cannot say who we wish to collaborate with quite yet…
How was your passion for singing born? And how was born your desire to create your own band?
I began singing when I was living in Auckland, New Zealand, in my high school choir. Back at the time, I had just won the Under13 golf championship in New Zealand and got asked to join the National team. That was the very moment where I picked music over my career in golf. True passion cannot be kept hidden for long. After graduation from high school, I moved back to Italy to pursue my music. After many solo experiences, I finally met my band. I had long hoped to be involved in a project with a band partly because I needed to feel protected. The music industry is tough to handle, especially when you are very young. When Teodasia came along, I knew that it was all worth the wait.
Is there any future or hidden dream you would like to satisfy, as a solo project or something else in music?
I have always dreamt of realizing the soundtrack for a major movie. My favourite movie of all time is Moulin Rouge, and I especially love the soundtrack. Nicole Kidman does an amazing job of both acting and singing- and every time I watch it, I dream of doing something similar someday.
Thanks so much for your time, Priscilla. I hope to have a new chance to interview you again in the future. I wish you all the best for yourself and for Teodasia. You have the chance to share some words with our readers and your fans…
Thank you Femme Metal Magazine for your interest and to all readers for sharing with me a bit of your time to go through this interview! The boys and I are very happy to meet you in our websites and social networks and learn all about your impressions. We hope to meet you in our live shows as well and share with you all that we have been up to for the past two years! "Upwards" is available in physical stores, iTunes, CDbaby, or you can order it from our website and we will send it over personally. Thank you again! Rock hard, rock on- keep up all the good stuff

Links
MySpace * ReverbNation * Facebook * Twitter * Site
Latest Multimedia
Label : Casket Music
Review by Tony Cannella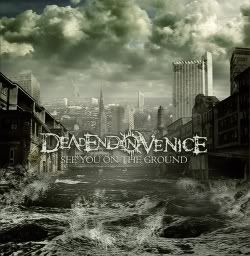 Germany's Deadend in Venice combine melodic Death Metal with old school Thrash riffs to create a 9-song, 32-minute powerhouse of a debut, that hits you hard, fast and straight between the eyes, never wasting time before reaching its conclusion. The band features the duel lead vocals of clean female singer Annabell Klein and the more aggressive style of Christian Litzba. Comparisons are sure to be drawn to another band that excels at melodic death, namely Arch Enemy. Those similarities are there, but the old school thrash influences also surface throughout the debut, which is titled "See You on the Ground". The fact that "See You on the Ground" clocks in at a brisk 32-minutes means that there is very little wasted moments on the album. From the ferocity of the opening track "Hate Sweet Hate", Deadend in Venice know only one direction and that is full-on heaviness. The duel vocals of Annabell and Christian are well done goes along with the Death/Thrash style riffs very well. The power riffing opens the next track "Personal Decay". The melodicism that this band is capable of is on full display here, primarily with the vocals of Annabell. Some of the guitar riffs and the way songs are presented brings me back to 80s style Thrash Metal, a perfect example of this is the 3rd track "Brain Execution". Other highlights include: "War", "Long Way Home", "The Monkey in My Closet", "Dirty Little Princess" and the great album closer "Tomorrow Never Comes". I never expected what awaited me when I put on "See You on the Ground". Deadend in Venice has delivered a solid, no compromising, aggressive, adrenaline filled debut that never fails to impressive throughout it's all too short playing time.

Rating – 90/100
Tracklist
Hate Sweet Hate

Personal Decay

Brain Execution

War

Long Way Home

Last Chances

The Monkey in My Closet

Dirty Little Princess

Tomorrow Never Comes
Line Up
Annabell Klein – Vocals

Christian Litzba – Vocals

Kevin Klein – Guitars

Tim Schmidtke – Guitars

Andreas Ackermann – Bass

Frank Koppe – Drums
Links
MySpace * ReverbNation * Facebook * Twitter * Site
Independent Release
Review by Tony Cannella
Introducing from Italy, An Ocean Between Us, they play modern influenced metal, in the vein of bands such as Bullet For My Valentine, In This Moment and Trivium. It is that style of music that dominates their debut EP "Drowning". What do you get on these 5-songs that make up "Drowning" ? 20-minutes worth of seriously intense melodic metalcore, with top-notch guitar riffs aplenty, and the duel male/female vocals of Dan (screaming style) and Kla. I will admit to being somewhat taken aback by the use of the label metalcore to describe their music, but my fears and trepidation were quickly put to rest with the frenzied riffing of the opening track "Reignite the Heart". The band follow that up with the equally fierce "Shoreless Love Song". The duel vocals are well done and the band continue to deliver the intensity as can be heard on the final three tracks "Black Will Turn to Grey", "This Time I'm Holding On" and the EP's final number "The Path to Your Demise". The songs are all pretty aggressive and really pack a huge wallop. Even though "Drowning" contains only 5-songs and 20-minutes worth of music, it is really an enjoyable piece of work. The songs include good doses of melody and great guitar riffs. An Ocean Between Us should definitely appeal to fans of the previously mentioned bands and even if you're not into those bands, An Ocean Between Us are a band that could find mass appeal among varying styles of metal fans.

Rating – 78/100

Tracklist
Reignite the Heart

Shoreless Love Song


Black Will Turn to Gray

This Time I'm Holding On

The Path to Your Demise
Line Up
Kla – Vocals

Dan – Vocals & Lead Guitars


Nene – Guitars

Joseph – Bass

Marco – Drums
Links
MySpace * ReverbNation * Facebook * Twitter
6 color styles available:

Style switcher only on this demo version. Theme styles can be changed from Options page.