Browsing articles tagged with " video"

Interview by Grace Méridian, Kassandra Novell & Lindsay Schoolcraft
Video by Mary Zimmer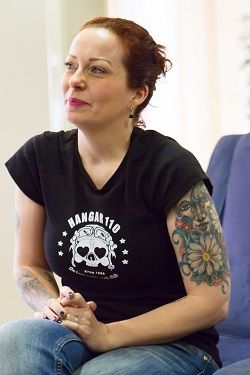 Here what we present you is a special interview done by the Eve's Apple (Don't you know what is? Just take a peek

here

!) members Grace Méridan (

Lifeaftergod

), Kassandra Novell, 

Lindsay Schoolcraft

 & Mary Zimmer (

Luna Mortis

). First of all I thank the girls for this awesome interview and if you wanna enjoy the video experience, please check out

here

but we must warn we that there's a little mistake that we cannot fix, we hope you like it the same.
Then we come to the special guest – we're talking about Anneke Van Giersbergen. The fantastic Dutch singer, after her departure from The Gathering, has slowly built a solo career with her 5 albums. The girls interviewed Anneke during her short trip in US, on March in Chicago. Beside the girls, I want to personally thank Mr.Rob Snijders for helping us setting this interview up. Well, after this short intro it's time to read the interview, so enjoy it!
Grace: I'm Grace Meridan and we're here interview Anneke van Giersbergen for Femme Metal and Eve's Apple. So, Hi Anneke, pleased to meet you. Continue reading »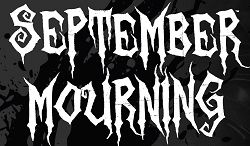 Interview by Ed MacLaren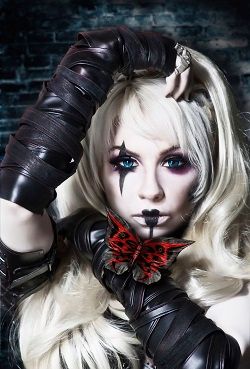 Deep within the dark purgatory between life and death lurks September, a young girl whose soul acts as a desolate bridge between life and death. She also serves as the inspiration for one of the most intriguing art concepts of this new century - September Mourning. Walking the distorted line between light and darkness is Emily Lazar, September Mourning's lead vocalist and the creator and architect of this dark fantasy. Taking this art concept to the ultimate 21st century extreme, September Mourning is set to be unleashed upon the world in a massive transmedia project including music, graphic novels and Internet video. Emily and Femme Metal Webzine got together recently to talk about September Mourning's most recent album, "Melancholia", her vision for the project and how this far-reaching concept came together.
You've been focusing on the musical aspect of September Mourning for the last couple of years. Now it looks like there's finally going to be some forward motion on the MTV Geek webisodes and of course the comics. This is great news for you and especially your fans! Continue reading »
Interview by Alessandra Cognetta
Here we are for another feature from overseas in our series of interviews with female-fronted Japanese bands. This time we move from Tokyo to the south of the country, specifically Osaka. Shiori is the lead singer of Eleanor, a gothic/melancholic metal band that will surely remind you of the Dutch act The Gathering. But there's much more than that in their music and we had Shiori as our guide to get to know more about Eleanor and their latest release, "Breathe Life Into The Essence", with in-depth analysis of the songs, the emotions the cultural influences and the people behind the music. You only have to scroll down and read!
Hello and welcome to Femme Metal, Shiori! We're glad to have another Japanese band on our webzine. So, how are you and how's Eleanor doing right now? Your latest album, "Breathe Life Into The Essence", has been released not long ago, what feedback did you get from the press and from your fans?
Hello. I'm the singer of Eleanor, Shiori. Thank you for the opportunity, and I would like to express my feelings of honor at being interviewed. As for the new album, we have been introduced by magazine reviews, radio programs etc., and through various sources of media we have been receiving favorable receptions from not only our fans, but also listeners who have never heard of us before, and I feel very happy about this. It could be due to the fact that before the release we posted free test plays from the album, and made the PV accessible, so that as many people as possible would have the chance to know a little bit about us.
"Breathe Life Into The Essence" comes four years after the release of your first album. What happened in these four years and how did this long pause away from studio recordings help or improve your relationship with songwriting?
The making of the second album began from the act of first putting a stop to the currentof our activities, and taking a second look into ourselves. The songs on the second album I think have increased in scale, compared to before. We do call ourselves a melancholic gothic metal band, but many songs take a widely altered course from what would be expected from the gothic metal genre. If we had not stopped the flow after the release of the first, we most possibly might have ended up making an album on the same track as before. Continue reading »
Interview by Alessandra Cognetta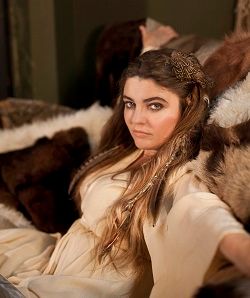 I know we're a primarily metal-based webzine, but I'm sure all of you are going to appreciate this little detour with the astonishing Mediæval Bæbes. An all-female group of talented artists from the UK, the Bæbes are a must for everyone of you out there who's even just mildly interested in folk, classical and choral music. Haunting voices and beautiful arrangements supported by lyrics in (not only!) Middle English will take you back to the times of courtly love and ancestral symbolisms. In this interview we meet the founder and core of the group, Katharine, who kindly shared with us insights on their latest (double) album "The Huntress", singing in different languages, visual elements, dances and much more!
Hello and welcome to Femme Metal, Katharine! It's a pleasure to have you here and to be able to feature such a gem as the Mediæval Bæbes. How are you and how's it going for the "Bæbes", lately?
We had a very exciting year last year. Many years of hard work finally paid off with the release of our epic double album "The Huntress".  Continue reading »
Interview by Vard Aman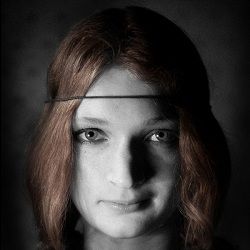 Near Manaus in Brazil the dark clear Rio Negro joins the muddy Amazon and the water from two rivers flow beside one another without mixing, distinctly separate for a distance of about 6 km in the same river bed. It is known as the "Meeting of Water", and such an unusual natural phenomenon has made it one of the main tourist attractions in Manaus. In Moscow, Russia, the beautiful melodic vocals of Slavic Folk joins the heavy, powerful guitars; pounding drums; and electronic elements of Industrial / Industrial Metal without mixing, distinctly separate from each other in the same band, and throughout an entire album and 3 track maxi-single. They are known as Risha, and such an unusual and unique blend has made them one of the hottest new prospects around. I spoke to two of those responsible: vocalist and bassist, Rishafox (also known as Risha, and sometimes, on the odd occasion, as Irina Lvova), and guitarist and programmer, Andrey Ostrav.
Hi, welcome to FMW. Nice to be able to talk to you!
Risha & Ostrav:  Zdravstvujte!
So, how did the three of you meet and when did you decide to start Risha?
Risha: We met a long ago. I was 17 then and it was probably my first time on stage, exactly with the musicians who play in Risha now. After that we were scattered about different music projects but 2 years ago we met again. I and Ostrav have created the idea of Risha and Alex, the drummer, joined us thereafter.
Tell us a little about your musical background, previous bands, and your session work.
Risha: Oh… During my not-that-long rock'n'roll life I played with about 20 bands, went on a European tour with Arkona, performed at big venues in Moscow, St. Petersburg and other cities, as well as in small underground clubs all over Russia. I always played in bands that differed a lot by style.
Оstrav: For about 8 years with the drummer Sasha we made part of one of the cult Russian industrial gothic bands of the 00′s – Deform. We toured over our endless country from side to side, shared stage with famous Russian and foreign bands like Korn, Papa Roach, Marilyn Manson, Eisbrecher, Deathstars, etc. This was fantastic! Continue reading »
6 color styles available:

Style switcher only on this demo version. Theme styles can be changed from Options page.