Browsing articles tagged with " vienna"
Label : Nettwerk Music Group

Review by Luisa Mercier

Delerium are the masters of electro/dream pop and their enchanting melodies are immortal for all of us, ambient music lovers. After so many masterpieces, the combo decided it was about time to release an acoustic album containing all their most successful songs in a new and unreleased version plus three never heard tracks. The opener "Send Me An Angel" is one of them and it has a heavenly feeling. The mood is calm, dreamy, the chorus is catchy. Feels like floating in the sea in a summer day. The vocals are delivered by Miranda Lee Richards; they soar over the music creating an angelic atmosphere. "Dust in Gravity" is the first of the old songs here proposed as acoustic version. The original had a distinctive pop, modern sound thanks also to Kreesha Turner vocals. The acoustic has a slight jazzish, bluesy taste and it is as enjoyable as the song featured on "Remixed: The Definitive Collection". Another unreleased is "Too Late, Farewell", so sad, melancholic. The piano and guitar notes highlight the nostalgic feelings that are in Butterfly Boucher's vocal lines. Really an outstanding piece of music. "Silence" is maybe Delerium's greatest hit and it has been rearranged by several DJs during the years, for example by Tiesto. The present version is piano, strings and percussions based and it has an exotic mood to it. Sarah McLachlan's vocals shine once again throughout it. Another successful song is "Innocente" and the acoustic version has retained the folk-Middle Eastern feeling of the original coupled with Leigh Nash's sweet voice. Last brand new song is "Vienna" featuring Elsiane on vocals. Her voice is quite strange at first listen, she recalled me the Belorussian singer/pianist Leandra, but it's just a matter of getting used to it, I guess. Piano, strings and acoustic guitar make the track another perfect Delerium gift to their fans."Lost and Found" has Jael from Lunik on vocals and it has the same pop sound of the original, though more elegant and refined thanks to strings and piano. A more ethnic style is the one chosen for the acoustic version of "Flowers Become Screens" with the ethereal vocals of Kristy Thirsk. "Love" has become even more refined in the acoustic version with the distinctive voice of Zoe Johnston as perfect complement. A simple piano and vocals arrangement for "After All" with lovely Jael again, while the chill-out/lounge mood of "Orbit of Me" becomes a nice ethnic beat. Last track is "Touched" featuring Rachel Fuller which becomes a nice classic ballad with piano and strings. The romantic atmosphere of this track closes this beautiful album. A must for all Delerium fans.
Rating – 85/100
Tracklist
Send Me An Angel (featuring Miranda Lee Richards)
Dust In Gravity (Acoustic) (featuring Kreesha Turner)
Silence (Acoustic) (featuring Sarah McLachlan)
Innocente (Acoustic) (featuring Leigh Nash)
Vienna (featuring Elsieanne Caplette)
Lost And Found (Acoustic) (featuring Jaël)
Flowers Become Screens (Acoustic) (featuring Kristy Thirsk)
Love (Acoustic) (featuring Zoë Johnston)
After All (Acoustic) (featuring Jaël)
Orbit Of Me (Acoustic) (featuring Leigh Nash)
Touched (Acoustic) (featuring Rachel Fuller)
Line Up
Bill Leeb – Founder, Writer & producer
Michael Balch – Co-founder, Co-writer & co-producer
Rhys Fulber – Co-writer, co-producer
Chris Peterson – Co-producer
Miranda Lee Richards – Vocals
Kreesha Turner – Vocals
Leigh Nash – Vocals
Jaël – Vocals
Kristy Thirsk – Vocals
Elsieanne Caplette – Vocals
Zoë Johnston – Vocals
Rachel Fuller – Vocals
Links
Label : Come Clean Records
Review by Tony Cannella
The Xenesthis Immanis is a type of Tarantula from Columbia. I was curious what the band name meant, so I googled it, you learn something new every day. I don't like spiders much (sorry spider enthusiasts), but I do like the Austrian modern metal band Xenesthis and their new album "Thou Shalt Not", so I guess that is what's important. Xenesthis has existed since 2003, and according to their bio have already shared the stage with Metallica and Slayer at various festivals in Europe. Xenesthis is often referred to as 'modern metal', one of the latest metal sub-genres and one that always makes me scratch my head. I'm not sure what 'modern metal' means (is there a 'un-modern' metal). Whatever the case, I would describe Xenesthis as a band who plays with a lot of energy, their sound is raw and in-your-face and the band also displays a thrash metal influence; I would also describe Xenesthis and "Thou Shalt Not" as relentless from beginning to end. On the opening track "Alecto" it starts off with a deep almost demonic male voice reading off some the 10 commandments, a cool opening that sets the stage for what is to follow as the band comes out all guns blazing, behind a solid impenetrable wall of riffs. There is no let up on the second track "Reflections", featuring some crunchy stop/start riffs and a melodic thrash vibe. "Taken Sick" continues its straight forward approach. "Fool" continues the rapid fire assault. Xenesthis ups the ante with the go-for-the-throat; thrash heavy "Ashes of Affection", which features some shouting vocals courtesy of guitarist Raffael Trimmal, this song is just mean, brutal, nasty and one of the best songs. Raffael appears from time to time with his shouting vocals in contrast to Katrin's clean, melodic style. Songs like "Hedonist's Horror", "United in Chaos" and "Sand Through Hands" assure the consistency of "Thou Shalt Not". Xenesthis may be heavy as all hell, but I really love the fact that they manage to inject their songs with healthy doses of melody, and a lot of that comes from Katrin's vocal style. Maybe the songs aren't all that varied in style – and that would be my one small complaint, that perhaps it all blends together at times, but when you play with this much power and intensity that is easy to overlook. Modern Metal, un-modern Metal whatever you want to call it, I would just refer to Xenesthis as a good METAL band and "Thou Shalt Not" is a good METAL album, that's all that matters.
Rating – 83/100
Tracklist
Alecto

Reflections

Taken Sick

Fool

Ashes of Affection

Hedonist's Horror

Raised Fist Armed

Drowning

United in Chaos

Sand Through Hands
Line Up
Katrin Bernhardt – Vocals

Raffael Trimmal – Guitars & Shouts

Thomas Bauer – Guitar

Michael Bartle – Bass

Andreas Zoncsich – Drums
Links
MySpace * ReverbNation * Facebook * Twitter
Independent Release
Review by Tony Cannella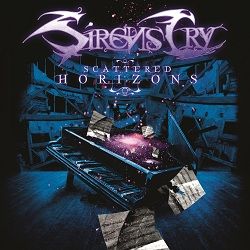 From Austria comes the symphonic progressive metal band Siren's Cry. Their debut album is called "Scattered Horizons" and it features 9-songs and over 50-minutes of progressive rock/metal with healthy doses of melody and symphonic metal thrown in for good measure. Siren's Cry is fronted by the wonderfully expressive lead vocals of Katie Joanne. She's got an outstanding voice that engulfs us in a variety of styles and nuances. Musically the closest comparison I can think of is Epica; the band infuses their songs with choir based background vocals as well as Dream Theatre style prog along with heavier, classic metal style riffs. It all works quite well throughout the debut. Siren's Cry mixes up shorter 4-5 minute long tracks with more epic 7-10 minute numbers. The opening intro "Introitus" kicks things off and then leads us into the powerful "S3V3N", which is a great way to begin things. Some of the longer tracks also happen to be my favorites, especially the closing 9-minute number "A Controversial Mind". The almost 10-minute "Sahara Sagas Pt. I" is also really well done, opening with a keyboard intro, before some shredding guitar joins in. Other highlights include: "Oratory & Sins", "Elegy of R'lyeh" and "Draconian Spectrum". Siren's Cry put on an impressive display and "Scattered Horizons" is a debut that was more than satisfying.
Rating – 88/100
Tracklist
Introitus

S3V3N

Oratory & Sins

Elegy of R'lyeh

Draconian Spectrum

Cold Amber & Scalding Tears

Sahara Sagas pt. I

Serpents of War

A Controversial Mind
Line Up
Katie Joanne – Vocals

Phillip R. Porter – Guitars

Michael A. Siskov – Keyboards

Sören Skupien – Bass

Frederic Brünner – Drums
Links
MySpace * ReverbNation * Facebook * Twitter * Site
Interview by Matteo Bussotti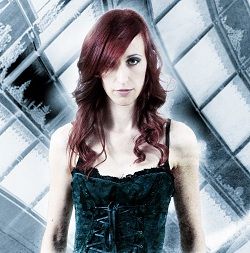 The debut album is of course an extremely difficult task for every band; we must say Siren's Cry completed this task with excellent results. Their first album, "Scattered Horizons", is a powerful example of what prog-metal should sound like. Siren's Cry frontman…I mean, frontWOMAN, Katie Joanne, is a very peculiar character: grown up in a family filled up with classical music, she one day decided to completely change path and follow the "prog-metal way". Reading about her childhood, about her experiences and Siren's Cry's ones was really interesting, and we are here to share them with you. Let's not wait one more second and read what Katie has to say to you!
Hi Katie! We're very proud and honored to have you here at Femme Metal! So, how was having your first album released after so much efforts?
Hi Matteo! Thank you, the pleasure is on my side! I am glad that our debut album is finished and I can leave it now for what it is: the powerful start of a great journey. I'm really excited to continue the journey and sail away to "new horizons".
Do you already have an idea of what's going to be in the next album? Have you already started composing something, or maybe is there any song you composed which wasn't included in "Scattered Horizons" and which we may see in future releases?
Definitely yes! We are already preparing new material. There are many parts and even finished songs we didn't put on "Scattered Horizons" due to lack of space! The album would have gotten too long and we wanted to show as many facets as possible, so that the listeners get a chance to hear and feel what Siren's Cry is all about. Take Sahara Sagas for instance, which is a trilogy. The first part can be found on "Scattered Horizons", while the remaining songs will find a home on future albums, along with other songs that didn't make it so far.
How was growing up in a family filled up with music? We know your grandfather is an awesome violin player and your father was a ballet dancer at the Volskoper. You sure had a lot of pressure on you!
Yes, both my father and my grandfather were really passionate artists. Living in such a family is not much different from others. I would say you just have different interests than other children and this is often a point where you are left alone when you say "No, I don't want to play with dolls, I want to play piano". It often happens that you have to sacrifice something in order to have enough time to practice. However, if you really want to do this and you want to grow as musician it is necessary and if you are aware of this, it's not a big sacrifice in the end.
We know you've had a quite difficult, or "challenging" childhood, musically speaking. You played different instruments, you entered in a music school, although at the beginning you weren't as good as the other students and had to really work hard to keep up the peace. Later, you found out you wanted to be a "prog-metalhead"! How did your father react to this? Can you tell us more about your childhood?
I don't think I have so many stories for you about my childhood, but yes, my dad went bananas as he heard that I decided to be a prog-head, because Vienna is very conservative and it is often a challenge to make your parents and friends understand why you have to do this whole stuff about making your own music. My childhood was not very easy but I'm happy for all lessons life has taught me and I don't get back to those times anymore, because future lies ahead and not behind, so I'm always moving forward with no regrets!
What have you learnt from music school? I mean in terms of "not giving up" etc. As I said before, I guess it was a quite challenging period of time!
I studied music theory, learned playing the piano and started to study opera and classical chant and all other things you need to use as tools for composing… and beside that, I would say I learned a lot about discipline, about the spirit of art and music itself and how to move beyond my limitations.. There is no "I can't", there is only "I will".
How do you feel now that all your efforts have brought you here, with a successful band, a great album (seriously, it's great, I have to say it),and the opportunity to do what you really like?
First of all thank you very much for the compliment, I really appreciate it and am sure that the boys also do! I think we are no superstars now and when the first album is finished, the real work begins. Until the stone keeps rolling by itself it is a very long way. It is a lot of hard work to live your dream, we live a normal life like everyone else, we pay our rent, we go to work, we definitely don't get anything for free, so it's not as easy as it often seems. On the one hand there is all the energy, effort and of course passion and love straight from your heart you put into your work, on the other hand there is support and response that we get from each other and of course from our fans. I think this is the biggest reason for our success and we really appreciate it.
What can you tell us about Siren's Cry members? How's the "group's alchemy"?
The band's alchemy is excellent! We are a great team with aspiring and extraordinarily talented musicians who really appreciate each other! I don't want to seem arrogant, I just want you to understand how happy I am about my instrumentalists and how proud and honored I am to work with them. The vocalist is often put to the front and all eyes are just on him, but I really have to remember that a vocalist without good instrumentalists is nothing! Only emphatic and musically sensual instrumentalists can highlight a voice wherever necessary, so I'm really thankful about my team. I have a lot of space to do what I want as a singer and as a songwriter, but if you want to know more, check out our upcoming "Making of"! People will get the chance to know a lot of things about the way we work! It will be available soon on our website (www.sirenscry.com).
Has there ever been a point when you thought you'd take another direction, trying maybe another musical style or genre (Even if I can't imagine you playing Reggae or Pop, for example!)?
All of us have a lot of projects going on beside the band and also give lessons. Because of our students, we often get in touch with alternative, pop and soul music, some of us have classical projects, or have also a second or a third band. We are open minded and interested in all kinds of music.
I'm a great fan of HP Lovecraft, so, as you can imagine, I kinda got very excited when I read (and listened to) "Elegy of R'lyeh"! So, how did this Lovecraft reference found its place in your album? And so, who are your favorite writers, and how do they influence your lyrics (I mean, how do, if they do, affect you choice of words, your language and the themes of your songs)?
I must say that at first, I didn't want to read Lovecraft because I was a little bit scared. But one day, Michael came up with some story about "R'lyeh", a city under the water, evil gods waiting to rise up. He showed us the piano theme during a rehearsal break and suddenly I was obsessed with this melody. Michael didn't expect such a huge reaction from us, but it was like taking deep breath of fresh air! He showed us the first parts, including the main theme, some little bits and the great chorus! He was not sure what to do with this little bits between the main melody and the chorus, so I just grabbed it and created immediately a verse and a bridge with some little arrangement changes, and there we had the first two minutes of the song! I was hypnotized by the sound and the writing process was so easy going and natural, an excellent feeling! I realized I had to read this book. Writing this song was one of the best moments I had during the making of "Scattered Horizons" and I'm really thankful for this experience! Writers who really inspire me are all the fantasy guys like J.R.R Tolkien, J.K. Rowling, Terry Pratchett, Bernhard Hennen, now of course H.P. Lovecraft and so many others. The influence of classical literature by John Milton and William Shakespeare can't be neglected as well. I would say that every story you read affects your writing in a way. It always depends on what you want to express in your lyrics.
A simple, yet very important question: how was meeting Dream Theater?
I would say like meeting Symphony X: unforgettable! We are all huge fans of their music and extremely inspired by them. Their music has accompanied some of us throughout their whole life and it fills us with strength and hope. To have the chance to meet someone who "guides" you through your life for such a long time is just incredible! The guys are really nice and humble therefore we really enjoyed the time with them and really appreciate those moments!
I was very excited when I found out you played with our best metal band: Rhapsody of Fire. Did you have the chance to have a nice talk with them? Even if Austria and Italy are really close to each other, did you find any differences in your way of playing metal?
Playing together with Rhapsody Of Fire was fantastic. I had the chance to talk to Fabio Lione and Tom Hess, they are the kindest guys on earth! We had a great time after the show and were talking a lot about music and projects and so on. It was really nice and I hope I will have the chance to meet them again very soon. About the difference, oh boy… If I start to tell you about differences between Austria and Italy, you will be forced to sit here for aeons and never come home…(laughs). No, seriously now, what I want to say: There are definitely a lot of differences, but in a positive way for Italy! Italy has a lot more discipline, ambition, the will to try something new and to try to overcome hurdles, great precision and passion and of course much more professionalism and the better musicians!

I love Italy for all that! I think Austria definitely has the prerequisites to arrive at the same level, but the motivation to work on it is often a problem here! Of course we have a few really nice bands like Dragony, Planewalker, Juvaliant, Dignity. But if I think now of what I can list on bands from Italy, there is no comparison. I would start with A like Athena an end with V like Vision Divine, which are all fantastic musicians.
How's being supported, and being friends also, by a lot of famous metal musicians (As I said before, like Dream Theater, or Ross Thompson of Van Canto, as I can read on your Facebook page)? How's the metal industry, the metal scene? Does it creates lots of bonds among musicians, or is it a very competitive musical scene?
This is fantastic indeed. I love Ross! I will never ever forget his support during our gigs in Germany. I love all of them!!! George, Roland, Apollo, Fabio, Tom, Jordan, Mike, Russell, Olaf and so many other great friends and musicians, you can always learn so much of them and I love to exchange experiences with other musicians and I really appreciate this. The whole work we do on our own and we don't want to be friends with someone just because of business. The funny thing is that we never had some kind of friendship bonus like: "My mom knows someone who knows someone who knows someone". I never wanted to be this kind of person; I always wanted to achieve everything with my own hands and my own strength. I can't say much about competition, because I don't want to be part of such nonsense. I'm a musician and I'm here for the music! We always mind our own business, but what I can definitely say, and this is funny indeed: the less known the artist, the more competition. If you get in touch with experienced professional musicians you will soon find out that it actually is all about the music. Music shall not divide people, it shall unite them!
Thank you so much for your time and your replies, it was a real pleasure and an honor to have you here!
Thank you for this nice Interview! I had a great time!
Links
MySpace * ReverbNation * Facebook * Twitter * Site
Label : Moonzoo Music/Universal Music Belgium
Review by Tony Cannella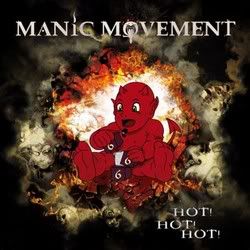 The Symphonic/Gothic Metal band Manic Movement hails from Belgium and originally formed way back in 1993. It wasn't until 2006 that they decided to add a female lead vocalist. In 2009 Manic Movement released "Dark Glitter" their first album with new vocalist Virginia. That now brings us to their newest release, "Hot! Hot! Hot!". The album begins with the grandiose "Hopeful". This is an excellent way to begin things and immediately this rates as one of my favorite songs. The following track "Masquerade" picks up right where the previous one left off, a great melody combined with the powerful operatic vocals of Virginia makes this one another highlight. The next track "Song of the Devil (Hot Hot Hot)" is one that really stands out. The song features a demonic sounding voice in conjunction with some more great lead vocals by Virginia and an excellent guitar solo. The next track "Kali Era" begins as an orchestra driven song before the guitars kick in and the song transforms into a bouncy up-tempo number. Other highlights include: "Black Is Beautiful", "Crumbs" and the Ultravox cover "Vienna". Manic Movement is a solid band and "Hot! Hot! Hot!" is a devil of a good album.
Rating – 80/100
Tracklist
Hopeful
Masquerade
Song of the Devil (Hot Hot Hot)
Kali Era
Black Is Beautiful
Crumbs
String Puppets
Vienna (Ultravox cover)
Sordid Fairytale
Waltz of Spirit
Bleeding Scars
Line Up
Virginia Fantoni – Vocals
Fréderic Ost – Lead Guitar
Jérémy Vasile – Rhythm Guitar
Bart – Bass
Filip De Graeve – Keyboards
Olivier Wittenberg – Drums
Links
6 color styles available:

Style switcher only on this demo version. Theme styles can be changed from Options page.