Browsing articles tagged with " virginia"
Interview by Erwin Van Dijk
An interview with Michelle Loose from Brave. On June 1st the compilation double cd "Demonic and Divine" is released by Femme Metal Records.. The cd is to support the Macmillan Cancer support and Cancer research UK. Brave appears with the song "Driven". This song originally appeared on the album "Monuments". Brave is a Progressive rock/metal band from Washington DC (United States). This interview is with Michelle Loose, who is responsible for the keys and vocals.
For starters: How was the gig with Cynic in Springfield?
It was amazing! Definitely a dream come true to play with Cynic. We've been huge fans of theirs since the early '90's. They put on a great show. They are so good live, so talented.
Did you always wanted to become a singer?
I've always loved music and singing but I never dreamed that I would actually be a singer. I'm a pretty shy person so I never imagined that I would actually sing in front of people. I was really forced into singing for the band – but I'm so glad that I was!
Who are your favourite singers and musicians?
Tori Amos probably tops my list. Other singers/musicians include Lisa Gerrard, Ann Wilson, Geoff Tate, Ray Alder.
And to what kind of music do you listen yourself?
I've really been on a proggy metal kick lately. I listen to a lot of different bands but right now I'm really digging Dream Theater, Cynic, Fates Warning, Metallica. I also frequently listen to The Gathering, Lacuna Coil, Genesis, Faith No More, Tori Amos.
Did you sing in any other bands before Brave and do you any other bands right now?
We were previously known as Arise From Thorns which includes the same core lineup of myself, my brother Scott Loose on guitar and drummer Trevor Schrotz. I did a brief part on a demo before joining AFT for another band but that's really it. I've done a few recordings here and there for other artists including Power of Omens, David Gallegos, While Heaven Wept and Project Failing Flesh.
You also play piano. What do you prefer, singing or playing piano?
I probably prefer singing. I feel more confident singing rather than playing piano.
You have been active in Brave (and Arise From Thorns as the band was called in the early days) since 1997. What are the highlights for you so far?
We've had some really great live performances opening for bands that I've longed admired like Fates Warning, Cynic, Lacuna Coil, Opeth and others and that has been amazing. We've been so fortunate to get on these gigs. I'd also say that meeting and working with so many other music lovers has been wonderful. I never would have had these experiences without being in the band. We've truly met a lot of great people, fans and professionals.
And did you have any negative experiences?
We have had some not so good live performances, nothing terrible but some nasty club experiences. Overall we've been extremely lucky and fortunate not to have too many negative experiences.
Why did you choose Brave as the name for your band?
We decided to change the name from Arise From Thorns back in 2000 because we wanted a less dramatic and more memorable name. There were a few serendipitous events that took place with the word "Brave" and it's always had personal meaning for me. I have to remind myself to be 'brave' daily whether it be in my regular day to day life or when singing in front of people. I try to be brave and grow personally and professionally all of the time. It's a strong word with powerful meaning.
How would you describe Brave's music? Because Progressive Rock/Metal covers a lot of music these days, from Stratovarius to Epica.
We've always been somewhat difficult to pigeon hole in terms of labelling a specific style. We have our moments when we are more on the prog/metal side of the spectrum but we also have songs that would be considered slightly more contemporary or commercial sounding. We try to really vary up our style and sound. We don't think about what kind of music we want to write, it just comes out the way it is and we keep it that way. For us the joy in writing music is writing whatever we want and not creating any musical boundaries.
And what makes Brave different compared to all the other female fronted bands in the world?
I would say that our sound is unique, passionate and dynamic.There are definitely a lot of female fronted bands out there so we stand out amongst all of the bands with our own sound.
Can you introduce us to the other members of Brave?
Scott Loose: Guitars, founding member of Arise From Thorns and Brave - Matt Kozar: Guitars, joined Brave in 2007 and has been a wonderful addition to the family both personally and musically. -Trevor Schrotz: Drums, founding member or Arise From Thorns and Brave. - Ben Kelly: Bass, joined Brave in 2003 and has been a long time friend of ours and a great addition to the band – Suvo Sur: Violin/Keys, joined Brave in 2003 and has really defined our style with the added instrumentation of violin. Suvo is an amazing musician and we've so enjoyed working with him.
You and Scott are brother and sister. Does this make things easier in the band or not?
Fortunately we get along pretty well so there are no dramatic family fights or anything like that. I find that we are both really on the same page musically so I think that helps to have that connection. I'm also married to our drummer Trevor so it's definitely been a family affair for a long time.
Why did Brave choose the song "Driven" for the "Demonic and Divine" album?
That's one of our favourite songs from our recent CD "Monuments". It's fun, heavy and uplifting so we wanted to include this on the compilation.
And how did you (the band) got in touch with Femme Metal?
I believe my brother Scott actually started talking with them. Caz and everyone at Femme Metal have been wonderful to work with. We were honoured that they wanted to release a 10 year anniversary CD for us.
Is song writing teamwork in Brave or is there a mastermind behind the music?
Mostly it's a team effort, we all add our own spices to the mix if you will. Most of the main riffs and ideas are written by Scott but we all get to add our own styles to each song. It's definitely a collaborative effort.
Washington D.C.'s progressive/rock band Brave signs deal for a 10 year anniversary album with Femme Metal Records from England. The album, entitled "Lost in Retrospect" ,will feature selected tracks from all of the Brave and Arise From Thorns (former band name) albums, including some songs that are long out of print. "Lost in Retrospect" was released February 20, 2009. Brave's singer Michelle Loose said about the album: "We are very excited about this collaboration for a 10 year anniversary CD with the new record label, Femme Metal Records. We can't believe we've been making music together for 10 years now and are glad to be able to re-release some of the older songs that have been long out of print. We are so happy to be working with Femme Metal Records and thank you for your support with this collaboration." Can you tell us something about the songs on "Lost in Retrospect" ?
It was a hard decision to select songs from the last 10 years. We really just picked out our favourite and most meaningful songs to us and narrowed the selection down to what we could use with the time that is allotted for CD. We then picked songs that we though would flow well together and this is what we came up with. It's a good overview of AFT/Brave over the last 10 years.
What is the idea behind the title of the album?
The title is actually from the song "Lost in Retrospect" which was on our CD "Waist Deep in Dark Waters". That song was written by a dear friend of ours who was also in our band at the time, Tom Phillips from While Heaven Wept. The title seemed to work perfectly for what we were creating.
And what is your favourite song on "Lost in Retrospect" ?
Probably "Candle in the Dark".
What are Brave's plans for the future?
We have a few live performances coming up so we are focused on those for now. Eventually we'll probably write again and go from there.
And the last question: Is there anything the reader should know that I have not asked?
Please feel free to check out our music samples at www.myspace.com/braveband if you'd like to check us out. Thank you so much for the interview!!
Links
Label : Nuclear Blast Records
Review by Stina
Hot on the heels of last year's "Triumph : Tragedy : Transcendence – Live at the Hammers of Doom" comes While Heaven Wept's fourth studio album, "Fear of Infinity". It was never unusual for these by now legendary Virginia Epic Doomsters to go several years between full-lengths, so two of them (and a live album) in the span of two years is a pretty big deal for loyal fans. But after impressing audience and press alike with 2009's "Vast Oceans Lachrymose", things were bound to change. Fresh off a record deal with perhaps the most famous rock and metal label in the world – that is to say, Nuclear Blast, While Heaven Wept took an exceptionally short time in crafting a follow up, and, after announcing the signing in November, they rushed into the studio to have the album ready before this April – which could make our alarm bells ring as for the quality of the product, especially considering the high standards set by a band that has been around for twenty years and at the top of their league for at least half of them. And, while whatever they could put together in a few months is still a lot more than what an average band could put together in a career, "Fear of Infinity" is not quite on par with said standards: sure, it's a While Heaven Wept album, and thus possesses all the trademarks and signature elements of their latest style – epic cavalcades, twin guitar melodic scale progressions, Michelle Schrotz's chilling but elegant synth work, her vocal duels with Tom Phillips, melancholic melodies and overall technical proficiency. But this ultimately turns out a double edge sword: "Fear of Infinity" is on the verge of falling short in the sense that it's often difficult to spot the differences between it and its predecessor; at times it's like the album sounds as though it could easily have been spawned during the same recording session – which is, actually, something not far removed from the truth, since the majority of "Fear of Infinity" was rehearsed alongside the "Vast Oceans Lachrymose" material. Therefore, is no surprise that this latest effort neither pushes any envelopes nor changes any games, much in its seven tracks only sounding as a slight variation (albeit a surely enjoyable one) of something else done before by the same band – which is to say, dangerously close to stagnating and dull. An off-putting thing for fans of female vocals (which is saying a lot of you readers, or else you wouldn't be browsing Femme Metal reviews!), is the scarce prominence given to Michelle as a singer: as said before, she mostly harmonizes with Tom without benefiting of much exposure, therefore only the most fervent WHW fans among you will want to get their hands on this album. To me, it felt too much of a genre exercise to maintain album-length interest – even though a mild effort by While Heaven Wept is still a nice slab of melancholic, doomy epicness and therefore quite the pleasure for our metallic ears.
Rating – 72/100
Tracklist
Hour of Reprisal
Destroyer of Solace
Obsessions Now Effigies
Unplentitude
To Grieve Forever
Saturn and Sacrifice
Finality
Line Up
Rain Irving – Lead Vocals
Scott Loose – Guitar
Tom Phillips – Guitar, Keyboards & Vocals
Jason Lingle – Additional Keyboards & Vocals
Michelle Schrotz – Keyboards & Vocals
Jim Hunter – Bass & Vocals
Trevor Schrotz – Drums
Links
Interview by Alessandro Narcissus
We have already have the occasion to promote A Sound of Thunder with the review of the self titled debut EP in 2009 and before that with the demo's review of Blood Corps, now instead it's time to give voice to "Out of Darkenss", the second album by US heavy metallers A Sound of Thunder, so we took a chance to ask some questions to Nina Osagueda, let's see what she has to say about it….
Hi Nina! How are you and how is the promotion for the new album going so far?
Hi! I'm doing great. Promotion is going well, looks like we're getting lots of great reviews and I'm really excited to know how many people are enjoying the album.
The first thing that strikes the eye is how fast A Sound of Thunder is growing, with four valid releases in four years. What's the secret of such an abundant creativity? How can you be so productive without missing a single hit?
I think the secret is really just that we all love what we do. We have so many ideas because we keep wanting to do more more more, and it's harder for us to stop writing then to keep writing! We've got at least two more albums worth of material already written, and we're never short of ideas. Since all of us enjoy the songwriting process, it's probably our greatest strength and deterrent.
Typical question now: would you please introduce to us the new album and its themes? What does the title stand for, what are the songs about?
The title stands for the album as a whole. Each of the songs deal with life and death and your reaction to it, from fear, to comedy, to sadness. We wanted to express the fact that from darkness, there is light, which is why we write about death so often. There's more than one day to talk about death.
What I appreciate the most while listening to "Out of the Darkness" is its wide range of diverse influences and blend of different styles. How do you manage to keep track of all those sounds during the creative process without having them overlap one another?
I think it's just a matter of us wanting to do a lot of different things as the mood strikes us. Each of us comes from a different background, so there are times when one of us is in the mood for blues, or power metal, or classic rock. So we'll write a song in that vein and it will feel right, so we'll keep it. We don't believe in limiting ourselves to a specific genre because we hate the idea of being repetative.
With every release, an artist learns new things and grows. How did the experience you made with the recording and release of "Metal Renaissance" help you with the new album?
It helped us to learn how our music can be refined in the studio. With our first album, we recorded the old fashioned way, on tape, with little to no editing. All of my takes were straight through recorded and the sound was nice and raw. However, we had a lot of things we weren't able to do because recording on tape is quite limiting, so while it was a good learning experience, it didn't provide us with all of the options we desired.
While not being excessively boosted by the production and having the right place among the other instruments, your vocals are a striking feature in this album. Your style is very versatile and you can easily switch from a more soaring to a more aggressive style. Are you a trained singer or are you self-taught?
I'm mostly self taught. I learned to sing from listening to my hero, Aretha Franklin. The way I felt, if I could imitate what she could do, I knew I could be good. By the time I was a senior in high school, I'd already been a soloist for gospel and traditional choirs and was singing with the Washington Opera as my age permitted. However, I wanted to get better, and I was playing with the idea of being a professional opera soloist. So, I took a few private lessons to learn arias that I might use for auditioning purposes. Not long after, I started college, and I didn't have time to continue with the opera business. In college, I learned to appreciate metal, so I took all my experiences and influences from opera to rhythm and blues, and used them to create my own sound.
They say you can't judge something from the cover, but that of "Out of the Darkness" is really outstanding and deserves a mention. Can you tell us about the idea behind it and how it was developed?
When searching for an appropriate cover for our new album, the guys and I wanted an image that could be interpreted in different ways. We were struck by the art and found that each of us could give it a different story, so we purchased it based on that.
How is the live activity going? How are the fans' reactions to the songs performed live? Do you like to make some variations when playing a gig to add a different flavour that will make the live experience unforgettable even if compared to the album?
We get pretty great reactions live and playing live is probably the greatest feeling ever. We do sound a little different on stage, since we only utilize one guitarist. However, that seems to give us more of the raw sound that we enjoy and makes us work harder to produce a full experience. To make it unforgettable, I ham it up on stage. I crack jokes, grab guys by the collar, strike poses, and generally act like a tiny tyrant dictator.
The so called "female-fronted" scene is something that originated in the mid-Nineties and grew esponentially during the 2000′s. Did you find it hard to start basically anew in this new decade and find your own "living space" in such a crowded bunch?
I sort of find it hard for us to separate ourselves from people's expectations. They see me as a female and expect one thing, and I give them something else. I've noticed that when I do use traditional vocals, like in "The Night Witch", people either love it or they hate it. I'm alright with that, because even if I dip my toe into the opera metal sometimes, I'll never do it all the time. It's just something fun that comes when the mood strikes me. I'm not going to be up there wearing a corset and singing soprano every time I go on stage, so I don't find our genre to be crowded at all.
Another typical question: what are the plans now? What do you see in the close future of A Sound of Thunder and what do you wish to see in the long run?
Our plans are to continue writing and producing albums until we die. Hopefully we'll get to the point where we're writing and performing for a living, but until then, we're going to keep pushing the creative boundries of our brains.
That was the last question. Thank you for the interview! Would you please say something to see the readers off?
Thanks so much for all your support. It means a lot to us that so many people enjoy our music enough to pay us any attention and we all promise to continue making it worth your while. Our fans are our best friends.
Links
MySpace * ReverbNation * Facebook * Twitter * Site
Latest Multimedia
Label : Cruz del Sur Music/High Roller Records/Iron Kodex Records
Review by Stina
On some occasions, live albums/DVDs might tend to mark certain – hopefully memorable – circumstances: relevant anniversaries, for example, or maybe a special performance in a significant venue. While Heaven Wept's first live package – a CD/DVD 2 disc set released via Cruz Del Sur Music on November 8th, 2010 in a quantity of 3000 copies, plus an additional, limited edition 2LP set released through a joint collaboration between Cruz Del Sur Music, High Roller Records and Iron Kodex Records in a quantity of 1000 copies, including a poster, insert and housed in heavy gatefold sleeve – adheres to any of the aforementioned criteria yet it is not truly any of the above. A document of a band in their 20th year, and – and as far as locations go, recorded during the band's appearance at Hammer of Doom festival, in Germany, the real purpose of this release is better explained in the words of primary writer and overall engine of the band, mainman Tom Philips: "The philosophy behind this release is twofold; first, it is an expression of our gratitude to everyone who attended the show – who made it such a special, unforgettable experience for us. Secondly, being that there are many places that WHW would like to perform, but we've yet to reach, hopefully this will hold those waiting over until we can broker a deal to appear in your city, in person". "Triumph:Tragedy:Transcendence" might not capture the most extensive live set ever performed (a total of seven tracks, plus the usual bonus material including rehearsal films, a 20-minute interview and three additional live versions of songs already played in the Hammer of Doom show), but it does surely make up for that detail, as it reaches as far back as the band's 1998 debut "Sorrow of the Angels", bringing together a nice collection that spans all the band's releases, much to the fans' pleasure. This renders the result not just a cobbled-together, fans-only collector's item, but also an overall enjoyable work, and even an excellent introduction to the legendary Doom act from Virginia, also thanks to the excellent quality of the performance, both sound-wise and also technically. Covering an expanse of nuances from the serene and celestial to the epic and raging and a kaleidoscopic plethora of dispositions in-between due to the reason mentioned above (as anyone who's familiar with the discography of WHW is able to testify), "Triumph:Tragedy:Transcendence" showcases a jaw-dropping interplay between the musicians that's remarkably fluid, perfectly coordinated and crystal clear – individual contributions are outstandingly discernible and the atmosphere created by the synths of Michelle Schrotz (the lady of the band, with whom she has recently parted ways – only on a temporary basis, thankfully – due to maternity reasons), who is also responsible for the harmonized female vocals, coat the execution of the songs in a chilling but soothing fashion. This live release has mostly been criticized for its coldness (most of the audience's reaction is silenced, which gives an impeccable but a bit studio-like feel to the overall performance) but the presence of this flaw which the reviewer only perceives as minor should be let get in the way of the validity of the work. Sure, While Heaven Wept may not have invented melody-infused Epic Doom, but they sure have put an indelible stamp on it over the last twenty years – which means two things: first and foremost, any fan of the band would better grab a copy of this live release, and secondly, if you, reader, are yet to investigate the soundscapes of this fine femme-related band, don't you think the time is now?
Rating – 80/100
Tracklist
Vast Ocean Lachrymose

The Furthest Shore (Parts 1-3)

Soul Sadness

The Drowning Years

Of Empires Forlorn

Vessel

Thus With a Kiss I Die
Line Up
Rain Irving – Lead Vocals

Scott Loose – Guitar

Tom Phillips – Guitar, Keyboards & Vocals

Michelle Schrotz – Keyboards, Vocals

Jim Hunter – Bass, Vocals

Trevor Schrotz – Drums
Links
Label : Moonzoo Music/Universal Music Belgium
Review by Tony Cannella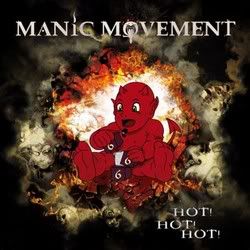 The Symphonic/Gothic Metal band Manic Movement hails from Belgium and originally formed way back in 1993. It wasn't until 2006 that they decided to add a female lead vocalist. In 2009 Manic Movement released "Dark Glitter" their first album with new vocalist Virginia. That now brings us to their newest release, "Hot! Hot! Hot!". The album begins with the grandiose "Hopeful". This is an excellent way to begin things and immediately this rates as one of my favorite songs. The following track "Masquerade" picks up right where the previous one left off, a great melody combined with the powerful operatic vocals of Virginia makes this one another highlight. The next track "Song of the Devil (Hot Hot Hot)" is one that really stands out. The song features a demonic sounding voice in conjunction with some more great lead vocals by Virginia and an excellent guitar solo. The next track "Kali Era" begins as an orchestra driven song before the guitars kick in and the song transforms into a bouncy up-tempo number. Other highlights include: "Black Is Beautiful", "Crumbs" and the Ultravox cover "Vienna". Manic Movement is a solid band and "Hot! Hot! Hot!" is a devil of a good album.
Rating – 80/100
Tracklist
Hopeful
Masquerade
Song of the Devil (Hot Hot Hot)
Kali Era
Black Is Beautiful
Crumbs
String Puppets
Vienna (Ultravox cover)
Sordid Fairytale
Waltz of Spirit
Bleeding Scars
Line Up
Virginia Fantoni – Vocals
Fréderic Ost – Lead Guitar
Jérémy Vasile – Rhythm Guitar
Bart – Bass
Filip De Graeve – Keyboards
Olivier Wittenberg – Drums
Links
6 color styles available:

Style switcher only on this demo version. Theme styles can be changed from Options page.