Browsing articles tagged with " vocalists"
Label : Inner Wound Recordings
Review by Tony Cannella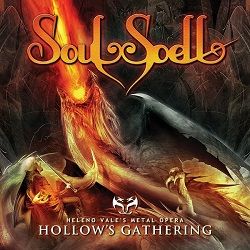 Soulspell is the all-star metal opera brainchild of Brazilian drummer Heleno Vale. The project got off the ground in 2007 with "Soulspell" an album that represented part I in the metal opera. It was soon after followed by Part II called "The Labyrinth of Truths". Now this all star metal project is back with Part III "Hollow's Gathering".
First of all Heleno Vale has done a great job in assembling some hugely talented musicians for "Hollow's Gathering" as he has on the previous albums. Next are the lyrics. You can check out the story on the official web site, but Heleno has written an incredibly detailed and complex story with each singer/musician playing a part. Third and most important is the songs. "Hollow's Gathering" had me wanting to listen again and again. The songs are well written and range from pounding classic metal style numbers, prog, ballads, power metal and symphonic metal. Starting with the 9-minute title song, this really is an album that is unrelenting –several singers can be heard on this monstrous opener. Continue reading »

Interview by Luisa Mercier
I had the pleasure to review the debut of Delta Rae, talented band from Duke, North Carolina. Their sound draws from several genres, ranging from rock, to gospel and bluegrass giving birth to an experience that will take you over!
Hi from Italy Brittany! Welcome on Femme Metal Webzine. First of all, I truly love your voice and your record! I was not much into this kind of music, but you really conquered me!
Ciao! Yay for allowing yourself to be conquered!

And thanks so much.
May you introduce yourself to our readers? How was the band born?
Sure! My name is Brittany Hölljes and I am one of four vocalists in Delta Rae. The band was a dream of my brothers' (they are the two male voices in the band) who have been writing music together since the were 10 and 12 years old. By 2008, they were writing songs that they knew needed women's voices. So they emailed Liz in Peru and called me, in Italy, (Firenze! I loved it!) and asked us what we were doing in the fall of 2009. By the next September we had all moved into a big fixer upper in the backwoods of Durham, NC. We found Mike and Grant in the local scene and asked them to join up. And thus Delta Rae was born!
Your main influences?
As a band, we've drawn inspiration from Fleetwood Mac, Mumford & Sons, Coldplay, Bruce Springsteen, Sweet Honey in the Rock, Billy Joel and Jeff Buckley and even Les Miserables and Jesus Christ Superstar. Our influences are as varied as our sound.
Have you got a formal music education?
The only member of our band who was formally educated in music is our bassist, Grant Emerson, who went to UNC-W. Mike grew up in a very musical household, his parents are both full-time musicians and music teachers. And Liz's dad was a fantastic vocalist/musician/songwriter, she totally got his ear and voice. The three siblings grew up in a house of artistry and creativity, but neither of my parents are particularly musical. We all learned to sing by belting along to our parents' awesome '70s albums. Eric taught himself piano when he was 7, Ian picked up guitar in college. I think one of the reasons we work so well together is that our music isn't about technicality as much as it's about feeling, it comes from our guts.
Speaking of writing, how does a Delta Rae track come together? Your vocal harmonies are great!
My brothers, Ian and Eric, write all of Delta Rae's songs and I don't think I will ever get over how original, honest, and smart their writing is. It never gets old. They usually start songs on their own and once they have the bones of it, they'll bring it to the rest of the band to flesh it out. The harmonies are the backbone of the band's sound. They usually just fall right into place.
What are the inspirations you draw from to write lyrics? Sometimes I get a mysterious, like magical vibe!
Wow! That's a big compliment. Thank you! I think Delta Rae is capturing something that truly is magical. Our songs can be warm and euphoric, but we also embrace their darkness and mystery. Our songs are stories, usually about our lives, our history, our families, and our ghosts. Their origins are earthy and we sing and play them viscerally and with abandon. For us, music and magic go hand in hand. Then again, I DID study paganism and astrology in college, so this kind of talk is my jam… you don't even wanna get me started

You are two brothers and one sister. How does the all-in-the-family vibe affect the work you guys do?
I think it has been a really helpful thing for this band. We love each other of course, but the really key thing is that we three siblings also LIKE each other! We fight sometimes, but I think it only serves to make us a stronger unit. We fight because we care. I personally wouldn't be doing this without my brothers, they are my inspiration and my whetting stones, and I am always myself with them around. I'm really lucky.
I have watched a lot of your live clips on YouTube, your show are great! What can your audience expect?
Thank you! I'd say audiences should expect a swampy-stompy, sing your lungs out, punch in the face, tongue-kiss of a show! You're hearing four-part harmony, banging on trash cans, melodic piano riffs, driving guitar and bowed, electric upright bass. It is A LOT of new sounds and to spice things up even more, we have four lead singers. So we keep the audience on their toes. At the same time, our main goal is to bring people in emotionally. We bare our souls on stage. Overall, it's a roller coaster. I always feel electrified after shows, I hope we are doing the same for our listeners.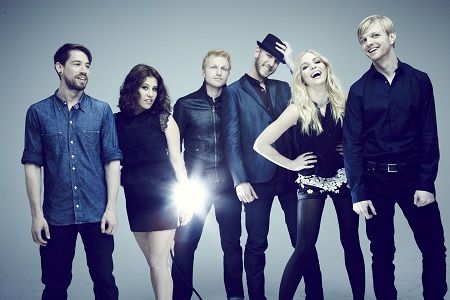 I can hear a lot of Southern influences, how your hometown, its history has influenced you?
Well we have kind of a unique story. The three siblings grew up around the south until we were about middle school age. Then we moved to northern California where we met Liz. Liz is a chameleon and could travel anywhere and fit in, but the Holljes kids always felt like we would be drawn back to our southern roots. So we planted the band in Durham, NC, where Ian and Eric were born, and where our mom spent her whole childhood and college years. Our sound definitely has southern flavor, we pull on elements of bluegrass, gospel, country, and blues. Going back to the question of magic in our music, I think we also live in a part of the country that has magic in its nature. Just being in a place that's home to huge summer thunderstorms, gobs of fireflies and kudzu devouring whole forests, has an impact on our sound. Epic yet cozy. Warm but mysterious.
The "Bottom of the River" video. How does the song's subject matter relate to the video?
Well, in truth it doesn't, aside from the dark, swampy, stompy, southern vibe. The lyrics of the song tell a baptism/exorcism story of a woman trying to rid her son of a "demon" by drowning the evil spirit, but drowning her son in reality. When we were thinking of concepts for the video, a witch trial seemed like a good parallel story, as women used to be tortured and killed when accused of witchcraft and associating with the devil. Our video however, is infused with serious lady-power, and I, the witch, get the better of my accusers… that makes the video MUCH more fun!
I know you performed on Leno on 25th June, how did it feel?
I can't say enough for the people who work on The Tonight Show and Jay Leno himself. They were all SO nice and they made us feel very at home. That being said we were all still sick with nerves and excitement! It was just so surreal and such an honor. I was relieved that we sang "Bottom of the River", which is a song we have performed thousands of times. On the street, on boats, in subways, to no one, and to thousands, so it's ingrained deeply in us. Even national TV can't phase that

I found the song "Rain Down on Me" on YouTube. It is amazing! Do you plan to release it in the future, maybe together with some of your cover songs (I love "Rolling in the Deep")?
So glad you like it! "Rain Down on Me" is one of our absolute FAVES! We are definitely putting it out someday, though I don't know when yet. I don't know if we will ever get a chance to record or release covers, we have so much original material that we've got to get out into the world first! But I love singing "Rolling in the Deep". That song is tough! But the soul is palpable. If we do record any covers, you better believe we will put a Delta Rae spin on it and it'll ooze soul!
Have you thought of hitting Europe somewhere in the near future? I would love to have "Carry the Fire" released here.
WE WOULD TOO! We are hopeful that there will be a European release but we are still focused on the States for now. It would be an absolute dream to travel through Europe, singing what I think is very authentic Americana music and I personally would LOVE to watch the emotionality of our music cross cultural and lingual divides.
That's all, Brittany! Thank you for your time and all the best!
These questions were so thoughtful and fun to answer. Thank YOU!
Credit Photos
Photos by Shervin Lainez & Smallz and Raskind
Links
Latest Multimedia
Interview by Ed MacLaren
It's been long considered that in most things two's company and three's a crowd but in the case of Swedish power metal outfit Amaranthe, three is merely the number of world-class vocalists they feature on their self-titled debut album. With clean female vocals along with clean and screamed male vocals, Amaranthe are anchored by a vocal prowess of which few bands can boast. Add the fact that the band weaves progressive, metalcore and techno elements along with a unique pop sensibility into it's power metal onslaught, Amaranthe is a new breed of metal band that fascinates with its innovation. Femme Metal got to spend some time with female vocalist Elize Ryd and hear about the origins of Amaranthe, big success in Japan, and their recent European tour with Kamelot. Your self-titled debut "Amaranthe" was one of the most anticipated releases of the year so far and it looks like it exceeded all expectations. Did you ever think you'd get this kind of public response so quickly?
No, because this is the first time I've released an album with me as one of the main composers and singers, so I didn't know what to expect. But of course, this was exactly the kind of respond I was hoping for, and have been dreaming of ever since I started to work with this band.
It looks like Olof Mörck and Jake E Lundberg put together their version of an all-star metal band – including your formidable vocal skills. How did you get the Amaranthe gig?

(Laughs) It's pretty funny because I became friends with Jake E in 2004; we met at a bar in Gothenburg and he started to talk about his band, Dreamland, and that he needed a female vocalist to record the song "Fade Away". We exchanged numbers and there the story began. I also got in contact with Olof through Jake and we became really good friends. Two years later I participated on his fourth album with Dragonland called "Astronomy".
At that time, I was still educating myself at a school called Performing Arts School – an artist school for professional singers and dancers – in Gothenburg. In 2007, I started to work at a cabaret but in my free time me, Jake and Olof often hooked up and wrote songs together. That year they decided to start a new band since they got a really good sound by mixing their musical ideas together. Their plan was to bring in guest vocalists, which included me among a lot of others as well as Andy (Within Y) to record a demo. After that day it just continued that way, and after a while they decided that they wanted to keep us as a part of the band.

The members of Amaranthe have an extremely diverse musical background. With that said, how did Olaf and Jake E sell the project to everyone?

They didn't really sell the project; Olof is really good friends with Morten (Arcane Order, Soilwork, Hatesphere) so it was just natural to ask him to play the drums, and he said yes right away. They didn't ask Andy if he wanted to be in the band, they just called him and said, "You're in the band now, just so you know…." And he was like, OK. I must add that when I heard the first song, which was "Enter the Maze", I fell in love with the sound so it wasn't even a question for me if I wanted to be a part of it or not… We actually did our first photo shoot without any bass player, but for the debut show we felt that we really needed one and we didn't want to do any audition for that since the rest of us came together as friends in the beginning. We really wanted it to stay that way so Andy asked his friend Johan if he wanted to join us at our next gig, and he did, and he was a perfect match.

Was it difficult to meld all those personalities and influences into a cohesive musical whole?
No, not at all. Everybody got the chance to play exactly what they like; Olof created parts in the music where he could shine with his guitar, Andy could do his screaming, Jake could sing like Axl Rose, me do my pop/rock thing, Morten got free control over the drums and Johan playing his powerful bass.

Amaranthe has a very clean and modern metal sound punctuated by tight progressive hooks. How would you describe the finished product – the Amaranthe sound?
I would describe it as you just did, clean and modern, but also new, powerful, energizing and positive!
Did you ever wonder what the final musical outcome was going to be at any point?
No. Since I've been a part of writing the songs I just got a lot of ideas based on what Jake and Olof created. So it has always been fun, and easy to write, since I could hear the results already from the beginning inside my head. The question was if it was going to end up that way in the end – it mostly did but sometimes even better after everybody else put their hearts into it.
For a metal band with progressive and even some metalcore elements, the music on Amaranthe is very accessible. It could bridge a lot of genres and open you up to a very large fan base. Was that an intentional decision by the band or was it really a happy product of the band's diverse musical background?
It was a really happy product of the band! I think the reason for why everybody wanted to build something with this band was because everybody got the chance to play their own taste of music – which every one of us really got room for. And that's also a big part of our sound. You have a really good point there; I'm very happy that all of us like the same kind of things but I guess that's just how it ends up when you write music together with like-minded friends.
Despite the huge number of bands the members of Amaranthe are involved in, Amaranthe doesn't feel like a side project – it has real long-term possibilities. Do you and the band feel the same way?
Yes, we do! When we got our first record deal offer, they had to ask themselves if this was the one band that they wanted to make a priority. Well, of course it's hard to decide since we had no clue how it would turn out but everybody seemed convinced that they wanted to have Amaranthe as their first choice. For me personally, it was hard to decide since I had to quit my job as a musical artist. But since my dream has always been to tour, see the world and perform with my own material, it was not really a hard decision to at least give it a shot.

How did the recording sessions progress? Olof is a self-confessed detail geek, isn't he? Did you do most of your composing in the studio or was it mapped out well before hand?
Everything was totally mapped out before we got into the studio except Olof's guitar solos which he was working on at night. We tried to copy the sound we had on the demos since they were very well composed with keyboards, vocal harmony parts and all that. So it was just trying try to get into the same mood as in Olof's and Jake's living rooms where we recorded all the demos. So Olof's perfectionism had already been applied to the music before we got into the studio. (Laughs)
In Amaranthe, the vocalists almost outnumber the rest of the band! That's a very unique sound dynamic. Does it give the band a distinctive musical chemistry – something different to let Amaranthe stand out?
Oh yeah, I think so, we singers are a different breed. (Laughs) We really have to think differently from a guitarist or a bass player, for example, not at least when we go on tour. We have to stay healthy and in good shape to be able to sing. No late nights and booze for us so it feels really good to not be the only boring one! (Laughs) Well maybe it works for Andy; he just gets that little extra rasp in his voice.

There's been a lot of online buzz around the band for a while now but Amaranthe seems to have really struck a chord with the Japanese. Is it true that you've been out-selling Lady Gaga on the import charts over there?

Yes that's actually true! (Laughs) Insane isn't it!? We topped all sale and import lists the month our album was released.

What is it about Amaranthe that the Japanese are responding to?
Most of all they respond to our strong melodies and the catchy refrains. The whole concept has been received with open and enthusiastic arms. They really appreciate the new metal sound.
Maybe Japan is just ahead of the curve when it comes to your music? Do you think that Amaranthe's music will resonate in time just as well with the rest of the world? Maybe world domination only happens one country at a time…
(Laughs) That sounds like a plan. After being there we saw how hard our record company Universal had been working with promos, commercials, spreading our name through radio – TV's also been extremely good. And that, of course, has been a huge help to our success. So if every country would work like Japan, it could lead to world domination pretty fast I guess. (Laughs)

Your touring slot supporting Kamelot didn't hurt – not to mention your solo turn as the featured female vocalist during the Kamelot set. How did you get involved in performing with Kamelot?
Jake E used to work for Kamelot back in 2008. At that time they became friends and after hearing about Amaranthe they listened to our music on MySpace. Both Roy Kahn and Thomas Youngblood really liked the music and I think it was in that moment they got the idea to bring me as a backup singer on their tour through Europe. They simply sent an e-mail to Jake and asked them if I was available, which I was since I just quit my job.
How has that touring experience impacted your own musical outlook?
Well, I think I've realized the power of music by touring around the world. Before, I wrote music for my own sake because it made me happy like a need to express other feelings. Now I have seen that the songs you've been making in your livingroom actually can make other people feel something.
I've been to live shows before but to see the audience from the stage is a totally different thing. I did my first big tour with Kamelot in 2009 and that was the first time I met real metal fans: it was unbelievable to see their response. I was shocked at first and pretty shy when we walked out after the show because I wasn't used to that kind of attention. But after a month touring and doing a dozen big festival gigs like Wacken, Rock am Ring, Rock im Park during the summer, I learned a lot. I'm happy they gave me that experience. To see people smile and cry, that really touches me and now for future writing I'll have all these people in mind which really gives me inspiration. I've also got a lot more knowledge and a reminder that we all are one. I meet people I would never have had the chance to meet if it wasn't for the music. That feels unreal for me to be honest.
Considering how close you are with Kamelot it must have been a shock to hear that Roy Khan was leaving the band. You were in close quarters with the band for such an extended period of time – was it something that you saw coming?

No not at all. It was as big a shock for me as it was for everybody else! It was a sad summer when we had to cancel all the shows in the U.S. – for me, the band but most of all for the fans. At first I thought he would come back for the European tour we did. But as everybody knows he didn't. A big praise to all those who showed up still supporting the band. The tour became a huge success. Fabio Lione did a phenomenal job so he's also going to join Kamelot on the upcoming U.S tour which starts on the 26th of August in Atlanta.

After recording the album and completing your first tour, what's surprised you the most about being a "big rock star"? Was there anything that made you rethink what you've gotten yourself into?

(Laughs) No not yet. But if my career had began with all this I would probably think like that. But I've worked my way up pretty slowly for a long time which I think is healthy. I've been dreaming of this since I was a little girl so now it feels more like a relief to finally be able to do what I feel like I was born to do.

You, Jake E, and Andy Solveström onstage together makes for a very active stage show. Do you have to map out your own area of the stage so you don't run into each other?
(Laughs) If it was up to me I would have done that, I'm used to working that way, so yes, I actually tried to make a small kind of choreography in every song, like, "You stand there, and then I sing my part, you step to the sides, Jake appears in the middle, we walk out and give Olof space for his guitar solo, then we go back in and stand in a row and then…" and so on but they refused. Well, after playing a few shows now I guess it's not that necessary. We can feel each other and give each other space on the stage – that's no problem. But maybe I'll get my will through in the future. (Laughs)

How would you describe the Amaranthe live show for those new to the band?

Our live show is, as you now know, not choreographed. It's like a party and we improvise a lot. It's all about the energy, great music and passion! In the future we, I, hope to bring in a lot more influences to the show, like maybe dancers, a choir, a light show and much more when we make our headlining shows in the future – like Rammstein and Kiss types of things. (Laughs) That would be a dream!

With you being so up-close and personal with the Kamelot guys on stage, were you able to learn any tricks you could "steal" and take back to Amaranthe?

Sure, they have a lot of tricks; I can't tell though… Just kidding! (Laughs) That must be all the influences they put in their show, like the theatrical intros, a choir, a belly dancer. I think that was a really cool mix with the metal music. I'd like to do that in our show some time, if the boys allow me to decide… They also gave me a tips to wear ear plugs on stage. But now I have an in-ear system which is even better. I want to be able to hear my grandkid's voices in the future… (Laughs)

Now that the Kamelot tour is finished, what's next on the tour agenda? Japan must be salivating for Amaranthe to come and perform live. Not to mention the Americas…

Next up is Bloodstock in the U.K, then I'm going on a one month U.S. tour with Kamelot featuring Simone Simons. On the 15th of October, Amaranthe is going back to Japan, we're going to play at Loud Park! Soon after that, Amaranthe has a nine week long tour through Europe. Can't tell you more than that right now. But keep your ears and eyes open because more info is coming in the very near future…

(Famous) Last words?

Good questions! We played with Symphony X a few months ago in Tunisia, and the drummer, Jason Rullo, gave a tip in an interview to young musicians which I think was awesome. He said, "Practice creates luck". Keep on rocking people!
Latest Multimedia
Photo Credit
Photos by Johan Carlén
Links
Label : Alfa Matrix
Review by Luisa Mercier
After several years, the Belgian duo Aiboforcen finally releases their 5th studio album. In "Dédale" various genres of electronic music are explored: you can find harsh industrial beats but also some synthpop, trip-hop and EBM. The elements of the different styles are mixed quite well and the vocals of Ayria contribute to make everything flow together. The overall mood is quite dark and gloomy, disturbing; but now and then there is a ray of light for example "Time & Space" is a nice catchy electro pop song. There are also some guests vocalists on the album. Laether S. lends "Poem of Life" a hard industrial sound, the same happens with amGod in the song "Parasthesia". While on the U2 cover of "New Year's Day" we find Ayria who graces the song with her light, soaring vocals. Last but not the least, Donna of Ego Likeness on "The World Below", which sounds much more grounded than the other songs on the album. Overall, it's a very solid release and can also be considered a nice starting point to check the band back catalogue.
Rating – 80/100
Tracklist
Dédale

Everything Gets Sacrificed (feat. Ayria)

Shadows

Time & Space

Light

Poem Of Life (feat. Leaether Strip)

Sordide Sentimental

Lhassa

The World Below (feat. Ego Likeness)

New Year´s Day (feat. Ayria)

Crysis

Mass

Rhythm Of Light (feat. Diffuzion)

Parasthesia (feat. amGod)


Méandres
Line Up
Benoît Blanchart – Music, Synths & Sampling

Séba Dolimont – Lyrics, Vocals & Sampling
Links
Label : Ravenheart Records
Review by Tony Cannella
The Dutch Melodic, Gothic metal band A New Dawn returns with their second full-length album, "Seven Faces of Truth". For this album, the band continues its unique style when it comes to the vocals. Two females are joined by Death Metal style male vocals from Mike Heuvel. Seven members, "Seven Faces of Truth", I sense a correlation here. Actually "Seven Faces of Truth" is probably the most ambitious undertaking that A New Dawn have attempted – both musically and lyrically. The main character is Dawn and throughout the course of "Seven Faces of Truth", her story is told as she wrestles with emotions ranging from happiness to sadness and everything in between, this is something that we all can relate to and A New Dawn captures perfectly the fact that what is going on in someone's mind and heart are not always what they seem. The opening intro "My Name is Dawn" gets things started with Dawn's own narrative, as additional voices (which also could be Dawn's emotions, lending their own voices) join in to help exemplify the various emotions that the main character feels. Following the intro A New Dawn launches into the Maiden –esque "Contradiction", which is followed by a re-recorded (and much more forceful) version "Desire" (originally heard on the "Finally…" EP). These two songs embody the relentlessness of the material contained on "Seven Faces of Truth", throughout pretty much the entire one hour of playing time. Lyrically the band write what they know about, real emotions that reside within us all, consequently there is something that all of us can relate to on "Seven Faces of Truth". Musically, there are a lot going on in the songs. Some albums are hard to describe song-by-song and this one of those moments where descriptions just simply will not do this album justice. Suffice it to say, A New Dawn tears through the material like a band on a mission mixing in tempo changes and longer songs like the excellent 7-minute "Battle In Twilight (Contradiction Part 2)". With shorter songs like "The Madness Within" – which disarms the listener with a violin solo before it develops into an all out thrash/death metal number. The interplay between the three vocalists is so well done and a huge strength for A New Dawn. Two more songs from the "Finally…" EP turn up as the re-recorded versions of "Masque of the Red Death" and the 8-minute "Final Verdict" sound better than ever, before the outro "Bellare Ad Aeternus" takes us to the end of the story and closes out "Seven Faces of Truth" reflectively with just a symphony and acoustic guitar. Even though A New Dawn formed way back in 1997, it is hard to believe this is only their second full-length. In between they have released several demos, EPs and even a DVD but this is their sophomore full-length effort, and in my opinion, this is the best thing they have ever done. As far as melodic, power, gothic metal (or whatever you want to call it) goes; it doesn't get much better than this.
Rating – 95/100
Tracklist
My Name is Dawn

Contradiction

Desire

Composition of Life

Prelude to Farewell (Part 1)

Theatre of Fears

Battle in Twilight (Contradiction Part 2)

The Madness Within

Masque of the Red Death

Final Verdict

Bellare Ad Aeternus
Line Up
Jamila Ifzaren – Vocals

Alysia van Horik – Vocals

Mike v.d. Heuvel – Growls

Michiel Glas – Guitar

Elbert de Hoog – Guitar

Peter Groen – Bass

Rik Bruineman – Drums
Links
MySpace * ReverbNation * Facebook * Twitter * Site
6 color styles available:

Style switcher only on this demo version. Theme styles can be changed from Options page.