Browsing articles tagged with " weeping"
Label : Ravenheart Records
Review by Tony Cannella
Malta is not known as a metal hotbed. In fact, the only band I can think of that hails from there is the gothic, doom metal band Weeping Silence. The band formed in 1998 and released their debut album "End of an Era" in 2008. They followed that up with "Theatre of Life" in 2011 and have now returned with their new album "For the Unsung". Weeping Silence utilizes the tried-and-true method of beauty and the beast vocals to a huge degree of success.
The majority of the songs on "For the Unsung" have a melancholic vibe to them. The female vocals are excellent, strong and powerful and have a bit of Floor Jansen vibe to them. The male vocals are pretty much your basic beast styled death grunts. "For the Unsung" moves along at a rapid pace, awash with massive guitar riffs, great musical performances and some great vocalizing by the duo. Continue reading »
Interview by Miriam C.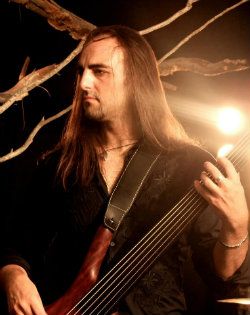 Soon I've have heard that Maltese Gothic Doom Metal Weeping Silence band have had a major line up change I've contacted the band and write down like hell this interview. I'm proud to offer the first exclusive interview the new singer Diane Camenzuli but beside this I've haven't forgotten to investigate more about the third album "For the Unsung" that sees the guest starring of Draconian singer Anders Jacobsson. To know more simply scroll down. Enjoy!
Hi Sean, first of all welcome to Femme Metal Webzine, how are you?
Thank you for the interview Miriam. I'm fine, hope the same for you and the reader of Femme Metal webzine.
Sean, would you mind giving me some biography infos for the users that don't know Weeping Silence?
Weeping Silence was formed in the late 90s and developed from a slow tempo doom female fronted band with the release of "End of an Era" (2008), then symphonic/gothic metal with the release of "Theatre of Life" to a present gothic/doom metal band with the latest full length album "For the Unsung".  As is expected with a band that has been around for some time, we have gone through some line-up changes, the latest being a vocal replacement. Weeping Silence is currently signed to Ravenheart Music Records and operates with Limelight Productions for non-exclusive concert booking in Europe.
So, your third album is out on Ravenheart Music and is called "For the Unsung". Can you tell us more its genesis?
The album is a reflection of the members' thirst to play gothic/doom with an aggressive edge. The insertion of male growling is an obvious indicator, but the riffs just sound heavier and more powerful, with several slow tempo passages. We wanted to do something that hits the core of the music we like and at the same time sounds modern.
"For the Unsung", it gives me an impression like something obscure and unfinished. What does the title mean for you, what did the band want to express?
The album is dedicated to all contemporary heroes that go unnoticed in the world. They do not have monuments erected in their honour or wear medals. They are the everyday people who comes to a cross roads and chooses the path they feel is right with courage. This idea can be transposed to many life situations, and the idea is for everyone to see it from their own perspective.
Also what infos can you reveal about the album cover? It's enigmatic…..
The artwork captures the theme of "For the Unsung" in the form of the Greek myth of the Coronides who in self-sacrifice saved the people from their doom. The Coronides are the two comets on the artwork, who are the daughters of the god Orion. They offered their lives in sacrifice to save their people from the plague. The gods were so touched with their humanity that they transformed them into comets to shed their eternal light. It is not a very popular myth when compared to others but it is a good representation of 'the unsung'. This artwork was done by Jan of Darkgrove, and we feel it looks very nice, especially on the digi-pack edition.
On "Love Lies Bleeding" Draconian's Anders Jacobsson participates as a guest star, when was the first contact with him and how's working with him?
Anders appears as guest singer on "Love Lies Bleeding" and "The Search Within". Joe knew him through Facebook, then I got to know him over the internet. He's a great guy really. To be honest, he could have easily said no to our request for him to feature, but he chose to do it even though we are not as famous as Draconian. This shows he loves the metal scene and is not a big-headed person. We respect him a lot. He did his vocal parts at Dead Dog Farm Studio in Sweden.
Also for "Love Lies Bleeding" you have shot your first videoclip, can you tell us more about it? How's was this experience?
This was a great experience. We did not have a great budget, and between us and the label we thought of shooting this video because we know how powerful YouTube has become. The experience was a blast! It was shot in summer, so you can imagine the heat. As a band, it really brought us together, and individually we realised how far we want to go in this scene. It was an eye-opener as well as a good experience.
Between "Theatre of Life" and "For the Unsung" passed only 1 year from the publication, do you notice (or better) are you able to notice any differences?
The difference is noticeable to anyone who has both albums. It is true that the release dates are close, but "Theatre of Life" was recorded in 2006 and released in 2011. So the music is much older than the release date. "For the Unsung" was composed between 2007 and 2011, and released in 2012. So the difference in composition time is more obvious to us!
Joseph and Rachel have recently left the band. And on Facebook you have already announced t
hat you have found a new female singer, mind you give the honours and present her?
We wish Rachel and Joe all the best with their future projects. The new female vocalist is Diane Camenzuli. She is 24 years old and ready for your questions!
Diane, welcome, I assume that this is your first interview that you ever made, how do you feel? Excited? Do you have any curiosity to share about yourself rather you prefer doing a detailed presentation of yourself?
Hi Miriam, thank you for the interview. Actually, I had some interviews about my music career in general, but this is my first interview regarding Weeping Silence. Yes, I am very excited about this new phase in my life. I have been into rock and metal for many years but never managed to settle down, the main reason being the difficulty to find musicians who are truly into the genre. Joining Weeping Silence is a challenge that has energized me like never before. All the band mates are on the same wavelength as I am, and I can feel a lot of positive energy between us – something I haven't felt for a very long time since my involvements in bands. The teamwork is fantastic and I can already sense the need & the will to create music & performing on stage with such great people.
How do you feel replacing Rachel after so many years that she was in the band? Do you feel any pressure?
I know how much Rachel is loved and have only respect for her achievements.  At first it was overwhelming and I cannot deny that it took me sometime to absorb what just happened to me. I had to make several adjustments to my new life such as cutting down on working hours. Having said all this, I can finally say that now, I have summoned the strength and courage to deliver at this new level of me.
A little bird told me that you have musical training, can you tell us more about your musical background?
To become a band member of a gothic metal band was a plan that had been in my mind for many years. Whilst awaiting the right opportunity to come my way, I used the time I had to learn more about music in general, to take piano and voice lessons, find my natural voice timbre and write a lot of lyrics. This was crucial and it is how I got to know myself better musically. It was the many rehearsals, auditions, live showcases, music courses and music lessons I attended, that helped me develop my voice & that thought me how to take care of it as much as possible.
How did you come across Weeping Silence? Did you know before someone from the band or did you simply apply for the position?
Being a fan of Weeping Silence myself, I saw their post on facebook and thus applied for the position.
For what the little bird  told me you're really enthusiastic and you are already doing rehearsals with the band: how hard is it to get started in a band that already has an "internal" equilibrium?
I am getting along extremely well with them. I had never experienced such teamwork. They are all committed, hard-working and open-minded. Their support has also been very encouraging.  I feel that my life is finally falling into place.
Instead let's talk about your personal tastes, what are your private passions?
I have always been interested in make-up and costumes. I love dark photography and gothic culture. Having said this, my greatest passion still remains that of being a singer-songwriter. It is a great way of expressing my feelings to the extent I want to, without harming anyone or anything.
Sean, what are the future project for Weeping Silence?
The future projects are definately composing a new album, that we hope will see the light of day in 2014. Between then and now, we will also be playing as many concerts and festivals as we can! All this should keep us busy!
So, Sean & Diane, we're at the end of the interview, please greet freely our user on Femme Metal Webzine and speak you soon!
We would like to thank the fans, Femme Metal Webzine and its readers who have always been behind the band giving us much support. We will be hitting the stage in 2013 and maybe we'll get the opportunity to meet some of you. Until then, visit our FB page, see what's brewing, and hit the like button: www.facebook.com/weepingsilence
The new album and earlier releases are available from the band's e-store on the website www.weepingsilence.com . Thank you for the support!Thank you very much Femme Metal readers, fans of female-fronted metal and metalheads in general all over the world! Keep it metal and hope to see you around someday! Thanks Miriam for this interview – Cheers to all!! Sean & Diane
Latest Multimedia
Links
Maltese Gothic Doom metal Weeping Silence are proud to present their new singer after Rachel Grech's deperature, read the statement below : "We are proud to announce our new female vocalist: Diane Camenzuli. She has brought a dynamic & exciting edge to our music, & we can't wait to have her on stage with the band. Thus, the Weeping Silence journey continues, with a new album already being composed & plans for concerts in the making. We thank all our friends & fans for their help & support during this transition, & look forward to meeting you all soon!" The band is still search a male singer/growler, if you are interested just mail at weepingsilence@gmail.com
For more infos check
http://www.facebook.com/weepingsilence
Label : Ravenheart Records
Review by Tony Cannella
From Malta, Weeping Silence first formed way back in 1995. In 2008 they released their full-length debut titled "End of an Era" which was followed in 2009 with a 4-song promo CD. Now the band returns with their sophomore effort dubbed "Theatre of Life" and to say that this band is really starting to come into their own is an understatement. Musically, "Theatre of Life" hones Weeping Silence's Symphonic Gothic metal style and sees them take what has begun on their 2008 debut to the next level. Also taken to the next level is their songwriting, which continues to grow and flourish. Although there are only 8-songs on "Theatre of Life", the whole thing clocks in at a healthy 47-minutes, and while musically there are some dirge-like moments, there are also times when the band speeds up the tempo a bit, often times throughout the course of the same song, (the excellent "Within White Walls" is a perfect example of this). Lead vocalist Rachel Grech continues to establish herself as one of the unheralded voices in the Femme Metal genre and she is only getting better. The title song "Theatre of Life" is one of my favorites and it features a choir on the chorus that definitely gives it a 'theatre' vibe and highlights the huge-ness of the song (this track also features a cool solo at the end of the song). The track "Season's Journey" begins as a ballad before the heavy riffs comes crashing in. Still this is a slower song tempo-wise and singer Rachel does another great job on this one, at times she kind of reminds me of Sharon den Adel from Within Temptation, but only at certain moments. Fans who were lucky to snatch up their 4-song 2009 promo CD will notice that those four songs appear here in re-recorded form. The whole thing is pretty consistent throughout starting with the opening duo of "Of Light and Shadow" and "Dark Waters" and concluding with the 7 and a half minute finale "Innocent Cries". The band also manages to work in choirs and symphonic parts to go along with the heavy doom style riffs. How Weeping Silence has managed to fly under-the-radar these last few years is beyond me. Hopefully with the help of "Theatre of Life", this is one band that will not go unnoticed for much longer. They have the talent and skill to really make a mark in the metal world.
Rating – 92/100
Tracklist
Of Light and Shadow
Dark Waters
Within White Walls
Theatre of Life
Season's Journey
Promises Broken
Monuments
Innocent Cries
Line Up
Rachel Grech – Vocals
Mario Ellul – Guitars
Manuel Spiteri – Guitars
Allison Ellul – Keyboards
Sean Pollacco – Bass
Angelo Zammit – Drums
Links
MySpace * ReverbNation * Facebook * Site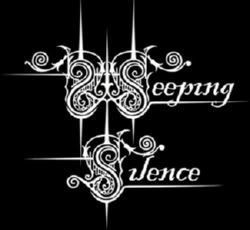 Interview by Scott Johnson
Doom metal, the side of music that expresses the deepest of human sadness and despair. We all have been there and we all can relate to these feelings. What better way to express this side of the human heart than to incorporate these feelings with the powerful driving rhythms of metal. Since the mid- 90′s Weeping Silence has been showing us how doom metal should be done. The driving heavy guitar riffs mixed with the ghost-like vocals and keyboards set the mood for anyone who has suffered from the pain of loss and hopelessness. I had the pleasure of talking to Rachel Grech of Weeping Silence. Join me now as we enter the Theatre of Life.
Hello Rachel, it is so very nice to have you here at Femme Metal Webzine today. First of all I would like to say thank you for your time and it is my honour to have this chance to talk to you. So if someone walked up to you and said I really like Weeping Silence but I don't know anything about them what would you say. How would you describe the music of Weeping Silence and what would you tell them about your music?
First of all thank you so much for this interview Scott! It's a pleasure. Well, if someone came up to me and said that they really liked Weeping Silence it would be awesome! Let me tell you a little about us. There are seven of us in the band; Angelo on drums, Sean on bass, Manuel and Mario on guitars, Alison on keyboards, Joseph on growls and myself vocals. Although the band started off playing mainly atmospheric doom metal, our style has now evolved into what could be described as atmospheric, gothic metal with doom influences.
What subjects does Weeping Silence as a band like to write songs about?
Well, up until recently I wrote most of the lyrics. I think I tend to write about feelings that are most predominant at the time. The experiences one passes through in life are reflected lyrically. Hopefully, this is also something that others can relate to.
Do you think it is a challenge to write songs of such great sadness and hurting and do you ever have a hard time singing them on stage? I have often wondered how a singer could sing songs about very personal topics and not revisit the pain from those moments and it would be hard to sing them live.
Music is such a wonderful means of expression and I find it is a coping mechanism which helps you deal with sad experiences and things in life which are not easy to comprehend. With regards to singing them on stage, yes, you do revisit the pain however this brings out more emotion. Dealing with these emotions helps you grow stronger too. Perhaps this I can explain better with "Tell Me Why" from our album "End of an Era". On the other hand, "Theatre of Life" is more up-tempo and lends itself well to live performance. The new material is more aggressive than "Theatre of Life". Joe joined the band on vocals too, so I'm not alone up front anymore.
So how many albums does Weeping Silence have?
There was a demo EP way back before we became a FFM band. Then the first album was "End of an Era" followed by "Theatre of Life". There is another album in the making too!
Can you tell us about the new material that Weeping Silence started recording this year?
Well, the new songs have more of a doom inclination and are more aggressive. Joe joined as growler and this gave us the opportunity to compose songs that allow for interaction between lyrical characters. The music has grown more dynamic I think and we are moving forward into the style with a more contemporary feel. We're pleased that Anders Jacobsson of Draconian will feature as guest vocalist on two songs also. The album is being produced by Brett Caldas-Lima of Tower Studios (France).
Is there a title for the new album?
Well there is a draft title, which is not official. We wish to listen to the album after the mastering process before deciding on a definite title.
I read that there will be the use of male backing vocals. Are they clean vocals or growls?
Joe's a growler. He sings on all the eight songs that will feature on the upcoming album. There will also be an intro to the album that I only sing on. Anders features as growler on the songs "Love Lies Bleeding" and "The Search Within".
What made Weeping Silence choose the doom metal style of metal?
Doom metal has an emotional aspect that differs from many other styles of metal. The lyrical experience hits to the core of human nature and gives space for hope too. The band members are also into all sorts of doom styles and therefore it was evident that the doom style would infiltrate into the musical compositions.
Who are your music influences and what kind of music do you listen too? What could we find on you MP3 player?
Ah, this is hard. Many of the guys listen to Opeth, Draconian, Anathema, Katatonia and so many others. I like listening to all melodic female metal bands. At present I have Within Temptation, Paradise Lost, Therion, Ozzy and Adele amongst others on my Mp4.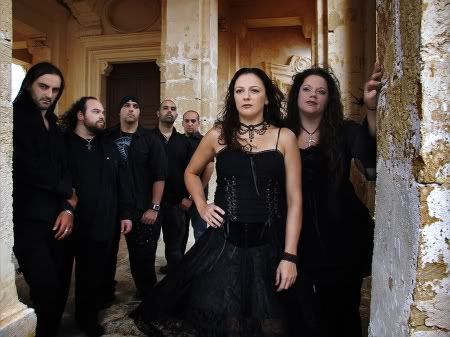 Did you grow up around music? When did you start singing?
Well, my parents were into Pink Floyd and a lot of other classic rock, we always had music playing at home. I remember singing to "All About Eve" over and over again! My brother introduced me to metal and we used to club together and buy albums such as Queensryche, Yngwie Malmsteen, Joe Satriani, Doro and others. Sadly he passed away in 2001 and our album 'End of an Era' is dedicated to him.
Where did you have your training?
I was always singing at home but I started singing in public later in life. I never had any formal training however I've picked up things along the way from various choirs etc.
Do you think it makes a difference being a male or female in the music business? What has been your experience?
Hmm, I suppose it does. Some people just do not consider female fronted bands but then on the other hand you get support from female oriented organisations such as this one. I was the first metal female vocalist in Malta and it was quite daunting in the beginning. Although I get so much support from all the other members and we work together well as a team.
What advise would you give to a female musician that is just starting out in the music business?
Don't be afraid to get out there. Work hard but most importantly remember to enjoy every bit
Can you tell us some of the places that Weeping Silence has played shows at?
We have played mostly local concerts and festivals, including the Extreme Metal Assault in 2011 and the Malta Doom Metal Fest some years ago. This summer we played with The Shiver from Italy too. We have also played gigs in Manchester, Birmingham and Bradford. Appearances are planned for 2012 in Italy and Ukraine's Doom Over Kiev Festival too … … hopefully others.
What are some of your favourite memories while being in Weeping Silence? Do you have any good road trip stories for us?
Oh my goodness! Yes, there are quite a few but most are too embarrassing to talk about here!!
Do you think it is hard being on the road with a bunch of stinky males? Does it help you to have Alison as a travelling companion?
Ah, it's not that bad, I think I must have built up an immunity by being stuck in our rehearsal room (which is not that large) during the sweltering hot summer months. And it's great to have Alison for some female back-up!
Is there a tour planned yet or is it still to early to say?
It is too early to talk about tours for 2012. However, there are a few dates being planned in Italy for sure, which might take the form of a mini-tour… we'll see! We'd love to play in Germany and The Netherlands, so hopefully we will make our way there someday soon!!
Ok, so looking through the eyes of a most passionate fan of metal, what would you say your greatest fan moment has been so far? Who are some of your personal music heroes that you have met?
Well it was awesome to see Paradise Lost here this summer as I am a big fan. Also we played with To-Mera in the UK. My personal music heroes are Sharon Den Adel, Simone Simons, Sarah Jezebel Deva to name a few, but sadly I have yet to meet any of them. Perhaps my luck will change. You never know eh?!
And one last question for you. This is a fun one. Ok so if Weeping Silence were a comic book, what would the title be??
Well we're too many people to be a comic book. I think we're more of a film-compatible bunch. So, I'll challenge you on the comic book parody and say "What Dreams May Come" the 1998 Robin Williams film based on the novel. Yeah I guess that film sums us up well. We have worked so hard for so long and we were always pushed by a wish to do something worth a listen in the metal scene.
I have really enjoyed our time together and before we close, do you have anything that you would like to add?
Thank you so much for this opportunity Scott, I hope you and the readers of Femme Metal Webzine will enjoy listening to our music. Please visit our websites/pages and leave some feedback, we would love to hear from you! Look out for our next release and of course. Stay metal!!
Links
MySpace * ReverbNation * Facebook * Site
6 color styles available:

Style switcher only on this demo version. Theme styles can be changed from Options page.