Browsing articles tagged with " welsby"
Label : Singed Records
Review By Tony Cannella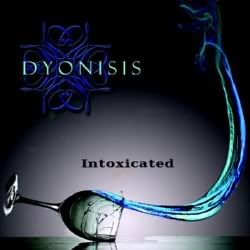 I was a huge fan of the 2007 self-titled debut from the U.K.'s Dyonisis. That was followed up by the "Blue Shift" EP in 2008. Now the band has issued their second full-length titled "Intoxicated", which I was very excited to hear. I am happy to say that on their sophomore effort, Dyonisis has not disappointed, all of the elements are still in place that made their debut such an interesting and unpredictable ride, while the band has still managed to progress. Dyonisis are still fronted by the duel female vocal attack of Nel and Lou (she also plays piano), to create a unique musical style that is virtually impossible to categorize. As a point of reference, it is always easy to say that this band, 'sounds like this or that band', but with Dyonisis, I can't think of one band who they sound like, or can be favorably compared to. The band really has managed to forge its own path and that can be heard on "Intoxicated". The CD contains 11-songs and a playing time of almost an hour, and in that time you get some wonderfully beautiful vocal harmonies performed by Nel and Lou, and some brilliantly performed ethereal, atmospheric music that definitely does paint a musical picture. The short (2-minutes) intro track "We Are…" is a great opener that features the vocal tandem of Nel and Lou in all of their harmonic glory. A great opener that leads us into "Of the Fear" and the equally potent "Inside Out" follows. Other highlights include: "Arachne's Song", "Eve's Song", "Flown", "Dead to Me" and the closing number, "Lunatic". "Intoxicated" is a great CD to listen to on headphones and just get lost in the music and lyrics. With "Intoxicated" Dyonisis has issued the perfect follow-up to their self-titled debut. This is definitely a band that deserves to be heard and hopefully, with "Intoxicated", Dyonisis will get the following that they so richly deserve. With "Intoxicated", fans of their first album should fall even more in love with Dyonisis.
Rating – 90/100
Tracklist
We Are…
Of The Fear
Inside Out
Arachne's Song
Eve's Song
Smart Mouth
Oxygen
Flown
Dead to Me
Ashes
Lunatic
Line Up
Nel Cave – Vocals
Louisa Welsby – Vocals and Piano
Tom Chaffer – Guitars and Programming
Marcus Cave – Bass
Links
MySpace * Reverbnation * BandCamp * Facebook * Site
Label: Anthem Records
Review by Tony Cannella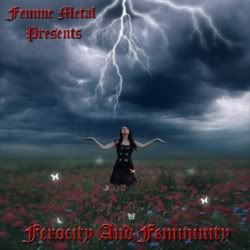 Metal is truly a worldwide phenomenon. Okay, maybe that is the understatement of all time but it is great to see how metal is represented all over the world. Different styles, different genres, it all has something to offer. In the realm of female fronted bands, it is no different. There is a lot of good music out there, sometimes you just have to look for it. Here now is a compilation CD brought to you by the good folks at the Femme Metal Webzine titled "Ferocity and Femininity". Represented are 15 bands and over 70-minutes worth of some of the best up-and-coming bands in the Female Fronted metal scene. The CD begins with "The Reach" by the UK's Adastreia. This is a good track to choose as an opener, since it sets the standard very high right away. The song is dramatic with great operatic vocals. From there are another two bands representing the UK are on board. The first of which Hanging Doll are on board with the fantastic "Sweet Retribution". This is an excellent track with an infectious melody and more great vocal work. That is followed by another equally good song by Submerged titled "This Thing of Darkness". A cool mid-tempo number that has plenty of killer riffs. Canada's AraPacis check in with "So Many Leapers". This song ups the heaviness a bit with it's Maiden-like galloping rhythms. It's just relentless. Their style is more in a traditional metal vein, but equally effective as the previous bands. Next is Fateless Tears from the U.S. Their style generally reminds of good progressive music as can be heard on their track "Mesmerized". Dueling female and male grunt vocals are used here. The UK's hAND are represented with "I Find Myself" and this is musically phenomenal track and the vocals are very strong. Dremora from the US check in with "Alone" and Maida Vale from the Netherlands with "Remote Control". A couple of perfectly crafted songs that highlight the strengths and differences of both bands. Dendura from the US are represented with Symphony – a symphonic metal masterpiece and that is followed Celticia (from the UK) with "Misshaped Scenes". Next is Afterdawn with "Top of Occasions". The great Australian band Temujin is heard with "Let You Go". This is one of the most promising new bands I've heard in quite some time and this is one of my favorite tracks from their brilliant "1000 Tears" CD. Dyonisis – another great band – is up next with "Xact". The final two songs "Ghost in the Shell" by Liquid Sky and "Disclosed" by Norway's Ancestral Legacy bring this collection of female fronted metal to a rousing conclusion. With 15-songs and over 70-minutes worth of powerful music, this CD should provide a great resource for fans who are always on the lookout for new bands to support. Caz and the Femme Metal crew have put a lot of dedication and heart in compiling this CD and that is to be commended. The spotlight is shone brightly on these 15 bands, who each bring something unique and interesting to the table. This is truly a great collection of songs and bands that should please not only fans of the femme metal genre, but fans of music in general. The packaging layout and artwork also deserve a special mention. Plus, it's all for a good cause. All proceeds will go to aid Cancer research.
Rating – 90/100
Tracklist
Adastreia – "The Reach"

Afterdawn "Top of Occasion"

Ancestral Legacy – "Disclosed"


AraPacis – "So many Leapers"

Celticia – "Misshaped Scenes"

Dendura – "Symphony"

Dremora – "Alone"


Dyonisis – "Xact"

Fateless Tears – "Mesmerized"

hAND – "I Find Myself"

Hanging Doll – "Sweet Retribution"

Liquid Sky – "Ghost in the Shell"

Maida Vale – "Remote Control" (New 2008 Version)

Submerged – "This Thing of Darkenss"

Temujin – "Let You Go"
Links
Independent Release
Review by Tony Cannella
I was a big fan of the self-titled debut from the U.K.'s Dyonisis, so I was very excited when I recieved a copy of the their new EP "Blue Shift" (especially because I had no idea about its release). As mentioned, this is an EP and it is designed as a bridge to their next full-length but at 38 minutes long it is obviously longer than your average EP. Before getting into the music, I'll re-introduce the band members to you. Lou Welsby (Vocals), Nel Cave (Bocals), Marcus Cave (Bass) and Tom Chaffer (Guitars & Programming). So, with that out of the way, on to the music. Is this release any good? Is it worthwhile? Absolutely, I can say "Yes, it is" on both counts. The CD begins with the first new track called "Abyss" and immediately I am reminded why I loved the first CD so much. It starts of with some cool keyboard effects and then goes into a beautifully melancholic, ethereal number. Next is another new one – at least for Dyonisis. "Son of a Preacher Man" is a cover song (I believe it was originally recorded by British pop singer Dusty Springfield). I had never heard the original version so I can only say that Dyonisis' version fits right in there with the rest of their catalog. The new song "Let Go" is next and it is a somber track that has an acoustic base to it and it really takes you on a sublime journey. Of the new songs, this is probably my favorite – even though it's a slower number, it is still plenty powerful and emotional. Next up is the first of two re-mixes. "Pretty at a Distance" was perhaps my favorite song on the debut and the "Blue Shift" remix does nothing to sway my overall enjoyment of the song. It's a bit different than the original, but it is still very good. The next new song is "Shamania" a mostly instrumental track that adds to the overall atmosphere and ambiance of the CD. The final track is another remix. This time of the 10 minute long "Rainy Day". The new version now clocks in at, oh only a mere 16 minutes and it is a perfect way to conclude things. As with the other remix, this one (dubbed the Psychedelic Kitchen Sink Mix) is a strong alternate take on another fantastic song. Even though this lasts 6 minutes longer than the original version, it never gets dull and really holds your attention. The "Blue Shift" EP is a very satisfying release that should hold us over until Dyonisis releases their next CD. It has indeed raised my level of excitement for their next full-length. Hopefully, we won't have too long to wait. This is only limited to 200 copies so I would suggest that fans of the band scoop theirs up before they are all gone. In conclusion, Dyonisis are a band that are consistent, dynamic, interesting and just flat out good. They are everything I could want in a band.
Rating – 85/100
Tracklist
Abyss

Son of a Preacher Man

Let Go


Pretty at a Distance (Blue Shift Remix)

Shamania


Rainy Day (Psychedelic Kitchen Sink Mix)
Line Up
Nel Cave – Vocals & Lyrics

Lou Welsby – Composer & Keyboards


Tom Chaffer – Guitars & Programming

Marcus Cave – Bass
Links
MySpace * ReverbNation * BandCamp * Facebook * Site
Independent Release
Review by Tony Cannella
Dyonisis hail from Sheffield, England. They feature not one, but two highly talented female singers in their ranks. The singers Lou Welsby and Nel Cave each add their own style and emotions to the proceedings. The band is completed by Tom Chaffer (guitars & programming) and Marcus Cave (bass). Dyonisis have just released their self-titled debut and it is an exercise in lush, ethereal soundscapes and a bit of the melancholy that really set it apart from many of the current crops of female fronted bands. "Hunter" starts things off and it is a great opener. The interplay between the two vocalists is nothing short of breathtaking. The harmonies between the two are very emotional and they keep the listener interested throughout. In fact, that is a real strength of the band. Next we have, "Reaching", another melodic gem that keeps a nice pace going forward. "Xact" starts of with a cool riff from Tom Chaffer and then really takes flight. Perhaps, the highlight here is the 3-minute track "Pretty at a Distance".This song features no music, just Lou and Nel's vocals acapella. The song has a very big feeling and the vocals have a choir-like feel to them. This is like nothing I have heard in quite some time and you have to give the high marks for trying something different – and it works! This song is nothing short of brilliant. "Remember Me" is another favorite. It has a vibe that is very emotional and from the heart. Other highlights include: "Winter", "Step Away" and "Distance".The 10-minute track "Rainy Day" brings things to a close on an epic note. Despite it's length "Rainy Day" never gets boring and it is a perfect way to end things. I would be remiss if I didn't mention the guitar work of Tom Chaffer. His playing is solid and he is the perfect fit for this band. To pigeonhole this band as just another metal band would be wrong. There are various influences and styles on display here and that is the strength of Dyonisis. There music may not be easily digestible for some, but after a few listens, I was headed for the 'play' button once again. I can't say enough good things about them, I admire their originality and dedication. The bottom line is this, Dyonisis has a delivered an album of 9-songs and 46-minutes worth of avant-garde and ethereal music that was pleasing to these ears. I for one, can't wait to see what they do next.
Rating – 90/100
Tracklist
Hunter

Reaching

Xact


Winter

Pretty at a Distance


Step Away

Remember Me


Distance

Rainy Day
Line Up
Nel Cave – Vocals

Lou Welsby – Vocals


Tom Chaffer – Guitars and Programming

Marcus Cave – Bass
Links
MySpace * Reverbnation * BandCamp * Facebook * Site
6 color styles available:

Style switcher only on this demo version. Theme styles can be changed from Options page.