Browsing articles tagged with " wessels"

Interview by Tony Cannella
The Dutch metal band Delain recently embarked on their first extensive U.S. tour as the opener for Kamelot. The band has impressed the audiences with their high energy, powerhouse performance on each stop of the tour. I had the opportunity to see them live in Worcester and they did not disappoint. With their new EP "Interlude" available now, I had the chance to chat with lead vocalist Charlotte Wessels prior to their set in Worcester and we talked about a variety of subjects including their last album "We Are the Others". It was a nice conversation and this is what she had to say
…  
You've been on tour with Kamelot in North America for a few shows now. How has it been going so far?
It's been going well. This is our first ever U.S. tour. We've done Prog Power before, that was one show, we've done the 70,000 tons of Metal Cruise, but that was also just one gig, so this is actually the first time we are doing a full-fledged U.S. tour. It is really exciting for us to see the audience response, even though we are with a little bit of an adjusted band because we have some people who are expanding their families' right at the moment. It's going pretty well; especially yesterday in New York we had a really cool reception. It's been amazing. Continue reading »
Label : Napalm Records
Review by Tony Cannella
On their new release, the Dutch symphonic metal band Delain offers their fans a little bit of everything. "Interlude" is the title and it features new material, cover songs, alternate versions of well known songs and a bunch of songs recorded live at the metal female voices festival. In addition to all of that, the limited edition comes with a bonus DVD of the band performing live.
"Interlude" begins with two new songs. The first one is the sexy "Breathe On Me" and is (in my opinion) the better of the two. The symphonic opening to the next new one, "Collars and Suits" gives way to the heavy riff and the song maintains an up-tempo, energetic pace throughout most of the song. Continue reading »
Interview by Roberta Ilaria Rossi
After the recent release of the third Nemesea album, Femme Metal crew has the pleasure of exchanging some chats with Manda, that did the honors and that has revealed all the hidden details about "The Quiet Resistance". Here you can find all the details of our chat with this amazing Dutch singer.
Hi Manda and welcome to Femme Metal. How are you doing?
Hi, I'm doing fine!
Recently, you've signed a deal record with Napalm Records to release your third album, "The Quiet Resistance". How was this decision born?
When thinking about doing a 3rd studio album the band wasn't sure about how to release it. We had some contact with NR in the past and at the right time both Nemesea and NR agreed to work with each other on a new Nemesea album.
This last album is such a great masterpiece, that mixes some genres like electro music, trance and some alternative rock. It seems that, compared to previous albums, TQR has taken something from the other two. "Mana" was an album with progressive tendencies, a little gothic, the second one, "In Control", was more symphonic. For this album, you wanted to try something innovative. What causes this decision? Why did you want to create a new experiment, if we can call it like this?
We always try to develop/progress. It's true that the TQR album combines elements of our previous albums and for this album that was the plan from the beginning. With 2 new members on board (Lasse - Keys & Frank – Drums ) a band sound changes as well. Especially Lasse who is also a sound designer had a major influence on the sound this time. We were always looking for someone that had interest in rock as well as electro music. Lasse is the perfect guy for that. The whole band is interested in all kinds of music and especially in rock and electro oriented music. It's normal to us to combine those styles/influences..
What's behind the title of the album? Why have you chosen it?
"The Quiet Resistance" is about that resistance/feeling within you but are afraid of, not allowed to speak of. We came across the intro when going through some older audio material that Lasse had. We had al lot of songs written already at that point and lots of them were about speaking your mind (for example the songs "Say", "Caught in the Middle", "Whenever" ). When we heard this intro lyric we immedialtely knew it had to become the album title.
The artwork shows you, Manda, in a lost location, with you holding a long sword. Could you explain us what's the meaning of it? Who created the artwork?
The artwork was created by Stefan Heilemann, a very talented artist. I'm in a lost/quiet environment (desert like) and the sword represents a quiet resistance as well. You can't hear but can see the resistance.
The opening title track, "The Quiet Resistance", starts with a very male mysterious voice, like a "hard breath" voice. Why did you decided to open the album with this song? Is it just to create a sort of "wonder" in the listener?
To us it's a strong lyric and is a good opener for the album. When making intros like this we always look at it from a live point of view as well.
Taking a listen to the song called "Rush", I've found a similarity with Evanescence's sound. In a first moment, it was seeming to listen to Amy Lee in "The Open Door". Do you agree with this statement?
As much as I like Evanescence and Amy Lee I can't really hear a similarity. We have a different way of arranging and sound design compared to for instance Evanescence. The song was more influenced by Bjork than Evanescence but… when i say that of course Amy Lee is a big fan of Bjork so….
Listening to the album, my attention ran upon the song called "Allein". There is a clear reference to Rammstein influences. Indeed, we find the great vocal by Heli Reissenweber (singer of the Rammstein cover band Stahlzeit). Why have you decided to create a track in Rammstein's style? Had it already been decided previously or have you wanted to create something new for this album?
It started with a electronic pattern Lasse wrote. When HJ started to write a song around it a Rammstein feel occured. At some point we had to decide if we wanted to go for a Rammstein influenced track or to step away from that and go for something else. Since we are all big rammstein fans we decide to go in that direction. We went all the way when asking Heli Reisenweber. We see the song as written by Rammstein & Nemesea together. At least, something like this would come out if we did… we'll keep on dreaming ha ha.
TQR has been mixed and produced by Joost van den Broek, better known for having played in a great Dutch band, After Forever. Nemesea toured with these guys a very long time ago, is there any particular reason about this choice?
Joost is a multi-talented person. He's a great keyboard player but is an equally talented producer, arranger and mixer. We got to know him during the shows we played with AF. HJ had worked with Joost on some other projects as well so it was very logical for us to ask him to work on TQR.
The first single taken from this album is "Afterlife". Why have you chosen this single as the first song to record a video clip as well?
Both band and label agreed this song to be the first single. The song is HJ's favorite so he really wanted to start with that song as well. We believe lots of people like melody, the song and it represents the Nemesea sound in a way.
How did the recording last for TQR? Your last album, "In Control", was released over four years ago. Is there something that has forced you to such a long break? Or did you wanted to take your own time to work on this album?
To be honest, we had a bit of a difficult time after our album "In Control" since nothing really happened with that album. We worked very hard on "In Control" so we were very disappointed when the high expectations didn't follow through. Everybody took some time off and lots of us worked on other musical projects. After a while we started to get inspired again and started writing new stuff.
Some great guests on this album were chosen, as Charlotte Wessels (Delain), Marcus Klavan and Matt Litwin (Bulletproof Messenger) and, as I said before, Heli Reissenweber (Stahlzeit). What were the foundations for these choices?
We know Charlotte personally from some gigs we did with Delain. When HJ wrote the song "High Enough" he immediately thought of asking Charlotte because he thought both voices would match nicely. Marcus and Matt recorded an album through Sellaband as well and they had sort of the same experience as we did. We always had contact through email and we love Bulletproof Messenger. When working on "It's Over" the turntables and voice contribution of both guys seemed to finish the song, great! Heli we didn't know but asked to sing on the song because he was the only one that was able to do it ha ha. His voice is amazing!
If you could describe this album with 3 words, which adjectives would you use?
Best so far!
Where do you find the inspiration for your lyrics?
That differs for every lyric I write. Sometimes it's just a word or sentence, sometimes it's a movie or things that happen to me or people I know.
How much time do you spend to train your voice?
I've taken singing lessons for over 12 years now and I sing every day. I love singing and developing my voice. There's still so much to learn. I still take singing lessons and I started speech therapy also a few months ago. I love working on my voice and technical skills.
Is there any particular singer who could have been a source of inspiration for you and for your professional growth?
There are a few. First of all there's Anneke van Giersbergen. She's the reason I started to sing. Nowadays I listen a lot to Christina Aguilera and Kelly Clarkson. They both have such powerful voices that inspire me to work hard on my voice. Also Jared Leto is someone who inspires me. He has a very unique way of expressing lyrics and their emotions. I love his voice and way of singing.
Nemesea is a Dutch "trademark" and comes from a fact from which many important names have emerged, such as After Forever, Within Temptation, Epica, The Gathering - what do you think of these important bands? Would you love to work with one of them?
All the bands mentioned are great and have their own style and talents. The Gathering and Within Temptation are bands we would prefer to work with because we can relate to their music a bit more.
Having mentioned Charlotte Wessels from Delain before, I'd like to ask you: how was working with her? She is one of the best Dutch singers you can find around and her voice is so magical. Listening to "High Enough", I've found that the duo fits your voices perfectly, you bring the listener to a magic mood, your voices take over the listener's attention.
It was great working with her. She loved the idea of doing a duet with me and work really fast. I'd love to share stage with her one day to sing "High Enough" live. That would be just amazing.
What do you think of Dutch female fronted bands? And what is your personal opinion on all these new bands that necessarily want to have a female voice?
I'm very proud of the fact that such a small country delivers such a unique music style and bands that do very well internationally. The Netherlands has 2 big music export products, Dj's ( Tiesto/ Armin van Buuren, etc ) and Female Fronted rock/metal bands (WT, Epica, The Gathering, Delain)
Now that TQR has been released, are you going to tour within Europe or to tour in general? In my honest opinion, I would like to see Nemesea playing in Europe, at least once…
We are doing a tour with In Extremo this December throughout Germany. We are working on more shows/tours as we speak. Playing live is why we make music, we hope to do it a lot in the future.
If you could tour with some bands, which bands would you like to support?
There are a lot of bands we like to tour with, Rammstein, Metallica, Within Temptation, Lacuna Coil, 30 seconds to Mars etc…
What's new for Nemesea now? Do you have already some new projects or do you want to focus your attention to this album and all that follows?
All the band member or working on several musical projects next to Nemesea. We started to write some new songs for the next album already and we are preparing for live performances..
Ok, thanks so much for this interview you gave to Femme Metal. Is there something you would like to tell to all Nemesea fans out there?
We hope that everybody will check out our new album and hope they like it, let us know what you think on www.nemesea.com.
Credit Photos
Photos by Stefan Heilemann / www.heilemania.de
Links
MySpace * Facebook * Twitter * Site
Latest Multimedia
Gig Review & Photos by Erwin Van Dijk
It is a Within Temptation reunion day at the city of Haarlem tonight. Delain and Kingfisher Sky are both spin offs from Within Temptation, the biggest of all Gothic and female fronted bands in Holland. Sadly Delain has an unpredictable photo policy at their gigs. Sometimes you are allowed (or tolerated) to shoot a Delain gig but often you are not. Epica has a similar behaviour towards this. Goth knows why. Maybe their ego? That is why I try to avoid these bands but Kingfisher Sky will be a good opener today so I took the gamble. The Patronaat started in an old shabby building held together with gaffer tape but somewhere around 2005 it was replaced by the new building with much better facilities. As a consequence the venue can book now a lot of bands that used to play in Amsterdam like Dimmu Borgir or the upcoming Pagan Festival in September with Unleashed and Korpiklaani. Just a few days ago The Patronaat won the "Best Dutch Venue" award. The reason is quite easy for me: good facilities, friendly staff and more important: a well oiled organisation. The only disadvantage of the Patronaat you will find when you stand at the edge of the stage in the main hall. There is a small electric cable pit for all the equipment which has never been cleaned since the opening of the venue. After four years it is the most disgusting place in the entire city. To quote Bones from Star Trek "It's life Jim, but not as we know it!". As with the album release party at De Melkweg (Amsterdam) the two video screens did not add much to the gig because they are to small and located at the far left and right of the stage. With the Cradle of Filth & Moonspell gig last week in the city or Rotterdam there was one large stage filling video screen that functioned as a nice back drop. The mayor difference between Epica and Delain is that with Epica the visual part of the show and the special effects outweighs the musical performance live. With Delain it is still more about the music and less about how it looks on stage. I hope it will stay that way. But Delain still wanted to do something special so they had to improvise. Unlike Within Temptation or Epica the Delain crew still has no pyro license so we have a bubble machine as visual effect. WOW! The set consisted of songs from the debut album and "April Rain". Personally I like the songs from "Lucidity" more than the new work and judged how the audience reacted I am not alone in this. The "April Rain" songs lacks the varity "Lucidity" had. I know Delain wants to sound like a real band but "Lucidity" was a one time kick in the face because it was never meant to be a 'band' but a project.
With "April Rain" all the 'Youthfull Enthusiasm' is gone and replaced by solid assambly line work. Currently Delain is sponsored by Jägermeister but thank Goth there were no Jägermeister wallpapers in sight today. Or the Jägermeister promo team which consists of (very predictable) good looking girls (The Jäger Mädel in good German) who always appear to be a little lost during metal gigs – like at the Melkweg gig. Those chicks are most likely plucked from the pages of some modelling agency. And because money is money Charlotte is sponsored by an Italian fashion make – up brand called PUPA. Not that Charlotte needs to be covered in thick layers of plaster (unless she is going to be a Kiss tribute band singer or will start a black metal band!) One more thing: Delain showed some footage of a violin cello on screen while playing a sample.N ice, but I thought it was also a bit cheap because Kingfisher has a real violin cello on stage. If I was the boss of Delain I would have asked Maaike to do that part because all the cello stuff was already in place that day. Opener Kingfisher Sky only had about 30 minutes for a show and that was more than enough to convince the audience. Although I would not have minded to see them a bit longer than half an hour. Their take on this genre is much different than most other bands these days. Judith has a voice which does not sound like another 'Kate Bush on helium clone'. More rock and soul. Same goes for the music. Kingfisher Sky is closer to bands like Autumn, The Gathering and Stream of Passion than Delain and Epica. Since bands like Autumn, Cardamon and Skytah are also going this way with their music you can almost see this as the next step of the Gothic genre. In short: like their die hard fans these musicians have grown up, leaving Delain for the younger generation. Conclusion: Kingfisher Sky did a good gig but lacked the time to get the audience with them. Delain gave a solid performance but they should watch out for Stream of Passion who are also about to release their newest album.
Links
Delain : MySpace * Facebook * Twitter * Site
Kingfisher Sky : MySpace * Facebook * Twitter * Site
Interview by Robin Stryker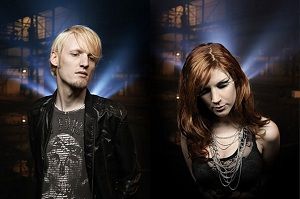 It was my profound pleasure to interview Charlotte Wessels and Martijn Westerholt, the vocalist and founder/keyboardist of Dutch symphonic metal band, Delain. Happily for me, the band was in my hometown of Atlanta for their U.S. debut at ProgPower USA. After fortifying ourselves with some Italian food, we rolled up our sleeves and got to work.
Charlotte and Martijn, of course, did all the work – even taking turns later in the night interviewing each other, whilst I sat back and giggled. (I swear it was their idea). Read on to find out what happens when band members, who are good friends in real life and extremely funny in person, get to turn the microphone on each other.
Hello Charlotte and Martijn! Last time Femme Metal talked with Delain in late 2009, you had recently headlined at Metal Female Voices Festival and were starting your tour with Sonata Arctica. Since then, you have released "April Rain" in the U.K., done headlining tours and have just performed at Wacken Open Air. How was Wacken?
Charlotte: It was awesome. Yeah, it was really great. We played at the Party Stage and there were lots of people there all cheering.
Martijn: And it was a PARTY! We were very surprised the party stage was called the "Party Stage". It was amazing.
And that was just one of a lot of festivals that Delain was at this year, right?
Charlotte: We also did Sonisphere in the UK, which was REALLY amazing. I guess that was one of my favourites as well, next to Wacken.
Martijn: Mine too, absolutely.
Now, having sampled festivals all over the world, what has been the one where you thought everything just came together – the fans were on, the equipment was working, everything was perfect?
Martijn: We never had that. (laughs)
Charlotte: No, we're still waiting for it. I mean, it's taking FOREVER.
Martijn: (laughs) I'm just kidding, of course.
Charlotte: I guess Lowlands in 2009, which was really awesome. It's a Dutch festival and I've been going there every since my parents allowed me to go to festivals, basically. Then, finally to be up on the stage there. And it was a good show, too!
Martijn: It was a really big festival with something like more than 50.000 people.
Charlotte: I think even 60.000.
Martijn: I think it's one of the biggest in Holland. So, everything went perfect, and it was a really, really good show.
I understand that after ProgPower, Delain will make its first appearance in Mexico and Brazil. Do you have anything special planned for those shows? Charlotte: The fact that we will be there is kind of special. The special thing for us about Brazil and Mexico is that they were one of the first countries who had a really loyal and active fan-base. A few of the first fan-sites that popped up were the South American ones. And then you hear all the stories from other bands that it is crazy and wild over there. So I think we are as much looking forward to how they are going to be, as they are looking forward to how we are going to be. Martijn: Yeah, absolutely! And of course, you're going to hear Charlotte talking Portuguese and Spanish. Charlotte, have you memorized some phrases and basic greetings? Charlotte: I actually contacted some fans … like "Oh, it would be so nice if I could say something!" … and sent them some stuff that I would like to say. I'm going to practice with them. I'm always trying to do that. And if I don't get to memorize it, then I'll just secretly write it on my hand. (Oh no, I'm telling my secret!) Martijn, how about you, or are you going to phone it in? Martijn: Yeah well, I don't look forward to it. I think it is an average tour. Charlotte: Just another day at the office for Martijn. Martijn: But TOTALLY the other way around. It's already great tour right now. We didn't even play yet and it is already great being here in the States. I'm really looking forward to South America. As Charlotte said, we heard a lot of positive, crazy stuff from other bands there. And it is also always a really good sign if you have already developed a fan base and you didn't even release anything yet or play there. So they deserve having us there, and we are really looking forward to it.
You've got very little time between ProgPower and Mexico, but have five days between Mexico and Brazil. Have you pencilled in some fun while you are there, maybe some sightseeing? Charlotte: We've had a lot of fun today! Martijn: We're taking the car from Mexico City to São Paulo, so we needed five days. (laughs) No, we're not. We have a couple of days off and we are going to do some sightseeing in Brazil. Charlotte: Destroying some more pools on the way over there. Martijn: Yeah, exactly! Charlotte: We'll enjoy ourselves. I was really interested to read on Delain's website that October 29th is actually the last show in Holland before the new album. Where are you on the new album? Charlotte: We are writing it. We have some songs and ideas for songs and we are hoping to get into the studio and get on going with it really quickly. Martijn: When we are back from this tour, actually the biggest part of the writing starts then. Then we really are planning to do a lot of stuff. Charlotte: We are going to lock ourselves in together. Is that what it takes when you are writing? To just step out of your lives and hunker down to write? Charlotte: If you have unlimited time, I don't think you would need it. But at this point, we want something to happen fast. So, it is just making the circumstances to write more optimal.

Martijn: And it is also very easy if you sit together, to develop the style you want to do. Because you always want to innovate a little bit. When you are on your own, you cannot do that. So you need to be together for that. We have a lot of activities normally … without writing even … so it's very important to really focus on it and don't have any distractions. So we hired a small farm house in Holland and we are going to write and hope something good comes out of that. Charlotte, when you first started with Delain, a lot of the material for "Lucidity" was already written and you were doing vocal lines. And then in "April Rain", it was much more collaborative. Now that you have worked together on two albums and know each other's style, what is the process like? Charlotte: Actually, a lot of parts stay the same but some things change as well. I guess we are still working the same way. It is just that you get together earlier in the process, which makes it easier to respond to each other. At least for me, I like it better. I mean, the filling in the gaps on "Lucidity" was really cool but it's richer to be there from the beginning and see how everything develops.
Martijn:
But also from my side, it is better. Because if somebody is really into it, this music is like transporting your emotions … it's like transporting feelings and atmosphere. And if you are totally into it, then it benefits, of course, the music.
Charlotte:
And you also see that it kind of gets together in an earlier stage. Where sometimes there would be a song and there would be a lyrical interpretation of that song. And I think those became closer to each other. You know?
Martijn:
But also the other way around, especially with the songs I write. If Charlotte writes something with Guus, then I only hear it almost at the end.
Charlotte:
That's true, yeah.
Martijn: Which I think we have to look into, if that is the most efficient way. But that is something for the future. Also still, the way of working is still moving. And that is good, because we are still exploring.
Your bass player, Otto der Oije, is a VERY recent addition to Delain. Would you tell us a little about him?
Charlotte: He was with us for the first time at the headline tour in the U.K. earlier this year.
Martijn: This felt like … I don't know if it is also an American saying, "a lot of the lottery". Something like that. What is the American saying?
"Luck of the draw" is probably the comparable American saying.
Charlotte: Luck of the draw, that's it.
Martijn: Exactly. It's really great … really, really great with him.
How does it feel that
Delain
is now a band that other Delain are completely excited to play with? For example,
Kingfisher Sky
is tweeting about opening for
Delain at the Tivoli show.
Charlotte:
It feels great, of course! If you look, for example, at the other band that is opening, Stream of Passion is a band that I bought tickets to see. I bought tickets to see them in concert before I was in Delain, so it is kind of a turn-around. It is really cool, and we are really grateful for the things that we have achieved.
Martijn: Because you achieve it yourself. But you also achieve it because of the people who visit you and who buy your stuff. They also achieve it for you, and that is very important to keep in mind.
Speaking of that, you spend A LOT of time on social media … you tweet, you write tour blogs, you're taking pictures and posting them. "Here is where we are, here is what we're doing, here is my kitty, here is what is going on in my life". How do you keep that up when you are on the road, recording, writing music and living your lives?
Martijn: It is especially because of Charlotte, I think.
Charlotte: Actually, I went into the whole thing kicking and screaming, when they said, "Now you also have to do Twitter". Of course, I liked the social networks and everything that is on there and it offers a lot of possibilities. But it wasn't until the Twitter thing that I actually got really ADDICTED. But, it's actually the most short and effective and fun way to get in touch with the people who like to follow you. Because, even if you are on MySpace and want to answer everybody, you can't. With Twitter, it's just 140 signs and you have a really short connection to everybody. It works, you know? You see that people actually FOLLOW you and you get kind of a gratitude for letting people know what you are doing.
Martijn: It gives energy.
Charlotte: That makes me feel happy. It's like kind of a confirmation that what you're doing is cool. I mean, of course, you don't need other people to say that, but the fact that they do is fun! My parents ask me when I'm on tour, "You're going to tweet a lot, right? We want to know what you are doing". Sometimes my parents are like, "Hey, I read on Twitter that you are eating healthy foods".
Martijn: It is also a blessing because I'm SO bad, I suck so much with this stuff. I want to get to answer but I sound so bad. It's also a guy thing … I have a feeling that girls are better at this kind of stuff. Set aside that. I don't want to blame it on the general male side and have to blame it on myself.
Charlotte: Actually, I never heard the thing that girls are more computer nerds than guys. I never heard that one before. (laughs)
Martijn: Not really computer nerds. I mean like being thoughtful about having good contacts. That's what I mean. It's good that Charlotte does that.
I'm curious about the extent to which the art history degree Charlotte is studying now colours your lyrics writing? The lyrics in "April Rain" have a very strong visual element.
Charlotte: When "Lucidity" was recorded, I wasn't at university yet and was 17. So that wasn't like an influence back then. The lyrics for "The Gathering" were written by Guus and there were some songs written by another guy who had some really poetic stuff on there, which was really cool. I kind of needed a dictionary for some it, though. They are not my words but I was in a band with him before and he really influenced me in the way you look at lyrics. Still, it is a very different kind of lyrics than ones that I would write.
Martijn: But also very complicated words sometimes.
Charlotte: They were REALLY good-sounding and with a really good metronome to it. They were really well thought over and excellent. But it is still different when it's your own thoughts put to words. And from that, I think it has changed much from "Lucidity" to "April Rain". I guess those are a little bit more personal. But on the other hand, when you are talking about really regular things — like things that happen to you in day-to-day life — it is interesting to put them in a different kind of form. If you look at the art history study, it helps to have a different way to say something. Like if you are looking at "Virtue and Vice", it is about the virtues and the vices. You are talking about wanting to be something better and reaching out to them and saying, "I wish I was more like this virtue, or I wish I didn't have so much of that vice in me". It is just a more interesting way to say actually the things that I guess everyone thinks about every once in a while. So you keep them lyrically interesting but still comprehensible.
I'm feeling kind of lazy. So Charlotte, why don't you ask Martijn some questions. And Martijn, what would you like to ask Charlotte? The ruder, the better actually … please do my job for me. J
Charlotte: (laughs) Martijn, what have you got in your suitcase right now at this tour that you are really ashamed about?
Martijn: That's a good one! So, whatever I answer will be bad. I'm a totally boring guy if I have nothing and that's not good. OR I have something really strange, which is also not good. So, I'm screwed both ways. Let me think, what do I have in my suitcase that I'm afraid might be found and am ashamed about?!? I think I'm a boring guy.
Charlotte:
Not anything? Not even some dirty underwear?
Martijn: No, actually.
Charlotte: Ah right, it's the first day of tour.
Martijn: I think I wipe my ass very well. You asked for it!!!
That is SO being published.
Martijn: No no no no, don't publish that! Don't put that on the record … "wipes his ass very well". No, I really, honestly, cannot think of anything. Actually because my bag was stuffed with a lot of equipment.
Charlotte: That is true. We didn't get to take a lot with us, so we didn't get a chance.
Martijn: I have a book of Napoleon and some history. I'm a real history addict, so I know exactly who is there on the walls. (Points to pictures of monarchs and military figures in the restaurant.) But anyway, to answer your question, I'm boring.
Martijn, what embarrassing questions might you have for Charlotte?
Martijn: Actually, I'm even meaner. I want to know …
Charlotte: He's going to ask something that he already knows, that is really embarrassing. And then he is going to ask it anyway.
Martijn: No no no. What question would you REALLY hate to get in an interview … where you think, "Oh no, not THAT question!"
Charlotte: "What's your favourite colour?"
Martijn: That's a little bit disappointing.
Charlotte: I was just trying to keep it safe.
Martijn:
No, I mean like personal stuff.
Charlotte:
Personal stuff. Ah, when people dig too deep about what stuff is about. I mean, if you give a general impression like, "This song is about that". And some people keep going on about, "Then you said THIS word, and what does THAT mean?"
Martijn: Yeah, because she had her period back then, and she was very annoyed. This kind of stuff.
Charlotte: Exactly, exactly. Probably those kind of things. Or people who ONLY ask things that are in our biography at the website. Because then you just know, you didn't do your homework. That too.
Martijn: Okay, your turn I guess. If you have another.
Charlotte: My all-time favourite question, which I was asked once by a Japanese guy, and it is the weirdest question I ever got. If you were a fish, then what kind of fish would you want to be? They actually asked me this. I was like, "Salmon or tuna, salmon or tuna, salmon or tuna, salmon or tuna …?"
Martijn: I would like to be a dolphin.
That's not a fish, dude.
Martijn: That's true, that's true. It's a mammal.
Charlotte: A starfish is cute, like a little starfish.
Martijn: A brown starfish. No, I'm more into lobsters, but that's not a fish either.
Charlotte: Man, know your animals!
Charlotte: What about the Nemo fish. The Nemo fish is cute.
Martijn: That is gay. I think I would like to be a …
Charlotte: … you'd be an eel.
Martijn: An eel, yeah! Or a herring.
Last question and then "goodbyes" to all.
Martijn: What do you like about the lyrics of "The Gathering"? (sinister laugh)
Charlotte: I like the fact that no one until today has really figured out what it is about. Yeah, that is what I like most about it, I guess. And the lyrical theme is quite cool.
(Martijn continues laughing)
Charlotte: Asshole. (laughs)
Do you have any last profound and deep words for your friends, admirers and would-be stalkers at Femme Metal?
Charlotte: Please stalk us. We need the attention, especially Martijn.
Martijn: Don't read this interview more than once.
Actually, read it again but backwards. It's much more profound.
Charlotte: Yeah, there are hidden messages!
Many thanks to Charlotte, Martijn and Delain's tour manager Rik for being charming dinner companions and utterly gracious throughout. Our thanks also to Dave at EarsplitPR for arranging the interview.
Links
MySpace * Facebook * Twitter * Site
Latest Multimedia
6 color styles available:

Style switcher only on this demo version. Theme styles can be changed from Options page.