Browsing articles tagged with " windows"
Label : Frontiers Records
Review by Tony Cannella
Until recently, Amanda Somerville has been most notable for her work with Epica and Avantasia, but in the last few years she has released a solo album ("Windows"), an album with ex-Helloween singer Michael Kiske, and now her new melodic metal project Trillium. The debut from Trillium is called "Alloy", and is another great showcase for Amanda's beautiful vocals, but she also shows different sides to her vocals and music that she has not shown on previous albums. First thing is that Trillium is a melodic metal masterpiece, lyrically and vocally Amanda displays anger and an attitude, but also vulnerability throughout "Alloy". Some of the lyrics have an edge to them and the vocals follow suit. "Alloy" opens with the aggressive "Machine Gun" which is about as subtle as a machine gun. "Coward" follows and is rightfully the first video from "Alloy". "Purge" is next and opens with rapid fire guitar riffs and I would love to see this be the next video – my favorite song, without a doubt. Amanda is joined by a wide array of musicians. Sascha Paeth handled the production duties as well as guitar, bass, keyboards and he also co-wrote many of the songs with Amanda. Another big name is guest is Jorn Lande who adds his distinctive vocals to "Scream It" on a duet with Amanda. This song lulls you into a false sense of serenity before the song picks up the tempo and Jorn and Amanda work well together. Other highlights include: the moody, tempo changing "Utter Descension", "Bow to the Ego" and "Path of Least Resistance", but I could mention every song, I don't think there is a weak moment on "Alloy". It is one of those rare albums that starts off strong, finishes strong and everything in between is just as strong. With 2011 coming to a close, I suspect that "Alloy" will be at the top of many yearend lists. In a word – and I don't mean to oversimplify things - "Alloy" is awesome and one of the best albums I have heard all year. Amanda Somerville is fast becoming one of my favorite singers and I can't wait to hear what she does next.
Rating – 100/100
Tracklist
Machine Gun

Coward

Purge

Utter Descension

Bow to the Ego

Mistaken

Scream It

Justifiable Casualty

Path of Least Resistance

Into The Dissonance

Slow It Down

Love Is An Illusion
Line Up
Amanda Somerville – Lead Vocals

Sascha Paeth – Guitar, Keyboards & Drums

Olaf Reitmeier – Acoustic Guitars

Sander Gommans – Guitars

Michael Rodenberg – Arrangements and Keyboards

Simon Oberender – Keyboards

Robert Hunecke – Drums
Links
MySpace * ReverbNation * Facebook * Twitter * Site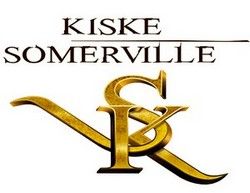 Interview by Robin Stryker
When Femme Metal last spoke with American singer/songwriter Amanda Somerville in late 2009, she had just released her solo album "Windows" and was looking forward to an exciting new project. Fast-forward to today, and Amanda's project — an album of rock and metal duets with Michael Kiske (Helloween, Place Vendome) — is ready to hit the streets on 24 September 2010. Read on for the inside story on Kiske/Somerville, little pink pig butts and the windows to Amanda's soul
.
Amanda, a warm hello to you and a belly-rub to Blitz! Thank you for returning to Femme Metal for Somerville Part Deux.
Thanks so much! It's nice of you to have me, and Blitz is pleased, as well.
We are thoroughly smitten with "Kiske – Somerville", your new album with Michael Kiske. Duet albums are rare creatures in the world of metal. Who was the mastermind behind the idea of recording an entire album of duets?
Why, thank you; so am I! It was actually Serafino's (of Frontiers Records) idea. It seems that Michael has the boss of a record company as a huge fan and a musician couldn't wish for anything better, I suppose!
When and how did you first learn about the project? What was your reaction?
It was sometime in the spring of last year, I believe. Mat Sinner called and asked if I'd be interested in doing a duet album with Michael Kiske and I was very flattered that I was on their list of prospective singers. I thought it would be great to finally be able to work and sing directly with Michael after a long time of kind of indirectly working with him on projects like Aina and Avantasia, so I was thrilled!
"Kiske/Somerville" has a stellar line-up of musicians. My doodle of who worked with whom and on what projects ended up looking like a diagram for a microchip. Would you introduce your cohorts, and tell us which of the gentlemen you have collaborated with before?
Certainly! Mat Sinner (Sinner, Primal Fear) was the creative mastermind behind the project as the producer and principal songwriter. I'd never worked with him before, but it was really a great experience because he's very competent as a musician/producer/songwriter but he's also a very laid back, nice guy. After we did the recordings, it went so well that he asked if I'd like to go on tour with him with another project he was overseeing called Rock Meets Classic and that was also a lot of fun.
Magnus Karlsson (Starbreaker, Primal Fear) did some great guitar work and songwriting for the album, as well. I'd never worked with him before this and haven't had the chance to meet him in person yet, but I'm sure I will.
Jimmy Kresic (Voodoo Circle) co-wrote some songs and performed keyboards and did an excellent job. This guy is a freak, and I mean that very positively!! He was on the Rock Meets Classic tour with Matt and me and totally blows me away as a musician and as a person. He's quite the character!
Martin Schmidt is a great drummer and all-around good person. It was in his studio that we recorded my vocals for the record and he did the engineering. He was also on the Rock Meets Classic tour and we had a blast together.
Sander Gommans and I had worked together already back in his After Forever days and he and I also did the HDK project together. We wrote 3 songs for the album and he also played some guitar parts on the project. He's also quite a talented guy and has become an even better musician and songwriter since I first started working with him back in 2003.
Was this your first time working with Frontiers Records? Was it a good experience?
It wasn't really my first time because I'd helped Oliver Hartmann out with a few things for his albums while he was still signed with Frontiers, though it was my first time being really involved with them. And yes, it's been a very good experience.
Mat was originally slated to write the entire album but you and Sander ultimately wrote three of the tracks – "Arise", "A Thousand Suns" and "Set Afire". How did the switch come about?
After Mat had asked me to be a part of the project and sent me some songs, which I liked, I called him back to ask if there was any room for getting involved in the creative side of the music. He said they were open to ideas, so Sander and I got busy and wrote 4 songs for the album initially but one was too heavy on the metal side, so 3 made it onto the album, which is cool. I'm just as much a songwriter as I am a singer, so it was really great that I was able to add to the creative side of things on this album, as well. It makes my connection with the project even closer and more personal and it's like my baby, too. :-)
Considering that you all live in different cities, what was the song writing and recording process like?
Well, I'm not sure how Mat, Magnus and Jimmy went about their songwriting and recording exactly but nowadays with the internet, it's so much easier to collaborate from afar. I like to do my songwriting one on one, if at all possible, so Sander and I wrote and recorded the songs we did in his studio (Eternia) together in the Netherlands. Michael recorded his vocals in his own studio in Hamburg and I recorded with Mat and Martin in Martin's Audiospezialist studio in Stuttgart.
A quick detour before getting back to the music. I laughed myself silly reading your recent twitter post: "You know you've made it when girls are taking their clothes off to your music. Yep. Strip clubs are playing my songs." In your wildest imagination, did you ever think your music would be the soundtrack for the thong-and-stiletto set? As a public service to, errrmmm, stimulate the global economy, are there any particular tracks that really make those dollar bills and Euro notes fly?
Haha!!! I'd never really given it much thought, to be honest, although I always could picture "Get Me" in a movie soundtrack set to some sexy club scene. Once a couple years ago, a woman who gives lessons on how to strip actually asked me if she could use that song in an instructional video she was making, so that was already the start of it. Apparently, "Get Me", "Inner Whore" (surprise on that one, eh?

and "Out" are favorite choices.
The other completely random thing that caught my eye was the jingle you wrote and recorded for a swine flu vaccine. What was your inspiration while writing the song – rashers of bacon, piles of pork chops, endlessly watching the movie Babe? And where, oh where, can we get a hold of it?
Oh, man, this is funny! Yes, it was truly one of the weirdest things I've done in my career, but I still think it's so cool. I mean, it was for a vaccine against this sickness that caused diarrhea in pigs and the ad campaign had a huge pic of a little pink pig butt. How hilarious is that? I'm extremely silly, so I didn't really need any big preparation for writing this but I'll tell you what: it was the hardest singing job I had because I could not stop giggling while I was singing! And seriously – you cannot sing well when you're laughing. As far as where you could find it, I really don't know. Only my family (it was a huge hit with my nieces) and the company I did it for have it. Perhaps that'll be a Somerville Rarity that I'll include in some compilation at some point!
Okay, back to more serious things. The first single "Silence" and its music video were released on 20 August 2010. Why was this song chosen to introduce fans to "Kiske/Somerville"?
I think it's a great song but it's also a good "middle road" pick to sum up what people can expect from the album. It's one of my favorites that I didn't write.
It was interesting to read that, despite having worked on albums together previously, you and Michael met for the first time while shooting the videos for "Silence" and "If I Had a Wish". How was it to finally meet him in person?

If you've seen my video blog I did for the video shoots, you can see that I was very excited, of course. And it's funny, because those videos I record are really candid. I'm just shoving my camera in people's faces at random intervals and so when you see Michael's face when I explain that it's the first time we've met face-to-face after working together on earlier occasions, he looks a bit confused. That's because he never realized that it was me who sang the "Silver Maiden" demo for him, for example, or that I was also part of Avantasia, so that was all news to him! And it's great that I got that initial surprised reaction on camera. :-
)
Michael is known for his vocal range, including the ability to hit some impressively high notes and his fast vibrato. Which songs on the new album best showcase these particular talents?
I don't know that one song particularly showcases his talents better than the others because you can hear his trademark sound in every one. However at the end of "One Night Burning" there's a high harmony in that little "This love is killing me" part and he's singing that together with me. That's HIGH!

In your previous work, your vocals have spanned the range from operatic (
Epica
) to rock/power-pop (
"Windows"
solo album) to fiercely hard-edged (
HDK
). Where along that continuum do your vocals on
"Kiske – Somerville"
fall?
This was a very comfortable album for me to sing, range-wise. Wikipedia states that I'm a mezzo-soprano and I don't know who entered that but it's not correct! I can actually sing everywhere from tenor to soprano but I'm most comfortable as an alto. I don't like singing really high because I think it just sounds silly and I was happy this album wasn't operatic and all over the place. I'd say that stylistically it's pretty much in the middle of things I've sung, probably more rock than anything. It's powerful in some places and delicate in others, so it's a nice balance.

The new album is a vocals-driven album but the musicianship is also top notch. What tracks most appeal to you for their composition?
Taking the biased route, I'd say that "Set Afire" is probably my favorite but more so because of the extremely personal meaning it has to me, but my other favorites are "Second Chance" and "Silence". I think both of those songs are beautiful and heart-wrenching.

My personal favorite for sheer emotional impact has got to be "A Thousand Suns", a personal song that feels like first being flayed and then sprayed with acid. It's a lovely track, but the lyrics are nothing short of painful. Do you ever have second thoughts about spilling your heart into lyrics that a bunch of strangers will hear?
Thank you. Yeah, it's kind of a heartbreaker! Michael says that's his favorite song of the entire album, which is a huge honor. You know, I can't do things any other way, so I really don't have a choice in spilling my innermost feelings for the world to pick apart as they will. Songwriting is the highest form of communication and expression that I have and so it ultimately ends up being the biggest crack in my privacy, as well. That's actually what "Windows" is about: I see my songs as the windows to my soul and it's not always easy living with the breeze that comes in through those open windows. But not only for me. It's not easy for the people in my life who sooner or later end up in those songs, either! But I guess that's the price of being (or being involved with) a songwriter.
People who attended Sirens of Metal II in Detroit (USA) were lucky enough to be the first hear you perform two of the new songs – "Set Afire" and "A Thousand Suns" – with Ashley Peacock (The Times) singing the male vocals. How was the reaction?
Yeah, all 3 people in audience loved it. Haha! No, the reaction was very positive and more than anything, my band loved playing those songs and so did I! Seriously, I love-love-love performing those songs and when you pour that much energy and enthusiasm into something, people usually appreciate it.
Is a tour for
Kiske/Somerville
in the works?
We would love to do one but it certainly comes down to how well the album does. So it's up to the fans!!! Unfortunately, the people who would be doing work for a tour like this, which would be very expensive (as tours simply are), need more security than just Michael's and my desire to want to perform the songs live.
You have been quite cryptic about your future plans, except to say that something BIG is in the works. Can you give us any more hints? The suspense is *killing* us.
Well, I guess the unveiling wasn't exactly as much of a sudden *bang!* effect as I'd envisioned it being a while ago but the big surprise was that there's going to be another Avantasia tour in November-December and I'll be a part of that again but this time also with Michael!!!! I've known for a while but it had to be kept under wraps. Surprise!

I think it's super cool and have been really excited about it, I just couldn't say.
Thank you again, Amanda, for talking with us. Do you have any parting words for your fans at Femme Metal?
Thank you for your interest and excitement about the album, and I very much hope to be able to play somewhere near to you and get to meet some of you sometime soon!!!! xox

Links
MySpace * ReverbNation * Facebook * Twitter * Site
Latest Multimedia
Interview by Eetu "Ene" Niskanen
We have reached singer and vocal coach Amanda Somerville for discover the latest news about Epica, her new solo album "Windows" and more project too. Enjoy!
Hello Amanda thank you for accepting our interview!
Well, thank you so much for having me!
So for the beginning, as we've been told, you are working on a new project with Michael Kiske and Mat Sinner, how is it going and what can we expect of it?
The songs for the album are now complete (I'm contributing 3 songs myself to the album that I wrote together with Sander Gommans) and Matt and his partner Magnus Karlsson are now finishing up the recordings. I was in Stuttgart and recorded my vocals about a week ago and am very excited about the end result. Everything went very well and I was looking forward to it because this was my first time working with Mat & Co. I very much like the songs that are on the album and I'm also honored to be working with Michael Kiske again, since I've already been on albums with him before with Aina and Avantasia. You can expect songs that are more rock with a metal edge and I think it's going to be great!
This year you released your new solo album, the brilliant "Windows", how much work did it take to get it finally officially released?
Thank you for the compliment.

I can't begin to tell you the emotional, physical, mental and financial efforts that went into getting "Windows" finally released. The album was several years in the making (5+!) and then it was a self-release, so a lot of work went into everything from the cover & booklet design to pressing the CDs to doing promo. And I'm not done!
"Windows" had huge musical variety, how about your next solo album, will it follow the same kind of mixture or maybe something else?
Since my own taste is rather eclectic, my songwriting seems to follow that pattern, as well. I'm sure variety will always be a factor in my albums, but I'm constantly growing, gaining influences, changing. So far I have several songs already written for a new album and they're a bit darker yet than "Windows" .
Also this year you worked on a project called HDK with Sander Gommans (ex-After Forever), how was the experience working as a vocalist on a lot heavier material than work on your solo material?
It was great! I love a good challenge and this was without a doubt the heaviest thing I've done in my career up until now. I was also able to try things out and sing in ways I normally don't because the material was so incredibly… thrashy!

But I totally got into it and feel like it's my baby, too. I'm quite proud of the work Sander and I did together and since then we've been working together pretty regularly. So it was all around a win-win situation!
Another thing you did in 2009 was Epica's new album "Design Your Universe", you worked as a vocal coach for Simone, sang the backing vocals and in the choir, how was it working with Epica again?
I also made a guest appearance and sang a duet originally on "Unleashed", for which I wrote most of the lyrics, as well. That version is apparently a bonus track for "Design Your Universe". It's always been fun working with the Epicans and we came up with more good stuff this time, too, in my opinion!
You are working on new songs with Sander Gommans, how is it that turning out?
Oh, it's always a lot of fun working with Sander. We're a pretty good creative match, so the work flow is always great and the end results are solid. We've got more work in progress for a few different projects, so we'll see!
Years ago you were part of project "Aina", you wrote lyrics and the concept and worked as vocalist, can we expect any more music as follow up for the brilliant "Days of Rising Doom"?
Goodness, that's a wholly different can of worms and, even though I've written a sequel for it, it doesn't look like that'll be happening any time soon. Who knows for the future, though…?
You have worked with so many bands and projects, have you ever thought of fronting a band of your own? With this I don't mean solo work, as an equal band member.
I have my respect for bands but I really don't think it's my thing. I'm not one to say "never," however it's not something that I can see myself doing right now. I'm much more of a solo musician when it comes to my own music and always have been!
Last year you were touring with both Epica and Avantasia, how was the experience?
Fantastic! I'm a gypsy at heart and performing is my favorite thing to do, so I was completely in my element. I think you could tell from my video blogs, couldn't you?

What kind of music do you listen yourself and how often?
Quite varied, actually, and I listen to music almost all the time. Usually it's something that relaxes me, helps me be sad when I need to be sad or gets me in a good mood
Who are your biggest influences?
My family and the musicians I've worked with the past several years (the Gate Studio team).
With all these projects and collaborations what can we expect from you next year?
More live shows, more guest appearances with various bands/projects on albums, new songs, new crazy videos – the works!
Where do you see yourself in 10 years?
Doing the same thing, but more of it, on a higher level and probably with 2 or 3 kids to take care of on top of all that. Not sure which continent or country I'll be in, however!
Thank you for the interview and take care!
Best wishes to you!
Links
MySpace * ReverbNation * Facebook * Twitter * Site
Latest Multimedia
Independent Release
Review by Tony Cannella
Amanda Somerville is perhaps best known for her work with Epica, Avantasia, Aina and others. She even filled in for an ailing Simone Simons on Epica's last U.S. tour (and did quite well, in my opinion). She has just issued her new solo album titled "Windows". This is actually her second solo release, her first "In The Beginning There Was…" was released way back in 2000. This CD was actually recorded between 2003-2008 and sees Amanda teaming up super producer Sascha Paeth (best known for his work with Kamelot) and Michael "Miro" Rodenberg. Don't expect anything along the lines of Epica, Kamelot, Avantasia and other such bands. "Windows" features 12-songs and 51-minutes worth of AOR flavored songs with a definite hard rock edge. The CD was largely written by Amanda Somerville with collaborations on certain songs by Sascha Paeth and Michael Rodenberg. The CD kicks off on a definite high with the great opener "Mayday". This is an uptempo number with a great chorus and the fantastically huge vocals provided by Amanda. A solid opener that is among the very best that this CD has to offer. "Point of Safe Return" is next and is another highlight. It is a slower tempo than the previous song, but it has no less heart and passion. A cool song that would make a great single (in my humble opinion). "Moth" is keeps things moving along smoothly and keeps the quality of the songs high. Another song that would make a great single, thanks to it's infectious chorus. "My Song for You" is another favorite. Other highlights include: "Out", "Inner Whore", "Get Me" and "Carnival". The CD is concluded with three ballads: "Sometimes", "All That I Am" and "Windows" are a perfect way to end things. The songs presented on this CD are quite diversified and the lyrics written by Amanda Somerville on "Windows" are thoughtful and introspective.They say the eyes are the windows to the soul. Well, with her new CD "Windows" provides a look into the soul of a talented singer and song writer. I can't remember when I have been this excited about a non-metal release. It gets better and better with each listen and should be judged on it's own merits. "Windows" is definitely a CD of substance and quite worthwhile.

Rating – 85/100
Tracklist
Mayday

Point of Safe Return


Moth

My Song for You

Get Me

Inner Whore

Out

Carnival

Clean

Sometimes

Hide Safely

All That I Am

Windows
Line Up
Amanda Somerville – Vocals & Keyboards

Sascha Paeth – Guitars & Vocals

Miro – Keyboards & Vocals

Olaf Reitmeier – Bass

& Vocals

Robert Hunecke-Rizzo – Drums, Percussions & Vocals
Links
MySpace * Facebook * Twitter * Site
6 color styles available:

Style switcher only on this demo version. Theme styles can be changed from Options page.