Browsing articles tagged with " winter"
Interview by Si Smith
"It exists a girl who lives on the moon, her name is… LUNAINFEA". So begins the Lunainfea biography and it is at this point that we greet the band in their creative process. Italy has produced many high-calibre bands recently and Lunainfea are the latest to hit the big time. Femme Metal had a word with Katla Hausmann, to find out more.
First of all thanks for making your EP, and thanks for this interview. Welcome to Femme Metal webzine. Lunainfea is a new band to many of us, please tell us how you formed and introduce the other band members to us?
The band was born in the 2005 from the intimate vision of the music by Julian Nardi and Kaio Karras, which began to create a background blues sound. After Alessandro Rubin gave a stoner boost, I became the Nymphet moon's Voice that completed the alchemy that burst into our best sound.
The moon is a very strong symbol on your album cover and CD. Where did the fascination with the moon begin?
Conceptually, the moon is a far away symbol from demeaning stereotypes that we are surrounded to this day: it's distant but present and strong. In this point of view research of sound and themes began.
The story concerns a girl who lives on the moon – what is her story, briefly?
The loneliness's Daughter, Lunainfea spent her childhood in the lunar desert where the scent of nothing enveloped and protected her. In this absolute silence she evolved in a shell where she could feed herself of her being, feeling the deepest and the most intimate emotions of human beings, coming to pick an unknown flower to many : the purity is the metaphor, the idea behind our music.
When you started putting music together for this release, did you always know that it would be a conceptual album or did that come later?
The music is without limits and we knew before starting our EP, that we don't know where it will lead us.. thankfully.
Musically your influences appear to be many, from blues to psychedelia to stoner. Are there any bands you as a band like to follow or style yourself like? What music do YOU appreciate?
I started singing in childhood and in this moment I needn't rely on a definitive style, what matters is to express the energy inside me.
Your voice is very soulful and expressive when you sing. How did you get into singing, and how has your voice changed over the years?
My voice is something connected to my Island homeland, to the deep of the volcano and the screaming earth, a lunar earth that tells stories. My voice is the same through the years but the essence has changed, today I breathe on a stone … while the moon shines.
There has already been quite considerable positive critical reaction to the album. How have the reviews been so far for you? Has the coverage spread much outside of Italy?
Once we were convinced of the potential of the songs, we needed to record with someone who knew how to model, not just digitalize, the disk and Giulio Ragno Favero was the ideal person to entrust this task. This choice allowed us to receive good reviews from both public and professionals.
The EP begins with a inviting guitar riff, a hello and the call to "follow us". How do you hope that fans old and new will react to this material?
The following sentence is "I am your secret mirror", and a mirror never lies to old and new fans.
"In the Cage" is one of the more soulful and jazzy numbers on the EP. What style do you prefer to sing? Are there any favorite songs of yours you would love to cover on a future release?
I let myself go, will you put me in a cage for this??? Now we are focused on the new songs since we have a lot to say. We'll think about a cover later on.
On "Letter to Hell" there are more discordant musical tones in there and it has a harsher feel to it. Were you happy with how these songs sounded in the final mix? Does any one member of the band have the final say as to when a track is complete and if there is more work that needs to be done?
Each of us is born and lives with a distinctive character. "Letter to Hell", like other songs, is a statement written by four hands. My smile so benevolent and evil at the same time is what is that now.. and in the future.
This song is followed by a short spoken interlude entitled "It has arrived". Does this track and the arrival of winter represent a particular part of the Lunainfea story?
The winter's coming is experienced not as a cold signal but as an opportunity to see things through another point of view.
The EP seems to end on a hopeful note, except that Lunainfea cannot forget the events of "Winter '85″. What is your hope that a listener will feel by the end of the album? Do you think you have achieved this?
"Winter '85″ speaks about a child who for the first time has seen snow. This EP contains , not only songs but also an album of old pictures where many people can recognize and find themselves.
The music sounds like it would be a blast live. Have you more songs to fill a live set? Is it your intention to play live soon?
Together we are developing our label Nomadism live-promotion but now we are focused on the disc to give visibility to the band.
Finally, are there any secrets about the band you would like to reveal for our enjoyment?
Lunainfea is a declaration of love for the music and emotional challenge to ignorance. A search with no stereotypes, with a broad creative. This closely inspires us to a symbol, free and pure as a girl in nothing consciously represented by the lunar desert, brings us to rediscover sensations and memories simple, but for us, essential.
Thanks again for the interview and the great music, we wish you well with the EP and future projects.
Thanks you! it was a pleasure.
Links

Interview by Si Smith
Born on the streets of St Petersburg in 2007, this gothic incarnation of Russian musicality flies a unique flag amongst many of its fellow compatriates. With much Russian metal tending towards the folk and doom metal genres, it's is refreshing to hear a gothic (?) band originating from this musically fertile area. Although as previously mentioned in a previous review, their music is slightly more up-beat than the average gothic release so we should not be hasty in pigeonholing these guys at all. Let us allow vocalist Tatiana and bassist Yaroslav to represent the band and explain for themselves….
First of all thanks so much for talking to us at Femme Metal and welcome from all at the webzine.
Yaroslav: Hi, thanks, delighted again for our conversation, already a lot of time has passed since our last interview, and a lot has changed.
So guys, your first release upon the music scene was the first EP "Breathe Again" which you put up on the internet for free download. How did you feel about the final product you had released at that time?
Yaroslav: No we did not have to release, we rerecorded in another studio and added
a different song. Now for the past times we look at it as an original stage of our development, many come to know us solely due to the EP.
I understand that you worked quite hard after this on promotion of your material, from radio airplay to interviews and 'zine reviews. How difficult was it to promote other people's interest in your work?
Yaroslav: We sent many copies of our EP to various journals, fanzines, Internet radio and concert agencies. But because of the quality of its implementation we did not get the result we wanted. In general, I must say that in Russia things are not predictable; because of this it is very difficult, and sometimes do not understand how to promote the group.
Tatiana: I guess it is always hard to introduce new things to the public. That`s why Yaroslav always does all things, connected with promotion.
Quite early on in your musical career you got to play alongside bands such as Amorphis and Norther. How do you prepare yourselves for playing alongside such heavyweight names?!
Yaroslav: Not to say that we are very prepared, it was a higher stage of our development. We opened their Russian tour. After that there were more performances throughout the year with Reflexion, Lovex and Throes of Dawn (also a group from Finland).
Your first EP rolled off the press in 2010, containing mainly the material from the first two EPs. Did the tracks change much over time as you prepared them for the new release? Or were they very much in their original form?
Yaroslav : All the songs from the first two EPs were rer-ecorded again in the studio, we worked on the first album with the sound produced, so the sound was different and much higher. Therefore, it received high praise from beating rated in one magazine even better at the time than the Leaves Eyes' album. But I must say that our very first songs were sometimes naive, a kind of attempt at writing.
"Lateless" seems to have been a great success (our reviewer gave it 83/100). Did it open any specific doors for you? What was the initial reaction from fans and press?Yaroslav: As I wrote in the last response, it made a good impression. It showed that Russia can make a quality album, if you do everything right. Last time we interviewed you Nataly was singing with the band. How did the change to Tatiana take place? Yaroslav : Everything happened very smoothly, we knew that Nataly was to leave us because of her career at work, she moved to another city. Therefore, we started looking for her replacement. And with the new singer Tatiana, we recorded a single "Discover" and our last EP "Bless from the Heaven".
Tatiana, you now have to sing the songs Nataly sang as well as the new material. How has it been for you? What is your background in the singing world?
Tatiana:
First it was a little bit strange – I never sang this type of song, besides Nataly`s voice is quite different from mine. Some of her parts I had to change. The new material is much easier for me. As for background I always liked absolutely different types of music. But I
think that such persons as Tarja from Nightwish and Doro Pesch at influenced my way of singing and acting on the stage.
Musically all your music seems to feature a very solid guitar sound matched to memorable rhythms and thought-provoking lyrics. Apart from you two, how do the other members of the band contribute to the overall sound of Lateless?
Yaroslav:
Each team member contributes to the sound of the group in the arrangement of the song. However, I am the main author of the music, I must say that on our second album we are currently working on new material, the songs will be different, as in sound and in style. Just watch out for our friends.
Tatiana:
All the members of Lateless work together to reach the best sound that we can. All musicians create their parts by themselves.

The EP begins with a quite heavy guitar riff and a melancholy song topic "Grief and Ashes". Does this represent any particular event in your lives, or are they just great lyrical subjects?

Yaroslav:
The text of this song I wrote about 2 years ago, when I arrived in the deepest depression, it was a cold winter night, empty subway cars and empty, deserted street, unless of course you know what I'm talking about.
On "Of Your Memory" there is a great balance between the singing and growling vocals, with Tatiana's singing often echoed or completed by the growls. How do you two work together as vocalists? How do you go about writing the complementary vocal lines?
Yaroslav:
Growling on this song appeared quite by chance, we recorded it in the studio, and then tried to joke extreme vocals. And we liked the idea and we left it, it was good.
Tatiana:
Honestly, this idea about two vocals in one song appeared from the joke. Suddenly, Yaroslav's vocals we found to be totally suitable in this song. We were just surprised, but glad, because it sounds really awesome!) Another surprise for me was the really good efficiency of his work, he did only two or three takes before the final version. I was very glad because we
work really hard and it made the sound of the songs really good. Honestly, I`m very proud of myself too because we recorded vocals in a freezing cold studio and I thought that the low
temperature would make my voice sound worse than it is.
It is clear from the lyrics of all the songs on the EP that the themes of death and the afterlife are the prominent ones. How do the band members feel about these almost spiritual topics? Have you any strong views on these phenomena?
Yaroslav:
All songs on the EP, except for "Grief and Ashes" belong to our former vocalist Nataly, so you should ask her. We gave her a free hand in writing lyrics and trusted her 100 percent. For us, there is practically no taboo subjects in the lyrics, exceptions only fascism, satanism and other brightly expressed religious themes.
Tatiana:
As for me, I believe in the existence of afterlife. I think my point of view helps me to feel the sense of this song from my heart.
It seems from your various posts on the internet and other interviews that you are very passionate about your music. For each of you, what are the things that make you happy and what are the things that annoy you the most in your lives?
Yaroslav:
I live music, 24 hours; I'm a fan of music. I am constantly thinking of something to play on the guitar. I like to invent songs, beautiful melodies. I do not need much personally. A quiet warm evening in the company of close friends at the lake and a couple of bottles
of whiskey is good.
Tatiana:
Of cause, music makes my life really better and colorful. Music and love… the only things I`m living for today. As for annoying things they are typical for all people at my age – it`s exams and people`s misunderstandings.
Last time we spoke to you the future was quite "foggy" apart from a few major concerts. Has the future cleared at all for you? Do you have any visions for where Lateless will go next?
Yaroslav:
Now comes the summer, and we're in a small way inaccessible to fans. Since the last interview was a lot of concerts we went to a mini tour in support of the album. Attended transfer on television. Shooting the bonus DVD for our EP "Bless from the Heaven". We now plan to proceed to the shooting of our first music video. The song is in Russian, it is called
"Fly Away".

Tatiana:
We have a lot of plans, you know. The big dream of mine is to create a big album with a lots of songs, and I hope that soon my dreams will come true.
Finally may I thank you for your commitment to continue making music, and ask you if there is any message you would like to leave with our readers at Femme Metal?
Yaroslav:
Thanks for your support, it is always a pleasure to communicate with Femme
Metal. I think you give good support to really cool bands. I want to wish that you develop further, I want to have to see you in Russia; I think you're here to see prices show many how to work.
Tatiana:
I would like to wish all metal-lovers new absolutely different and interesting music from their favorite bands, stay with us, guys!
Thanks again and all success to the new EP!
Yaroslav:
Thanx, STAY ROCK!!!
Links
Latest Multimedia
Photo & Review by Ed MacLaren
Christmas came early to Texas this year as In This Moment's A Winter To Remember tour made its way to San Antonio. But as Santa's sleigh slid to a stop atop Scout Bar, it looked like vocalist Maria Brink's only Christmas wish would be for a functioning ear monitor system. Dressed in a candy cane mini-dress and fuzzy boots and surrounded by sparkling Christmas trees, tinsel and strings of light, Brink, along with guitarists Chris Howorth and Blake Bunzel, drummer Jeff Fabb and new bassist Kyle Konkiel took the stage to the throbbing metalcore of "Next Life" and instantly turned the crowd into a sea of banging heads. However, it didn't take long before ear monitor issues had Brink spending more time at her monitor stack than at the front of the stage. Despite the obvious distraction, Brink and the band pushed through ear-crushing versions of "Prayers", "The Great Divide" and "All For You" before Brink apologetically brought the show to a halt to rush backstage. Brink comes across as very sweet and soft spoken when she's not screaming like a banshee but from her look of frustration, those responsible should have stayed away from the spiked egg nog. In This Moment has been riding a wave of success since 2007's "Beautiful Tragedy" followed the next year by "The Dream". Constant appearances over the last two years with Ozzfest, the Vans Warped Tour and periodic festival spots at the Download Festival have turned the band into a touring monster. Malfunctioning guitars, drums and even ear monitors are daily irritations but the best bands take it in stride. Within moments Brink was back – ear monitor fixed – and definitely more in the Christmas spirit. In This Moment then blasted into a string of their strongest tracks from "The Dream". While "The Dream" featured more clean vocals instead of Brink's trademark screams, the slashing riffs of "Mechanical Love", and the single "Forever" kept the energy level high and gave her a chance to focus on another weapon in her vocal arsenal. Muscially, the band played as tight as Santa's belly after a Christmas Eve eating cookies and milk. Howorth, dreadlocks swirling like a helicopter, kept the riffs coming and the breakdowns fast and heavy but the show belonged to Brink from beginning to end. Brink's instrument is incredible, vocally changing from a guttural yowl to a powerful melodic wail in a heartbeat but her solo turn on piano with the ballad "Into the Light" showed an emotional range had held the audience enraptured. Eyes closed and soaked in sweat, she sang the song of hope in a raw clean voice making the lyrics sound just as personal to her now as the day she wrote it. Just to make sure the audience remembered they were at a metal show, In This Moment finished strong with a blistering take on "Ashes" – with guest screams from Chris Cerulli of opening band Motionless in White – and a truly majestic version of "Beautiful Tragedy". With the crowd primed for more, the band returned for a well deserved encore – not to the stage, but to the middle of the Scout Bar floor. Taking the mosh pit to the next cardio-inspired level, the audience literally ran circles around the band in a "circle pit" while the band slashed through "Daddy's Falling Angel". Things are looking good for a new In This Moment CD in 2010 which means more touring and possibly another visit to San Antonio. For now, there was nothing left for fans to do but head home and nestle all snug in their beds while visions of sugar plums and a killer In This Moment show dance in their heads.
Links
Label : Lycan Records
Review by Tony Cannella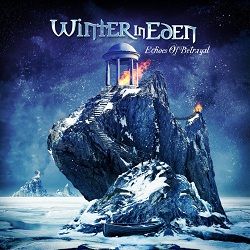 Winter in Eden is a female fronted Gothic/Symphonic Metal from the UK. The band formed around 2007, released their debut EP "At the Edge of the World" in 2009 and followed that up with their full-length debut "Awakening" in 2010 and that brings us to the present and their newest release "Echoes of Betrayal". So here we are again and Winter in Eden is proving to be one of the best bands in a crowded Symphonic metal field and "Echoes of Betrayal" should only strengthen their position. It is true that the Symphonic metal genre has become a very saturated (some would say over saturated) form of metal. There are still a lot of good bands coming up playing this style of music and Winter in Eden is a perfect example. The band has maintained that big orchestral sound and on their new album Winter in Eden has progressed all the way around as songwriters. The material bears that out – and they don't go overboard with the symphonic thing, the songs still features plenty of heavy riffs and the orchestration is used where needed. Like on their debut, lead vocalist Vicky Johnson's vocals are solid and clean if a little understated – not that that is a bad thing, she definitely is not of the operatic variety – she just has a very classy voice that goes hand-in-hand with the classy music that is being performed by the excellent musicians that makes up Winter in Eden. Musically and lyrically there is a definite maturity and confidence that comes with "Echoes of Betrayal". The opening classical intro starts off "For the Few", which is a solid opener. You just have to love Vicky's vocals and sometimes it is refreshing to hear this kind of music played without the obligatory opera vocalist (not that there's anything wrong with that). After the intro, the crunchy stop-start guitar riffs come in. "Possession" is next and is more of an up-tempo in-your-face song and definitely one of my favorites. "Awakening" ended with "The Awakening Chapters: I & II", on "EOB", Winter in Eden continues this with "The Awakening: Chapters III (Regret), IV (Torment) & V (Descension)". These songs are as good as it gets and perhaps the crowning jewel in WIE's repertoire. Other highlights include: "Trapped", "Lie What We Leave Behind", "Lies", "Suffer in Silence" and "Stone Cold" I can't really say if I like "Echoes of Betrayal" more or less than Winter in Eden's debut. It is quite simply just as solid as "Awakening" and a strong continuation on what they began."Echoes of Betrayal" is a very good album and one that the band should be proud of.
Rating – 85/100
Tracklist
For the Few

Possession

The Awakening: Chapter III – Regret

The Awakening: Chapter IV – Torment

The Awakening: Chapter V – Descension

Trapped

Lies

Suffer in Silence

Eyes of a Child

What We Leave Behind

Stone Cold

The Secret Room
Line Up
Vicky Johnson – Vocals
Sam Cull – Guitars

Steve Johnson – Keyboards

Ian Heddle – Bass

Steve Hauxwell – Drums
Links
MySpace * Facebook * Twitter * Site
Interview by Si Smith
Intro by Miriam C.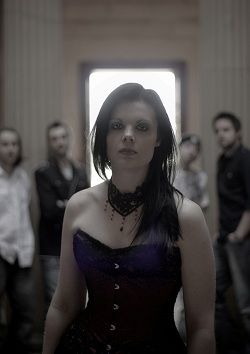 It's time again to give space to the British symphonic rock band Winter in Eden, after the 2010 debut "Awakening" it's time to talk about "Echoes of Betrayal", the new album out on Lycan Records, so we took the occasion to ask some questions to Vicky Johnson, their singer. Let's see what she tell about this second platter and some band novelties.
First of all thank you for doing this interview and a big welcome to Femme Metal Webzine.
My pleasure! Thank you for asking me!
We don't get that many gothic metal bands hitting the limelight from England – is there much of a gothic metal scene there?
We get described in lots of different ways, as we are at the softer end of many categories, so I feel that it would be unfair to comment about the whole of the gothic metal scene in general. But, from my experience, it is difficult for artists like us in England. It is an underground scene really….
The title Winter in Eden sounds like it should be self-explanatory. Could you tell us a little about the concept for the band and the band name?
The idea behind the name is to reflect the music; light and dark, orchestra with rock, masculine and feminine. Essentially, contrasts!
Your first full-length album "Awakening" was released in 2010 – how was this received by the press and the public?
It was received extremely well by the press and the public, which we were overwhelmed about.
Has your approach to recording changed much since the first album?
Yes, hugely… Steve (Johnson, my husband) has started to use real orchestra samples (on the keyboard tracks) and writes parts for many different instruments now, so there is a much denser sound. Also, we all feel much more comfortable, so we say what we feel and are not afraid to experiment a bit more. I guess we are starting to find our sound, and although the actual process is the same, we have paid closer attention to the orchestration in the mix.
Your voice fits the genre so well. Tell us a little about your singing experience.
Thank you! I guess I began singing when I started playing the piano; when I was 5 years old? I wasn't keen on playing the classical pieces I was supposed to be practicing, so I started to write my own songs and sang to them. I sang at school and church but never had any formal training as such. It was really when I went to secondary school that it became more serious for me. I wrote my own song as part of a music project and sang it to get the idea across. I was then asked to play keyboards in the school band that Steve was in, back then. I sang along to one of the songs….. Then stopped playing keyboards and became the second singer in that band. I was 12 at this point and we played everywhere from shopping centres to care homes. When I left school, Steve and I played as a duo and worked full time for a few years as musicians. We didn't do it all the time – we didn't really do anything musically for a few years, until the predecessor to W.I.E. got going at least, but it was a great grounding!
Has the band's line-up changed much since the early days?
Only slightly… Wayne, our original drummer, sadly had to leave earlier this year, due to illness. We are very lucky to have Steve Hauxwell join us now, as our new drummer. That is the only change in the line up.
Let's talk about the new album. After the orchestral intro the first song begins very boldly with a solid rocking sound. "For the Few" is an excellent opener. What does it feel like for you to sing a Winter in Eden song like this?
Thank you! I really enjoy singing this song and love the way it kicks in after the gentle start. I love to sing all our songs, of course. But, because I am one of the songwriters and the main lyricist, I already have a huge connection with each song. I guess only I really know the true meaning behind each word that I write, so it can be very emotional if it is a personal subject. It does give you a real kick when a song goes down well and you receive positive feedback, especially when people identify with the songs. "For the Few" is about the Battle of Britain and one of our fans even made a video to reflect the lyrics to it….! It never ceases to amaze me what loyal fans will do for you.
One of the highlights of the album is the "Awakening parts III, IV, V" sequence. As the Awakening saga began on the last album with parts I and II, could you tell us more about the story?
"The Awakening" is the story of a woman being abused and how this has affected the rest of her life. She simply cannot escape from it. Although there is hope, from the end of Chapter 1 and 2, that she can finally move forward and start again, the hope disappears in Chapter 3, as she has done something that she deeply regrets. It is kept open as to what she has done and that was deliberate.In Chapter 4 she cannot live with the guilt and commits suicide. Chapter 5 is the time to reflect, with the idea that she may finally be at peace. However, the track is called "Descension", so it is not clear if she is going to heaven or hell!
Many of the lyrics on the album seem to come from a dark or melancholy place. Where do you find your inspirations?
I find inspiration everywhere! It can be a personal experience, something I have seen, someone else's experience, a documentary, a film or pure fantasy. However, it's not necessarily a reflection of my personality. I find writing lyrics gives me the opportunity to air thoughts, concerns and frustrations that I otherwise would not be able to air, so I guess it is a good stress release for me? It helps my daily life remain positive!
You must have been very happy to receive a 9.5/10 for that first album review! And to get onto Classic Rock's Track of the Day is a great achievement too. If there was anything you would like to achieve with this album, what would it be?
Yes, we are very happy with the review and getting "Track Of The Day", especially with "Lies", which is slightly different in style from the other songs that we have written. Our continuing aim is to increase our profile and ultimately make this a full time concern. At the moment, playing in Europe is our next big goal.
I see you are signed up for the Whitby Vampire Ball!! That will be a blast. Have you plans for festivals and/or a tour to support the album? If so, what can we expect from a Winter in Eden performance?
We are very excited about that gig! We played a few dates earlier in the year to support the album release and have a few more dates planned later this year as well. As for festivals, we just played the Cambridge Rock Festival again, on the Classic Rock Society stage as main support to Kyrbgrinder, and it was a fantastic show with great support!! Really enjoyable!
Apart from the singing, are there any other sides to Vicky Johnson that we would not otherwise hear about? Do tell!
Where to start! I do like to keep a lot of my personal life private, but I guess a few people are starting to find out that I am a solicitor. People never expect that, so I usually get an interesting reaction!
Anyway, thanks so much for giving this interview. We wish the band all success in the future.
Thank you very much for your support!
Links
MySpace * ReverbNation * Facebook * Twitter * Site
Latest Multimedia
6 color styles available:

Style switcher only on this demo version. Theme styles can be changed from Options page.