Browsing articles tagged with " witchcraft"
Label: Metalism Records
Review by Vard Aman
WitchcrafT are one of those bands that you know you can always trust even though you know they're not going produce the same thing twice. Their 2011 album, "Ash", was a Progressive Metal masterpiece; and it wasn't standard Prog Metal fare either, but something much, much darker. In 2012, they released an EP called "Parallel Worlds" (you can read the review here) which moved away from Progressive Metal and more into the realm of Dark Experimental (Gothic) Metal, adding a whole range of new elements to their sound. They also moved away from English lyrics and now sing in their native Russian. This has worked especially well with WitchcrafT's music, because their new sound is generally harsher and the harsher qualities of the Russian language compliment it perfectly (like German works best with Rammstein), and that, as well as their change in style has given their vocalist, Ludmila Angel, a lot more freedom to experiment ("Riot Angggl" – read the previous review). Continue reading »
Label : Ravenheart Records
Review by Tony Cannella
WitchcrafT is a dark, progressive metal band from Russia. They were formed in 2005 and released their debut "The Voice From Inside" in 2008. Their just released second album is titled "Ash". Musically, WitchcrafT offers a classy style and the angelic vocals (no pun intended) of Angel. The band utilizes very prog-like keyboard passages that interplay nicely with the guitars. The intro "Memories" begins things and sorta reminded me a bit of Dream Theater when the keyboards kick in. That's no surprise since DT is listed as one of the bands influences. After the intro, the band launches into the haunting title track "Ash", tempo wise this song shifts gears from a slower style to faster and more bombastic, a cool guitar solo is also on display here. In addition to the beautiful vocals of Angel, some male vocals are also present throughout "Ash". I apologize for not being able to provide who performed the male vocals, but I could not find them anywhere on-line. "Flaming Night" is next and is a melodic power metal type of song and also one of the heavier and more straight forward numbers include here. The male vocalist takes the lead on this one. The ballad "Frail Rime" slows the tempo down a down a few notches and delivers a stunning vocal performance from Angel.The use of violins on this track helps to make it a somber, melancholic track. Other highlights include: "Oblivion", "Mist" and "Sleepy Hollow". "Ash" is a very strong second release from WitchcrafT. It maintains a steady, consistent path musically throughout its 53-minute playing time. Fans who love Prog-metal with haunting and dark undercurrents should check out WitchcrafT.
Rating – 85/100
Tracklist
Memories (Intro)
Ash
Flaming Night
Frail Rime
Oblivion
Alive
Mist
Sleepy Hollow
Black Waters
The Insight Tree
Eternity
Serenity (Outro)
Line Up
Lyudmila "Angel"– Vocals
Misha – Guitars
Ekaterina "Kate Noir" Alexandrova – Violin & Backing Vocals
Vladimir "V'olt" Ptashnik – Bass
Maxim "Max" Gusakov – Drums
Links
Interview by Vard Aman
Blackthorn may not need that much of an introduction to the more dedicated fans of the genre, this they have likely done for themselves. Since the seed was sown in Moscow in 2004, they have steadily grown into a unique and outstanding act, and have continued to grow as the sound they have consolidated over the years has become increasingly dynamic and extreme – as can now be heard on their new album "Codex Archaos", released at the end of 2011. Blackthorn have now become an all-female metal band (Max, their previous drummer and sole male member has been replaced by Varaska), although perhaps in keeping with the Blackthorn concept, it would be better to say that they are now an "all-witch band", or an "all-succubus band" – and such a description would be quite fitting for the dark sounds they conjure! I caught up with Aina, vocalist and founder member, for a brief chat about Blackthorn and their craft.
Hello Aina, and welcome to Femme Metal Webzine! Let's start right at the beginning. When you formed Blackthorn in 2004 was it your intention to eventually become an all-female group, or was that just something that happened?
Hello! I think it was something that just happened. Only later I realized that's cool and rather unique, so I decided to keep the band all-female. I can say that now it's kind of a concept. Sorry guys, only witches allowed.
What was your inspiration for the name?
One day I was looking through a dictionary and came across the word "Blackthorn". I immediately liked it and thought "What a great word. That's what we should call ourselves". After checking a couple of esoteric books, I found out that blackthorn is a tree of witches; they use it in rituals of cursing and initiation. Again, this is a tree of the spiritual strength and support, purification and protection. I did accept it, and I think it defined many things in our career.
What have been your main musical influences?
I guess I have had quite varied musical influences. My influences range from classical composers such as Sergei Prokofiev, Richard Wagner, Gaetano Donizetti and Edvard Grieg to contemporary composers such as Gyorgy Ligeti, Roberto Cacciapaglia and Lisa Gerrard; from metal bands such as Anorexia Nervosa, old Tristania, Mayhem, Watain, Behemoth, The Vision Bleak, My Dying Bride and Emperor to strange Dead Can Dance and Devil Doll. Soprano singers such as Norina Radovan, Nuria Rial and Yma Sumac.
Were you in any bands before Blackthorn?
No, Blackthorn is my first love.
The first thing that struck me when I first heard "The Prologue of Eschaton" in 2007 was not just the huge potential, but that there was something new and fresh on offer. Blackthorn already had a sound that was uniquely Blackthorn, and that has been developing ever since. Was the Blackthorn sound something that developed after you started the band, or was this the sound you wanted right from the beginning?
I'd say both variants are true. Started as a gothic metal band from the very beginning, we always had more extreme metal in mind.
For those who have not yet heard it, how would you describe the Blackthorn sound?
Some drops and essentials of Symphonic, Black and Gothic metal, an ethereal soprano, violent extreme vocals, thunderous rhythm section, sinister guitar riffs and mystic sounds of a violin!
"Edenbeast" was featured on the "Metal World Compilation Vol.3″ CD. How did that work out for you?
Well… The band didn't expect too much from the compilation, but we were pleased to participate, anyway. I can say it was released as the CD-appendix of Mattey magazine, and the zine itself is fucking great! Just as great as Femme Metal, of course!
And then you recorded the twin albums of "Gossamer Witchcraft" and "Araneum" (released in 2009) which continued from there. Now recently (2011), you've released your new album "Codex Archaos". How would you say your sound has progressed since "Gossamer Witchcraft"?
It's a lot heavier and a lot more aggressive. We're also more symphonic now with gorgeous Silver Voice; a choral ensemble of Moscow Conservatory. I want to believe the vocals have come some way since the debut album, too. As would be expected, there are finally growls and screams. Growls by Elvira and screams by me. Also, the recording process was a lot more organic this time and I think it shows in the new material. The difference between the old CD and the new album is pretty big, hope people will notice that as soon as they hear the first seconds of "Codex Archaos".
What was it like working with a live choir for the first time?
It was an incredible experience. We've been so lucky to get to work with the amazing Silver Voice on our new album. The guys were one of the great pleasures of the recording process. There's just something magical when a choir sings some sinister melody.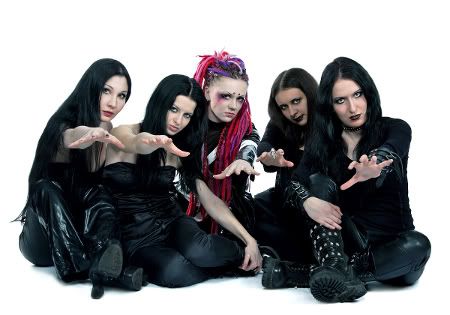 There have also been a few lineup changes since "Gossamer Witchcraft". Who are the new members and what is their influences have they brought to the new sound?
Yep, some time after the release of the debut album we got three new members; Greta (bass), Varaska (drums) and Less (violin). Some of them are more serious to the band; some of them have a different approach to playing the instruments than previous band members; some of them are unique with the absolutely new instrument for Blackthorn; some of them are more sincere, at long last! Their arrival was the fresh blood in the band and of course that gave some new ideas and creates a new sound overall. Many people think that with the new lineup Blackthorn sounds better than before. I agree!
Great cover artwork! Who designed it?
The cover artwork was designed by W. Smerdulak. Check out his huge portfolio on the internet; I'm sure you will like it, too!
Do you still play any songs from "Gossamer Witchcraft" live?
Yes, we still play "Necromance". We'll probably play one more song from the debut album later on.
One of Blackthorn's many outstanding features is your lyrics. You certainly have a way with words! Where do you get your lyrical inspiration?
Oh, thank you very much! Actually, I get inspiration from my own life when writing lyrics, because you know, it's more sincere to write about something that you have experienced yourself. I also read and watch a lot to find some interesting themes.
What would you say are your main lyrical themes on the new album?
Witchcraft, chaos and self-development.
Do you have any personal favorite songs from your albums?
My favorite songs are "Gossamer Witchcraft" and "Necromance". When it comes to "Codex Archaos", my favs are "Hexshadow Turned to Flesh", "Bestial Satan of Grotesque Beauty" and "Серебряный ключ" (The Silver Key). Damn, it seems I love all the songs from the new album!
You've played many shows in the Russia, Ukraine, Belarus and Estonia. Do you have plans for playing outside the CIS – a European tour perhaps?
Yes, yes, yes! We're proud to announce our first tour throughout Poland this February! Blackthorn will be touring with Russian Symphonic metallers Sinful and Ukrainian death metal band Def/Light. We are really looking forward to this 8th tour of Metal Spirit Resurrection. Don't miss it!
Do you have any plans to make a music video at some point?
Yeah, it would be great to shoot a video clip, there's something that should be covered visually. However, we do not have a certain plan for a video right now.
What do you like most about playing in a band? And is there anything you don't like so much?
I love the whole aspect of it – composing, rehearsing, performing, traveling and hanging out with the bandmates, of course. On the other hand, gigging is often a disappointing process because of the crowd or bad sound, but however gigs go, I always want more. It's great being in the band.
What do you like doing outside of Blackthorn?
Singing, reading books, cooking, taking photos with my camera. I also love to craft and design things.
And you like collecting different kinds and brands of tea, don't you? How many do you have now?
Absolutely right. I love teas, I have so many kinds at home…. Approximately 50.
Thank you very much for talking to us, Aina! We shall be continuing to follow your progress with great interest!
Thank you for the interview! Many thanks to all the readers as well!
Links
MySpace * ReverbNation * Facebook * Twitter
Label : MSR Productions
Review by Tony Cannella & Vard Aman
On their 2rd album "Codex Archaos", the Russian all female Black Metal band Blackthorn brings forth plenty of brutality and aggressive and weaves it nicely with orchestral musical passages. That is what we have come to expect from Blackthorn and "Codex Archaos" is a further progression for this talented band. The orchestral intro "Divination in Blood" gets things off to a theatrical start and segues into the antagonistic "Vehemence Came as Anodyne". This is a powerful way to begin things. Blackthorn is known for their 3 different vocal styles that they display. The main vocalist is the diverse Aina who offers soprano and screaming vocal styles, the guitarist Elvira also contributes growling vocals. Blackthorn does a great job in presenting different styles of their musical pallet. Songs like "Nemesis Incarnation", "Gorgon the Ascendant", "Posthumous Passion Ephemra" and "Bestial Satan of Grotesque Beauty" (try saying those titles ten times fast) are all highlights on an album that hits you hard and fast. The closing outro "The Fading Ceremony" concludes "Codex Archaos" in an equally theatrical way, thus ending things the way it began. With "Codex Archaos", Blackthorn continues to move forward in a very powerful direction.
Rating – 84/100
Label : Ravenheart Music
Review by Tony Cannella
Straight out of Russia come the all female Black, Death, Gothic, Symphonic metal band Blackthorn (not to be confused with the Graham Bonnet led metal band Blackthorne who released one tremendous album in the early 90s). This band have been around since 2004 and have just now released the debut CD "Gossamer Witchcraft". This is a CD that doesn't waste any time in getting to the point and with a relatively short playing time (only about 35-minutes) the CD has quite an immediate impact. The music of Blackthorn paints quite a broad picture and makes a definite impact in a short amount of time. The opening intro "Immortelle for a Hollow Grave" sets the stage as the band blast into "Edenbeast". The soprano vocals of Aina are front and center on this track, she also adds some screams throughout the course of the CD with keyboardist Freya helping out in that department as well. A nice opener that shows off the bands skill as musicians and songwriters. "Necromance" is next and it is a dark, heavy track with the screaming/extreme vocals starting out on this track before Aina joins in with her soprano style, as the two different styles go back-and-forth throughout the song. This is one of the better tracks that are presented here. "The Moon Emerged from Behind Clouds" is next and it really blasts through the speakers, with it's high tempo and standout musicianship. Other highlights include: "Saturnia", "Blackthorn Winter", "The Blackness I Prowl" and the closing outro of "The Cobweb Veils Fall Down with Grace". With songs relating to such themes as witchcraft, misanthropy and ancient cults, don't expect anything too bubbly or light on "Gossamer Witchcraft". Instead the music is the perfect soundscape for what the band is singing about.

Rating – 75/100
Tracklist
Immortelle for a Hollow Grave

Edenbeast


Necromance

The Moon Emerged from Behind Clouds

Saturnia

Blackthorn Winter

The Blackness I Prowl

Gossamer Witchcraft/span>

Hell on Earth

Will-o-the-Wisp

The Cobweb Veils Fall Down with Grace
Line Up
Aina – Vocals

Elvira Alchemida – Guitars

Freya – Keyboards & Hysteric Screams

Verbena – Bass

Varaska – Drums
Links
6 color styles available:

Style switcher only on this demo version. Theme styles can be changed from Options page.