Browsing articles tagged with " worlds"
Label : BlueFreya
Review by Tony Cannella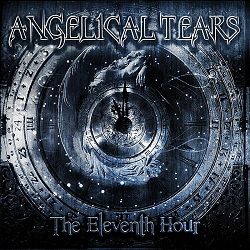 When one thinks of good symphonic power metal bands, the United States of America is not a country that first leaps to mind. Europe seems to be the birthplace of many a good symphonic power metal band these days. The States can boast a few good bands in that genre of metal and one of them is Oklahoma's Angelical Tears. The band formed in October 2006 and released their very good debut EP in 2010. Since that EP, the band went from being a six piece to a four piece band. Gone are the second guitarist and keyboardist. Now the new look Angelical Tears returns with their full-length debut, "The Eleventh Hour" and this is a band that has really started to come into their own. The EP was good, but this far surpasses it in quality and style, in my opinion.
On their Facebook page Angelical Tears describes themselves as Angelic vocals, demonic guitars, and thundering drums! That about sums it up, but there is so much more, like great songs, well written and performed and strong musicianship. I really like the Angelic vocals of Julia Flansburg, her style certainly fits the songs. The opening intro "Inceptum Fini" is pretty eerie and an atmospheric opening. The classy "Pool of Sorrow" follows the intro with a wall of solid riffs, a killer melody and some great vocals from Julia. Angelical Tears follows that up with the equally excellent "Queen of Hearts". Next is the melancholic ballad "Ballad" (which has a "My Immortal" feel to it). This an emotional song that is sure to induce chills in its passion. Also included here is a cover of the great Journey song "Separate Ways (Worlds Apart)". Anybody that covers Journey is OK in my book and Angelical Tears does a good job and even add their own twist to this classic song. Angelical Tears also include two songs ("Hate" and "Alone") which have the lyrics song in Russian. Other highlights include: "Another Day", "Sunrise at Sunset" and "With the Shadows".
For some reason after listening to "The Eleventh Hour" I have the feeling that Angelical Tears would be a great live band – the songs just exude that feeling. Hopefully those outside of Oklahoma will get to experience Angelical Tears live, but until then we can revel in the awesomeness that is "The Eleventh Hour". Continue reading »

Interview by Ed MacLaren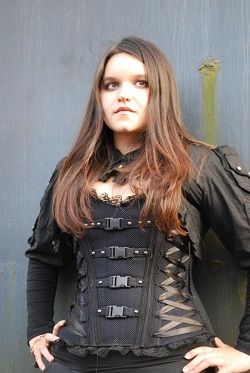 After numerous delays, Norway's Ancestral Legacy has just released an exceptional new album of doomy black metal with "Nightmare Diaries". But before the album was released the band experienced a nightmare for its own diary – the departure of longtime vocalist Elin Anita Omholt. While losing a vocalist might be a death knell for some bands, Ancestral Legacy are set to continue their own legacy with an excellent new vocalist in Mexican Isadora Cortina. Ancestral Legacy fans get the best of both worlds – they can listen to Elin on the CD and get to watch live as Isadora grows into her new band. Femme Metal got a chance to spend some time with Isadora and get her views on Mexican assimilation techniques for living in Norway, living the dream, and the importance of bringing your own shoes.
So how does a nice young woman from Mexico hook up with a bunch of long haired Norseman in a metal band?
I first met Eddie through MySpace, he added me as an Ancestral Legacy friend, I left a comment on the music and after some chatting we became friends. Like a year later he told me about a song he wrote and asked me if I was interested in working on it and of course I was – it's the song called "Atrapada en Pesadillas" from the EP. After the band got to hear the song, I met Christopher the drummer, we talked on MSN and things happened so I traveled to Norway for a month to visit him. While I was there Eddie told me they had not rehearsed in a while because of Elin's (former vocalist Elin Anita Omholt) accident, he was wondering if I could rehearse with them. After some months, Elin decided to quit and I was getting my visa to move to Norway and marry Christopher, it was kinda natural for them to ask me to join and it was like a dream come true to me. Now I live in Norway with the man of my dreams and play in the kind of band I always wanted to.
What was it about the band's music that attracted you to it? Were you a fan of Ancestral Legacy before you joined the band?
The first thing that attracted me was a song on their MySpace called "Murdered by Reality" I really love the ending of the song and how Elin sings it, I had it on my mind for weeks. After I worked with the song in Spanish, I got to hear "Out of the Dark and into the Night" from the new album and I could listen how mature and incredible the new material was. It was very mature compared to their older material and I think it's a very different sound from other metal bands with female vocals. I was not the kind of fan that screams and flash boobs when she meets one of the guys, I was more admiring how good musicians these guys are and how good quality songs they can create.
What's your musical background? Have you performed in any other bands?
Well, I had been most of my life a shower singer, then at 15-years-old I joined the concert choir of my school. My teachers were singers from the Mexican Military so it was a good way to start and of course I believed in myself as a singer. After three months of rehearsing two hours, five days a week they picked me as soloist. We had concerts out of Mexico City and we also sang for the President once. I had always been into gothic and metal stuff since my brother listened to Iron Maiden and my cousin to Metallica since I was a kid. Then I discovered that metal was also for girls by listening to After Forever, Nightwish and especially Tristania. My life changed and I knew that metal was what I wanted to sing. I tried to join some bands but my mom would not let me do it, so the only band I could join was my brother's cover band. We were playing four days a week in bars and it became a good way to get some money and train myself onstage. Anyway, I was getting frustrated that metal was not part of what the owners of bars let bands play. The good thing is that I learned to sing different styles; VERY pop things to more hard rock voices and that help me to get out of my head that the only way I could sing was the military-opera style I learned. In that period I did some presentations on TV, universities and musical contests. In 2008, I recorded two songs with the gothic German band Beyond the Void and also the song with Ancestral Legacy. Those experiences gave me a lot to learn on the studio and were very important to me. From then on my life completely changed so I went from singing metal in my room in front of the mirror to play original songs with the guys onstage.
How have things gone so far? Is everyone getting along? Is the band treating you well?
From the beginning they have been very nice and warm (that Nordic people is cold is not true at all). I was not sure what they were thinking of me until we did a three song-concert and they got really drunk, so they told me that they were really happy to have me on board. In the beginning they were hoping that my voice was not that soft. They wanted me to sing more powerful like Elin did because my voice can easily get lost within this hard music. But after rehearsing a lot with them – and in a way get used to the music without Elin's vocals – I got better and in the latest concerts they were telling me that I have improved a lot.
Replacing any longtime vocalist is a daunting task. Do you feel any pressure living up to Elin's vocal legacy? Considering that Elin's vocals appear on Ancestral Legacy's new album, "Nightmare Diaries", it must be difficult to step into her shoes.
Since the "Nightmare Diaries" album is Elin's album, I get to sing Elin's melodies but with the new songs I think I can bring a darker sound than Elin did. In a way I am not stepping into her shoes but coming with my own shoes to do my own thing. Elin is an awesome singer and I learned from her to print more power in my voice but now it is my turn to make music with them as Isadora not as the next Elin.
It was a long road for Ancestral Legacy to record and release "Nightmare Diaries" however the end result is a very strong doomy offering of black metal. How do you develop that connection to the music when you missed out on all the struggles to get it recorded and released?
In a way I didn't miss them that much since Christopher and Eddie were updating me on it via MSN and the release problems were on while I was moving to Norway. On the other hand, I was there but only through them. Since I came in, Eddie has given me songs and he is very open minded. He has never pressed me with what kind of lyrics or melodies he wants, he knows that I don't have experience writing vocals so he is very patient and helpful. The band know that the fact that I came in is gonna mean a change but at the same time all of us wanna have some new and different elements. Christopher has been into progressive drums and he thinks that that will improve his style with the band. We just wanna make music and we do it as it comes natural to us and that's the connection we all have with the music – no matter who came first or last.
What is your plan on reproducing the vocals live? What are you doing to put your personal stamp on the vocals?
For me, the most important thing live is that people get to feel the music as I feel it inside. If I am home alone I will not head bang or get really physically active, I just concentrate on the singing and practice on printing my feelings for the song in my voice. But when you sing live everything counts, and a good way to transmit what that music does to me is by being very active onstage. I hate to stand still and smile (as I had to do before) and of course since I practiced at home so much I can concentrate on the people there, in making them see that they are special to us no matter if they are old friends of just first time listeners. That formula works very well for me live, and it has helped me in the way that people don't compare me to Elin – they just accept me as I am and they like the music as it is on the CD with her and live with me.
Ancestral Legacy has been touring to support "Nightmare Diaries". What has been the fan reception to the album and your vocals?
DAMN AWESOME! For some reason I am always very worried of what the people will think of the band with me, but in the last concerts they have been buying CDs, coming to say hi and say how much they enjoy our music, telling me that they will be waiting for the new album with my vocals and of course head banging a lot! Especially they guys in Paris, they are so metal! I am really thankful that fans and friends of the band welcomed me in such a good way instead of just comparing me. And as a great plus, I was so happy after we made it to the local newspaper twice.
You've re-recorded "Separate Worlds" for Femme Metal's Demonic and Divine CD compilation. Have Ancestral Legacy been doing any other recording since you joined? Have your vocals and influence had an impact on the creative process of the band?
We have some new songs but we have not recorded them, just some demos without recorded vocals (since I don't have good recording equipment at home). But I have the lyrics and bad quality recorded vocals in my computer. I think new songs will be coming this year. Well, I don't believe it's my voice that impacts the creative process since Eddie has the same system: he writes a song, sends it to me as he once sent it to Elin and we work on it. He is not writing music for my kind of voice specifically. I have enjoyed it a lot; we have one song ready that is called "My Wretched Lord" and in a way I feel it's so mine and I feel it's easier for me to sing it. I think that will be for good in the future as it will be easier for me to interpret the new songs.
What are your aspirations since joining Ancestral Legacy? What are your goals for yourself and the band?
When I started my aspiration was to sing the songs as well as I could, now my aspiration is to write good vocals and lyrics for the new songs, and of course get a CD where I can read "Isadora Cortina-Vocals"! I have to say the band exceeded what I thought it would be. I never imagined I would play a gig in France or Germany. Now I see that everything is possible and I just wait for life to surprise me… Maybe one day we will get a world tour or something! Ha-ha! In my personal life my aspiration is to incorporate myself into Norwegian society, go to university, get to speak Norwegian perfectly and be a perfect wife.
Starting in a new band comes with a lot of new experiences. What have been your best and worst moments so far?
To start with a new band meant to start a new life with a new language to me. I do not regret anything and I have loads of new friends from all around the world. In a way, the best moments are each live concert we have had. After all of them we were always so happy. But especially the mini European tour we did was beyond everything. I didn't wanna come back! We went on tour with bands that became really good friends: Act III, Veil of Mist and Thorny Roses; all of them stole a piece of my heart. The worst has been that since I am not really used to the weather in Norway I get sick quite often so I usually come to the rehearsals with zombie face and a biiig pack of tissues. Unluckily, I got sick in France once so it was quite tiring to play, I was fighting with myself because I didn't want to sleep all day – I wanted to enjoy every single moment in and offstage!
Links
Interview by Ed MacLaren
"A Strange Utopia" is the latest progressive metal release from Lisbon-based Factory of Dreams. Combining dramatic vocals with intricate guitar lines and atmospheric keyboards, Factory of Dreams creates an epic journey into chaotic worlds of broken perfection. Not without a sense of humour, multi-instrumentalist Hugo Flores and vocalist Jessica Lehto join Femme Metal for a candid conversation about alligators, lip piercings… and, of course, music.
The CD focuses on the divisions between and within us while "A Strange Utopia" projects a more unifying intent. How did the concept for the CD develop?
Hugo : "Poles" had a well defined concept of exploring dark and light and the good and bad struggle within us, absolutely. The new album, even though it does have a defined concept throughout its 70 minutes, was basically done with the intention of exploring rather strange and impossible worlds which turned out to be strange Utopias. So, in the end, a universe called Utopia was thought of and the lyrics were written according to that perspective. What's curious is that these some of these places are pleasant Utopias and some are definitely bad visions such as "Dark Utopia". You can definitely think that "The Sight of a Better Universe" from "Poles" can be planet Utopia in a way, but the good side only. So, indeed this album is more unifying and I think the overall feel of the album transmits that idea and also provides a sense of connection to the previous album. As for the development of the CD, like most of my music, it started with the basic musical compositions and later the lyrics and concept started to revolve around the music. At a certain point, the music and probably the vocals were also influenced by the lyrical themes and moods.
Two albums in two years is considered prolific in music today. What inspired this creative outburst? Did you have some incomplete ideas from "Poles" that you built on or was it a fresh burst of creativity?
Hugo : "Poles" was concluded, totally. However, as soon as "Poles" was done, new ideas started to build and slowly the composition process began. We even managed to make a connection with "Poles" at the end of the track "Slow Motion World"! It was indeed an outburst of ideas and also the hunger to compose, and I also felt like making an in-between album featuring both Project Creation's complexity and "Poles"' simplicity. So, I basically took the previous album's genre and decided to provide an epic and heavier feel to it – more progressiveness too – and make it a bit more complex in terms of performances and structures. So our fans will definitely find the "Poles" sound there, but with a much more open and epic feel to the music. If they hear it several times, they'll be embraced by the music I'm sure – more than with "Poles" perhaps. As for the inspiration, I really can't recall but inspiration comes just from playing with my keyboards and that was it. I had two tracks that were not used in "Poles", however these were not used in "Utopia" either. In the trash with those!
"Poles" contained many elements of 70s-style prog rock along with strong electronica influences while "A Strange Utopia" feels much heavier with less ornamentation. Was this a conscious decision to reflect the CD concept and lyrical content or was it how the music organically developed? Did the lyrics shape the music or vise versa?
Hugo: I agree, even though it is more proggy than "Poles". There's less ornamentation, yes, but there's a definite focus on the main melody while some tracks tend to have several arrangements around the main melody or several melodies. I love that feel – having a peaceful part and then a sudden burst or a more chaotic approach. Some people out there don't get this type of sound approach. Well, try to get the overall picture of the concept – that's the whole idea behind "A Strange Utopia". "Poles" is a very unique album, It was made in a time when I really wanted to simplify my music, I suppose it really reflects that, and with that in mind, I love "Poles" and the more I listen, the more I really enjoy it. The simple things tend to be immediately likeable, but may not last long. "Poles" contradicts this to me because it also grows within the listener while being simpler in terms of structures, but more dense in ornamentations. "A Strange Utopia" was deliberately more progressive, more band-like sounding and more chaotic. Plus, I really wanted to use much more real drums instead of a deliberate electronic feel just like "Poles" had. I was also determined to add much more diversity to the songs too and I think that is audible. The lyrics began to take shape soon after the early compositions were made and I just started writing and writing and when I looked at the overall picture, I realized that I was really exercising my imagination with several fantasy worlds. Diversity is a word that comes to mind when listening to "A Strange Utopia".
Since this is your second collaboration, did your personal and professional relationship change after the success of "Poles" and how is that reflected in "A Strange Utopia"?
Hugo : Yes! Now I enjoy playing pranks on Jessica more than before and teasing her pets too, especially her alligator that she keeps in her room hidden from the public. (This part may not be true… heh heh… really?). People are always evolving, and yes, when we did "Poles" we already had a good chemistry I suppose, however as time passed we became friends. Professionally, we collaborate basically in the same manner as with "Poles" but things are faster now because I know what she can do more easily, and she knows better what I usually like in a song as well.
Jessica : He's always trying to take a swim with my alligator – yes! I don't know what's up with that. Despite that fact, yes, the friendship bond is stronger now than it was during the "Poles" recordings and by now we have even met face-to-face which was very lovely. When it comes to the music, this album has been easier for me to record than the previous one since I'm now more familiar with Hugo's way of writing and arranging.
Hugo : Note the last time I checked the alligator was gone… (I was hungry…)
The vocals on "A Strange Utopia" are a big standout on this CD. The vocal overdubs and effects are well-placed and shaped a very strong compliment to the music. What was the vocal approach when recording "A Strange Utopia"?
Hugo: Better for Jessica to speak about this one. My idea was really to let the vocals stand-out, however, and as you listened, this time the instrumental parts are much more predominant than with "Poles". So it's not totally vocally focused like "Poles" was most of the time. One must recall that "Poles" has about 50 minutes, a bit less music, and this one takes up a full CD, so, it's natural!
Jessica: Just like I did on "Poles", I wanted to contribute to the atmosphere of each track, and at the same time I wanted to challenge myself a bit more by arranging vocals in a way I'm not used to. This approach resulted in, for example, the vocals in the ending parts of "Garden of all Seasons". In general, I think I've played around a bit more on this CD than on the previous one. I did some arrangements in "A Strange Utopia" that to me somehow felt quite unexpected and I don't really know where those ideas came from.
Hugo: Yeah, "Garden of All Seasons" – that's some crazy tune.
Jessica, your vocals can range from the operatic to a soothing caress. I could hear what seemed to be a more than passing nod to Kate Bush in "Broken". Who are your vocal influences and how much of an impact do they have on your own style?
Jessica: I have heard the Kate Bush thing before, although I must admit I'm not familiar with her work. Perhaps I should change that! My main vocal influences are Anneke van Giersbergen, Sharon den Adel, Enya and Tarja Turunen. It's hard to say what impact they have on my own style. I suppose that's up to the listener to decide since it's too tricky for me, but I started singing before I started listening to these singers (apart from Enya, she was there many years before I started singing) and I found "my" voice pretty quickly. What I've done since then is to mainly polish it up and learn to be more versatile. So I suppose you pick up a thing here and there when listening to other singers.
Hugo, has Jessica's vocal perspective changed the way you approach the compositional process?
Hugo: That's always a difficult question. I can say – without a shadow of a doubt – that for "Poles" the music was done independently and vocals were thought of after. I knew, however, that I wanted an operatic feel to them, or, if you will, a rock/operatic voice. So even though the music was pre-composed, I had that in mind. Now, for the new album "A Strange Utopia" that might have changed. I mean "Sonic Sensations", "Slow Motion World" – I believe I thought of Jessica's voice for those and maybe for a few other tracks. This time we even had some guests too, so I also had to think of how to mix those parts with the lead vocals from Jessica. It was fun, and hard work too.
The dream-like imagery of the videos for "Weight of the World" and "Sonic Sensations" are beautiful to watch. How much input do you have in their creation? Do you find videos add a new dimension to the musical experience or are videos merely a necessary evil? Maybe they're a way for Jessica to show off close ups of her lip piercing?
Jessica : Yes! I actually, and very, very, honestly, wanted to do those clips and focus only on my awesome lip piercing, you know. It should be the only thing visible for the viewers throughout both videos; the piercing and then darkness. So of course now I'm very bummed out that I actually was appearing in the video too, I thought the director was shooting my lip piercing only!
Hugo : (Laughs) No, it's not at all a necessary evil – on the contrary – I love cinema and video, and making this type of art along with the music is just a way of complimenting everything so it definitely adds a whole new dimension. It only makes big seem bigger and epic much epicquier…erara. Heh? A lot, I really mean a lot, of work and production was placed in these clips. Actually two clips. I consider that a luxury, because only one would already have been a lot to produce really. So, I really, really, hope people will be aware of the work put into those and, most of all, like the videos. Yes, the piercing! Emil [Jonsvik] is a director that looks to every detail so I suppose he just likes her piercing – or maybe he's afraid and wants to exorcise his fears? Hmmm… now I'm a bit afraid of that piercing! Really, Emil is very talented, and the way he works is just so much fun. Working with the crew, with Jessica, and all was just a fantastic experience. People not familiar with our clips should perhaps begin by watching the first one, "The Weight of the World", and then the second one to get an overall picture. "Sonic Sensations" is a very mysterious video… As for inputs, just check http://www.youtube.com/projectcreation. People are really nice and do comment regularly, and love the videos.
Jessica : I agree with Hugo, making these videos was nothing less than two of my loveliest experiences within music so far and I'm very happy to say my video camera fear is now cured. I was very nervous before the first video shoot because I totally hate video cameras and I didn't know if it would really work out for me. But during the first take I felt very comfortable and the camera did not feel like a problem at all. Many kudos to Emil, he's a great director and I very much liked working with him.
This is your second consecutive Factory of Dreams CD. Has Factory of Dreams become less of a side project and more of a full-time focus?
Hugo : That's a good question; it's a main band for me, a main focus now, even though Project Creation is also on my thoughts, of course, for the near future.
With that said, Hugo, with your musical ability and production skills is there a full-blown metal opera in your future?
Hugo : I don't have anything else in mind apart from Factory of Dreams and Project Creation really. I have a few projects that are waiting, but standing still on the shelves. I'm not that enthusiastic with those right now. I may, however, take those concepts and use them in my main bands though.
Together you've created two excellent CDs of progressive rock. Has your successful collaboration reached a logical conclusion or will Factory of Dreams go for the trilogy?
Hugo : There are no limitations, so I hope to keep going as long as we both want to do music and people keep following us, and ultimately, buying the albums. That's the only way to get things going. So, leave those torrents, P2Ps, and alikes alone and buy the stuff. There is no trilogy, just a band or project, if you will, that makes music. As long as it's fun, like it's been up to now, it's just great to be able to do what we do for as long as possible.
Links
MySpace * ReverbNation * Facebook * Twitter * Site
Latest Multimedia
Independent Release
Review by Vard Aman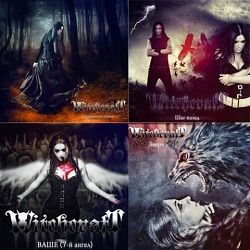 "Ash" (Witchcraft's 2011 album) was a Progressive Metal masterpiece for me, not just because it was a damn fine Prog Metal concept album but because it incorporated so many other elements into it – it was so much more than standard Prog Metal fare. It was also much darker; and for someone (e.g. me) whose tastes lean rather favourably towards music's darker side, that was another big plus. Now Witchcraft have a new EP out, "Parallel Worlds", and with it the band presents an even more experimental package than before, moving into the territory of Dark Experimental Metal rather than Dark Progressive Metal. There are some new sounds; new styles; new effects; some scratching; a guest rapper; and vocalist, Ludmila Angel, tries out a few new and different vocal styles (in addition to her normal hauntingly beautiful melodic vocal style) – most notably an angry semi-sung shout that for some reason made me think "Riot Grrrl" at first, but then I went and listened to a selection of various Riot Grrrl vocal styles on the internet and it sounded nothing like them at all, so I still don't know what to compare it to. OK, I'll give it my own name then: I'll call it Riot Angggl style (as a tribute to the vocalist who has now, as far as I'm concerned, made it her own). Anyway, to call this EP an "interesting and a fascinating listening experience" would be quite an understatement. Yet for all the experimentation it is still unmistakably Witchcraft, so it is a well controlled experiment. In Witchcraft, nothing happens by chance. "Parallel Worlds" consists of 4 songs. Each of the 4 comes with its own artwork and the front cover of the EP is made up of a collage of the 4 together. All the songs are in Russian, thus moving away from the predominantly English trend of their previous releases. First up is "Ваше (7-й Ангел)". It starts off with some fast and heavy riffing before going into the verses, where Ludmila uses a combination of vocal styles that I can best describe as quirky, mixed with her normal vocal style and with a bit of Riot Angggl thrown in. The chorus is simply amazing! Good luck getting that melody out of your head once it's stuck there – not that you'd ever want to, trust me on that!
Next is "Шаг Назад" which features Latvian Rapper DragN as a guest vocalist in the verses. He uses a style of Rap known as fast flow, which is a generally more melodic rapping style, but is most often distinguished by the speed of the rapping; often it is an attempt to see how many syllables can be fitted into as short a time as possible without losing clarity and DragN is pretty fast. I don't really like Rap of any kind, but I have to admit that this is very well done indeed, and Witchcraft have made it work for them. Most of all, the rapped verses provide a sharp contrast to another beautiful and melodic chorus sung by Ludmila. "Дыши со Мной" is the third song, which after a very promising start, turned out to be the weakest of the four songs on the EP for me. The verses are not as contrasting and the chorus is not quite as melodic and catchy as the previous two, but the second half of the song finished off the promising start. It's still a good song, just not quite as good as the others on the EP. (Having said that, guess which song's chorus I currently have stuck in my head…).The last song is "Зверь", perhaps the least "experimental" song on the EP, closer to some of the material from "Ash". It has a driving rhythm throughout, the verses are sung as duets (with Roman Arsafes of Nevid'?) and the chorus consists of more of Ludmila's amazing melodies. And with that ends a short, but excellent and captivating EP. Having conquered the world of Dark Progressive Metal, Witchcraft have made it known that they are now moving on to new worlds, and onto to worlds that they are creating themselves where they did not exist before. This EP presents the first taste of some of these new (parallel) worlds, and after listening to it one can't help but wonder where they will be going or what they will be creating next. I for one am certainly looking forward to finding out. This is, after all, Witchcraft!
Rating – 87/100
Tracklist
Ваше (7-й Ангел) [Vashe (Sed'moy Angel) – Yours (Seventh Angel)]
Шаг Назад [Shag Nazad – Step Back]
Дыши со Мной [Diyshi so Mnoy – Breathe with Me]
Зверь [Zver' – Beast]
Line Up
Ludmila Angel – Vocals
Anton Marchuk – Guitars
Alexander Verzicht – Keyboards & Backing Vocals
Kate Noir – Violin
Vladimir Ptashnik – Bass
Maxim Gusakov – Drums
Links
Interview by Robin Stryker
Alkonost is an epic folk metal band from the Republic of Tartarstan (Russian Federation). The band draws its inspiration from medieval music and Russian folk music, with mighty power metal riffing, black metal growling and symphonic metal operatic vocals added in. Femme Metal chatted with vocalist Alyona "Alena" Pelevina about Alkonost's newest album, "On The Wings Of The Call". Hello Alyona! We're excited to talk with you about Alkonost's new album, "On The Wings Of The Call" (Einheit Produktionen 2010).
Hail! It's very pleasant for me! We'll be happy to talk.

Let's start with the band's name. What does Alkonost mean?
Alkonost is an ancient image of a female guardian spirit, which is a light side of fate with an appearance of a semi-woman and a semi-bird. As the legends say, when she gives birth, the sea keeps dead calm for 6 days. And by the way, she sings uncommonly well and brings joy and happy vein.

What have been the biggest influences on the musical style of Alkonost?
Our style was influenced by such bands as Iron Maiden, AC/DC, My Dying Bride, Bathory, and, of course, medieval Russian and West European music, as well as Russian folk music. And, definitely, the style of ancient legends had an influence upon the nature of our music.

When the band first started in 1995, it was a male-fronted band with Alexey Solovyov singing and screaming. How did you become a member of the band?
I couldn't even imagine my future with a band of such kind. In 2000, Alkonost was looking for female vocals to record choruses in bonus tracks to the "Songs Of Eternal Oak" album and owing to the greatest fortuity, I managed to become one of performers. Probably my voice impressed the guys, so they discussed for two days my candidacy as a leading vocal and had given up thoughts concerning participation of male vocal. At once after that, I entered upon my new duties.

It sounds as though you have had classical training. What is your musical background? Were you in any other bands before Alkonost?

I have 8-year experience of music school of choral branch and 2-year experience of musical lycée. In the lycée in the beginning, I was engaged in variety vocal but as the teacher left his job, I had to occupy myself in classical vocal, so I learned in this way. On graduating from the lycée, I was eager to enter the academy of music and then the conservatoire. But as I strained my voice shortly before the entrance examinations, I had to go to training to be a psychologist. But I had a desire to sing; therefore I looked for any possibility and ran into Alkonost. Before that moment, I didn't sing in any bands, and even didn't think about it.

Would you introduce us to your colleagues in the band, and tell us something about their personalities?
The band's founder, Andrey Losev, is a guitarist and the band's brain, as well as a composer and a rhymer, a hooligan and all innovations proceed from him. Dmitriy Sokolov is the second guitarist, a very strict and attentive person. All tours and negotiations bear heavily on his shoulders; he knows how to count money and to be unscrupulous. Anton Chepigin is able to play drums. He is very creative and he is a very sensitive person. When he is in the mood, he writes songs, and is engaged in designing of our web sites in the Internet. He is also a hooligan. Almira Fathullina, she is a good hand at the pushing of keys on her synthesizer. She is able to effervesce the spirits of everyone. She speaks six languages fluently, including German.
Alkonost has previously recorded songs in English, as well as Russian. Why did the band decide to use solely Russian lyrics for "On the Wings of the Call"?

It is just a financial matter. We just didn't have money for recording an English version of the album. Although, probably, there is an exclusive element in it.
Does the band intend to record an English version of the new album, like you did for "Between the Worlds"?
Yes, most likely the next album will be released in both variants. Comprehension of our songs by ear is very important for us.
Despite having been a member of Alkonost for 10 years, did you still feel nervous waiting for the reviews of "On the Wings of the Call"? Have you been pleased with the response from reviewers and fans?
Of course, I worry very much waiting for reviews of the album, in spite of the fact that I sing for 10 years. As listeners gradually change, new listeners appear so it is very interesting to know their fresh opinion.

The songs sound mysterious and haunting to my ears, and I am very curious to learn more about the lyrics. Would you select a few songs, and tell us what the lyrics mean?

I suppose that I won't retell lyrics, as they are in two languages in the album booklets, so most likely I'm eager to share my impressions concerning some songs. "Nivushka-niva" is a witness of bloodshed fight, it absorbed tears, bitterness and blood of the battle. "Nivushka-niva" is a very sad song for me, a hymn for the fallen ones. "Night Before the Battle" is anticipation of forthcoming battle in the morning. All power and fury are shown here. It invigorates, raises and induces very much. Well, the main theme of "On the Wings of the Call" album concerns a road, and it is not known where it will lead and it is not known where it will come to an end. Our roads never come to an end and leave from plains through the Ural mountains into the dark taiga thickets full of secrets and adventures. And there is no return way anywhere.
Which song from the new do you think would make the most interesting music video? If you could create anything you wanted (without worrying about cost), what would your video look like?
We have already shot a video clip for "Ineffable Light" song; solely Andrey was engaged in the creation of the video sequence. I consider that his approach to video stories is the most unusual. But I would like to have a video for a song "Bird-Ship" where a combination of a play of light and night would be used, which would be very complicated for shooting but impressing with bright colours.
Alkonost is one of the most established folk metal bands in the Russian Federation. What do you think about the band's sound today, compared to when you first started with Alkonost?
Certainly I see my development both on stage and in a voice, which is the main achievement for me. I had learned to vary my voice, thereby helping to reach integrity and intelligence of songs. Early albums were recorded with atmospheric sound — more traditional for black metal. But it seems to me that now we have a lack of this primitive rawness and aggressiveness, and it would be difficult for me to express it, as my voice is gentle enough for this purpose. When I had just appeared in the band, I had heard such kind of music for the first time and it's fabulous sounding, in spite of aggressiveness, was a redeeming feature for me.
Congratulations on signing to the German label Einheit Produktionen. What made Einheit a good match for Alkonost?

I guess their serious approach to work for all that.

What is the metal scene like in the band's home of Naberezhnye Chelny? With the Internet, does a band's geographic location even matter anymore?
Besides us there are folk metal groups and groups playing brutal death of every sort and kind in our city and I even can't imagine how many of them here, as our city is of industrial type, and such kind of things is very widespread. The Internet really erases borders, so anyone can present himself for the whole world.

Alkonost first toured outside Russia in 2007. Did you notice a big difference between fans in Russia and other countries?
There is not any big difference in it; fans receive us well and warmly everywhere, although Europe receives us better than in Russia. It's very difficult to define differences between fans, as they have absolutely the same clothing style and the way of chilling out… They drink alcohol in different ways, but aside from that, all fans are affable to us.
I was so disappointed to read that the tour in Germany and the Czech Republic had been cancelled. What happened? Will fans outside of Russia have the chance to see Alkonost live this year?
Believe, it was sad for us too and it is a pity, after all we were waited for by many of our fans… And unfortunately, this year we won't go to Europe anymore. But next year we will necessarily go to the next tour across Europe in April, to all appearances.

Other than Russia, in which countries are the most enthusiastic fans of Alkonost found?
There is no saying, because any special difference doesn't exist… perhaps it is necessary to mention our German fans and friends.

Alyona, thank you so much for talking with us today! Do you have any parting words for your fans at Femme Metal?
Certainly! See you!!!!!!!
Latest Multimedia
Links
6 color styles available:

Style switcher only on this demo version. Theme styles can be changed from Options page.