Browsing articles tagged with " wormhole"
Interview by Robert Brady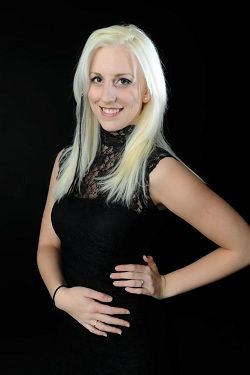 When most women are little girls they dream of the Knight and Shining Armour and the dress they will adorn themselves with. Some women find earlier than others. It certainly seems music found Jamie Lee-Smit the founder of the 'Belgian' metal band Azylya.
Azylya is a musical concept conceived from the mind and heart of Jamie Lee-Smit. Every time I listen to Azylya I feel like I am going to see a film at a film festival. Jamie Lee-Smit certainly has unleashed her cinematic influences in her music. I love the fact is that she never allows one moment for her listeners to get bored or think it all sounds the same like some bands have a tendency of doing on their albums. There is always something different with every track and composition in Azylya's music and at the same time they remain on point with their objective overall as not to alienate the listener from getting the main concept.
Azylya has something for every metal pallet. If you like female fronted metal it certainly has that to the forefront, there are black metal elements with the male vocal along with progressive, gothic, power metal elements. The running theme that seems heavily present with in Azylya is the cinematic film score style of metal that only a few bands as Rhapsody of Fire and Epica have dared venture towards.
As female fronted metal has really flourished in the past 15 years with bands like Theater of Tragedy, After Forever, Tristania, Epica, Leaves Eyes, Within Temptation and Nightwish, I believe Jamie Lee-Smit and Azylya are at the forefront of the preservation of the road and trail the previous bands have built. As a 40 something who grew up as a metal child of the 1980′s where our choices in women in metal were limited honestly to 4 bands in Girlschool, Rock Goddess, Warlock/Doro, and Lita Ford it is encouraging to see women now on the frontline of the battle and to see young women like Jamie Lee-Smit take her dream and vision and enlist in the business, I definitely see women in metal thrive in the next few decades and bands like Azylya carrying that banner for years to come.
Continue reading »
Interview by Connie Bach
Translated by Disgraced
Released on Wormholedeath, Mechanical God Creation's album "Cell XIII" is all finely-tuned fury. There is nothing but steelyaggression in MGC's brand of well-crafted death metal.
Hello, Lucy.
HI!!!
How did you come up with the dark topics "Cell XIII" discusses?
The album was born from the wish to express our inner, undeclared and huge anger. We have thought about how our society denies us the possibility to free and vent our inner rage, if not only in determinated occasions, as a matter of fact we're all chained to this concrete armchair, as was Prometheus to the mountain. From this analysis we've decided that it was time to let our voice be heard and represent this huge and inner force.
Would you say, that the combination of powerful lyrics and powerful instruments creates a kind of chemistry? Is it something that feeds itself, and you, on a deeper level?
 We tried to make music and lyrics fit together in order that no one of them abandoned each other. It was like we have tried to weave a well-stichted and tight texture that oozed all this aggressivness: the more the music was getting violent, the more my voice and my vocal lines were becoming aggressive and violent!
How did "Cell XIII" build on the foundations the band already had? How does it reflect where Mechanical God Creation wants to go?
"Cell XIII" helped us to find the perfect way to develop a composing process, a musical alchemy that sadly has been lost later on, since some members left the band. Of course the work done didn't lose its value: it's been the ground for a great, personal growth that will surely be useful for the nex record and that will help me going on on my musical road. Neither me nor the other MGC will stop, on the opposite we'll get better and better with the new line-up!
Specifically, what does the name "Cell XIII" refer to?
As I told you before, we started exploring the world of repressed anger where the body acts like a cage: the word "cell" comes from here and also the artwork leads to that concept, actually there's a person chained up in a cell. "XIII" has an esoteric and symbolic meaning, according to a worldwide tradition: it's an ambiguous number open to a myriad of interpratations and it represents the human duality, our inner and outer self.
Lucy, from your personal point of view, how does Mechanical God Creation differ from earlier projects you have worked on? Is there one thing you would bring from the past experience? If so, what?
MCG is a more personal project, I feel it mine more than the others because I created them out of nothing; I founded this band to try and create something new, something that was only mine in the world of extreme music. This is my band and not a band that I simply joined! The past lives on as a legacy in terms of songwriting and live experiences, professionality and a huge care for those details both musical and non-musical that gravitate around the band. Moreover, past experiences obviously help you to deal more easily with some situations and people and so they allow you to better understand what's going on. What nowadays is often denied is basic, without any doubt, to build an important project!
This question is for each member of MGC to offer input on. If each of you had one artist who influenced you the most, who would he/she be? Why would you choose them? Each of you probably has a different, individual answer.
Lucy: The first artist who inspired me the most was Cadaveria: I liked her vocal style a lot, very aggressive but with a feminine touch nevertheless.
Veon: There are surely three artists who had a big influence on me, which are Jaco Pastorius, Steve Di Giorgio and Jeroen Paul Thesseling. They have been in bands that I always loved. Another aspect that influenced me a lot stylistically and melodically has been the one of bringing bass-playing to a new level: not only a rythmic one but something inbetween rythmic melody and soloist parts.
If you all agreed upon a dream venue (even if it is one that does not exist yet), could you describe that ideal show, line-up, concert venue, etc.? This is sort of meant for those interested to get a sense of how you all can put this image together, by working with each other, the same way you do with a song.
Well, playing Wacken is always a dream. I've been there as a fan and I can say it's a very cool festival, so many people and interesting bands. But there are of course a lot of other places where we'd like to play. Our biggest love, so to say, are big open air festivals. Now I won't list here all the bands we'd like to share the stage with… way too many!
Another one for all of you to contribute to. What goes through your head the moment you finish a gig?
When the concert is over and you go downstage many emotions always linger on: in front of you there was someone who was there to listen to you, who was searching for something in you, who wanted to find a strong emotion in your music and therefore you hope you managed to communicate all that. You hope you played a great show, something unique because after all every gig is unique and unrepeatable and so wonderful! I take the chance to thank everyone who follows us and all those who support us in what we do!
What kind of people seem to connect with MGC's music the most? Why do you think it happens?
I think that MGC's music can appeal to several kinds of listeners: of course lovers of classic extreme metal as well as modern one and in general to whoever craves for a surge of adrenalin and wants to hear something fresh and new for some aspects. Last but not least, why not?, I think we might be appreciated also by those who want to rediscover the Italian death metal that in these last years gave us lots of nice surprises!
I have one final question, for each of you to answer, or work together on; its up to you. What is the fundamental purpose of music with darker themes?
It's surely a stylistical and harmonic research that at first is aimed to create confusion in the listener but then wants to give a sensation of rage, safety and personality to the songs, both lyrics-, musical- and vocal-wise. Nowadays being out of trends using darker themes isn't easy but there are some unxplored points of view that grant a new personality to his kind of music. It's impossible to say how through words, you have to communicate and feel it with music's own language.
Thanks to you, Lucy, and to everyone from Mechanical God Creation. I deeply appreciate everyone's contribution.
Thanks to you for this chance and for the nice and challenging questions! Hope to hear you again soon!
Links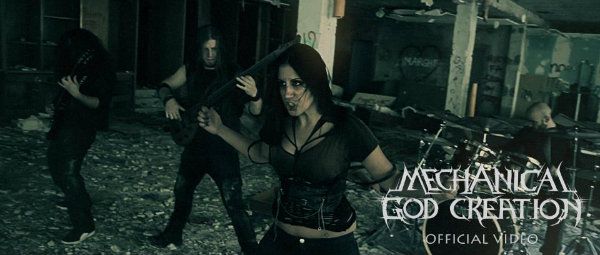 Technical deathsters Mechanical God Creation launched the first video for their upcoming album "Artifact of Annihilation". The Clip for the song "Terror in the Air" has been directed by Stefano Pasotti and can be viewed here:
Support the band, like their page:
https://www.facebook.com/pages/Mechanical-God- Creation/178845978792633?fref=ts
Italian gothic metal band Lightless Moor has signed a deal with Wormholedeath/Aural Music Group. Wormholedeath will release their debut album titled "Crying My Grief to a Feeble Dawn" world-wide through Aural Music Group. The album was recorded and mixed at Realsound Studio in Parma (Italy) with producer Wahoomi Corvi (Crysalys, The Way Of Purity, Haterial), and mastered by Mika Jussila at Finnvox Studios (Finland). Release date is due during 2013 still to be scheduled. The whole band together stated : "We are extremely proud to announce the beginning of the journey with Wormholedeath! It is one of the main Italian label, and in addition to the excellent established friendship, we are assured of a great professional work!" A&R "Worm" stated: "Lightless Moor is a band that we kept under our radar for a long time … They evolved so much during the last year that we decided to offer them a deal. The album is just great and produced by our favourite studio ever, the guys are really honest and nice so they really deserve attention from the scene. We'll do everything possible to make people turn their heads toward this amazing band. I would love to thank the musicians involved in this project for their trust. Cry your grief, Lightless Moor are ready!"
Label: Wormhole Death/Dreamcell 11

Review by Tony Cannella
Levania is a Gothic metal band from Italy. The band formed in 2007 and has previously released three demos, with the first one coming only a year after their creation in 2008. They have just released their debut full-length titled "Parasynthesis". Levania employs three lead singers each of varying styles. First you have the female angelic and semi-operatic vocals of Ligeia. She is joined by guitarist Raven and Keyboardist Still, who supply extreme male vocals (both growly and screaming) and the other one adds clean, male Gothic-y type vocals. "Midnight of Silence" gets us started and straight away, it is one of the better songs. It has a doom-y, melancholic feel at the start, before speeding up. All three vocalists are introduced on this song, which is pretty cool. First you have the female vocalist and extreme vocals singing together, than the extreme and male gothic vocals together. The song includes a number of tempo changes. I would describe the general vibe of "Parasynthesis" as melancholy. The synth opening of the next song "Eroica" reminded me of early Nightwish. The song starts with some narration by the male gothic voice and he is joined by Ligeia. This song reminded me a little of Vintersorg and it actually has an almost progressive feel to it. "Natural Motion" starts with a heavy straight-forward guitar riff accompanied by violin and it moves at a rapid pace. Again, all three vocalists are represented on this track, a tactic that they use throughout "Parasynthesis" and it works quite well. Other highlights includes: "The Narrow Way of Juliette", "Basteth's Kiss" and the "Agharti" trilogy. There is some really good stuff on "Parasynthesis" and I would have no problem recommending Levania to my Gothic metal friends.
Rating – 73/100
Tracklist
Midnight of Silence
Eroica
Natural Motion
The Narrow Way of Juliette
Basteth's Kiss
Agharti I
Agharti II
Agharti III
Cathago Nova
Sybyl of the Dark
Line Up
Ligeia – Vocals
Raven – Guitars & Vocals
Still – Keyboards & Vocals
Fade – Bass
Gianz – Drums
Links
MySpace * Facebook * Twitter * Site
6 color styles available:

Style switcher only on this demo version. Theme styles can be changed from Options page.